With virtually countless things to do in New York City, it can be hard to decide what is actually worth it! Well, let us fill you in on one activity that is a must-do: a NYC sunset and dinner cruise.
Don't worry, we've done that "hard" part for you and taken on the task of trying out countless cruises to bring you the very best selections.
We've chosen only those that are worth your money and time and are sure to make a lasting impression. Let's get started!
Top Dinner Cruises in New York City

---
The 5 Best Rated New York City Dinner Cruises
Now lets take a closer look at the top NYC dinner cruises so you can find the right one for you!
---
NYC Dinner Cruise Reviews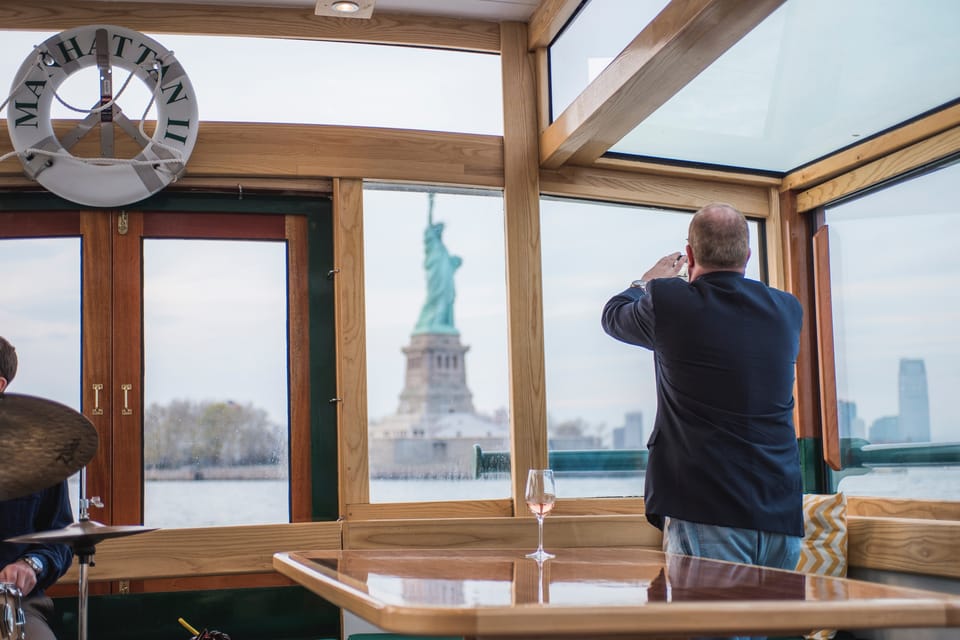 Tour Highlights:
Duration: 1.5 hours
Includes: 1.5-hour yacht sunset cruise, one drink
Departure Point: Chelsea Piers, on Pier 62, which is located at West 22nd Street and the Hudson River
Other: Glassed-in cabins and open decks
Experience a kind of blast from the past, golden age vibe of New York City with this sunset yacht cruise. You simply won't be able to find a better view of Manhattan than this prime selection, with full 360-degree vistas that are perfect for taking in and snapping photos of.
This 1.5-hour cruise starts off by departing from Pier 62 and Chelsea Pier, which is at the northernmost end of the piers on the water.
Make sure you bring your ID, because this cruise includes a drink as well! Of course, you can purchase food selections and additional drinks if you'd like.
While you're sipping, sit back and absorb the stunning views of Manhattan all from the Hudson River.
It's a wonderful way to see the city, as you'll be able to hang out on the open decks or the closed back-deck observatory if it starts getting chilly or rainy.
The back-deck observatory is glassed-in so you don't have to worry about missing out on the scenery. You'll pass by the striking Financial District monuments, such as the iconic bull, as well as Governor's Island, the Statue of Liberty, and Ellis Island.
The boat itself is also an experience, with the 1920's-style décor that will transport you to a time that's simply iconic in New York and American history.
On Sundays, they really set the scene, with a live jazz trio performance!
With all these legendary scenes and entertainment, it's a must for any history buff and American!
---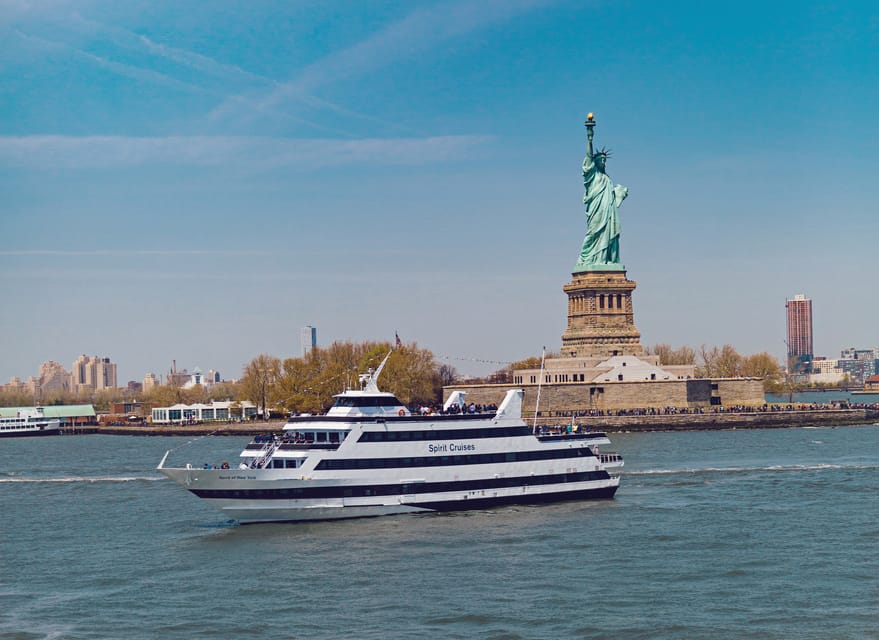 Tour Highlights:
Duration: 2 – 3 hours
Includes: 

2-hour cruise on the Spirit of New York, o

utdoor buffet lunch or dinner, o

nboard DJ, u

nlimited coffee, hot tea, and iced tea, l

ocal taxes and fees, g

ratuities

Departure Point: Pier 61 Chelsea Piers, West 23rd St.
Other: Alfresco dining, creative meals
If you're up for a more lengthy tour, then this is the perfect one to keep you occupied for an entire afternoon or evening. This tour lasts 2-3 hours, and will take place on the Spirit of New York, where you'll get to check out the Hudson and East rivers.
This is an excellent opportunity to wine, dine, and even get down to some tunes with the stunning New York skyline in the background.
The rivers are tranquil and offer a smooth journey, making it one of the most popular NYC cruises over the years.
You'll start off meeting with your group at Pier 61 at the Chelsea Piers, where you'll then board the Spirit of New York and your photo will be taken by the ship's photographer to capture the moment.
Once you are seated at your private outdoor table, you'll soon be able to enjoy either your lunch or dinner buffet – depending on which cruise time you've chosen.
Both offer creative, unique meals prepared fresh, including field greens, roasted veggies, a selection of fish, short ribs, Italian meatballs, all kinds of cakes, and much more!
While dining alfresco, you'll sail through all aspects of New York City's unique skyline as the sun goes down. With the dinner cruise, the sunset on its own is impressive, but even more so with it reflecting off of the rivers' calm waters.
The lunch cruise is wonderful as well, starting at noon and is a great way to pass the afternoon if you don't have any other plans for the daytime.
---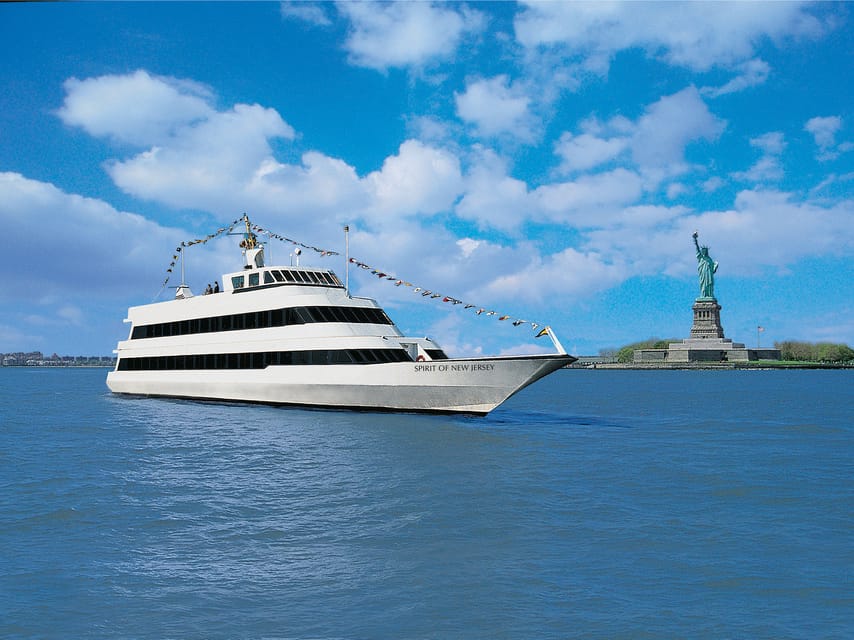 Tour Highlights:
Duration: 2 – 3 hours
Includes: 2-hour cruise on the Spirit of New Jersey, outdoor buffet lunch or dinner, onboard DJ, u
Departure Point: Lincoln Harbor Marina, 1500 Harbor Blvd Weehawken
Other: Unique views of the skyline
For a fun, exciting, and luxury way of having lunch or dinner, you need to hop on board the Spirit of New Jersey!
The Spirit of New Jersey not only looks cool, but comes with dual climate-controlled decks with full-service bars on each for supreme entertainment! The café-style seating is perfect for walking around and taking in the views with family or friends.
The Buffet Lunch or Dinner Cruise from New Jersey offers up unforgettable views of the Statue of Liberty, the Manhattan, Brooklyn and Williamsburg Bridges, and much more!
You'll meet up with the rest of your group at the Lincoln Harbor Marina in New Jersey. Once boarded, you'll be seated at your private outdoor table where you'll get to enjoy delicious, unique meals. Most soft drinks are completely bottomless, though you also have cocktails as an alternative.
Both lunch and dinner (depending on which one you choose) is made fresh and is served buffet-style with various entrees, sides, and desserts.
As you dine and sip, you'll pass through the Big Apple, on the East and Hudson rivers. This offers excellent photo ops, as you'll get to see some of the world's most important statues, skyscrapers, and other sites.
---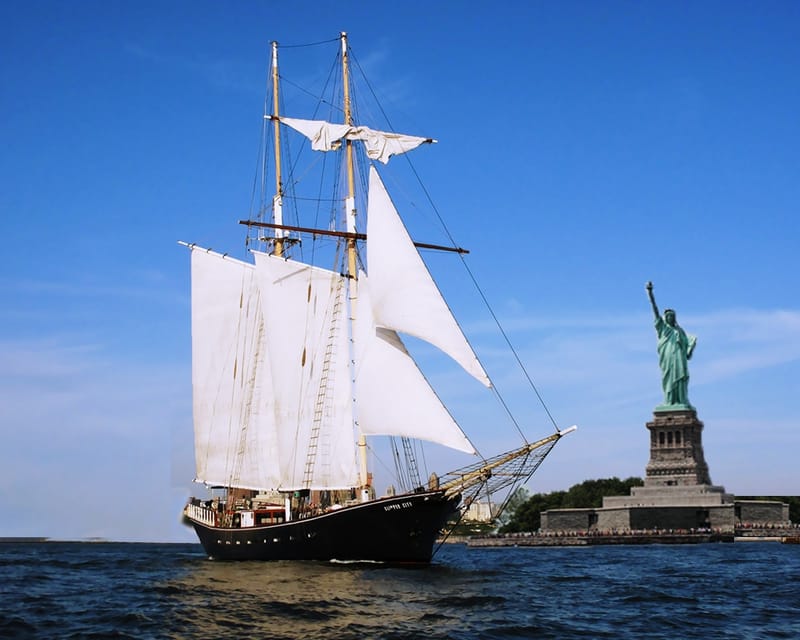 Tour Highlights:
Duration: 2 hours
Includes: 

Two hour sightseeing cruise, l

ive jazz music, p

rofessional captain and crew

Departure Point: Mussel Beach Park from South Street, walk out towards the water and meet the agent just around the corner on the East River Waterfront Esplanade
Other: Live jazz band, legendary Clipper City ship modeled after Civil War-era ship
If you're a jazz fan, you simply cannot miss this cruise. The Sunset, Wine, and Jazz Sail tour is designed to keep you equally relaxed and entertained as you sail around New York Harbor.
This time, it'll be aboard the Clipper City, which is a historic clipper ship with masts rising 120 feet! It's simply a one-of-a-kind nautical adventure on a ship rebuilt with the plans from the original made prior to the Civil War.
This 2-hour cruise offers up amazing views of the NYC skyline along with the Statue of Liberty. That alone is pretty impressive as you're soon to see, but the excitement doesn't stop there.
You'll get the full sailing experience, as you watch how the crew sets the enormous sails of this ship. Did you know it's the largest sailing ship in the entire state?
The spacious decks feature a ton of different seating options, so you can choose what feels right for you and your group.
We highly recommend snagging a seat at the raised quarter deck on the back aft which offers unmatched vistas of the harbor and city skyline.
No matter where you go though, you'll have easy access to the full bar which you're sure to pay a visit to during this legendary performance/tour combo.
As you slowly glide around the harbor you'll have jazz guitarist, Joe Cohn, saxophonist, Avram Fefer, and many other well-known talents booked by Jazz Standard founder, James Polsky, to accompany you.
---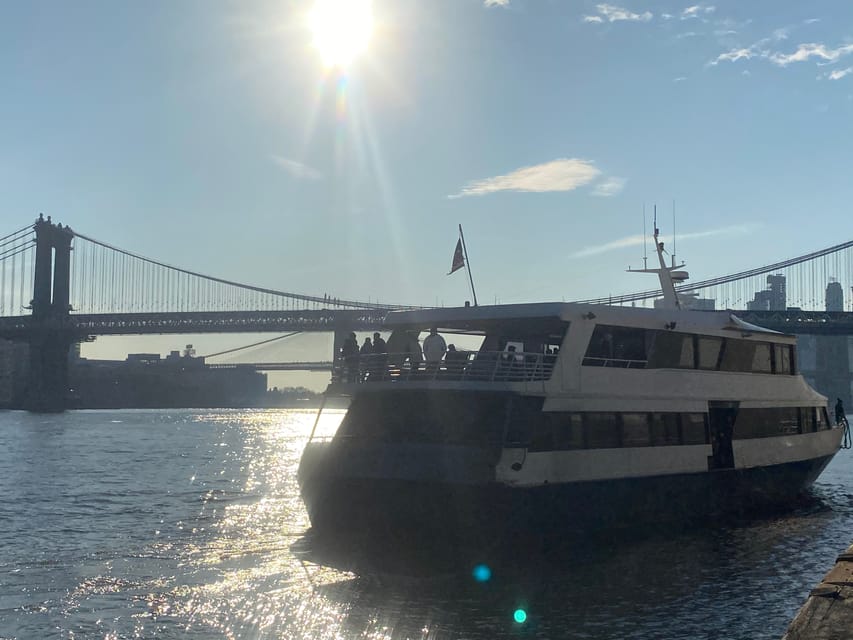 Tour Highlights:
Duration: 1.5 hours
Includes: Live DJ, admission ticket, sightseeing cruise
Departure Point: Chelsea Piers, on Pier 62
Other: Dancing or seating optional, full bar
What's cool about this Happy Hour Cruise, is that even if you're a local to New York, you'll fall in love with this experience. In fact, it's the perfect activity to take a date or even bring friends or coworkers! As it's 1.5 hours long, it's just the right length of time to kick back and relax with drinks and dancing with an unbeatable view.
Everyone loves a good happy hour, but this one really takes the cake as your average bar or restaurant simply won't offer this experience.
The live DJ plays all kinds of grooving tunes, and you can choose to remain sitting or get up and dance – whatever you feel like!
This one doesn't include any food or drinks, but there's plenty of options if you'd like to purchase some. Sip on a cocktail, beer, or wine, while you enjoy yourself on one of the most well-kept secrets NYC has to offer.
However, no matter what you decide, you'll be unable to keep your eyes off of the array of illuminated signs that scatter the city combined with the stunning skyline. Not to mention, you'll even sail by the Statue of Liberty, Ellis Island, the Brooklyn Bridge, and much more!
---
NYC Dinner Cruise Guide
FAQs About NYC Dinner Cruises
What should I wear? While most dinner cruises don't have a strict dress code, it can't hurt to dress up a bit for the occasion. Think cocktail attire or smart casual. Don't wear anything too casual like shorts or flip flops.
What's included in the ticket price? Most dinner cruises include a multi-course meal, live entertainment and the bonus of amazing views of the city skyline. Alcoholic beverages are usually not included in the ticket price, so budget to pay extra for those.
How long are the cruises? Dinner cruises can vary in length, but most last around three hours. Some cruises offer shorter or longer options, so be sure to check the itinerary before booking.
Is there live music or entertainment? Most dinner cruises feature live music, DJs or other forms of entertainment. To be sure, check their website or just ask when booking to see what's included.
What kind of food should I expect? The food served on dinner cruises will vary from a simple buffet to a gourmet meals prepared by top chefs. If you are concerned, be sure to check the menu on the website before booking to make sure that there are options that suit your dietary needs or restrictions.
Can I make special requests? Some of the more expensive cruise ships will make custom meals to meet your special dietary requirements. You should contact the cruise company in advance to see if they will accommodate your special requests.
Are there age restrictions? In general no, most dinner cruises are open to all ages. It's possible they may have age restrictions or require adult supervision for children so you should verify ahead of time if you are bringing children.
What's the best time of year to go? You can go on a dinner cruise available year-round but the views and weather will vary depending on the season. Summer months are your best bet with warm temperatures and longer daylight hours. You will be able to linger out on the deck and enjoy the views. Winter cruises offer a cozy and festive atmosphere in inside.
Getting There
How to get to NYC? Well, that all depends on where you're located and how quickly you want to get there!
By Plane – If you're not close enough to drive (or simply don't want to!) then you're likely going to need to take a plane. The good news is that there are various NYC-area airports and over 100 different airlines around the world and country so you're definitely not short on options. Some of the best are American Airlines, JetBlue, and United.
John F. Kennedy International Airport (JFK) is the most popular airport choice to arrive at in NYC and is also the largest, though there's also the older LaGuardia Airport (LGA) which are both located in Queens. However, you may find it more convenient or more affordable to fly into the Newark Liberty International Airport (EWR) which is located in New Jersey which is right next to New York.
LaGuardia is usually delegated for domestic flights, as well as Canada and the Caribbean. However, JFK and Newark work with both domestic and international flights.
Train – Trains are awesome, because they're almost always going to be cheaper than airlines and don't involve the hassle that comes with flying (TSA, delays, cramped quarters, painful ears, turbulence, the list goes on). They're comfy, offer a good amount of leg room, plush seats, and sometimes snacks.
There are a few different ways you can get to NYC by train and there are 2 different stations in NYC: Grand Central and Penn Station.
Penn (Pennsylvania Station)  – This is located on 8th Ave. between 31st and 33rd in New York City. You can use Amtrak (a personal favorite), Long Island Rail Road, or New Jersey Transit to get there.
Grand Central Station – This is located between 42nd and 46th and Lexington and Vanderbilt avenues. You can use Metro North or New Jersey Transit to get there.
Through all of these, you can find train schedules, fare info, an itinerary planner, deals (if applicable), service advisories, train status, and much more.
Bus – Okay, we know that buses aren't often the most luxurious form of transportation. However, NYC has quite a few different bus options so you're bound to find something that fits your needs if this seems to be the most logical mode of transportation for you.
Buses will arrive in NYC at the Port Authority Bus Terminal located between 8th and 9th Avenues and 40th and 42nd streets.
Greyhound seems to be the most widely-used option just because it's so darn cheap and it's the name most of us think of when it comes to buses within the United States. However, it can often be a bit dirty and can get pretty packed full of people, depending on the route.
New Jersey Transit and Port Authority Bus Terminal also offers alternative bus lines with service to New York City, however. I find that these two tend to offer nicer options that are cleaner, more comfortable, and sometimes quicker!
Car – If you're taking on the challenge of driving to New York and are coming from the western side of the country, you'll almost always use I-80. This freeway goes from California (SF), all the way to Teaneck, New Jersey. Just remember, that you will actually have to drive in NYC if that's the case, which is definitely not for the light of heart!
Getting Around
As far as NYC goes, our recommendations are by walking or maybe even bike if you feel comfortable enough. However, there are many other options available to you.
Mass Transit – If you don't feel safe enough or your destination simply isn't feasible to walk to, then mass transit is your next-best option. You'll get around the traffic issue, it's cheap, and an easy way to hit lots of sites throughout the different boroughs. Not only that, but it essentially never closes so you don't have to be worried about getting stuck somewhere.
Buses and Subways – You'll want to get yourself a MetroCard and put at least $5.50 on it when you first buy it. You can do this at the subway stations by going to the little machines or to a booth attendant. If you have cash and are feeling uncertain about what to do, a booth attendant is probably your best option. However, if you already have a card, make sure to keep it so you can just reload more money on it.
The pay-per-ride MetroCard offers a single ride on the subway or bus at $2.75 whereas an Express Bus ride costs $6.50. Unlimited MetroCards are very useful if you plan on using it at often, as it lets you ride as much as you'd like within a certain time period. For example, you can select a 7-day card for $32, or a 30-day for $121. Just remember that the subway doesn't travel to Staten Island. However, you can get there by the free Staten Island Ferry or by bus!
Tips: If you can, make sure you carry around a subway map (grab one from a booth attendant or at the Official NYC Information Center). Also, always check the route sign on the front of the bus before you get on to make sure it covers every stop or limited stops.
Ferry – Tying in to our last point, the city comes with a wonderful ferry system that can move you uptown or downtown in Manhattan, as well as crossing rivers to bring you to and from Staten Island, Brooklyn, Queens, and New Jersey.
The Staten Island Ferry has now been operating over 100 years and is essential to countless New Yorkers' everyday itineraries. Not only that, but it's an excellent tool for tourists. This ferry covers the route between Staten Island and Whitehall Ferry Terminal in Manhattan that offers breathtaking panoramas of the Statue of Liberty, New York Harbor, and Lower Manhattan!
The NYC Ferry is a more extensive one, covering the East River Docks at 34th and Wall Street, various stops in Queens, Brooklyn, Governors Island, Rockaway Beach, all over the Bronx, and much more. Feel free to check out all their routes on their site, which will surely help you out!
The NY Waterway is also handy, covering 4 different ferry routes between Manhattan and along New Jersey, which is typically used by commuters. Moreover, there are even various gratis shuttle buses in Midtown, downtown Manhattan, and NJ to get riders to and from ferry terminals.
Taxis – Ah, the famous New York City taxi system. It's certainly entertaining, that's for sure! You'll find the notorious yellow taxis as well as the green Boro Taxis. They're an option at any time, any day so long as the numbers are lit up on top as those with their numbers turned off are not working. Taxis are definitely not cheap, though, but can be a nice option for short distances during rain showers, if you're carrying a lot of shopping bags, or for late nights.
As a side note, taxis are actually cheaper in NYC than taking an Uber. While Uber may be a convenient option at first glance, you can just as easily hail a taxi and it'll probably cost you much less – especially for short trips.
Where to Stay
Figuring out where to rest your head at the end of a New York City day can absolutely be intimidating. There are easily thousands of hotels in just about every neighborhood and deciding on just one can honestly be difficult.
So first, figure out the area you are likely to spend the most time in. Remember that demand is high as NYC always has tons of tourists visiting. Just plan it down to the things you absolutely cannot go without seeing and try to figure out which neighborhood makes sense to stay in depending on this. If not, then simply find a hotel that's close to a subway station and it'll be able to take you anywhere.
Next up, you need to figure out your budget. How much are you willing to spend per night on a hotel? Also, do you want to be in the middle of the hustle and bustle or do you want to be in a more relaxing environment more on the outskirts of the action?
Let's cover the areas:
Central Park: This area is beautiful, more plush, and definitely ideal for reveling in nature. While a ton of the most luxe hotels can be found here, there are some nice spots for budget travelers, too. It's known for being very safe, family-friendly, and if you like to walk, it can't be beat.Here, La Quinta and the M Social Hotel are the best for budget options while The Whitby Hotel and The Pierre are great on the other end of the spectrum.
Times Square: If you're on a budget, Times Square has countless hotels that will likely fall into that. Not only that, but Times Square obviously has tons of tourist spots. However, it can be pretty gnarly and pickpockets know that tourists hang around here.Times Square has the Empire State Building, Fifth Avenue, Broadway, Grand Central, and much more! However, we will state that the main reason you'd likely choose to stay in this area is due to scoring a cheap room.For really tight budgets (while still offering up a nice, reliable place to sleep), check out the Riu Plaza and Courtyard NY. The AC Hotel and Renaissance Times Square are good if you're willing to spend a bit more, and The Chatwal if money is no issue.
SoHo – Do you like fashion, wonderful little cafes, and walking by celebrities? Then SoHo is your spot. Here, it's exclusive and if you want to eat at one of their restaurants, you'll absolutely need to reserve ahead. For shopping and glamor, however, this is the place to be.NobleDEN and CitizenM (incredible views!) are excellent hotels for those on a budget, and The Crosby Street Hotel is just luxurious and lends to "the olden days" if you want to go all out.
Lower Manhattan – Speaking of incredible views, Lower Manhattan is your top choice if you are there for business or grabbing some Instagram-worthy shots. Here, you'll be able to visit Wall Street, the 9/11 Museum & Memorial, Statue of Liberty, and more.The hotels here are in very high demand, though still offers a wide selection no matter what your budget is. For lower budgets, The Ridge and Artezen Hotel are top choices, while Mr C Seaport and The Four Seasons are the most plush the city has to offer.
Brooklyn – Brooklyn is great if it's not your first time in NYC, if you're more of the artsy/musical type, and love hipster-y kinds of cafes and bars. If Brooklyn sounds like it's up your alley, then we recommend you checkout the area of Brooklyn that is Williamsburg. It's just the right amount of action for those who want to experience NYC but don't want to wade through waves of people.Not only that, but it's a great picture-taking spot with the Brooklyn Bridge, Statue of Liberty, and more. There aren't quite as many budget hotels aside from the Even Hotel Brooklyn, though plenty of mid-range options. Hotel Indigo is excellent and the 1 Hotel Brooklyn Bridge combines eco-friendliness, nature, and ethereal panoramas.
Restaurants and Eating Out
New York is absolutely a foodie city, which can also make it challenging to figure out what is worth it and can't be missed, and what you could do without. Let's break things down for you so you can at least hit a few delicious spots!
Faicco's Italian Specialties is the first on our list because let's be honest, NYC wouldn't be NYC without Italians. Offering house-made sausages and sauces along with various mouthwatering meats, cheeses, oils, etc. if you have a craving for the savory, this is it. From their meat and cheese trays to Italian "bowls" to their scrumptious sandwiches, you'll be saying "Mamma Mia!" before you even taste it!
New York may not be quite as known for their Mexican food, but Los Mariscos is changing that. Mariscos is essentially "seafood" in Spanish, and that's exactly what they offer at this small but charming little locale. Located in Chelsea Market, you can grab a Michelada and some of the best fish tacos you've ever had in your life here.
Japanese restaurants can be found all over the United States, but not all of them are Michelin-starred, nor are their chefs trained in Tokyo. Torishin boasts both, and aside from various skewer cuts and top-notch yakitori, features a 500-year-old Hinoki wood with kumiko. However, there are plenty of delicious Japanese-style places all over the city to choose from.
If you happen to be staying in Williamsburg, or you simply need a good steakhouse in your life, then St. Anselm is where you're headed for dinner. It's a more laid-back alternative to the more expensive alternatives, though expect a wait as there's no option for making reservations ahead of time. However, it's well worth the wait when you try a life-changing steak!
The beautiful thing about New York is that there are really people from just about every country you can imagine here and they've brought their cuisine with them. Also, there's something for every budget and vibe. From little holes-in-the-wall to the finest dining, you'll find that in the Big Apple.
Nightlife and Entertainment
NYC is the city that never sleeps, and that's driven by its nightlife. From swanky craft cocktail dens to neighborhood dive bars to posh dance clubs, you have it all. Unfortunately, a lot of iconic places has closed over the last year or so, but it's not wanting for anything still.
For cocktails, we highly recommend La Noxe, which is tucked right into the 28th St. subway station! This speakeasy isn't the most obvious of choices, as not many people know about it due to its exclusivity. However, if you can manage to score a reservation, it's a really cool way to spend an evening with interesting drinks and music.
As you probably know, not every dance club is the same. There is the ultra-nice, upscale and then there's the more grungy and industrial. The former is the definition of Basement, which features top international and national techno DJs and actually describes itself as an "industrial catacomb". This could be in part due to the fact that it's made out of a network of brick tunnels!
Nowadays is like a massive outdoor garden scattered with benches and other seating perfect for outdoor "clubbing" just as well as grabbing dinner and a drink. However, The Fleur Room really takes the cake if you're looking for the hottest party. As the name infers, there are plenty of flowers and other plants covering the club-lounge. Located on the rooftop, it offers a nearly 360-degree vista along with an enormous disco ball that once resided in the famous LA club, Vertigo.
All in all, you're going to find that the East Village, Village, or the Lower East Side have the best nightlife in NYC. However, Brooklyn is definitely getting there!
Weather
NYC weather is not the most temperate, to put it lightly. It tends to vary widely, but it's part of the reason why we love it! However, it's important to plan accordingly as New York definitely gets all seasons.
In general, the springtime and autumn are the most pleasant in regard to weather that's neither too hot nor too cold. It can get chilly enough to warrant a light jacket and cap, but also warm enough to sport a t-shirt in the springtime. You may also experience some drizzling, though many hotels offer umbrellas.
In the fall, it can get even more crisp and windy, so layers are ideal. Maybe even bring along a pair of rainboots if you have some. The winter months are absolutely cold, overcast, and snow is not uncommon. If you aren't a fan of the cold, we recommend avoiding this time of year or at least plan your trip so you aren't walking much.
The summer can get hot and humid, but the majority of the summer is beautifully warm and bright with lovely sunsets. As NYC does essentially sit on the water, you can expect a bit of a breeze and in the colder seasons, some wind.
Attractions
The Brooklyn Bridge has always been an iconic structure in NYC, though recently has become even more so due to social media platforms like Instagram. Snap a photo or two in front of it, and spend the rest of the afternoon or morning walking around the area!
Art – For other museums, check out the MET if you're an art lover or history buff. The museum itself sits inside a structure built around medieval buildings and chapels! The Frick Collection is a lesser-known yet excellent museum which sits in a mansion that's over 100 years old. The artwork inside includes all kinds of paintings, sculptures, and furniture by artists like Money, Rembrandt, El Greco, Bellini, and many more.
Do you like theater? Even if you aren't the biggest fan, you're sure to find Broadway a unique attraction. Just remember that if you want to see a more popular show, you're going to need to book in advance. Times Square is a must-do if it's your first time in NYC. It's a great photo-op spot, but be prepared for basically never-ending crowds and tourist traps.
New Attractions – Some of the newer attractions include the High Line and One World Observatory, which provide insane views of the skyline. The National September 11 Memorial is a tribute to that day in 2001. The surrounding trees, pools, and waterfalls are certainly something else, but the museum also includes all kinds of artifacts and stories from that day and the aftermath.
High Line is one of the most distinctive parks in the world, and is comprised of an elevated freight rain line repurposed as a pretty green space. It's a nice place to relax and walk around, and take in amazing city views!
Shopping – If you're a fashion fiend, you will find exactly what you're looking for either in Brooklyn or on Fifth Avenue. The latter holds all the designer brands your brain can think up, and is known for being pricey and luxurious. Brooklyn has more boutiques full of interesting pieces of clothing that you probably won't be able to find anywhere else.
Tips
First, you need to know that renting a car is not a good option. Traffic is insane and will take up a large part of your time spent there. Not to mention, once you get to your destination, parking is extremely expensive if you can even find somewhere to park! Again, public transportation is the way to go.
Secondly, you're most likely going to check out Times Square. While we do recommend doing so if it's your first time in the city, try to avoid eating there. The restaurants know most of its clientele is comprised of tourists, and will overprice their food and drinks. Sure, there are a few exceptions to this, but in general, you'll find yummier, cheaper food in another area.
Tipping is very important no matter where you go, though. Remember that servers make a very small hourly wage and basically live off of tips. An acceptable tip is 15-20% of the bill. Just make sure to look at your receipt first to make sure the tip isn't already included!
We recommend always using the restroom at your hotel before heading out for the day or night. Restrooms aren't always easy to find, especially if you aren't a patron at a restaurant or shop. However, there are a few free restrooms at Starbucks and at Penn Station in the Long Island Railroad Terminal.
The NYC Sunset Yacht Cruise is our Editor's Choice for the best NYC sunset dinner cruise.