Snorkeling is some of the most fun you can have – even better if you're in a breathtakingly beautiful place like Hawaii. Crystalline turquoise waters, exotic sea life aplenty, rich culture, and much more awaits you.
After you've decided to go on a Maui snorkeling tour, you're going to need to figure out which one to go on. We are going to cover everything you need to know so you'll have an unforgettable adventure on the best snorkeling tours in Maui!
However, you have probably noticed that there are many snorkeling tours to choose from, which can make your decision difficult. No need to worry, though, as we've taken our own experience along with that of others to bring our favorite tours. Be sure to see our reviews of Maui sunset dinner cruises and Maui whale watching tours.
Top Maui Snorkel Tours
The 7 Best Rated Snorkeling Tours in Maui for 2023
Now lets take a closer look at the Maui snorkeling tours so you can find the right one for you!
Maui Snorkel Tour Reviews
---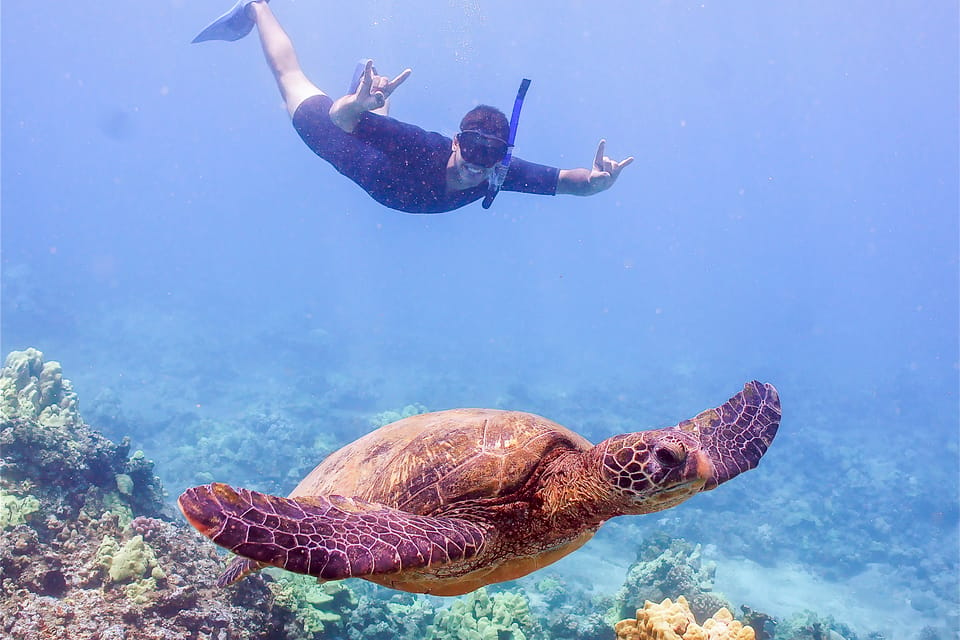 Tour Highlights:
Departure Point: Ma'alaea Harbor
Duration: 6 hours
Includes: Breakfast, lunch, lifeguard snorkeling tutorial, top-quality snorkel gear rental
Tour Size: n/a
Who's up for a load of fun and adventure? You definitely are if you decide to take this 6-hour tour, which is the best Molokini snorkel tour that is perfect for soaking up the sun all afternoon and exploring Mother Nature the way she deserves.
If you're curious about getting up close and personal with marine life, this one should be at the top of your list.
This half-day adventure starts off in a glass-bottomed catamaran so you can see everything you're passing over! Offering breakfast and lunch, you can feel confident that you're all taken care of the entire time you're out on the water. The professional crew is well-trained and even includes a lifeguard while you're snorkeling.
Dolphins, turtles, and coral reefs, oh my! You'll get to encounter them and even more beautiful creatures in 2 of Maui's prime snorkeling locations: the Molokini Crater and the aptly-named Turtle Town.
Starting in Ma'alaea Harbor, you'll board the Calypso, which offers a user-friendly stairway in and out of the water. Not only that, but it offers plenty of shade and festive music to make sure you're never bored.
Consisting of cinnamon rolls, eggs, ham, donuts, coffee, fresh fruit, and more, you'll be tempted to keep eating until you can't anymore. While you definitely need to indulge, make sure you're going to be comfortable out on the water too!
Next up is Molokini Crater – 300 feet of water right off the south shore of Kihei. The volcanic cone that makes up this area is incredibly rich in minerals which is no wonder why it's home to native Hawaiian marine life.
Manta rays, urchins, sharks, and various birds reside here. Aside from the bird sanctuary, you can catch a glance of them all underwater.
If that weren't thrilling enough, you'll have 2 water slides to go shooting down on!
Heading into Turtle Town, the rest of your day will involve you swimming with Hawaiian green sea turtles. This location is known for being calm and serene: setting the perfect vibe for relaxation. To end the day, you'll return to the boat for a barbecue lunch buffet and partake in a trivia game to win a crew T-shirt!
---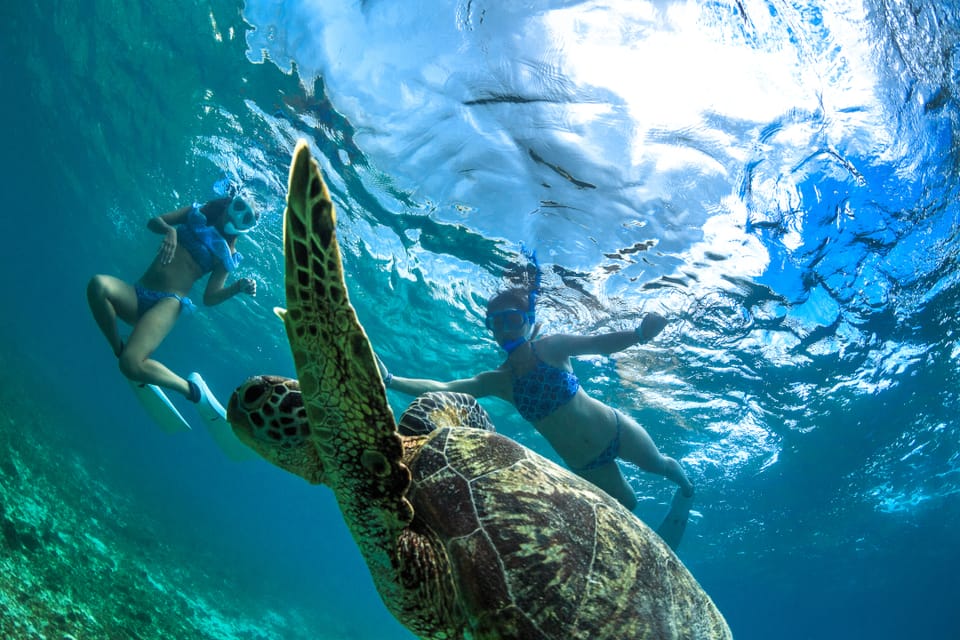 Tour Highlights:
Departure Point: Slip #76 next to Brown Harbor offices
Duration: 5 hours
Includes: Meals, soft drinks, snorkeling equipment rental, SNUBA, instructions
Tour Size: n/a
Similar to our last tour, this one also visits the Molokini Crater and Turtle Town. Due to Molokini's unique crescent shape, it keeps waters calm and allows for a vibrant underwater life as the crescent blocks high winds. In fact, this area is home to over a whopping 250 different species!
You'll meet next to the Brown Harbor offices where you'll head to a roomy yacht. Who says you can't snorkel in style? You'll love how smooth the ride is and are sure to feel at peace, even if you're someone who normally gets seasick.
During the ride there, the staff will teach you all about Maui and your snorkeling spots – some of the best in the world!
Once there, you're sure to notice just how clear the water is. In fact, Molokini offers visibility of more than an impressive 150 feet!
For beginners, this is quite possibly the best Molokini crater snorkel tour as waters are so clear and calm.
All snorkeling equipment rentals come included, and you can choose between a snorkel or a SNUBA, which is a beginner alternative.
Afterward, you can take advantage of the water toys, pool noodles, and 20-foot water slide which is a blast for everyone. If you choose to lounge on the boat, you can enjoy soft drinks and an al fresco lunch.
---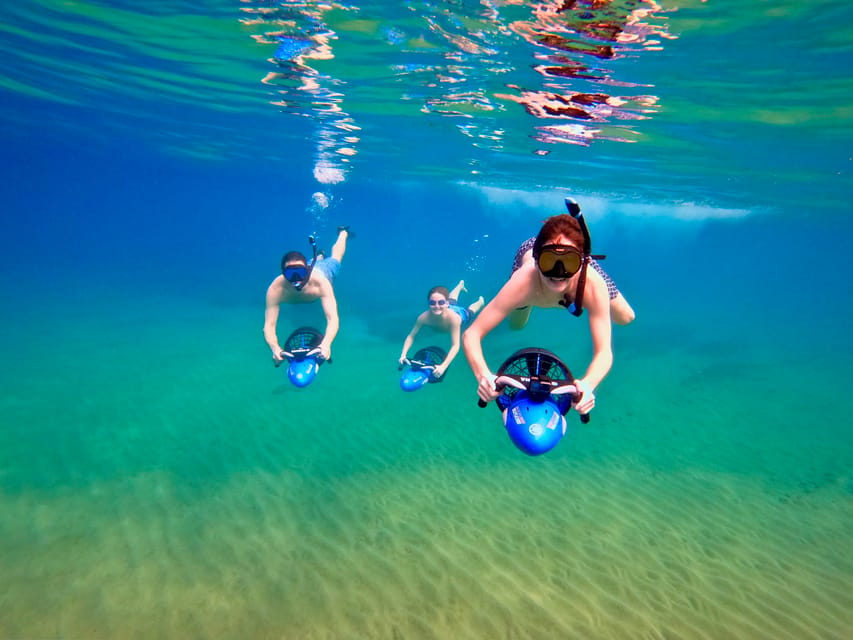 Tour Highlights:
Departure Point: Wailea Beach
Duration: 1.5 hours
Includes: Underwater sea scooter, boogie boards, life jacket, fins, snorkel, mask
Tour Size: Up to 8 participants
Meaning "the water of Lea", the goddess of canoe makers, it only makes sense that we set off on an adventure at Wailea Beach. The beach is known for being lively and full of activities like paddle boarding, kayaking, and of course, snorkeling!
If you are traveling with children or aren't very experienced in traditional snorkeling, we have you covered!
Enter sea scooters.
These cool little devices let you zoom through the water, letting you see all kinds of reefs and underwater animals in a short period of time.
If you've been taking it easy at the gym and don't feel you have the stamina for regular snorkeling, underwater scooters let you travel farther and dive deeper without exerting much energy. Plus, they're just a blast to use!
The 1.5-hour tour begins right at the beach, where your group of up to 8 people will meet with 2 certified tour guides, who know just what they're doing. Before you go out on your own, they'll give you a quick, comprehensive training on how to use the scooters.
You'll also be provided with a mask, snorkel, fins, lifejacket, and boogie boards.
After everyone feels comfortable, your tour guides will lead you onto one of the most lively coral reefs. Here, you'll see creatures native to Hawaii, such as green sea turtles, starfish, butterflyfish, octopi, rays, eels, and an array of brightly-hued fish!
However, each trip into the warm waters is different – you never know what you're doing to come across!
One thing is for sure, though: you'll be able to truly relax and enjoy yourself with the rest of your group. The location is nice and remote, so if you're someone who gets overwhelmed with crowds, this is the perfect tour for you.
---
Tour Highlights:
Departure Point: Kiosk between Leilani's and Hula Grill
Duration: 2 hours
Includes: Guide, drinks, Whaler's Village parking validation for 4 hours, snorkel supplies
Tour Size: Up to 8 participants
If your group consists of beginners and/or children, then chances are you aren't going to want to go on an all-day tour. Sometimes just a taste of snorkeling is enough to satisfy that curiosity, and the 2-hour Ka'anapali Beach Express Snorkel Trip is just the ticket.
If you'd like to swim with beautiful fish, turtles, and more ant one of Maui's most popular snorkeling locations, then this is the tour for you.
Rated as one of the best beaches in the world by various travel publications (including the notable Conde Nast), your tour starts right at the Ka'anapali beach, so make sure you've brought your sunscreen and proper swimwear!
A rash guard is optional, but if you have sensitive skin or simply find them more comfortable, bring them as they are not supplied. You'll love the soft, powdery white sand which also makes it perfect for lounging around on before or after your snorkeling trip.
As we're pretty short on time here, you'll immediately board the boat and head towards Mala Wharf. Sometimes that spot is already taken or the guides may find another popular spot in West Maui preferable, so take this into consideration as well. This will largely depend on how the weather and water conditions are for that day.
Wherever you go though, you can expect clear, beautiful waters that allows for an unforgettable snorkeling experience.
Visibility is great here, and you're almost guaranteed to see various turtles who love to hang out over here.
It's not only turtles though – you'll also find butterflyfish, parrotfish, porcupinefish, surgeonfish, and so much more. The reef is full of life, and the reef itself is quite a sight to see.
Once you're finished exploring the ocean, you'll head back on deck with a drink from the open bar while letting the wind blow through your hair as you go back to the beach.
---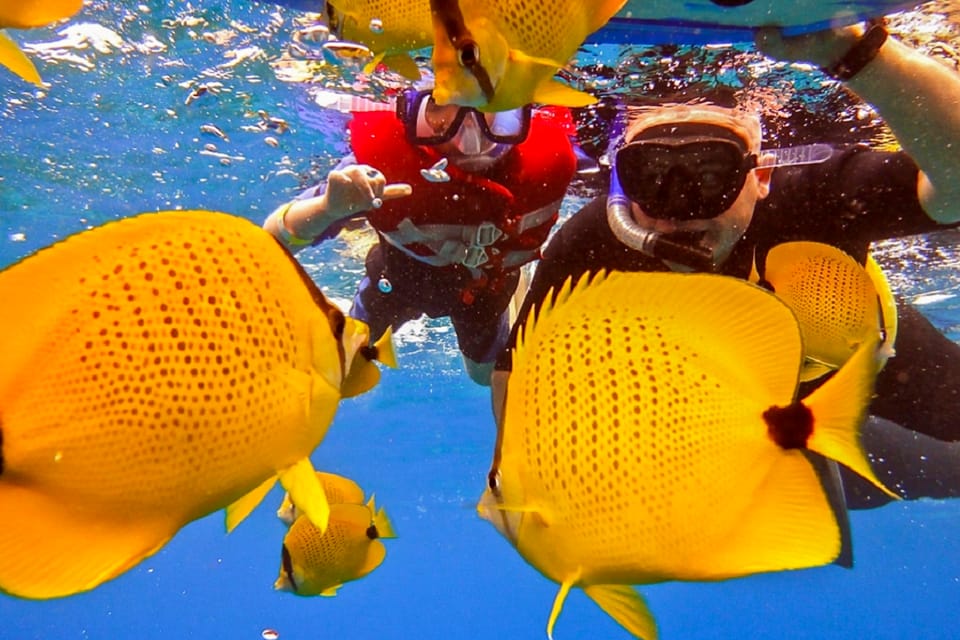 Tour Highlights:
Departure Point: Next to Beach Bum's BBQ & Grill
Duration: 3 hours
Includes: Catamaran cruise, snorkeling gear rentals, flotation devices, captain, crew, lunch (if add-on selected)
Tour Size: n/a
We've already talked a bit about Molokini Crater, which is absolutely legendary in the snorkeling world. Created by a volcanic eruption over 200,000 years ago, it is comprised of an incredibly mineral-rich volcanic rock. This attracts all kinds of creatures, and thanks to visibility up to 150 feet, you'll be able to see them all.
Coral Gardens is a stunning, unique reef formation on the west side of Maui. This premier snorkeling destination is lush and thriving with colorful fish, Hawaiian green sea turtles, and more. With this tour, you'll head to one of the two locations in one 3-hour adventure great for all experience levels
To start things off on the right foot, you'll board a sleek catamaran and head to either Molokini Crater or Coral Gardens.
This is determined based off of the captain's assessment of weather and sea conditions for that day. As you're cruising around, you'll have the option of indulging in some yummy $5 hot dogs and soft drinks – perfect for a hot day. Somehow everything just tastes better in Hawaii.
Snorkeling gear rentals and flotation devices are included, so you don't have to worry about the essentials. Once you've reached your destination, you'll receive brief instruction and be able to jump into the water that always seems to be at the perfect temperature. No shocking cold or shivering to speak of!
Many tour participants have spotted yellow tang, cornet fish, and even a spotted eagle ray!
After you're done swimming, you can go back to the catamaran and quench your thirst with some drinks which are available for purchase. Sure, free is always better, though we found the small expenses worth it.
---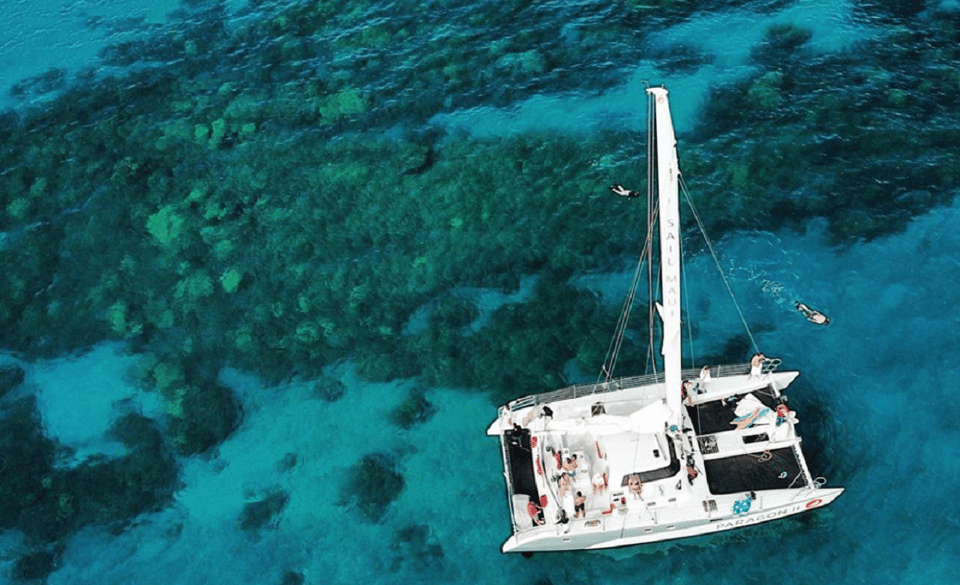 Tour Highlights:
Departure Point: Lahaina Harbor, 675 Wharf St. Lahaina, HI 96761
Duration: 5 hours
Includes: Snorkel gear rentals, continental breakfast, deli-style lunch buffet, soft drinks, sodas, aloha juices, filtered water, champagne, beer, wine, cocktails, and reef-safe sunscreen.
Tour Size: n/a
The Lana'i coast is world-famous for its beautiful sea cliffs, untouched reefs, uninterrupted island views, and warm waters. If you're on the hunt for a snorkeling trip that comes with everything you could ever want for a day on (and in!) the water, then this may be just the trip for you.
To kick things off, you'll board a sparkly new luxury catamaran at the Lahaina dock. Here, they'll provide you with reef-safe, eco-friendly sunscreen and all the food and drink you could want!
Once you board, you'll be able to enjoy a continental breakfast consisting of fresh fruit, just-baked banana bread, and locally-roasted coffee from Maui's Best Banana Bread & Coffee Co.
At this point, you may be feeling a bit lazy with a stomach full of delicious food but once you arrive to Lana'i's south shores, it's game time!
You're sure to take note of the uncrowded snorkeling sites which will allow you, your group, and the sea creatures to hang out unbothered.
There isn't a specific spot along the coastline where this tour goes each time. The crew is highly experienced and selects the best place depending on sea conditions and the time of day. However, no matter where they take you, you'll get to discover a plethora of marine life species.
You'll probably notice that this tour is a bit more laid-back than the shorter alternatives. This is because you have quite a bit of time to just take it all in, including the food. Speaking of which, when you're finished up in the water, you'll get to relax with a drink and a full-lunch buffet!
If you're lucky, Lana'i's spinner dolphins may just make an appearance!
---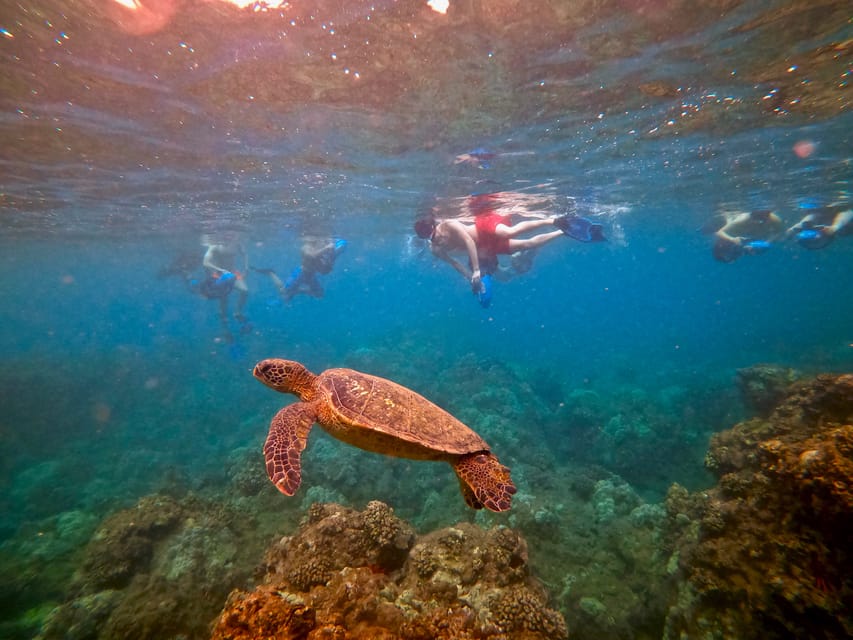 Tour Highlights:
Departure Point: Wailea Service Parking
Duration: 1.5 hours
Includes: Underwater sea scooter rental, masks, snorkels, fins, lifejackets, and boogieboards
Tour Size: Up to 10 participants
While the tours we've covered so far are definitely amazing choices, our guide wouldn't be complete without the Maui Beginners Sea Scooter Snorkeling Experience.
Scooter snorkeling is exploding in popularity, and we couldn't just include one tour with them. Perfect for participants between 8 and 55 years of age, it's great for the whole family!
While sea scooters are definitely easier to use as they propel you essentially, your guides will still start off the tour explaining and demonstrating how to use them. These are pretty fun, and the training session will go by quickly.
You'll spend about 15 minutes learning all about how to combine your swim skills with all the necessary equipment they provide you with. Following that up, you'll spend around 30 minutes practicing what they've shown you, using flotation devices as backup.
Once you're ready for the deep water, the fun will really begin. The guides will transport the group out to one of the top local coral reefs, which is filled with beautiful marine life, including the famous Hawaiian sea turtles.
---
Maui Tour Travel Guide
Getting There
In order to partake in any of these tours, you need to get to Maui. Maui's main airport if Kahului Airport (OGG), however, there are also 2 smaller airports: Kapalua Airport (JHM) located in West Maui and Hana Airport (HNM) in East Maui. The vast majority of airlines feature direct Maui flights, so this is pretty easy. From Kahului Airport to Lahaina is about 45 minutes away by car.
Getting Around
Renting a car is highly recommended, just because you're free to go wherever, whenever you want. It's the best way to really experience Maui to its fullest, and you can do so by reserving a rental car ahead of time at either the Kahului or Kapalua airports. However, if you want to let someone else take the steering wheel, you can also get around by shuttle, taxi, or even public transportation.
Where to Stay
The vast majority of the aforementioned tours are located in West Maui and South Maui, so you'll probably want to choose your place based on that first.
West – This area remains one of the most popular areas to stay on Maui, since the 60's. Here, you'll likely choose from Lahaina or Kaanapali. Lahaina is an old whaling village, whereas Kaanapali offers more places to stay and more dining options. This is where the vast majority of resorts and condos are, making it easy to pick a place from low-key to high-end. If you're looking for souvenir shops, this is absolutely the place to go. Just remember that it can get pretty crowded and is very touristy.
The Sharaton, Hyatt, and Marriot resorts are just north of Lahaina and are all beachfront, making it easy to get to your snorkeling tour. However, we are a bit partial to the Westin Maui Resort and Spa, the Royal Lahaina Resort, and the Kaanapali Beach Hotel.
South Maui – The south includes Kihei and Wailea, which is not quite as crowded, though still offers its own charm. For example, the beaches have fewer people, leaving you to take in the view without disturbances. If you're looking to bask in a calm, relaxing vacation without the hustle and bustle, then head to the south.
Kihei offers a variety of condo rentals, and you're sure to find something to accommodate any budget. However, if you don't mind spending more, head to Wailea which boasts various beachfront resorts, newer condos, a beautiful outdoor mall, and tons of high-end restaurants. Some of our favorites are Hotel Wailea, Wailea Beach Resort, and if you're on a budget, Wailea Grand Champions Villas.
Restaurants and Eating Out
The areas also vary a bit in terms of dining quality and the types of restaurants you may be looking for.
West – When we're talking about Lahaina and Kaanapali, as we previously mentioned, the latter offers many more dining options. One thing you definitely need to try to do is book at least weeks ahead of your trip, as some of the more popular eats book up quickly. If you're dining in Kaanapali and are a fish taco fan, you have to try Monkey Pod Kitchen at least once during your stay. They're also famous for the traditional Hawaiian Mai Tai cocktails, but theirs are served with mouth-watering passionfruit on top! There's one in Wailea, too, so you have an excuse to go twice!
Another fun place to explore is the Hoopiilani Food Truck Park in Kaanapali, which is open nightly from 4 to 9. If you end up not making a reservation in time or feel like something spontaneous, this place has everything from poke bowls to Thai food to burgers. Depending on where you're staying, you can realistically walk or take advantage of the free parking if driving.
South – You have a ton of dining options in south Maui, though the experiences vary greatly. You may have to work a bit harder to find something specific you're looking for, or to find "tourist-approved" restaurants. One of the things we figured out is that south Maui has some of the best coffee on the entire island – just take a look at Akamai Coffee Company. Everything is locally-grown and locally-roasted, so you're really supporting their local economy.
Are you a Top Chef fan? Even if you're not, you have to stop by and try a bite at the Top Chef alumni, Sheldon Simeon's "Lineage". Paying homage to Hawaii's traditional culture, the décor is unbeatable. The menu features varied influences, from Portuguese, Japanese, and of course Native Hawaiian dishes.
For seafood, you can't forget Pa'ia Fish Market Southside. The original is in the Upcountry, though this open-air spot is just as good. Serving ono, mahi mahi burgers, incredible fish and chips, and more, we hope you're hungry. Servings are enormous, and are great for sharing.
Nightlife and Entertainment
Maui has a thriving, pulsing nightlife, however nowhere on the island compares to Lahaina. If you come alive at night, then this former whaling port is the place to be. Bars, clubs, live music, karaoke, DJs – you name it and they have it. The Old Lahaina Luau is a beachside restaurant where you'll get to watch cultural dances, demonstrations, and enjoy traditional dishes!
In the south, you'll find more laid-back vibes, though still great nightlife and experiences. The South Shore Tiki Lounge in Kihei features a lineup of great DJs every night, along with live music during happy hour. Plus, they have delicious cocktails and pizza! Afterwards, you can go just south of Kihei where there's a ton of different bars for karaoke, an Irish tavern, and even a few nightclubs.
Ultimately, if you're younger and want to have some more electrifying, high-energy fun, head to Lahaina. If you enjoy a good cocktail or glass of wine while enjoying the way the moonlight shines through the palm trees, then the more luxe Wailea or most areas in the south would be ideal for you.
Weather
West Maui offers some of the best weather all of Hawaii has to offer. As it's known for being dry and sunny almost daily, it's perfect for being outdoors (like for snorkeling!), or simply exploring the hills and scenic beaches.
Let's face it, if you're in West Maui, there's no way you're going to want to stay inside anyway. With the beautifully lush, green mountains rising behind you, you won't be able to resist taking some snapshots. Not to mention, there's a supreme selection of beaches for you here.
The south also has incredible weather, and if you're planning on arriving in the winter, you'll experience less rain here than in the west. South Maui has the most white sand beaches that are as perfect as one can possibly be. Ultimately, the south is known for having the driest, sunniest weather on average.
Attractions
We've already talked about one of Hawaii's biggest attractions: snorkeling. Surfing is another excellent outdoor activity that we encourage you to try, even if it's your first time. Maui has tons of experienced, talented surf teachers who will make it as easy as possible for you.
Tips
The best time of year to go would be during spring or fall. The summer months are very dry and hot, and the beaches are going to be packed on the West side and pretty crowded in the south. South Maui can even get a bit chilly with greater cloud covering. You'll see more tropical showers and rainfall in the winter, too. This is especially import if you want to do a zipline tour so you don't get soaked!
If you're into beer (or even if you aren't!), you have to experience Maui Brewing Co's tours! As Hawaii's largest craft brewery, we love their Ginger Beer, Pineapple Mana Wheat beer, and succulent wings.
Hawaii is very unique, in part, due to the fact that volcanoes helped create the islands themselves. The Haleakala Crater is an almost impossibly large crater which formed over thousands of years due to an entire volcanic mountain top eroding. It's visible from just about any point on the island, and sits at 10,023 feet above sea level.
We recommend getting up early to drive to the Haleakala Visitor Center, where you can watch an unforgettable sunrise. You may even question whether or not you're on planet earth.
Humpback whales, melon-headed, short-finned pilot, pygmy, and false killer whales all reside in the waters off of Maui. If you love these beautiful giants and want to catch a glimpse of them, there are tons of live whale and dolphin tours and sighting spots for you. For indoor marine life spectating, the Maui Ocean Center is also a great place to take the kids and learn about animal welfare.
It's a smart idea to reserve ahead of time, if possible. Remember, Maui is a very tourist-heavy island and these things can book up weeks or even months ahead of time. No matter what you decide on, whether indoors or outdoors, there will always be something fun to do.
The Molokini Snorkeling Adventure From Ma'alaea Harbor was our top pick for the best snorkel tour in Maui.