If you're planning your next Hawaiian vacation, you may feel conflicted on which island to visit. Enter Oahu, or "The Gathering Place": the 3rd-largest Hawaiian island known for its famous beaches, world-class surfing, and also the site of the Pearl Harbor.
It's arguably the most beautiful of the islands, though if you want to experience it in all its glory, we recommend booking a sunset cruise.
We had the rigorous task of trying just about all of them, to bring you the very best Oahu Sunset Cruises out there. There's no time to waste, so let's dive right in!
Be sure to see our reviews of Pearl Harbor Tours and Oahu Snorkel Tours.
Top Oahu Sunset Dinner Cruises
The 5 Best Rated Dinner & Sunset Cruises in Oahu
Now lets take a closer look at the Oahu sunset cruises so you can find the right one for you!
---
Oahu Sunset Dinner Cruise Reviews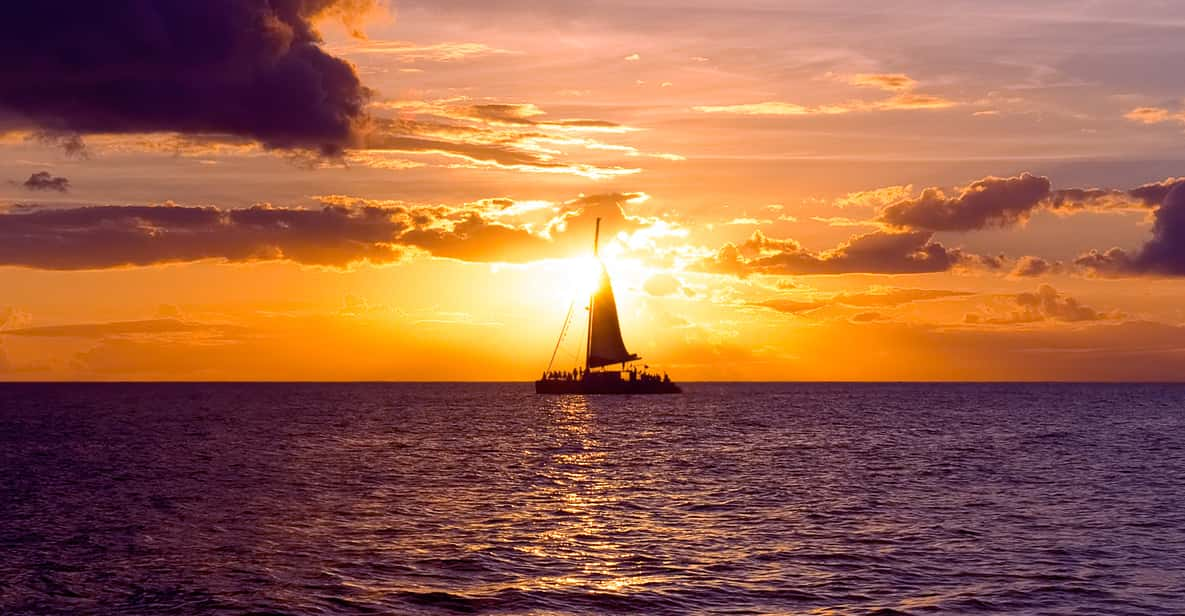 Tour Highlights:
Duration: 1.5 hours
Includes: 

Unlimited non-alcoholic beverages, 

2 free bar drinks per adult, 

Pupus" (Hawaiian-style meat and seafood appetizers)

Departure Point: 'Honu Lani' vessel in Kewalo Basin Harbor, Slip F28, 1029 Ala Moana Blvd
Other: Smooth Catamaran cruise
To start things off, we have the Waikiki Sunset Cocktail Cruise, which is equally as relaxing as it is invigorating. This tour takes place on the deck of a luxury catamaran measuring 53 x 30 feet.
We found that the watercraft glides over the ocean, making it a nice option even for people who normally feel a bit uneasy on boats. Not to mention, it's just 1.5 hours, so it's not too lengthy.
Your journey will head Diamond Head, which is a volcanic cone that resembles the dorsal fin of the tuna.
As the state's most recognized landmark, you can be assured that it's beautiful at all hours of the day, but particularly during sunset with the neon pinks and oranges surrounding overhead.
If the stunning views and ocean breeze weren't entertaining enough, you'll get to enjoy it all while partaking in some delicious traditional Hawaiian eats!
The appetizers, or "pupus", consist of avocado poke, pipikaula (Hawaiian beef), Maui onion salad, pineapple salsa and chips, taro rolls with lilikoi butter, and much more! Lilikoi butter is both sweet and sour, making it the perfect complement to pastries.
To wash it all down, there is a fine selection of white wines available which accompany the cheese, grape, and cracker plates perfectly. You'll get 2 complimentary drink tickets, so that's all covered for you.
While it's not guaranteed, you may even be lucky enough to experience the "green flash": a green glow in the sky caused by refracting light.
While it can be tempting to get lost in the views of the sky, try paying attention to the water, as well. You may just spot some spinner dolphins or humpback whales on your short trip back to the pier!
---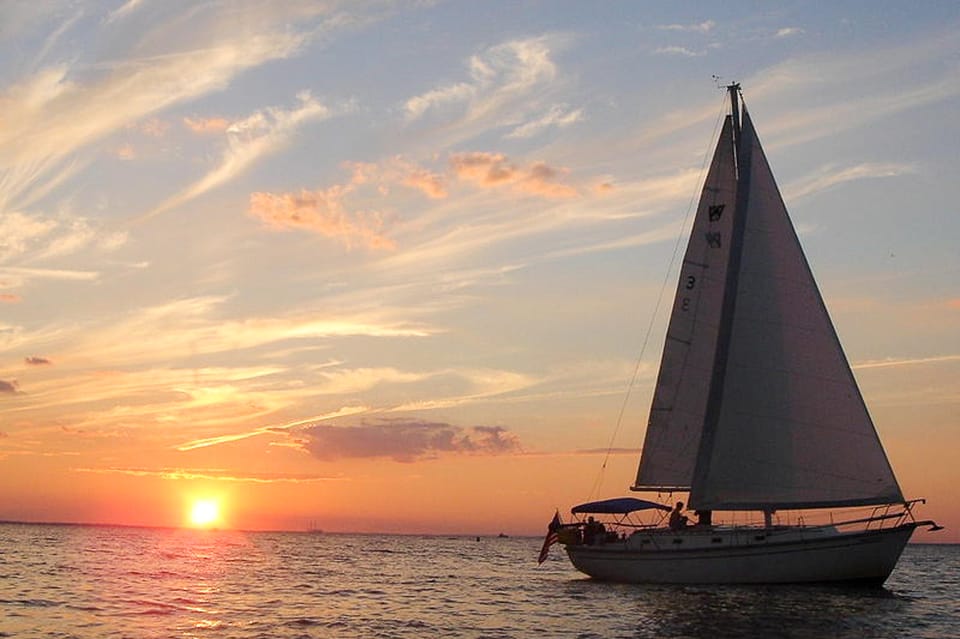 Tour Highlights:
Duration: 1.5 hours
Includes: 

Unlimited non-alcoholic beverages, 

2 free bar drinks per adult, 

Pupus" (Hawaiian-style meat and seafood appetizers)

Departure Point: From H-1 take EXIT 1 for KALAELOA BLVD. Pass the first stoplight near Home Depot and continue on to the second stoplight which is MALAKOLE STREET.

Other: Enjoy specialty drinks aboard a luxury catamaran
Next up is another serene, captivating 1.5-hour journey heading around Diamond Head, Oahu. You'll board a 48-passenger catamaran, gliding along the calm waters to make for a very smooth ride. This one is great for just sitting back, sipping on a refreshing beverage, and taking in the vivid citrus hues reflecting on the ocean.
The Gold Coast Catamaran was definitely designed with luxury in mind, and you'll get the full experience, watching the staff put the sails up and get ready for your evening journey.
The boat is magnificent, and the crew are highly-trained in safety and service.
Make sure you dress casual so you can fully relax. If it's winter, it can get a bit chilly so bring a jacket as well. The catamaran has both covered and outdoor seating, so if you do get cold you can just go inside the glassed-in area.
As you begin your sail, make sure to watch out for Hawaiian Green Sea Turtles, Humpback whales (depending on the season), Flying Fish, and more! Meanwhile, the captain and crew will teach you all about Hawaiian sea history, from inventing surfing, way-finding, and much more. It'll definitely give you a new appreciation for the culture and state.
Enjoy a variety of pupus, including a crudité platter with homemade hummus, pita chips, mango BBQ Kalua pork sliders on taro rolls (our favorite!), teriyaki meatballs, and more. The drinks are a must-have too, and 2 come included with your reservation.
You can select from champagne, wine, or mixed drinks, but we highly recommend trying their specialty: the Catatonic.
With equal parts dark and light rum, orange juice, and piñacolada mix, it'll definitely get you into the tropical spirit! All in all, the sunset cruise of west Oahu is an excellent way to spend an evening.
---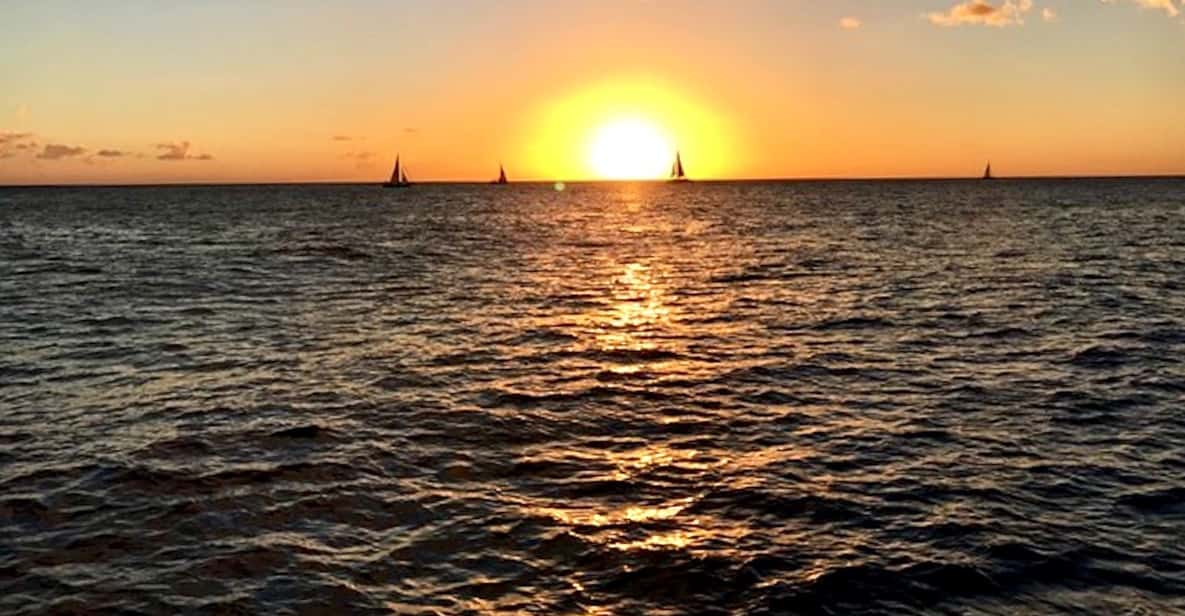 Tour Highlights:
Duration: 1.5 hours
Includes: Bottled Water
Departure Point: Slip F26
Other: See underwater creatures with the glass bottom boat
One of the best ways to observe sea life is by going under the water, like with snorkeling. However, if that's not a feasible option for you or you just rather enjoy your dinner in dry clothes, the next best way is on a glass-bottom boat.
You'll be able to look out for turtles, whales (depending on the time of year), dolphins, and all kinds of brightly-colored fish.
The Waikiki Glass Bottom Boat Sunset Cruise from Honolulu is one you're sure to rave about to all your friends once you get home! The 1.5-hour tour takes place on the Haleiwa Queen, which is a 50-foot catamaran with 49 seats.
Not only does it offer more than enough space for you and your crew (and the ship's crew), it comes with a well-shaded deck so the sun isn't burning your eyes while watching over the horizon.
You can also choose to take a look through the glass-bottom viewports while beautiful sea life will surely stop by. They tend to be attracted to the boat's illumination of water around the glass, which means you can see them at night as well!
During wintertime, it may be a bit chillier, but this is also the time when Humpback whales migrate and you may get to catch one or more!
During your journey, the crew will tell all kinds of stories and share their knowledge about Waikiki, farming history, royalty who have inhabited the area, and more. Waikiki used to be the governmental center of Oahu back in the 1450's, was stormed by Kamehameha 1, and much more!
The Diamond Head and city skyline backdrop is perfect against the pink and yellow skies, making it an excellent photo op.
---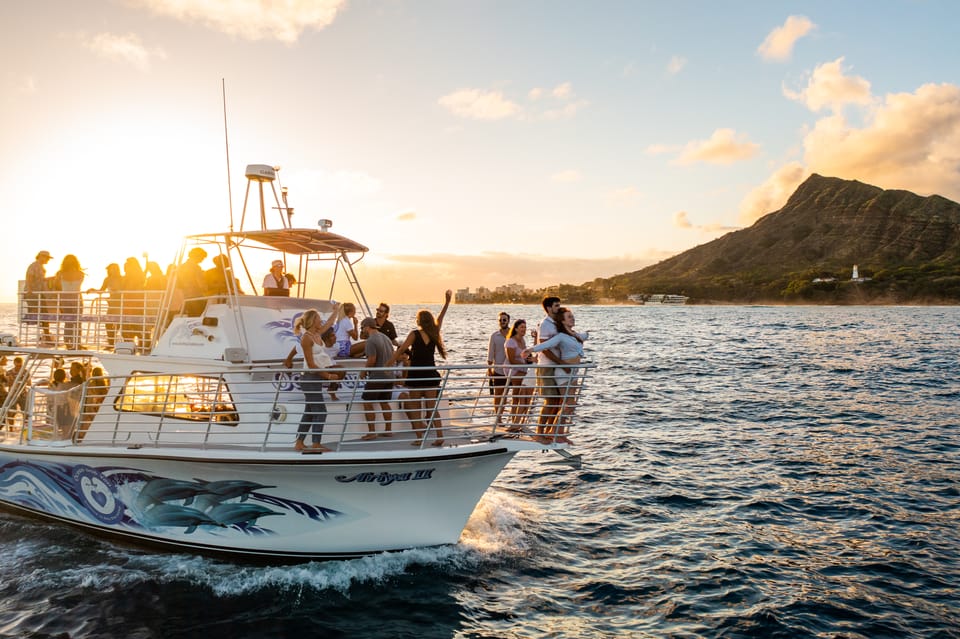 Tour Highlights:
Duration: 2 hours
Includes: 

Professional DJ, l

ocal guide, i

ce and containers for BYOB drinks (guests are also encouraged to bring their own mini-coolers if available)

Departure Point: Kewalo Basin Harbor, Pier D
Other: Local guide and live DJ for music and history entertainment
If you didn't already know that Hawaii had a great nightlife scene, then we have some good news for you: these islands become alive at night. The Oahu: Waikiki Sunset Cruise with Live DJ is the perfect combination of fresh air, beautiful scenery, good music, and the right vibe for dancing or kicking back.
This 2-hour tour is great for getting together with your group and having fun with other tourists and locals! While it doesn't include drinks, it's a BYOB situation and they have onboard coolers for you to store your drinks in.
More often than not, this ends up being a fun time where strangers share with others though it's absolutely not required.
You'll start out your journey on a modern, medium-sized boat at the Kewalo Basin Boat Harbor. Before the fun starts, you'll go through a safety briefing and then a group toast. Afterward, you can start exploring around the double decks, complete with wraparound seating and a stunning front bow that allows for full 360-degree panoramic views.
The sun will start to go down over the Diamond Head State Monument, illuminated by the golden glow. You'll often encounter surfers in the distance, catching the last waves of the day.
You may even get lucky and catch a glimpse of dolphins, whales, turtles, and an array of tropical fish.
Once the sun goes down, the party is on! The crew turns on the luxury powerboat's vibrant purple lights along with some twinkling lights overhead. All lights are synced to the music your live DJ will be playing, complete with a pro-quality sound system.
All in all, you will have tons of great photo ops, but you'll probably be having such a great time you'll forget all about taking them!
---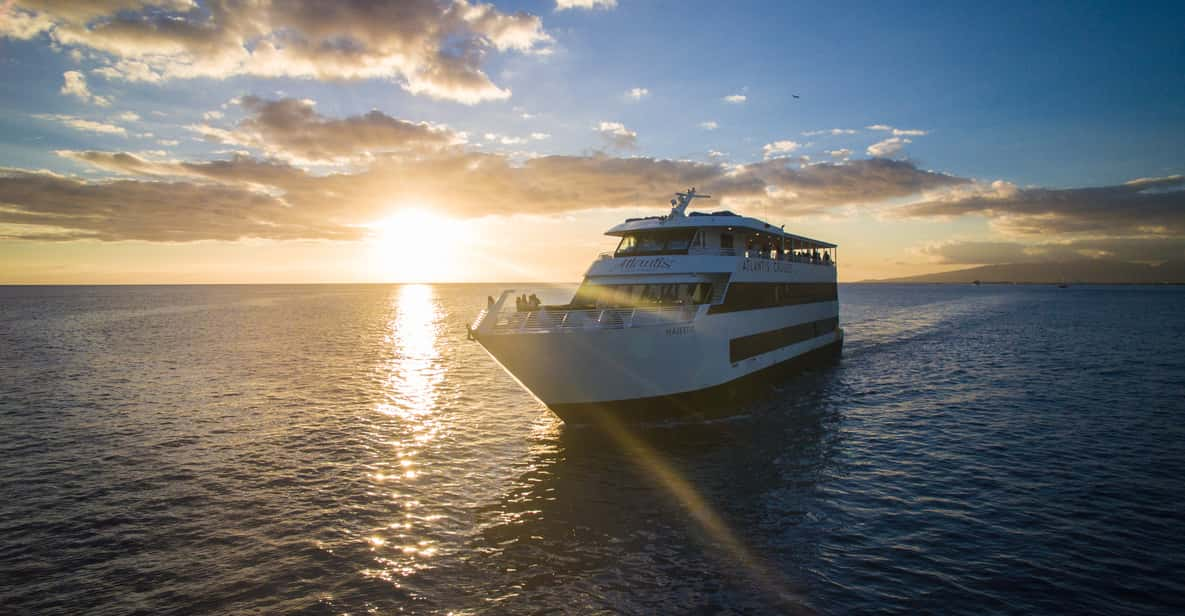 Tour Highlights:
Duration: 1.5 hours
Includes: 

1.5-hour sunset cruise, w

elcome drink upon arrival

Departure Point: Aloha Tower Marketplace, 1 Aloha Tower Dr, Honolulu, HI 96813
Other: Beautiful sunset cruise with option for delicious traditional pupus
We couldn't leave out the Waikiki Sunset and Cocktail Cruise when talking about the best Maui sunset cruises! This one is great for all ages and experiences, making it a sweet selection for families or larger groups.
However, we still feel like it's a more relaxing experience if it's adults-only as you are on a boat and there will be lots of delicious drinks present.
The tour operates year-round, and while the times change a bit due to the sunsets, it's never really too cold. If it does get a bit chilly, remember to bring a jacket during the winter months. However, there are also indoor areas great for AC in the summer and a barrier against the cold in the winter.
Thanks to the glassed-in areas, you'll have a great view, no matter where you are.
The view consists of a fabulously neon sunset reflecting off of the water, complete with the Honolulu Harbor, Diamond Head, and the Waikiki coastline framing this picturesque scene.
The time is sure to go by quickly, between being mesmerized by Mother Nature, the skyline, or the fresh air. Not to mention, they include a complimentary drink which is equally tasty as it is refreshing.
---
Oahu Travel Guide
Getting There
Unless you already live in Hawaii, chances are, you're going to have to use the Honolulu International Airport (HNL), which is the state's main airport. Just about every major domestic, along with around 16 international carries serve HNL so it's quite accessible. In fact, it's one of the busiest airports in the country!
If you are planning your trip to Oahu, make sure you already are aware of the entry requirements. If you're a US citizen, you obviously won't need a visa. For some foreigners, there are visa waivers, so it's worth checking out.
The cheapest flights are usually in January and September, though generally speaking wintertime is less popular.
Getting Around
Oahu is an island that's actually one of the easier to get around, largely thanks to the wide variety of transportation options available. You don't have to rely on renting a car, though this is easy to do from Waikiki or downtown Honolulu. Uber and personal drivers are also available, but be prepared for the more expensive cost.
Oahu has a pretty solid transit system, and for just $2, you can ride the bus. Alternatively, the visitor adult pass offers you 4 days of rides for a mere 20 bucks. Just make sure you're consistently checking their rider alerts and schedule online.
If you really want to go all-out and are a more adventurous spirit, we highly recommend getting around by moped or motorcycle. This is probably a better option during the warmer months, as when temperatures drop it tends to get a bit windy.
If that's not your kind of thing, most hotels offer a taxi/limo service. We advise against calling a cab on the street, as it's not the norm there and isn't particularly safe.
Where to Stay
Are you someone who likes relaxing and enjoying the pools at a resort? Then you'll love Waikiki. The large city is right on the beach, so it makes sense why you'd find the biggest hotel brands taking up residency here. The Marriot, Hyatt, etc. are all here so you're sure to find something familiar.
However, aside from Waikiki, South Oahu, Leeward Waianae, North Shore, and Windward East are all nice places to stay, too.
Waikiki – Not only will you find plenty of resorts, you'll also find many hotels designed for business travelers with full meeting rooms, business services, etc. here. The vast majority of all stays on Oahu are located in Waikiki for good reason!
The Moana Surfrider, built over 100 years ago, was Hawaii's first hotel and definitely a must-visit if you're into history, Victorian elegance, comfort, or some combination of them. However, we feel like The Royal Hawaiian has quite a bit to offer, too. It has been featured in movies since the 60's, and offers a bit of that Hollywood glamour to this day. They recently renovated their "luxury tower" as well as most rooms.
Keep in mind that both of these hotels are located in tourist-heavy areas and it will be crowded outside. The Laylow hotel is a bit more affordable, looks beautiful, yet is still considered upscale. Oh, and it's located a bit further off the beach so you'll not be so overwhelmed with people. However, you absolutely need to check out the Surfjack Hotel  which is a mid-priced boutique resort which really plays homage to that classic 60's Hawaiian surf culture.
Aside from Waikiki, North Shore is a great area full of vacation homes, charming cottages, along with various comfy B&Bs along the beach. If you're trying to escape with a significant other or just want something a bit more quiet, North Shore is highly recommended.
Restaurants and Eating Out
Once you land in Oahu, you're in for a real treat or two. There are countless restaurants and eateries from just about every single country and culture you can imagine! However, you can't go without trying some traditional Hawaiian food while you're here.
Speaking of North Shore, it's here where you'll find Romy's Kahuku Prawns & Shrimp which is an absolute life-changer. The family-run business is sure to make you feel at home, but will blow your mind with their savory, flavor-explosion of seafood. Do yourself a favor and grab the butter and garlic shrimp which is their signature dish.
If you've never had Hawaiian food before, Helena's Hawaiian Food is here to make sure you forever start to crave it. Just one bite of their Kalua Pig or Semi-Salty Lomi Salmon and you'll never be the same! Everything is rich in flavor, but make sure you leave room for their Haupia dessert: a fresh dessert made of coconut, almost like a pudding.
Looking for something fast and tasty to refuel in-between sightseeing? Then head over to Rainbow Drive-In. It's the closest thing to a Hawaiian burger joint, with plate lunches that include robust macaroni salad, spam and eggs, shoyu chicken, bento boxes, and more! Oh, and if the heat is getting to you, order a slushy float!
We hope you're a coffee lover, because some of the best coffee in the world is found here. Gorilla in the Café is in the Waikiki shopping district, though Arvo is adorable, the coffee is incredible, and the staff is super friendly. For breakfast, you can't get better than Koko Head Café: with a former Top Chef as their well, chef! Order the Breakfast Congee and thank us later.
For dinner, you can't go wrong with Palace Saimin. Open for 75 years, they manage to combine Chinese-style noodles in a Japanese-style dashi broth. Other selections include wonton min, udon, saimin (of course), and more.
Do you want elegance? Then Senia is a prime choice, with confit duck, tapas, pintxos, and much more. Oh, and they have one of the best wine programs in the state! Everything is made with passion and precision, and that's reflected not only in the food but the atmosphere and décor.
Nightlife and Entertainment
As Oahu is so rich in culture (and tourist-heavy), you can count on a ton of nightlife options to be available to you. While the sunset cruises are a wonderful way to spend part of an evening, there are many other activities to partake in.
Luaus are a very important part of Hawaii, and is a must-do if you really want to immerse yourself in the culture. Not every luau experience is the same, however, so it's a good idea to research a bit. For example, some last over 5 hours long and are an entire event, complete with feasts and drinks.
Chances are, if you're visiting Oahu, you're already someone who appreciates nature. Check out the Moon Walks at Waimea Valley if you want to see what Mother Nature has blessed us with. You'll pass by various places of worship, botanical gardens, immense greenery, and waterfalls. Not to mention, you'll have the opportunity to learn about how lunar phases affected the lives of Native Hawaiians.
With a live DJ, local music, food, and drinks, Bar 35 is a great place to stay and dance the night away. It attracts a slightly younger crowd, with large dancefloors and a refreshing patio with ample seating. Buho Cantina is a great place to grab a margarita, delicious Mexican food, and relax in the flirtatious downlighting.
For award-winning microbeer and open-air environments, we recommend trying out The Beach House. You'll be treated to live music and a generally positive, fun vibe.
Weather
As we've previously mentioned, you can feasibly go to Oahu any time of year and still have a great time. It's not, for example, New York City, that tends to have hot and humid summers and frigid winters. Everything is pretty calm, though the best time is from mid-April to early June.
Alternatively, anytime between September and mid-December are good too. Just remember that when you really get close to Christmas and New Year's, crowds are going to thicken and ticket/hotel room prices are going to increase.
Out of all the main Hawaiian islands, Oahu is the driest in terms of weather conditions. That means that it's rare not to have sunshine and a slight sea breeze. You can plan on bringing your best "great weather" clothes, along with a jacket just in case. You don't have to worry much about it raining, though if there are showers, they're not likely to last long.
Attractions
As we've talked about a few times already throughout our guide, Diamond Head is absolutely a landmark you can't miss. The volcanic cone is the most popular of the state parks here, and is called such because British sailors in the 1800's thought they had discovered diamonds! Hiking to the top is definitely tiring, but once you get to the summit you'll realize it's more than worth it!
A lot of people head to Hawaii for the beautiful beaches and great drinks/food, and that's perfectly fine. However, we feel you'd be missing out if you didn't experience Polynesian culture a bit more. The Polynesian Cultural Center has you covered, which is even referred to as the Disney World experience of Hawaii! With all kinds of shows and entertainment, it's a good idea to plan to be here all day.
If you're staying in Waikiki, there is also a lot of stuff to do here. Plan on a lot of it being tourist traps, gift shops, and such. However, there are some great upscale shopping centers and an array of towers, rooftop bars, top-notch culinary spots, and white sand beaches aplenty.
Do you know how to swim? Then why not try to learn how to surf right in the spot where it was invented? You can count on learning from the absolute best, and your instructor will take you to areas where there are gentle waves. If you feel confident enough, you may even be able to paddle out into the more intense surf!
If you enjoy being in the water while not falling off a board, there's always incredible snorkeling in Hanauma Bay. If the crystal-clear turquoise waters don't attract you, the over 300 species of marine life are sure to! As it is a sanctuary and the top priority is protecting the beings who reside here, only 3000 visitors are allowed to visit per day.
No matter who you are, a trip to Pearl Harbor is sure to move you. In fact, it boasts almost 2 million visitors per year due to its tragic history. The WWII USS Bowfin Sub and the USS Battleship Missouri are both anchored in the bay and you may even be able to board them!
Tips
First, if you're going to surf, we recommend doing so at sunset. The view is just incredible, the sun isn't too strong, and there aren't quite as many people out. Why not stay on the beach for dinner, too? The cool thing about Oahu is that everything is practically right on the beach.
Go and grab a bite to eat and have a picnic right there! You don't have to fight for a reservation or a seat, and you have the best view in the house!
Kalakaua Avenue is like the main touris street which winds through the center of Waikiki. It is full of hotels, restaurants, bars, and shops but these tend to be more expensive for that reason. It is very crowded during the daytime and at night you'll get to enjoy street performers and live music. It is definitely entertaining, but can be a little annoying if you dislike crowds.
Kuhio Avenue is a great alternative to Kalakaua and runs parallel to it and just a block away. You'll immediately notice a large price difference in everything! Monsarrat or Kapahulu Avenues may be even better, and is more of a local hotspot instead of a tourist hotspot. Everything is yummy, and the prices are even more attractive.
You may have noticed that one of the tours on our guide mentioned a BYOB structure. As it's notoriously hard for businesses here to get a liquor license, many just opt for a BYOB approach. Instead of spending almost 20 bucks on a simple cocktail, you can stop at a grocery store, pick up some beer or a bottle of wine, and the restaurant will happily let your drink your own drinks. Many places are cool enough that they'll even store it in their fridge for you!
The Waikiki Sunset Cocktail Cruise is our top pick for the best sunset dinner cruise in Oahu.