While Athens is undoubtedly one of the most unique places in the world, a visit to Delphi offers the opportunity to dive deep into Greece's rich history and mythology while appreciating the region's scenic beauty.
While you could definitely do a self-driven tour, nothing can compare to having a knowledgeable local guide take you through the best parts of this remarkable place. From the Delphi Archaeological Museum and Oracle of Delphi to the breathtaking landscapes and mythological significance, there's never a dull moment around here.
We've carefully curated a guide of our top Delphi tours from Athens tours that are well worth your time and money, taking you back in time to explore another way of life. Let's jump right in!
Top Tours of Delphi from Athens
---
The 5 Best Rated Delphi Day Trips From Athens For 2023
Now let's take a closer look at the Delphi from Athens tours so you can find the right one for you!
---
Delphi Tour Reviews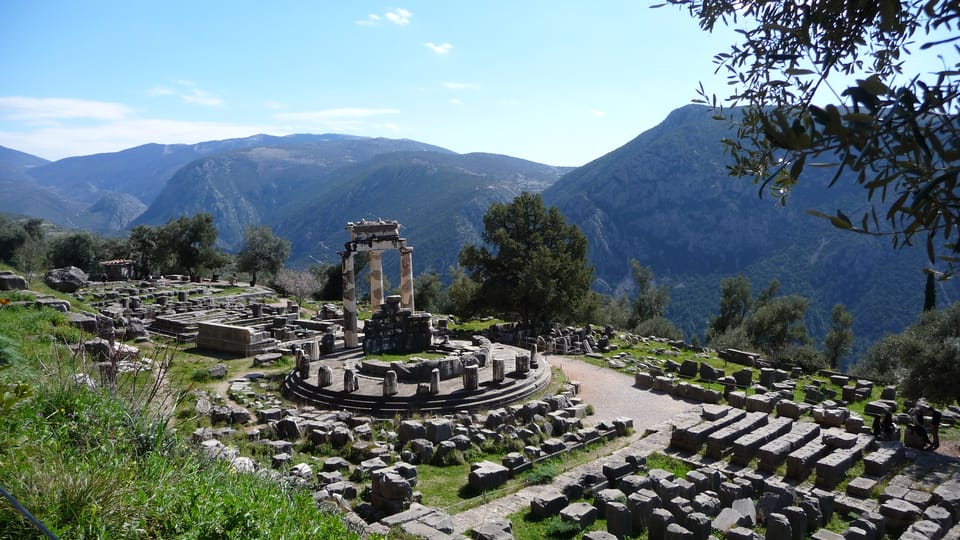 Tour at a Glance
:
---
Departure: Hotel pickup and drop-off included
Start: 7:00 AM, 8:00 AM, 9:00 AM
Duration: 10 hours
Includes:

Private transportation,

Air-conditioned vehicle,

WiFi on board,

Bottled water
Are you looking for a comprehensive experience of not one, but two historically significant sites in this beautiful country? The Delphi, Thermapylae Full Day Private Tour from Athens provides exactly that, with an intriguing look into ancient history and heroic tales.
If you're interested in gaining a deeper appreciation for both ancient and modern Greek culture, look no further! This 10-hour tour kicks off with a convenient pickup from an air-conditioned coach complete with Wi-Fi and bottled water on board.
As they pick you right up from your hotel lobby, you don't have to worry about booking or paying for separate transportation. As you cruise to the UNESCO World Heritage Site of Delphi, your guide will offer an educational commentary on the area so you have some background knowledge before arriving.
Delphi tends to be the primary tour focus, where you'll have time to check out the Delphi Archaeological Site, including the Temple of Apollo, Ancient Theater, and other significant locations.
After an immersive exploration of the museum and archaeological site, you'll get to explore the amazing Thermopylae which is known as a prime example of bravery and persistence against all odds.
Learn how Leonidas led almost 7,000 Greeks (including Saprtans) to try and keep the Persians from passing through the mountain pass, as well as many other events that took place here. After, you can choose to either check out the actual town of Delphi or head on over to the fascinating town of Arachova.
Arachova is a mountain town known for its breathtaking landscapes, charming architecture, amazing shopping, and delicious cafes. It's no wonder why it's one of the favorite resort towns for Greek residents!
Check Availability & Book Tour
---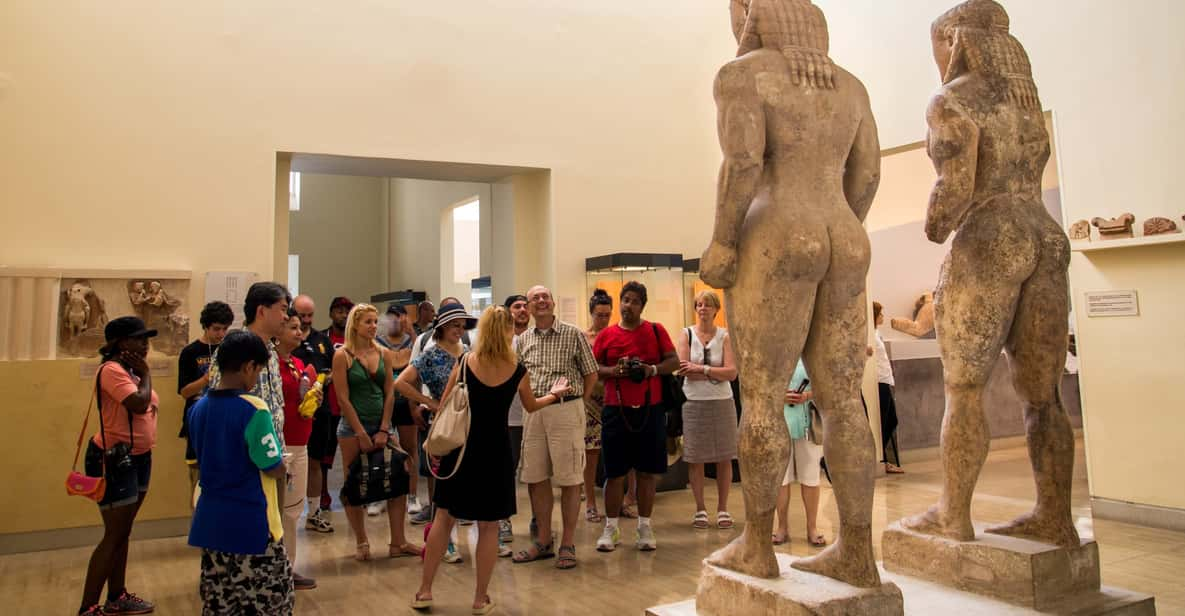 Tour at a Glance
:
---
Departure: Hotel Amalia in Athens
Start: 8:20 AM
Duration: 11 hours
Includes:

Transportation by bus,

Guide,

Entrance fees,

Free Wifi on the bus,

Map of Athens and Greece,

Mobile app with audio content & real-time assistance
In my opinion, there's no other way to see one of the most important archaeological sites in Greece than on a guided tour. The Full-Day Guided Tour to Delphi from Athens is one of the best experiences I've had, offering an enriching and educational experience few others can.
Once considered the center of the world in ancient times where people sought prophecy and advice, there certainly is a lot to see and learn about!
Your day trip will start off in the morning where you'll head over to Levadia by air-conditioned, wi-fi enabled bus. Once at Levadia, you'll have time to stretch your legs, get some fresh air, and purchase some snacks or drinks if you'd like.
Then, make your way over to the charming town of Arachova known for its rich-colored carpets, amazing architecture, and winding pathways.
Located on the slopes of Mount Parnassus, you'll arrive at the Delphi archaeological site where you'll walk through ancient ruins as your guide explains the history behind the different monuments and their historical importance.
The Temple of Apollo is undoubtedly the star of the show, and you'll learn about its architecture, how it was used as a religious and cultural center, as well as the Oracle of Apollo.
Next up is the Delphi Museum, where you'll find a fascinating collection of artifacts uncovered right here: pottery, statues, and many other important ancient items.
After, the group will have around an hour or so of free time to explore the theater and stadium, the Athena Pronaia Sanctuary, or have time to grab some coffee, food, or souvenirs.
Check Availability & Book Tour
---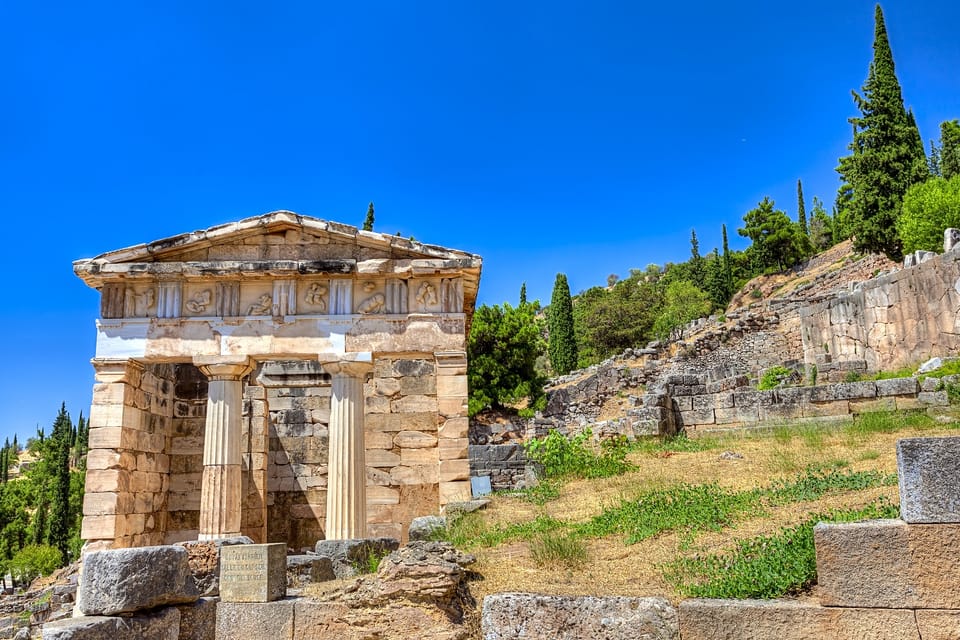 Tour at a Glance
:
---
Departure: Hotel pickup and drop-off included
Start: 8:00 AM
Duration: 2 days
Includes:

Transportation by luxury, air-conditioned, non-smoking bus,

Accommodation in 3* or 4* hotel (depending on the selected option),

Breakfast,

Dinner,

Professional guide,

Admission to the Delphi archaeological site,

Stoa of Athenians, and

2 monasteries
Perhaps you're looking for a more comprehensive tour that will take you away from Athens for a couple of days. If so, the Delphi and Meteora 2-Day Guided Tour from Athens is exactly what you're looking for!
This incredible journey combines 2 of Greece's most iconic destinations, combining the ancient site of Delphi with the amazing monasteries of Meteora.
Start off by being picked up at your hotel in Athens, where you'll meet your fellow travelers and professional guide who will lead you on this picturesque drive through the countryside.
Pass by notable villages and gorgeous landscapes, listening to the educational commentary and interesting anecdotes as you do so. Once you arrive in Delphi, you'll have plenty of time to stretch your legs and explore this ancient archaeological site.
Learn about why the Temple of Apollo was so important, taking time to see the theater and stadium before making your way to the Delphi Museum. Take a well-deserved break after all that walking to have a traditional lunch before driving over to Kalambaka.
This garden-filled beauty is the gateway to the UNESCO World Heritage Site of Meteora, which you'll get to venture through the next day!
After a nice rest, head up to Meteora early in the morning for a thrilling tour through cliff-top monasteries which sit around a thousand feet up in the air atop rock pillars!
They not only offer breathtaking views, though – you'll learn about their way of life, enjoy a spiritual atmosphere, and admire amazing frescoes and architecture. On the way back, stop at the monument dedicated to Leonidas – better known as the King of Sparta – who passed away during the infamous Battle of Thermopylae.
Check Availability & Book Tour
---
Tour at a Glance
:
---
Departure: Hotel pickup and drop-off included
Start: 8:00 AM
Duration: 10 hours
Includes: Professional Drivers with Deep knowledge of history, Hotel/ AirBnb/ Port pick up & drop-off, Transport by private vehicle, Bottled water
This next tour is one of the most professional we've had the pleasure of going on, which is saying a lot considering all of the 5 tours on this guide were amazing!
The Delphi Private Full-Day Tour from Athens is yet another 10-hour excursion that will give you a whole new perspective on Greece and how it came to be where it is today. This tailored experience caters to your specific interests, going at the pace that suits you and your group best.
Your private tour guide will pick you right up from your hotel lobby, or a prearranged meeting spot in central Athens at a time that you prefer. Traveling in a private vehicle, you'll get to sit back and enjoy the scenic drive through the Greek countryside as you make your way to Delphi.
The drive is just a few hours long, and your guide will offer up interesting commentary along the way so you already have quite a wealth of relevant knowledge before arriving!
Your first stop will be the Delphi Archaeological Site, where you and your group will explore the ancient ruins to your liking. As it is a customized experience, it will suit your interests, but generally will always include certain points of interest.
These include the Temple of Apollo, the theater, the stadium that was once capable of holding thousands of people, and more.
The Temple of Apollo was created as a Greek sanctuary dedicated to the God, Apollo, and is fascinating to see in person. A cool addition to this tour was our stop in Arachova, colloquially known as the "Mykonos of Winter" by the Athenians! If you're looking for some magical scenery, it comes in heavy supply around here!
Check Availability & Book Tour
---
Tour at a Glance
:
---
Departure: Hotel pickup and drop-off included
Start: 8:30 AM
Duration: 10 hours
Includes: Professional guide all day, Air-conditioned vehicle, Hotel pickup and drop-off (selected hotels only), Free Wifi on the coach, Entrance tickets to Delphi site and museum
If you'd like to escape the busy city of Athens but don't want to miss out on thrilling cultural experiences, we have you covered. The Delphi English Day Trip from Athens is an extensive tour that will transport you back in time to this center of prophets, religious worship, world-class athletic competitions, and amazing performances.
The professional guides, top-notch organization, and luxuries here and there made this tour one of our favorites.
Just like with most others on our guide, this tour begins with a convenient hotel pickup so you don't have to organize any separate transport yourself. Just make sure you have some comfortable shoes and clothing, along with a hat and some sunscreen to take care of your skin!
You'll be walking a good amount, so rest and relax on the journey out to the UNESCO World Heritage Site of Delphi and enjoy the beautiful scenery from your window.
This immersive tour will take you to the archaeological site too, which is quite profound to see where so many of these artifacts literally came from. The guides relay how this was a very significant place in the world, where many traveled far and wide to seek advice or prophecy.
Our group was in awe when we saw the incredible Temple of Apollo, as well as the Charioteer of Delphi, and the Sphinx of Naxos (among other sites).
After a delicious local lunch, it's time to head to the nearby towns of Arachova and Levadia for some more sightseeing, trying tasty local cuisine, finding that perfect souvenir, and much more. Levadia is a paradise for nature lovers, with some of the most extensive and breathtaking trails in the country.
Arachova is known for its skiing, mountainside views, quaint village, and friendly locals, and both are worth stopping by!
All in all, this tour is one that we felt was ideal for those with children as the guides are fantastic at holding the group's attention and stopping just the right amount of time at each location.
Check Availability & Book Tour
---
FAQs About Delphi Day Trips
How far is Delphi from Athens?
Delphi is 100 miles southwest of Athens or a 2.5 hour drive.
How can I get to Delphi from Athens?
Renting a car: You have lots more flexibility by driving however the drive there is through the mountains on narrow winding roads. The parking can be difficult to find and expensive at Delphi.
Take a bus: By far the cheapest option but least convenient. But you need to be flexible with your schedule and the bus ride and be unpleasant.
Guided tour: This is our recommended option, it is the most convenient and informative. However you are stuck with a group and on their timetable.
What else can I do in Delphi other than the archaeological site & museum?
There is the town of Delphi where are shops, cafes and restaurants. There are several scenic viewing areas of the valley and the mountains. If you have a car you can also see nearby towns of Arachova and Levadia.
If you take a guided tour with transportation from Athens you can expect to pay about $100. If you decide to go by yourself and do a self guided tour, the tickets are about $15.
The Delphi, Thermopylae Full Day Private Tour is our Editors Choice for the best Delphi day trip from Athens