Miami has been a hot tourist destination for decades. Known for its warm climate, beautiful beaches, pumping club scene, and delicious food, it's no wonder why.
However, no trip to southern Florida is complete without an Everglades tour. The over 1.5-million-acre wetlands consists of marshes, mangroves, and pine flatwoods that are incredibly unique to this area.
Not only is the flora and fauna captivating; it's also home to hundreds of different animals, including manatees, gators, turtles, and more!
We're here to bring you the top Everglades Tours from Miami so that you can focus your time on the fun stuff!
Top Airboat Tours of the Everglades
The Best Rated Everglades Tours From Miami In 2023
Now lets take a closer look at the Everglades airboat tours so you can find the right one for you!
---
Everglades Airboat Tour Reviews
Tour Highlights
:
Departure: Pickup possible from the airports in Miami and Fort Lauderdale, most hotels in the South Florida area, or the cruise ship ports on arrangement
Duration: 9 hours
Includes: 

Pickup and drop-off service, n

aturalist guide, n

ational park fees, 

2 boat trips, e

ntrance fees to trading post and museums, l

unch, s

nacks, bottled water

and binoculars, k

eepsake map of Everglades National Park

Other: Native American culture tour
Starting things off on the right foot, we bring you the Florida Everglades Small Group Adventure Tour. This one combines history, adventure, fresh air, and much more. If you're looking for a comprehensive, full-day tour, it's hard to beat this selection!
First off, know that this tour is super convenient, as they offer pickups from both Miami airport, Fort Lauderdale, the vast majority of South Florida hotels, and even cruise ship ports (just let them know ahead of time)! However, you will be walking a bit on the tour, so keep that in mind.
Board your comfy transfer and head out to Everglades National Park. Once you arrive to this ethereal place, you'll hop onto an airboat which is an adventure in itself!
You'll glide through the waters for an hour, where you'll get to see all kinds of wildlife in their natural environments, such as Roseate Spoonbills, White Pelicans, manatees, dolphins, and more!
This area is incredibly rich and hardly affected by humans, pollution, or anything of that nature.
However, there are humans who live in this area, too! You'll head to the center of the Everglades and have the chance to visit a Native American tree island village only accessible by boat. The Miccosukee will tell you all about how they've managed to survive, despite the environment being so unforgiving.
Afterward, you'll hike in Big Cypress National Preserve and get a bit of exercise (and beautiful views!) in. To wrap things up, you'll lunch on a mouth-watering feast of fresh local produce, check out the smallest US post office, visit a renowned local art gallery, and more. After the tour, they'll take you back to your hotel, port, or airport.
---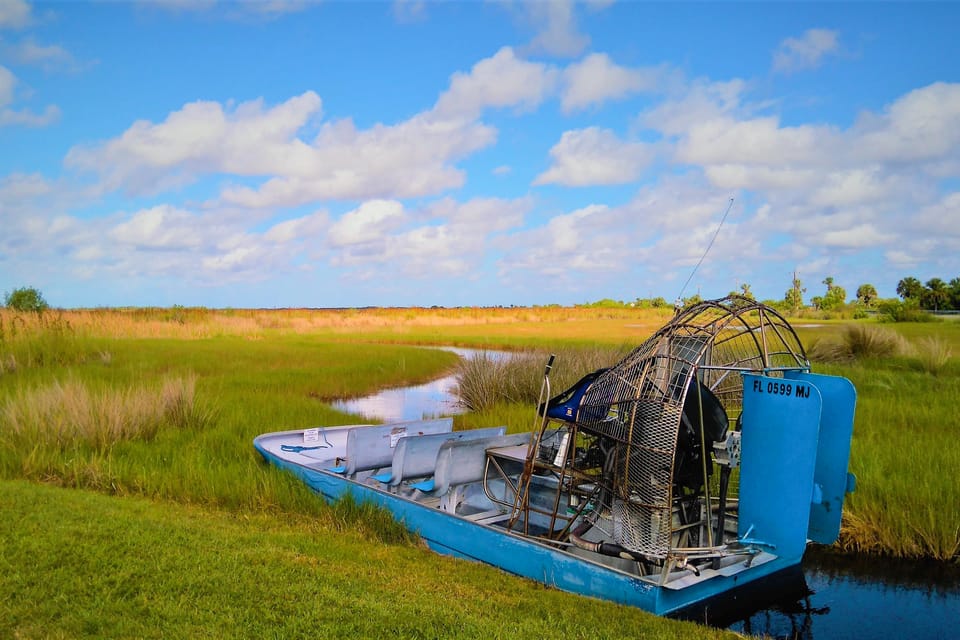 Tour Highlights
:
Departure: O

nly from hotels between 1st Street and 75th Street along Collins Avenue and Washington Avenue

Duration: 4.5 hours
Includes: 

Transportation, h

otel pickup and drop-off, p

ark entrance fee, a

irboat ride, w

ildlife show

Other:

Food and beverages

provided
If you have a particular interest in alligators, this next tour is a can't-miss for you! Focusing heavily on a wildlife tour based around the gators, the Everglades Park Airboat Ride & Wildlife Show will take you from the bustling city of Miami to the beautiful Everglades.
Full of all kinds of wildlife, this is truly a unique tour that you're sure to want to replicate in the future!
This 4.5-hour tour is a great way to pass the morning or afternoon (you get to choose if you'd like to leave at 10:10 am or 2:10 pm), although you're probably going to be tired afterward! Right when you get on your bus, and head out to the Everglades where you'll find out all about the diverse wildlife around here.
Board an airboat, otherwise known as a swamp boat, bayou boat, and other names. These are flat-bottomed propelled by a propeller similar to those found in aircrafts. The engines can be either automotive or aircraft, and are designed to glide over the water. They hold few people, making it great for small groups.
Head down a winding canal, which offers up-close views of various kinds of wildlife in their natural habitat. That alone is worth the trip, but this journey doesn't stop here.
You'll be a spectator in the Gator Park's famous alligator and wildlife show, which includes gator wrestling!
The barehanded techniques used in this show display the raw strength and impressive agility these pure-muscled reptiles have. If you enjoyed watching "The Crocodile Hunter", you'll love this.
At the end of the day, you'll also have the chance to try the fried alligator tail sandwich, using Cajun spices that are sure to satisfy you after a day on the water.
---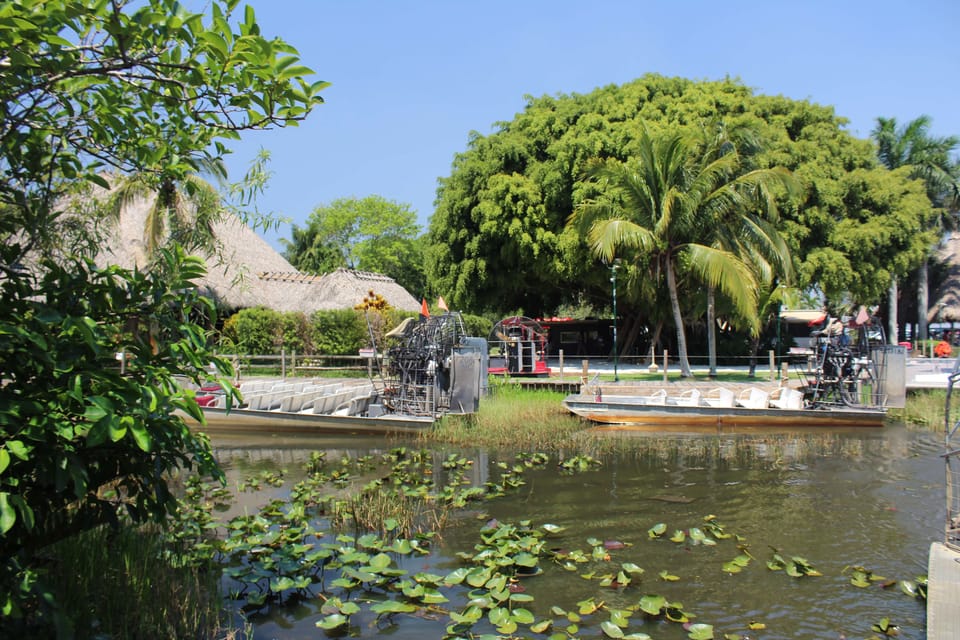 Tour Highlights
:
Departure: Most Miami hotel lobbies
Duration: 4 hours
Includes: Tr

ansfer to and from your hotel, g

uided tour, p

ark tickets, m

otorboat, w

ildlife show

Other: Native American island tour and wildlife show in afternoon/morning options
Next up, is the Wildlife Show & Everglades Motorboat Ride with Hotel Pickup. As the name suggests, you'll go all over the place without having to worry about providing your own transportation. They'll pick you up and drop you off right at your hotel!
This 4-hour tour is a wonderful way of bringing Florida's wildlife and its Native American history (and present!) As this is a pretty brief tour, they really pack a lot in and make sure there's never a dull moment.
Once you're picked up, you'll head straight to the 4-hour motorboat ride and show.
You'll travel into the heart of the Everglades, where you'll see various critters like alligators, crocodiles, all kinds of tropical birds, snakes, tortoises, and more!
You won't just get to see them, though – your guide will also fill you in on interesting facts about them and the surrounding flora and fauna.
One of the highlights of the tour is getting to learn about the Native Americans who have inhabited the area for hundreds of years. The Natives themselves will tell you about their culture, and how they've used highly intelligent methods in order to survive this rough area.
To finish up, you'll see a wildlife show with the Gator Boys, who are known from their show on Animal Planet where they rescue gators. You may even get to hold a baby alligator!
---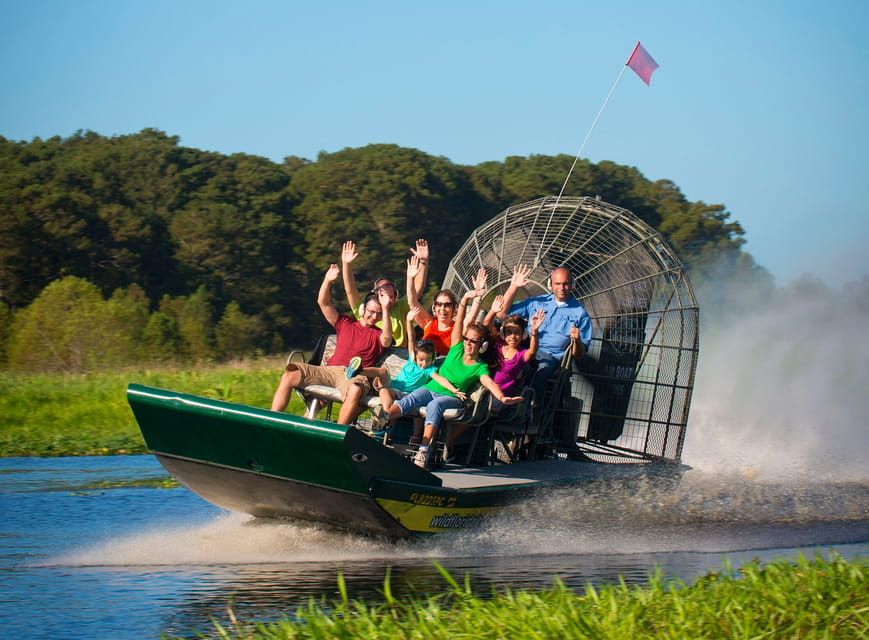 Tour Highlights
:
Departure: 

Pickup from select meeting points in Miami Beach or Downtown Miami (if option selected)

Duration: 1 – 4 hours
Includes: 

Airboat tour, e

ducational wildlife presentation, 

English park ranger in the Everglades, 

English, Spanish or German guide on the bus (depending on option selected)

Other:

Educational wildlife presentation
The Everglades Airboat Tour and Wildlife Show is the kind of high-speed outdoor fun that everyone needs in their lives! You can choose to have a pickup from Miami or travel to the station yourself, as the location is about an hour from Miami.
These are great for private tours, or for small groups so whether you're going with just one other or the whole family, you're all set.
If you only have limited time in Florida, you'll appreciate how many different tour times there are with this option. This makes it great if you're really trying to pack in as much as you can. Not only that, but they have plenty of different language options when it comes to the live tour guide!
We personally recommend bringing some earplugs, as sometimes when the driver drifts through sharp turns or goes really fast, it can get pretty loud!
The airboat driver is very well-educated about the area. They will let you know beforehand if you need earplugs, and will also explain some interesting facts about the nature and its inhabitants when relevant.
As it houses over 300 types of birds, 30 snakes, and even animals like black bears and panthers, it'll feel like you've traveled to another world.
Afterwards, you'll get to watch a brief-yet-captivating wildlife presentation all in educational efforts. If you didn't already encounter alligators while on the airboat, you'll see them now here!
---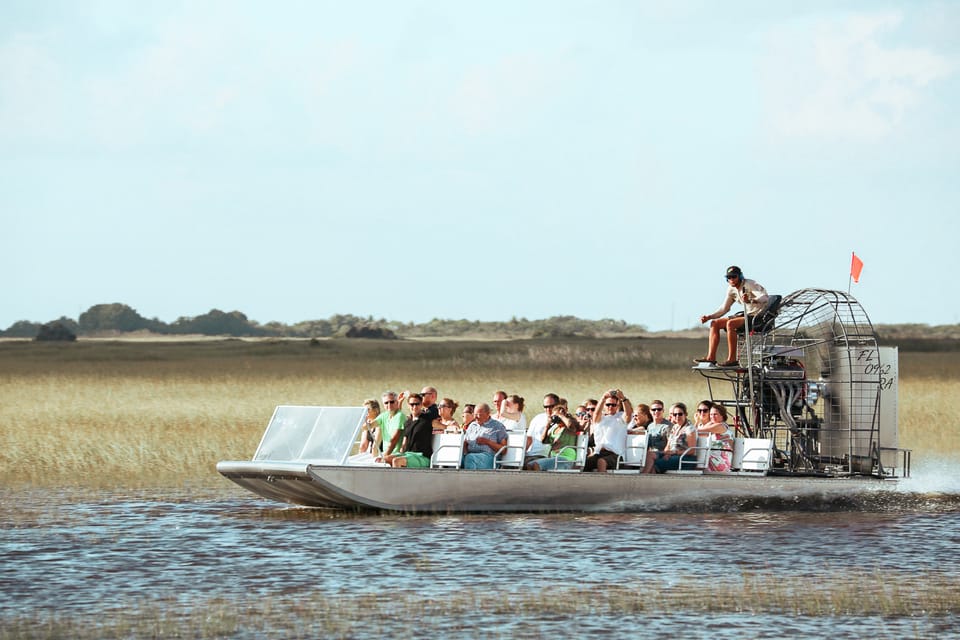 Tour Highlights
:
Departure: Ticket counter of Airboat Rides Miami
Duration: 1 hour
Includes: 

35-40 minute narrated airboat tour of the Everglades National Park, 

30-minute wildlife and alligator show

Other: Entertaining tour with plenty of gator action
Were the other tours too long for what you're looking for? That's okay, because we've discovered that there's something for everyone! The Everglades National Park Airboat Tour and Wildlife Show lasts just an hour, so you'll get a taste for what this special park has to offer while still being able to fit in other activities.
Another benefit to this option, is that you have plenty of scheduling options so you aren't stuck to just one or two time slots. If you have kids who are rather inattentive, we also recommend this tour for you!
Just like with the others, you'll get on an airboat which is exhilarating and a great mode of transportation, well-suited for the marshes and canals like these.
Your driver will help you spot all kinds of creatures: alligators, turtles, plenty of different birds, and more.
If you didn't get a chance to see enough gators for your liking, you're in luck! Once you're finished with the water tour, you'll get to enjoy a wildlife show with wrestling techniques the Native Americans first put into practice in Southern Florida.
You'll even get to take a photo with a celeb gator named, "Jaws".
If you feel up to it, afterward, you'll have the option of trying alligator tail and/or alligator sausage at a local restaurant and visit a gift shop to commemorate the trip.
---
Miami Tour Guide
So, you've decided you want to check out Miami as well as the Everglades. That's half of the issue. Now, we need to make sure you know your way around the area!
Getting There –
From Europe – If you're coming from Europe, you'll likely be heading to Miami International Airport, which is the most important in the entire region. There are tons of different airlines that will fly to MIA, though try looking outside of spring break time which is around the middle of March.
From the US – The same goes for MIA here. However, there are times where flying to Orlando instead of landing in Miami can be significantly cheaper. If you're renting a car, this could be an easy way to save some cash. Most major US airlines serve this airport, including American Airlines, Delta, Frontier, Spirit, United, and more.
If you don't want to fly, you can also drive. However, know that unless you already live in the Southeastern part of the US, it's going to be a road trip. If you're on the west coast, it's probably not the most feasible idea in terms of luxury or time. For example, from LA to Miami, it's a 40-hour drive. Even if you're on the east coast, it's a lot of driving! It's almost 19 hours from New York City to Miami!
Of course, coaches are always an option if you want the cheapest route possible. This is also probably the longest route possible. Greyhounds are not known to be comfortable, luxurious, etc. They are the bare-bones option, and are much slower than driving a car. You have to take into account extra routes to pick up passengers, and the various stops they make along the way.
If you don't want to travel by plane nor by road, then we have another interesting option for you: rail! Amtrak is by far the best option here, and you can get directly to Miami from most major US cities by using their trains. They, in contrast, are very comfy and you can even book your own room with a private bed, bathroom, and shower.
Getting Around –
If you do happen to be renting or taking your own car, then you're in luck. Miami is very easy to get around by car. While there are times of traffic, like most other US cities, it's nothing like NYC, San Francisco, or LA. If you're staying in Miami Beach, Coral Gables, downtown, and South Miami, then most places may be within walking distance for you. Parking can definitely be a hassle, though.
Public Transportation – Public transportation in Miami isn't half bad. You have the Metrobus, which covers more than 95 routes within Miami-Dade county. While it's not 100% certain, in our experience, it's safe to say that if you don't mind walking a few blocks, you can pretty much get wherever you need to with their bus system.
 Tip: There are also buses that go from Miami International Airport Metrorail station, which is much more budget-friendly than taking an Uber from the airport to your hotel. Use the Miami-Dade online trip planner to plan out your route and get your fare ready.
Metromover and Metrorail are the city's take on a subway, essentially. They don't run them underground, however, so they're not technically subways. The Metrorail has 23 stations, and their newest also serves Miami's airport. Just make sure that you have the Metro Card ready beforehand. As it runs all the way until 11PM during the week and midnight on the weekends, it's a great tool for most situations. Just remember that if you're going out late, you may need to use another mode of transportation.
Did you know that Miami also has trolleys? That's right! Miami, Miami Beach, and Coral Gables all have a free trolley service which runs between some of the most popular parts of the area. Moreover, they connect with both Metrobus and Metrorail to try and cover any of the parts they don't.
Where to Stay –
Now the big question: where to stay in Miami? Without a doubt, we recommend choosing between Downtown, Wynwood, South Beach, Key Biscayne, Coral Gables, Coconut Grove, or Bal Harbor.
Downtown and Brickell – If you're traveling on business (the financial district is located here), or if you're just here to be a tourist, then downtown is an excellent option. For shopping, you have the Bayside Marketplace, which is a popular outdoor mall consisting of over 150 shops on a beautiful waterfront with live music. That's not the only part of this area that thrives in arts and culture.
The Perez Art Museum Miami (PAMM) is always interesting to walk through. Sculpted swinging chairs, along with various interactive art installations is great for all ages. The Freedom Tower is another wonder, with a type of Mediterranean Revival façade that stands out amongst the more modern, glass towers. This building is known as the "Ellis Island of the South" as many Cuban refugees arrived here for paper processing when they arrived to the US in the 60's.
Our Favorites:
Hampton Inn & Suites by Hilton Miami Downtown/Brickell: It's a nice middle-of-the-road choice with comfort and cleanliness you can consistently expect from the Hilton brand.
Mandarin Oriental: You'd be hard-pressed to find a better hotel view than this. If you're lucky, you can score a massive suite and balcony right on the water. This is the poshest hotel in this neighborhood, quite possibly. And that's saying a lot.
Wynwood – Wynwood is famous for their wall murals, and has quickly become one of the hottest neighborhoods in recent years. Sometimes, every second Saturday of the month, they host an Art Walk, where local sellers turn it into a block party covered by tents. Galleries, restaurants, boutiques, a Paint Zone for kids, local DJs of all genres, and much more are present.
Wynwood is also famous for its fashion district, full of museums, apparel stores, cafes, and more. You'll find that this is a surprisingly affordable place to stay, all around.
Our Favorites:
Hampton Inn & Suites Wynwood: Accessible, clean, comfy, and has everything you need for a nice price.
Hyde Suites Midtown: Yet again incredible views, ample space, all the amenities you could want, and more. If you like going out at night, it's perfect because it's close to everything.
South Beach – Okay, South Beach is definitely our top pick. It's notorious, it's beautiful, it's fun, it's so Miami. South Beach, or "SoBe" is where you'll find celebrities, hard bodies, and everyone who's looking for a good time. It's plentiful in nightclubs, bars, restaurants, and hotels. You'll be right in the midst of it all.
No need to plan for transport to the beach, or entertainment, when it's all within walking distance. However, you will be paying for this convenience one way or another, as accommodations are typically more expensive in this area of the city.
Our favorites:
– 1 Hotel South Beach: It's fresh, airy, clean, and has stunning views of the ocean right from the comfort of your luxe room.
– Cavalier: It's a great budget option that sits within the famous Art Deco District. The hotel itself fits right into that style, as it was constructed in 1936 – when Art Deco was booming.
Coconut Grove – If you're really just looking to kick back and relax without the hustle and bustle of the city, Coconut Grove is your go-to neighborhood. Facing the stunning blue waters of Biscayne Bay as well as a significant portion of downtown, it's known as "The Grove". If you're into jet skiing, jogging, cycling, and other outdoor/water activities. If you're into biking, you have to check out the 15-seat party bike!
There are plenty of gardens, museums, and malls here, too. You'll find lodging for just about every budget, though most hotels are at least 3 stars. If you aren't driving, this area is still very accessible. Walking and biking safely is easy, and the free trolley service is fully operational here and can take you to Metrorail stations.
Our Favorites:
C Coconut Grove : Modern and luxurious, if you're into breathtaking views, this should be the top hotel on your list. Various restaurants with indoor and outdoor seating are here, as well as insane views of Biscayne Bay.
Hotel Arya, BW Premier Collection : It's hard to believe how affordable this hotel is. The views are also amazing, though it's a bit more homey than Mr. C.
Restaurants and Eating Out –
Where should you eat in Miami? An easier list would be where should you not! Miami is known for having delicious food, and rightly so. You have just about every culture's food here, and with fresh seafood just feet away, definitely plan for a full stomach.
Makoto – Located inside the luxe Bal Harbour Shops, Chef Makoto Okuwa provides incredibly authentic sushi and nigiri. Not only that, but they also offer up more modern takes on Japan's traditional dishes, and bincho charcoal robata. If you find yourself shopping this way, you have to stop by.
Boia De – This is a eatery unlike any other we've had in Miami. Located right on the edge of Little Haiti, you'll find modern American food with just a hint of Italy. Michelin-trained chefs are always thinking up new twists and plates, to keep traditional dishes interesting. For example, the classic beef tartare comes topped with a kind of crispy shallot-garlic along with fried capers. If you're into pasta and wine, it's a unique option.
Taquiza – Located on the waterfront on North Beach, if you're a taco lover (and who isn't?) you have to try Taquiza. Al pastor, tacos de lengua, pollo, and more are all served on blue corn tortillas. Just remember that you're going to crave these forever after you try them once.
Phuc Yea – The name really says it all. Located in the MiMo district, you'll find a hot blend of Vietnamese food with a heavy Cajun influence. It's evident in the well-seasoned dishes like seafood curry, caramel chicken wings, and all kinds of noodles and drinks!
Mandolin Aegean Bistro –  A sophisticated white-and-blue building combined with gorgeous plants is Mandolin Aegean. As you can probably guess from the appearance, you'll get all kinds of Mediterranean goodness here. If you're going on a date, we can't think of a better location. Fresh pita, grilled fish for two, delicious sangria – the list goes on.
Ghee Indian Kitchen – The owner, along with his mother and mother-in-law all cook the yummy food found here. Authenticity is the name of the game, with smoked lamb neck, cauliflower, green millet, naan, curry, and other savory treats.
Usually, it'd be easier to just go by neighborhood in order to figure out where to eat. However, Miami is a special city in that you can find incredible food in literally every neighborhood. If you're into Latin flavors, you're in luck, because it covers the vast majority of Miami. However, Japanese, Vietnames, and Indian food is also plentiful. As we mentioned previously, no matter what you're looking for, you can find it here.
Nightlife and Entertainment –
As we mentioned before, South Beach is absolutely the best for its nightlife. However, there are plenty of other neighborhoods that are catching up to it.
South Beach – You'll find all the massive clubs here, with just about every musical genre you can imagine. However, there are also a couple more laid-back bars and restaurants you may want to check out.
LIV – Here, you'll find all the biggest celebrities, DJs, models, and so on. It's basically like being in a music video. Make sure to wear your best.
Do Not Sit On The Furniture – Are you into tech house or melodic techno? Then you have to be here. In fact, you've probably already heard of the club, or the various parties they throw around the world. The boutique nightclub is more down-to-earth and you aren't going to find crazy ragers and black-out-drunk people here.
Mango's Tropical Café – This is such a fun place to go, and so iconically Miami. Having been open for over 20 years now, it's kitschy, tropical, and full of mojitos, dancers, and covers all the spectrum of Latin music.
Basement – Have you ever wanted to dance, ice skate, and bowl in the same place? Well, now you can! Rainbow lights and a kind of synth aesthetic set the mood here, with a hip feel that is really relaxed. It is a great place to meet others and just have a good time without feeling pressured to dress up or buy expensive drinks.
Broken Shaker – Are you into unique handcrafted cocktails? Then Broken Shaker is the place to go. You've never had a mojito like this, trust us. All kinds of fun elixirs and fusions are found here, with ingredients you've probably never heard of.
Wynwood – Wynwood has all kinds of dynamic, culture-rich locations. It's really catching up to South Beach in terms of nightlife options, though is a bit more art-infused.
Domicile – This new techno venue is the only one of its kind in Miami. On the outside, it looks like a cute little art deco spot on the corner, but inside it's full of lasers and pumping basslines. The crowd is laid-back, drinks are strong, and you'll find some of the most popular international techno artists playing here.
Gramps – If cocktails, pizza, and conversations with others without having to yell is your idea of fun, check out Gramps.
1800 Lucky – This massive, 10,000-square-food food hall features both indoor and outdoor seating and a beautiful sound system pumping hip hop anthems. You can party and dance while enjoying a bowl of ramen or partake in karaoke if you're brave enough.
Downtown and Brickell – The majority of places here are going to be located in skyscrapers. As the financial district lies here, you can expect a lot of employees and young professionals trying to blow off some steam. Most of the worthwhile venues are going to be swanky bars and hip cocktail bars.
11Miami – Hip hop, trap, and even private events are held here. Extravagance is the theme here, and this 24-hour nightclub sure holds up their end. The audio system is wonderful, and powers a "party pit" with 600 square feet of LED video walls, and all sorts of special effects.
The Corner – Are you always searching for the next best craft beer or whiskey? Then this is your new spot. You can find people of all walks of life here, without pretension. Sit back and really enjoy your drink and the nice company.
Mama Tried – For a quiet, relaxed little happy hour spot or a wild late night location, Mama Tried is somewhere you need to check out. Decorated in traditional 70's style, it even sports a pool table and a small library! You have to try their Granny Smith Apple cocktail! Even if you aren't into sweet drinks normally, it'll change that for you.
Coconut Grove – Boho chic is the vibe here, with a kind of chill offered by Biscayne Bay. If you just went sailing all day, you may find yourself in one of the laidback lounges or sports bars that are dotted all over the place. You have everything from grungy to sleek in Coconut Grove.
Barracuda Taphouse and Grill – This bar may be something you see in a Spongebob episode. Hanging around since '95, you can grab a delicious mahi sandwich on garlic bread along with every kind of beer you can imagine.
Bellini – If you end up taking our advice and stay in the Mr. C hotel, Bellini is right inside. Just as the rest of the hotel's theme, elegance and top-notch European service is what you can expect here. You'll typically find 50-plus folks here looking for some delicious classic cocktails and fine snacks to accompany them.
Weather –
Florida makes it easy to plan vacations, as it's pretty temperate year-round, save for hurricane season. You can expect pretty warm temperatures throughout the whole year. However, during winter, it can drop below 60 and get a bit windy or rainy. Summers are very humid and hot – even at night.
Attractions –
We've already mentioned most of the top attractions, but let's go through them once again.
We highly recommend visiting Wynwood and the Wynwood Walls if you aren't already planning on doing so. Start off around 3 in the afternoon, and by the time you're done, it'll be dinner time. This neighborhood is already home to some of the best eats in the city, so you're in good hands.
You can't go to Miami without going to Miami Beach. It's just wrong. Located on a barrier island, it's connected to mainland Florida through various bridges. South Beach and the Art Deco Historic District are here, and are ideal for gorgeous photo ops. There are few places in the world where you'd be able to find architecture quite like this.
The Vizcaya Museum and Gardens is set on 28 acres and was once a winter home of James Deering. Over 100 years old, this mansion has a whopping 34 rooms located around a pristine courtyard and fountains. As with many mansions in Miami, it was made with an Italian Renaissance style filled with renowned collections of furniture and art going back all the way to the 15th century.
Little Havana and Calle Ocho is filled with Latin music and Latin flavors. You'll encounter all types of little food shops, live music, dancing, and colorful boutiques. If you're into people watching, this is one of the best places to do so.
Coral Castle is a fun place for the whole family. Edward Leedskalnin started on this creation almost 100 years ago, and took almost 30 to finish by carving. The famous structure includes all kinds of stone tables and chairs.
Tips –
We recommend you bring a lot of clothing appropriate for warm weather – particularly moisture-wicking clothing due to the intense heat and humidity that occurs most of the warmer months. You can also plan on it raining, even during the summertime so plan accordingly. Go ahead and bring a light jacket for nighttime, just in case it does get a bit chilly. Walking shoes are recommended, though if you're going to the beach, you may be fine with just a pair of flip-flops.
Most bars and clubs can be open all the way until 5 am. This is much different than many other states in the US, where everything shuts down at 2am. This also gives you more time to have fun, and if you're meeting someone for drinks, remember you may be sucked into a much longer night than you're anticipating!
When you first meet a Miami local, kissing each other on the cheek is pretty customary. Some people may even take offense if you pull away. Just know that it's coming beforehand, and after a while, it'll be second-nature to you, too.
The Florida Everglades Small Group Adventure Tour is our Editor's Choice for the best Everglades tour from Miami.