The Aurora Borealis, often referred to as "The Northern Lights", are a natural phenomenon of dancing, colorful waves of light that can be seen in high-latitude regions. During certain times of the year, you can even see them in certain places in Iceland!
Currently, there are many Northern Lights tours in the country, however they vary quite a bit in experience and quality.
We've done the work so you don't have to, bringing you the best northern lights tours in Iceland! Expect a beautiful, dreamlike experience surrounded by the country's flora and fauna.
Top Northern Lights Tours in Iceland
The 7 Best Rated Northern Lights Tours For 2023
Now lets take a closer look at the Icelandic northern lights tours so you can find the right one for you!
---
Iceland Northern Lights Tour Reviews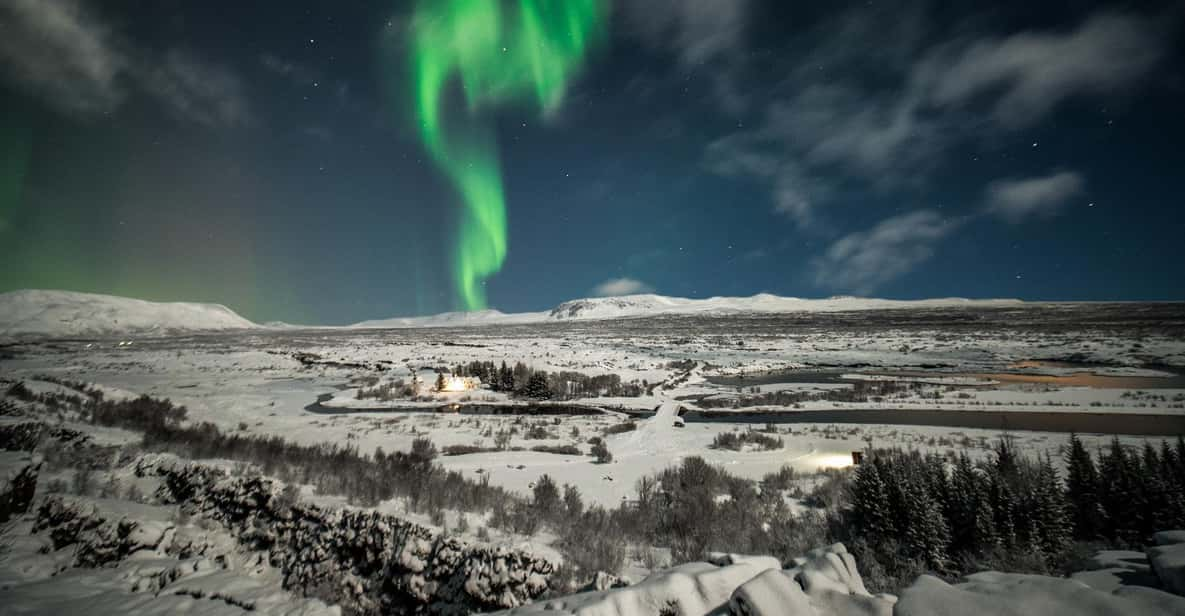 Tour Highlights
:
Departure: Call for pickup locations
Duration: 4 hours
Includes: 

Bus fare, g

uided tour, r

efreshments, e

ntrance to the Aurora Museum, s

mall group

Other: Intimate group tour, excellent attention from guide(s)
To start off, we have the Small-Group Premium Northern Lights Tour from Reykjavik. While viewings are never 100% guaranteed, we've found that the guides are incredibly skilled at knowing where and when to look – even in weather that's less than ideal.
You'll start out by meeting your guide at the designated spot in Reykjavik, where you'll board a luxury bus and head out into the night.
As you can probably imagine, there aren't too many options when it comes to tour times as the night sky is ideal. However, once you see them, it's more than worth it!
Your group size will be a max of 15 people, so you won't have to wait around for people to move together.
This also offers a more intimate experience that offers more time to do what you want and to ask the guide any questions you may have. You'll hunt for the Northern Lights in the countryside, which by itself is quite beautiful!
Operating from September to April, they have a great guarantee where if the lights aren't visible while you're on the tour, you're able to reschedule free of charge!
On top of that, they also give you a free ticket to visit the Aurora Museum in Reykjavik, which is a great complementary experience to seeing the lights in real life. Just remember that the free entrance is only valid on the day you join the tour.
Exhibits to vary, but you'll get to learn about the aurora borealis in mythology and science, photographs of the lights, and other fun stuff.
---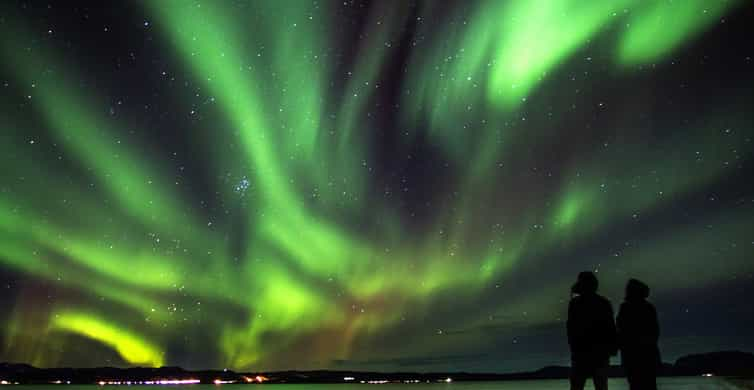 Tour Highlights
:
Departure: The meeting point is at Whale Watching Akureyri, however, hotel pickup is also available
Duration: 3 hours
Includes: 

Fully-guided tour, tr

ansportation in a comfortable minibus, h

ot chocolate

Other: Tour includes pickup and an overall luxurious way of seeing the lights
Next up, we bring you the Akureyri: 3-Hour Northern Lights Tour. We really like that they offer a hotel pickup so you don't have to worry about any meeting points or extra transportation, getting lost, etcetera. Before you hop on board, remember to bring warm winter clothing as Iceland can get very cold at night!
The minibus is incredibly comfortable and relaxing, and only adds to the pleasant experience you're sure to have on this tour. Did we mention that they even include hot chocolate? It's sure is a fun and tasty way to warm up, and while it may be a relatively small detail, just shows how much the company cares about their guests.
With a professional guide who is an expert aurora borealis hunter, you'll begin driving out to either the countryside or the mountains.
This is to allow for the sky to be completely clear of interfering city lights. Once you arrive to the perfect spot, you'll get out and walk into a serene, quiet atmosphere.
Once you get out to where the lights shine best, you'll have some time to take photos but also to absorb this incredible experience. Sip your hot chocolate while you gaze around. It's absolutely stunning in photos, but seeing the Northern Lights in real life is honestly on another level.
We recommend at least spending half of the time putting the phone or camera away and stowing these memories deep into your mind.
---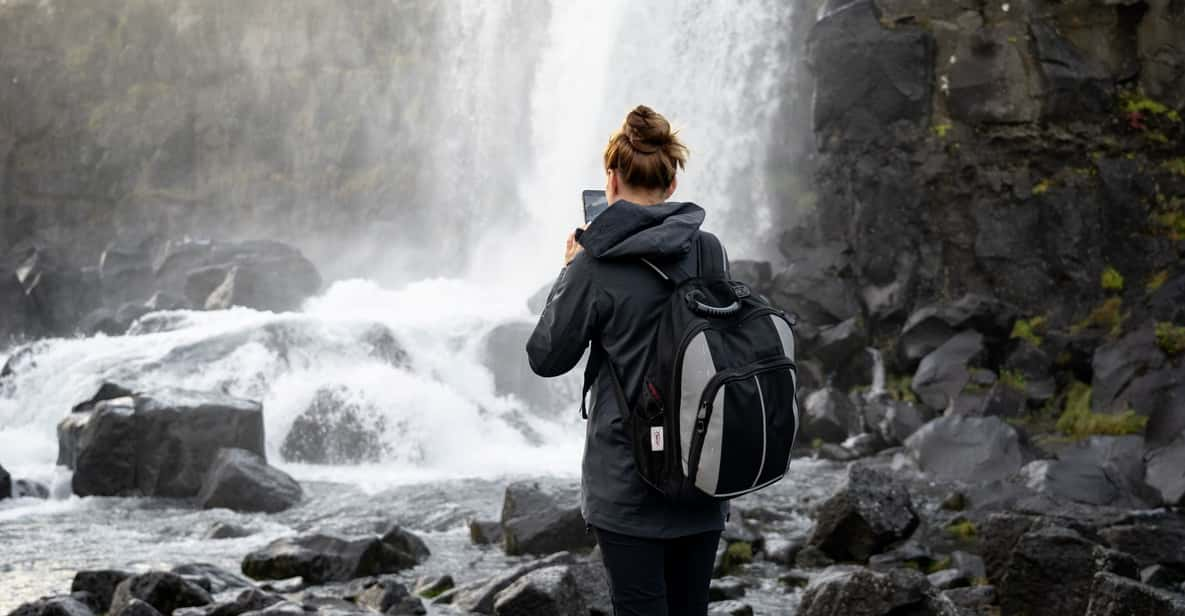 Tour Highlights
:
Departure: BSI bus terminal
Duration: 9 hours
Includes: 

Golden Circle tour, 

Northern Lights tour, f

ree Wi-Fi onboard the bus

Other: Longer, more comprehensive tour for a night-and-day, varied experience
While the shorter northern lights trips are certainly memorable, some people would like a longer, more comprehensive trip. If that sounds like you, then check out the Golden Circle and Northern Lights Combo tour! Be prepared for a day (and night) full of adventure by wearing sturdy, comfortable shoes and clothes appropriate for cold weather!
We recommend wearing layers if you can, as the daytime may be significantly warmer than nighttime. The bus is very comfortable and you shouldn't have to worry at all about staying warm, but once outside, you may find it gets a bit windy or chilly.
From Reykjavik, you'll head to the geothermal environment of the world-famous Golden Circle.
The Golden Circle includes 3 amazing spots: the Thingvellir National Park, Geysir Geothermal Area, and Gullfoss waterfall. As you can imagine, it's one of the most visited attractions in the country!
If you've been to Yellowstone (or would like to), then you have an idea of how crazy geysers can get! You'll get to see boiling water shoot from the depths of the planet at the Geysir and Strokkur great geysers.
The Gullfoss waterfall is water falling in the opposite direction, which come from the Hvítá River. Plunging into a crevice over 100 feet deep, it's a very interesting site to see. The Þingvellir National Park is a way to really relax the mind and get in touch with the nature we've been given.
Here is where the tectonic plates of North America and Eurasia are pulling apart, so you can imagine there's quite a bit of activity going on.
After this day of trekking around, you'll head back to Reykjavik and relax for a few hours before you board for the evening northern lights tour. Once the sky is properly darkened, you'll tour around looking for the best spot to view these legendary lights. Take photos and take it all in before your group boards and heads back to town.
---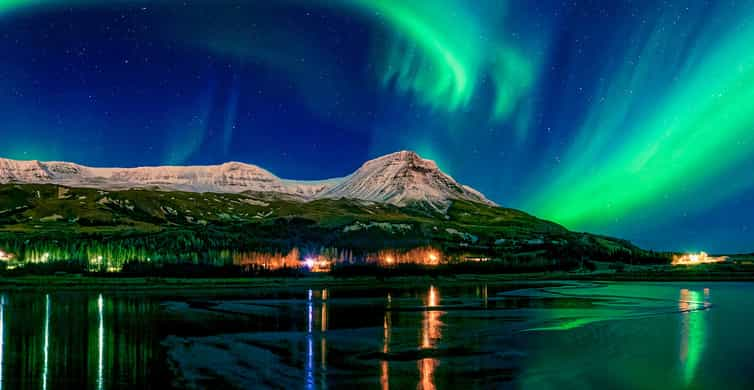 Tour Highlights
:
Departure: Hotel pickup
Duration: 4 hours
Includes: 

Transfer by bus, 

English-speaking guide, 

WiFi onboard

Other: Educational, fun night tour
Judging by the name, you may be expecting a murder mystery game onboard, and while that would definitely be fun it would also be difficult considering the lights are just too captivating!
The 3-5 Hour Northern Lights Mystery Tour is "mysterious" due to the breathtaking nighttime phenomena of the Aurora Borealis! This stunning, natural display of countless patterns and shades is different each time and even if you've seen them before they remain a treasure.
Hotel pickup is optional, so while you can definitely meet your group at another point, they offer roundtrip transport to and from your Reykjavik hotel. Everything is very well-organized and seamless so you aren't waiting around at any point in time.
With an English-speaking guide, you'll get a full education on the area, the Northern Lights, and how they've impacted local culture and culture around the world. Once you get away from the city lights a bit, you'll begin the hunt for the auroras.
If you're lucky, the sky will be free from any clouds and you'll be able to see them in all their vibrant beauty.
The swirling lights make it look like someone took a neon paintbrush to the sky; it's truly magnificent.
The experienced guides know exactly where to go and do their research when it comes to weather conditions so everything goes on without a hitch. For whatever reason you need to have internet access while on your tour (maybe you'd like to livestream the experience?), there is also WiFi onboard!
---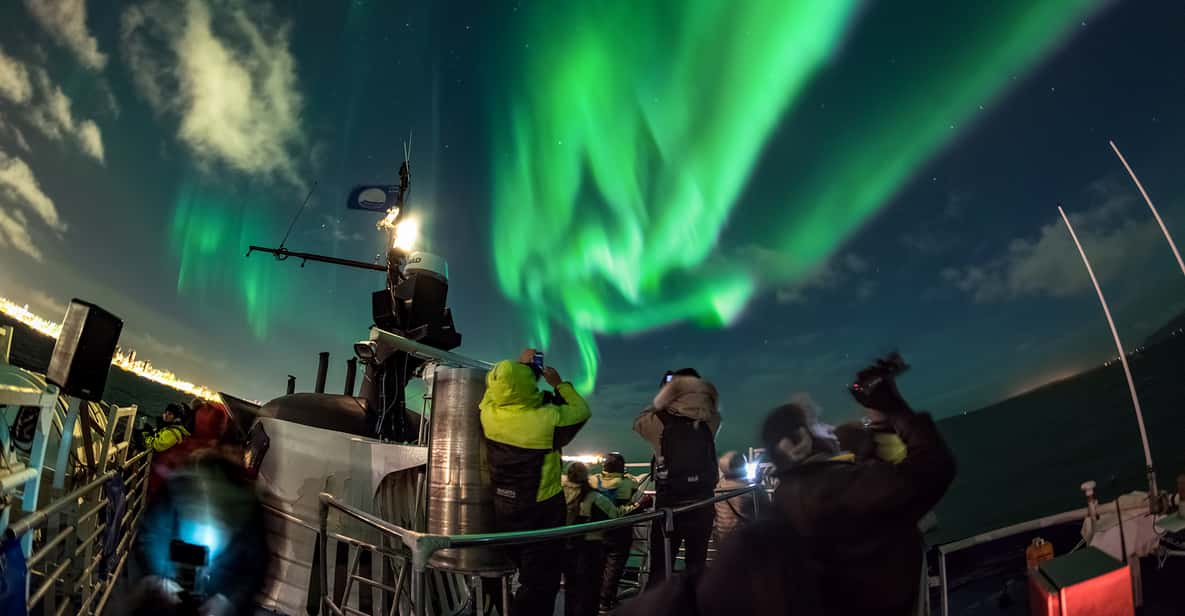 Tour Highlights
:
Departure: Reykjavik Old Harbour
Duration: 2.5 hours
Includes: 

Warm overalls (includes children's sizes, 

WiFi & heated indoor seating, p

hotos of the tour available to download for free, e

xperienced guide, t

icket for second trip if nothing is seen, a

pp available in English, German, French, Spanish, and Chinese

Other: Brief yet comprehensive trip great for the entire family, seen from a unique perspective
While seeing the northern lights in any location is impressive, sometimes the best vantage point isn't feasible due to the environment. Well, this isn't the issue with the Northern Lights by Boat in Reykjavik tour!
As you'll be boarding a boat, you'll be able to get pretty much as close as possible to the lights and potentially even glide right under them!
This 2.5-hour tour is wonderful for all ages, and includes warm overalls for adults and children which is a necessity given the cold temperatures at night on the water. However, there is heated indoor seating so you won't be left outside shivering in the cold if it gets too intense.
You'll meet up first at the Reykjavik Old Harbour, which is quite a sight to see on its own. You'll depart in one of two luxurious boats: either the Rósin or Andrea. Account for about half an hour to be getting on board and suiting up, while the staff gives you a bit of a tour around.
The other 2 hours are just pure smooth sailing, with beautiful views of the Reykjavik coastline. The capital is often underrated in terms of physical aesthetics, and you can take it all in from this perfect view. In just 15 to 30 minutes you'll be right where you need to be to get the best looks at the Aurora Borealis.
The mountains in the background offer the ideal complement to the neon lights in the sky, reflecting off the water to make for a natural masterpiece.
Just remember that as both sailing and viewing the lights are highly dependent on having the right weather, there's always the chance that it will get cancelled. However, we found that this is definitely the exception and usually isn't the case.
---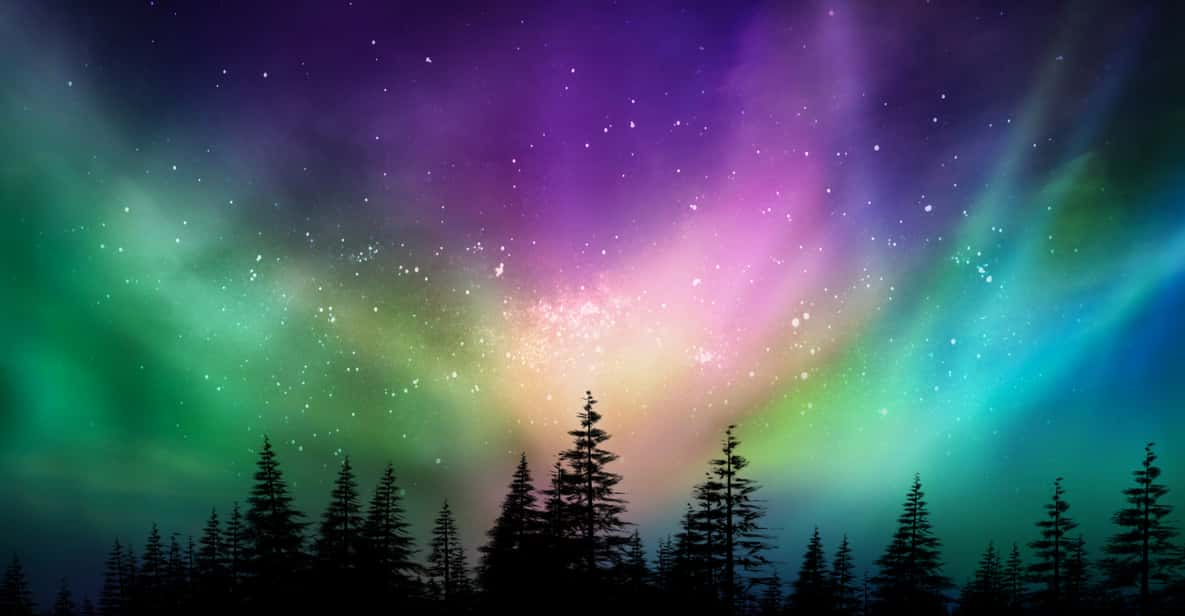 Tour Highlights
:
Departure: Pickup from your hotel in the Reykjavik Capital area, or from your closest bus stop
Duration: 4 hours
Includes: Hot chocolate, Icelandic pastries, small group tour
Other: Very romantic tour with treats and views
If the hot chocolate from our second tour caught your attention, then you're in for a real "treat" with our next one! The Northern Lights Tour with Hot Chocolate and Icelandic Pastries Tour offers all that and more.
If you're looking for the perfectly romantic way to spend an evening in Iceland, this completely fits the bill!
Clocking in at 4 hours long, this tour is just the right amount of time to really relax and take advantage of the incredible experience. Pickup is right from your Reykjavik Capital area hotel, or your closest bus stop should your hotel be outside of this area. Make sure to bring warm clothes and definitely gloves!
Once you meet up with the rest of your tour, they'll go through a brief meet-and-greet and you'll board the tour vehicle. The vehicles tend to be very comfortable, so right from the start you can tell it's going to be a good one.
Tour guides actually consult with the local meteorologists to ensure that the night will have clear weather conditions for maximum views of the Northern Lights!
Once you find the perfect spot to check the lights out, your guide will start offering up all kinds of interesting anecdotes and information. Moreover, they possess great insight into the local culture and history, nature, and the people of the country, themselves.
Due to being an island – and one with such unique landscapes – it's a completely unique place that you'll probably end up finding just as charming as we did.
During all this, you'll sip on some delicious hot chocolate which is just what a cold night calls for! They also offer some traditional Icelandic pastries, which are equally as yummy and a nice snack to finish off the night.
---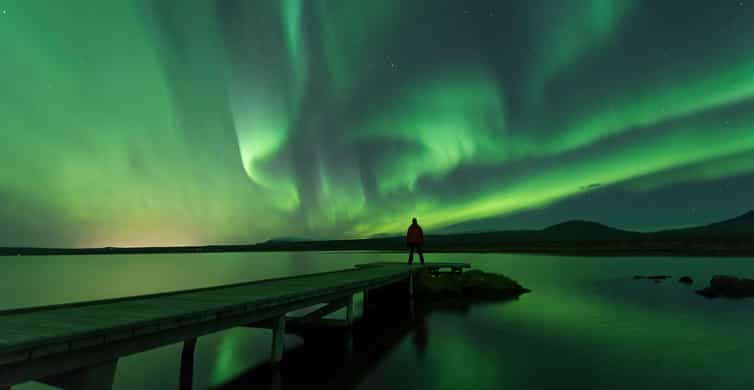 Tour Highlights
:
Departure: BSI bus terminal
Duration: 8 hours
Includes: 

Comfort admission ticket to the Blue Lagoon, s

ilica mud mask, use of a towel, and a drink of your choice at the Blue Lagoon, 

Blue Lagoon return transfers, p

rofessional live local guide in English on the Northern Lights Hunt Tour, f

ree Wi-Fi on the tour bus

Other: Longer, more comprehensive tour that also visits the Blue Lagoon + more
While the Northern Lights are certainly worth making the trip to Iceland, why not maximize your time there and take a longer tour? The Blue Lagoon and Northern Lights Tour is truly life changing, no matter who you are. With this combination of fun and invigorating winter activities, you're sure to want to go on it again!
The 8-hour tour starts off in the afternoon, with your group heading out to one of the most iconic Icelandic locations: The Blue Lagoon.
Yep, you've surely seen it before on the Travel Channel or all over Instagram. That electric blue color of the lagoon is recognized worldwide for its luxuriousness and natural beauty.
The enormous geothermal seawater spa's milky blue water makes for the perfect contrast against the forest-y green-and-black lava fields. Aside from its appearance, the location also offers state-of-the-art facilities, silica masks to tighten and firm skin, and more.
Your tour ticket will include your entrance fee, a silica mud mask, towel use, and a beverage of your choosing.
Once you've fully relaxed, you'll head to Reykjavik on a comfy coach that includes free Wi-Fi. Once you arrive to the city, you'll have a bit more time to relax, eat some dinner, etc. Once it's dark out, you'll get back on the coach to start the Northern Lights Tour.
Where exactly you visit will depend on the day and weather, and the experienced guides will ensure you're at the best location possible.
---
Iceland Northern Lights Guide
Tips on Seeing the Northern Lights in Iceland
Location, location, location: To see the Northern Lights, you are going to need to be in the right area. Lucky for you, Iceland is one of the premier locations on the planet for seeing them! Some other good locations are Tromsø in Norway and Abisko in Sweden.
Timing is everything: The Northern Lights are a natural phenomenon and as a result are unpredictable. By planing your trip during the winter months of September and April when the nights are the longest you will have the best chance of seeing them. Keep an eye on the aurora forecasting websites and try to book your tour during a period of high activity.
Dress for the occasion: It's going to be cold out! Make sure you dress warmly. Layers are the key, so wear thermal underwear, a warm hat, gloves and a winter jacket. Don't forget to wear warm boots with good tread for traction. The terrain you will be walking can be slippery.
Be patient: Seeing the Northern Lights is an amazing experience, but it is also a waiting game. It may take several nights in your chosen location. Be prepared to stay up late, as the lights are most visible between 10 pm and 2 am.
Capture the moment: Bring a high quality camera and tripod to best capture photos of the Northern Lights. Use a high ISO and a wide aperture to let in as much light as possible. Make sure your take some time to just enjoy them and don't spend all your time looking through your camera.
Embrace the culture: The Northern Lights are a part of some local cultures. Your guide will explain the local traditions and customs of the area.
Expert Tips on Photographing the Northern Lights
Bring the right equipment: To take the best possible pictures of the Northern Lights, you will need a high quality DSLR camera with manual controls, a wide-angle lens and tripod. It's also a good idea to bring extra batteries and memory cards. You don't want this opportunity ruined by a dead battery!
Use manual settings: Set your camera to manual mode so that you can adjust the settings for the low light conditions. Use a high ISO, a wide aperture (f/2.8 or wider) and a slow shutter speed (around 15-30 seconds).
Focus manually: In low light conditions, your camera's autofocus may have problems focusing on the Northern Lights. By using a manual focus and set your lens to infinity to ensure that the lights are always in focus.
Use a remote shutter release: The best way to avoid camera shake is by using a remote shutter release or the timer function on your camera. This will help you capture sharp, clear pictures.
Be patient: Capturing good pictures of the Northern Lights takes time and patience. You should plan spending several hours outside in the cold for the perfect conditions.
Experiment with composition: By trying different angles and compositions, you make your photos more interesting. By including elements such as trees, mountains or bodies of water you can add depth to your images.
Don't forget to enjoy the moment: Lastly, we know you want to capture great photos, just don't forget to take some time to just enjoy the beauty of the Northern Lights. Put down your camera and just enjoy the moment!
Blue Lagoon and Northern Lights Tour From Reykjavik is our editor's choice for Northern Lights tours in Iceland. The Blue Lagoon is a wonderful and relaxing experience; and the Northern Lights from here are truly mesmerizing. This experience will be a day you will never forget.