Iceland is an incredibly unique place that many visitors flock to each year. It's a country known for its black sand beaches, glaciers, milky blue waters, and incredible natural beauty.
However, did you know it also offers some of the best whale watching in the world? That's right – from April to October, these beautiful giants, along with many other sea creatures, come out and make an appearance.
We've done the hard work for you, so you can choose among the top Iceland whale watching tours and avoid wasting any time with sub-par alternatives!
Top Iceland Whale Watching Tours
---
The 7 Best Rated Iceland Whale Watching Tours For 2023
Now lets take a closer look at the whale watching tours so you can find the right one for you!
---
Iceland Whale Watching Tour Reviews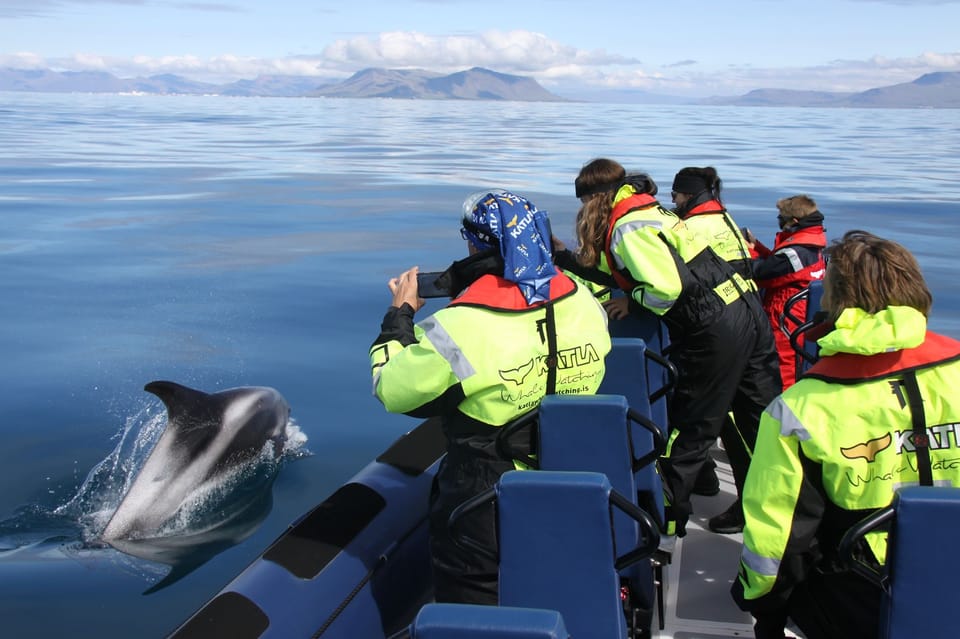 Tour Highlights
:
Departure: Ægisgarður 5G, a 5 minute walk from the city center
Duration: 2 hours
Includes: 

2-hour cruise aboard a 12-seat luxury RIB (Rigid Inflatable Boat), f

ull guidance with information about the whales/other wildlife,

 overalls, g

loves and goggles, l

ife jacket rental, y

our own scarf

Other: Express tour on speedboat
Whale watching tours vary greatly in terms of quality and length, and with the Whale Watching Tour by Speedboat, you get high quality packed into a couple of hours.
The high speeds that the boats reach at times, along with some of the more intense turns at the end are a ton of fun! Throw in whale watching along with it and it's sure to be a highlight of any time in Reykjavik.
You'll start off by departing at Ægisgarður 5G, which is just a few minutes of walking from the city center. Remember not to wear sandals or open-toed shoes, and wear warm clothes!
Once you meet up with your guide and the rest of the crew, you'll also be provided with warm, waterproof overalls which will keep you from freezing from the icy waters! In addition, the tour includes a lifejacket, goggles, and your very own whale watching scarf/bandana!
Hop on board a new Rigid Inflatable Boat, which are a ton of fun! This one includes 12 suspension seats which are designed to be equally comfortable and safe, so the whole family can use them confidently (so long as they're over 10 years old).
Once you take off, you'll pass the Harpa Concert Hall and Sun Voyager sculpture. Both are incredibly beautiful, and are definitely worth taking some photos of!
Afterward, you'll head to Faxaflói Bay, where you'll find over 20 different species of whales, along with white-beaked dolphins, harbor porpoises, Sandeel fish, seals, and more!
You'll also likely see puffins as they come to lay their eggs on the islands throughout the bay.
The guides do an excellent job of filling passengers in about the different animals, species, and their habitats. As the groups are so small, you'll get the chance to ask them any questions you may have, as well.
---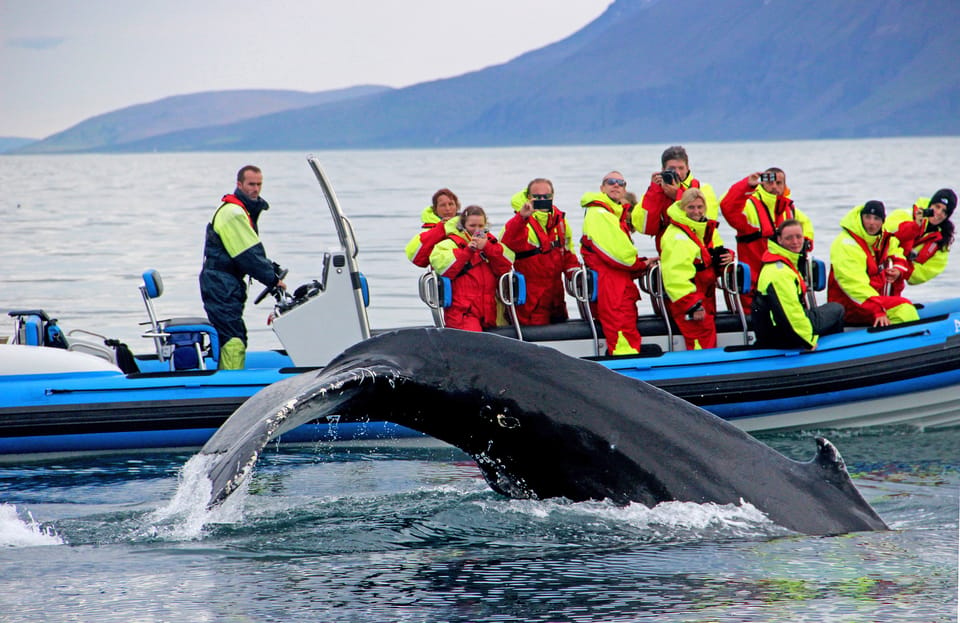 Tour Highlights
:
Departure: The Gentle Giants Ticket Center – big blue flags
Duration: 2.5 hours
Includes: 

Live tour guide, s

peedboat, other water transport, w

arm clothing

Other: Comprehensive tour with potential sightings on blue whales, puffins, and more
This next tour is just slightly longer than our first, clocking in at 2.5 hours. The Big Whale Safari & Puffin Island Tour draws many similarities as well, as it will take place in a modern RIB speedboat so you'll be able to jet off and see as many beautiful animals as possible on this adventure.
All kinds of whales are swimming around Skjálfandi Bay, along with adorable little puffins. Often referred to as the "clowns of the ocean", they sport enormous, multicolored bills and spend the majority of their time on the open ocean.
However, they do occasionally come on shore to the islands in this bay to breed. Hunting for food by diving in the water, they're incredibly entertaining to watch.
When you arrive to the meet up point with your guide, they'll provide you with warm overalls and a life vest to make sure you're comfortable and safe. As you zoom across the water, your guide will demonstrate proper safety techniques and will offer interesting facts and stories about the surrounding environment.
The first stop is Puffin Island, which should be nesting season when you go. You'll get a rare glimpse at potentially thousands of these cute little guys waddling around. You may even get to spot the biggest animal in the world: tkhe majestic blue whale!
Reaching up to almost 100 feet in length, there are simply no words to describe what it's like seeing one for the first time (or every time, really!).
At the end of the tour, they really treat you with a little gift from a local winemaker!
---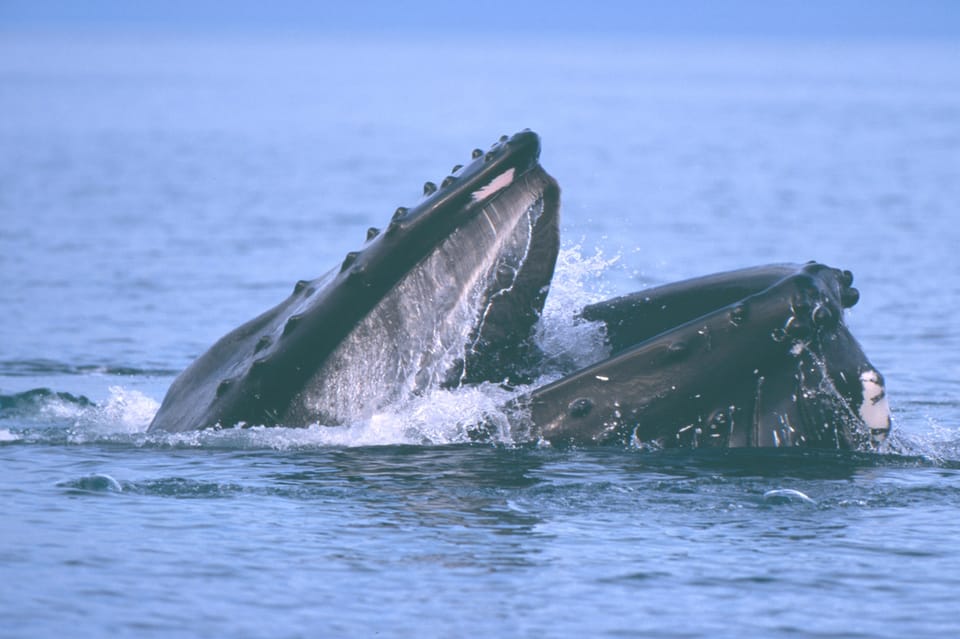 Tour Highlights
:
Departure: Complimentary pick-up service starts 45 minutes before the selected departure or head to Old Harbour – Elding ticket office at Ægisgarður 5, Reykjavik
Duration: 10 hours
Includes: 

Transportation by bus, w

hale watching tour, e

ntry to Whale Center, g

uided Golden Circle tour, 

Wi-Fi on board the Golden Circle bus

Other: Lengthy tour covers many different tourist hot-spots and attractions
If you really want to pack as much adventure into one day as possible, you need to book your Iceland's Golden Circle & Whale Watching Full-Day Tour! This 10-hour tour is perfect for those who simply want to see it all. You'll get to see all 3 of the sights in the Golden Circle, and head out for some whale watching, too!
The morning is one of the best times to catch a whale sighting, so you'll start off with a morning cruise!
Here, you may be able to see humpback whales, killer whales, minke whales, blue whales, harbour porpoises, and white-beaked dolphins.
Keep in mind that there's no 100% guarantee that you'll actually get to see a whale, as you simply can't force nature. White-beaked porpoises and minke whales tend to make more frequent appearances, but you never know what you're going to see!
Aside from whales, you'll be able to see local birds like puffins, Arctic terns, gannet, and all kinds of gulls! To keep warm while onboard, you'll also be provided with some warm, waterproof overalls.
Next up, you'll go back to the harbor at 12:30 to be able to catch your Golden Circle afternoon tour. The bus you'll ride on is very comfortable and has WiFi connectivity for seamless internet access. To start things off, you'll head to Þingvellir National Park, where the Icelandic parliament, Alþingi, was created all the way back in 930 A.D.!
The Þingvellir Church and old stone shelter ruins are also present, along with a huge rift valley made by 2 tectonic plates moving away from each other.
Afterwards, you'll visit the Gullfoss waterfall or "the Golden Falls", which are a golden color at times. Standing 105 feet tall, it's definitely a sight to see. Along with that, are the Geysir and Strokkur hot springs, which you'll see next. Before heading back to Reykjavik, you'll also see the charming little village of Hveragerði.
---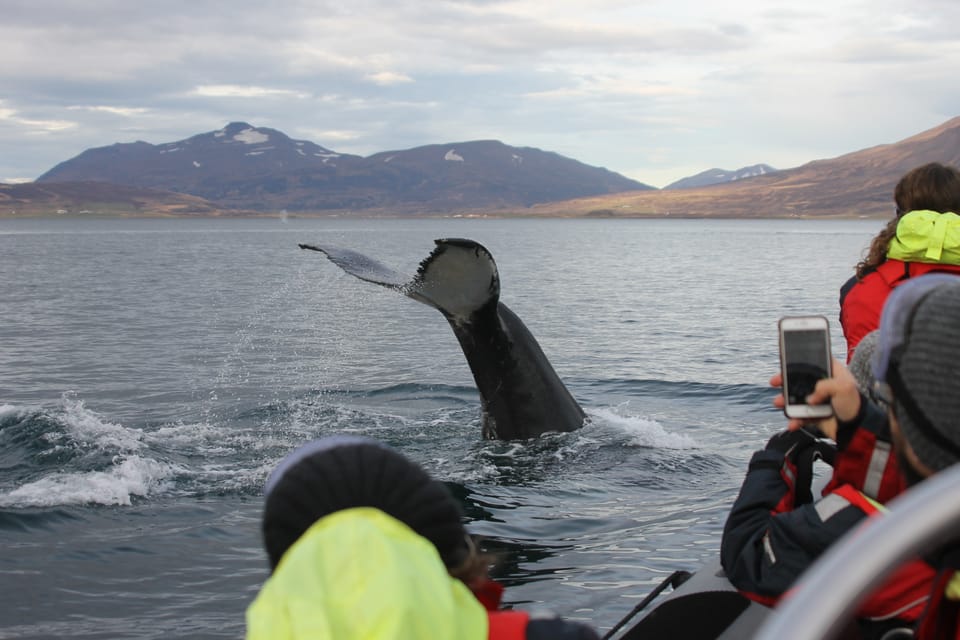 Tour Highlights
:
Departure: Meet at the floating pier Oddeyrarbót 2, next to the cultural centre Hof in Akureyri at least 30 minutes prior to departure
Duration: 2 hours
Includes: 

Guide, o

veralls, n

eoprene gloves, g

oggles, l

ife vest and necessary safety equipment

Other: Eco-friendly way of seeing whales
Next up, we have the Akureyri: 2-Hour Whale Watching Express by RIB Speedboat tour. This 2-hour tour will have you on an exciting RIB speedboat to make sure you get straight to the action and don't miss a minute of potential whale sightings! Starting from the capital of North Iceland, Akureyri is a beautiful place not to be missed.
You'll start off by meeting with your guide, and put on some waterproof overalls, neoprene gloves, goggles, life vest, and any other necessary safety equipment.
You'll receive a safety briefing at this time, letting you know how to behave in order to have fun and reduce any risks on board.
As there are only 12 passengers per boat, it's easy to get around without having to wait for people. The RIB boats are preferable for this kind of whale watching as they're easier to navigate, and are able to get you much closer to the whales and other wildlife in their natural habitats than bigger boats can provide.
This type of boat is much faster so you can get straight to the point and make the most of your tour.
This tour has actually received the Environmental Award of the Icelandic Tourist Board, Vakinn Endorsed Travel Service, and Enviro Gold awards.
---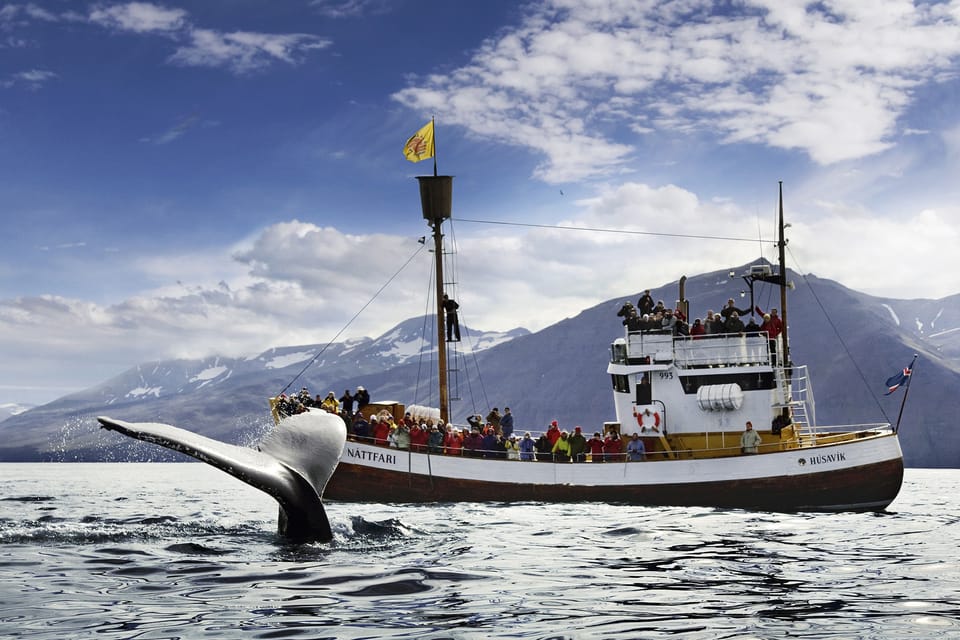 Tour Highlights
:
Departure: North Sailing Ticket Office
Duration: 3 hours
Includes: 

Light refreshments, li

ve commentary on-board with a professional guide, w

arm overalls

Other: Traditional way of seeing whales
While the majority of our whale watching tours so far has taken place in an RIB speedboat, our next tour takes a more traditional route. You'll board a traditional oak boat, which just adds an air of Icelandic authenticity to the whole experience.
This 3-hour Whale Watching and Puffin tour is also a great alternative if you want to bring small children on board, or if you have back/neck problems and aren't able to go on a speed boat.
When you meet up with your group, you'll be given some warm overalls to use so you don't get wet and cold. We highly recommend bringing along some kind of scarf/face covering and gloves. No one likes the feeling of frigid faces or hands!
Skjálfandi Bay is the natural habitat of countless types of whales, along with dolphins, puffins, and other interesting sea birds. Speaking of which, you'll travel around Puffin Island, where you may be able to see up to thousands of these cute creatures.
While speed boats are definitely fun and get the adrenaline pumping, the oak ships are smooth, and take a calmer approach to observing.
Husavik is the perfect place for watching these beautiful giants, and while it's not guaranteed, it's highly likely you'll get to see humpback whales, Minke whales, dolphins, and more!
While you watch, you'll be given a cup of hot cocoa (really makes a difference on the chilly waters!) and some delicious cinnamon buns! The guides are very knowledgeable, and will offer a safety briefing and all kinds of fun facts and info about the area and animals.
---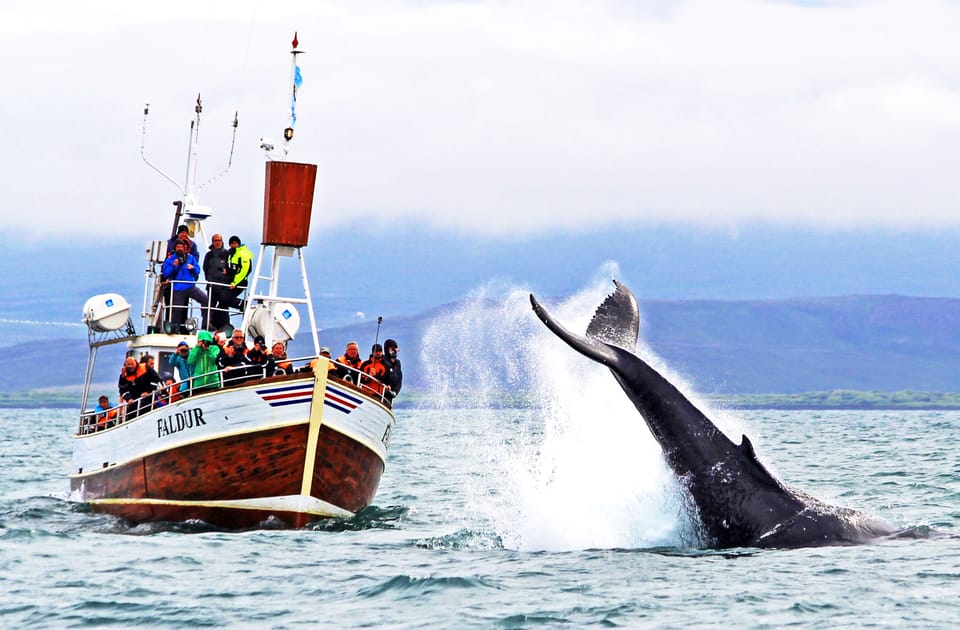 Tour Highlights
:
Departure: Gentle Giants ticket center in central Húsavík
Duration: 3 hours
Includes: 

Live tour guide, t

ransport for activity duration: Other water transport, r

ain poncho, ja

cket

Other: Traditional boat with traditional treats served onboard
Much like our previous tour, the Traditional Whale Watching Tour also takes place on a traditional Icelandic oak boat! Starting in Húsavík, you'll get an almost 100% of seeing whales! As things can get pretty wet, they've included a rain poncho and jacket with your ticket to make sure you stay dry and warm!
Once you board the boat, you'll sail out into the bay and begin to take in the jaw-dropping scenery that Iceland has to offer.
The professional guide offers a safety demonstration at the beginning of the journey to ensure the entire experience is a positive one.
Further into the tour, your guide will begin offering live commentary on all sights and animals as you pass them. The boat is very smooth and stable, which makes it great for people of all ages and physical fitness levels. The staff is very friendly and entertaining, making it just that much better.
As you take in the scenery and wildlife in their natural habitats, you'll get to enjoy a cup of toasty hot chocolate or coffee with a traditional Icelandic kleina.
With recipes going all the way back to the 14th century, they're spiced, twisted, and fried donuts that have been a part of Icelandic culture for many years.
---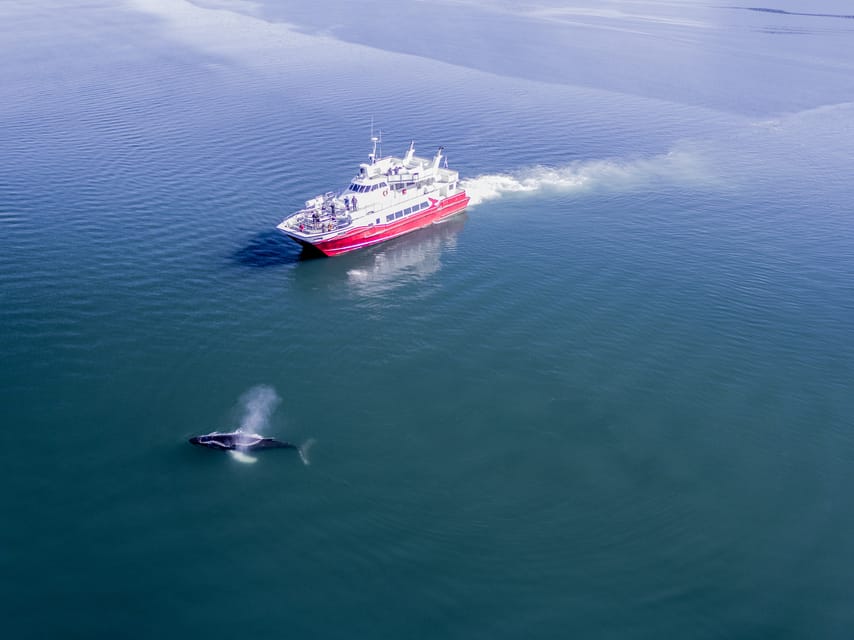 Tour Highlights
:
Departure: Floating pier of Oddeyrarbót 2, next to the Hof Cultural Center in Akureyri at least 15 minutes prior to departure
Duration: 3 hours
Includes: 

Live guide, u

se of overalls on board the boat, f

ree Wi-Fi

Other: Relaxing, comfortable boat tour
The Akureyri 3-Hour Classic Whale Watching Tour is another choice perfect for the entire family. It offers ample room on the deck as well as indoor seating, so you can ride comfortably if you happen to get too cold outside. Not only that, but they offer onboard, free Wi-Fi so you can always stay connected should you need to!
When you meet up with your group, they'll provide you with waterproof, thermal overalls like most other quality tours out there.
Just make sure that you're also wearing warm clothing and ideally waterproof shoes/boots to make the experience as smooth as possible.
The 3-hour tour starts after a safety briefing, where you'll board a high-speed, specially-modified ship made just for the purpose of watching whales. Eyjafjord is known specifically for its natural beauty, humpback whales, and other sea creatures.
Expertly-trained guides know exactly how to spot these stunning animals, and will educate you on their behavior and history behind the area.
If you have any questions, we found the guides to be incredibly friendly and could answer just about anything! The cinema-style viewing platforms offer a wide vista for incomparable views!
Enjoy refreshing hot chocolate, coffee and snacks with the onboard bar and cafeteria, as you relax in the closed cabins.
---
Iceland Tour Guide
Getting There
Basically all international flights are going to land at Keflavik Airport. It's located about 30 miles from Reykjavik, which is the country's capital city.
Currently, over 20 airlines offer scheduled flights to Iceland. From the US, you can expect flights to be anywhere from around 5 to 8 hours, depending on where in the US you are flying out from. Flight prices vary widely, depending on the season. During peak season from June to August, flights are going to generally be the highest, along with the couple of weeks before Christmas and after New Year.
If you want the cheapest tickets, buy them within November to March.
Getting Around
Car – The most popular method of transportation is definitely by car. These are pretty easy to rent as Hertz, Avis, Budget, and other major rental companies are found here. A cool alternative to this, is Campervan Iceland, which let's you rent a camper so you always have a place to rest your head – even if you're in the middle of nowhere.
While the vast majority of the roads will be paved well, you do need to keep in mind that in every season you can encounter strong winds, ice on the roads, and sandstorms. This can be difficult to drive in, especially if you aren't used to it.
Bus – In the summertime, buses are a great option as there are many long-distance options. Strætó, SBA-Norðurleið, and Sterna are the main bus companies and travel to the top tourist destinations, making it easy to get to and from them. Just remember that in the wintertime, they're not as frequent – if running at all. If you would like to plan ahead or have any doubts, just check out their public transport site.
Bike – Just like with any other mode of transportation, you need to keep an eye out for extreme or changing weather conditions in Iceland. Due to the beautiful environment, it can be a very pleasant experience, but as the towns are spaced pretty far apart typically you'll need to be in at least moderate shape.
Walking – As you can probably imagine, there are a ton of hiking trails around. Walking around Reykjavik is pretty much a breeze, and it's fun to check out the charming little cafes, eateries, and shops. In fact, if you're staying in the city, we recommend taking some time to do just that. Just remember to bring some warm shoes, as even in the summer, things can get chilly.
Ferries – If you need to get to surrounding islands, ferries are a great help. The Baldur and Herjólfur lines let you bring a car onboard, so if you're renting a car this is the way to go.
Where to Stay
You're most likely to stay in the capital of Reykjavik, which has the most options by far regarding accommodations. You'll almost certainly find something to suit any budget and requirement. From budget-friendly to lush and luxurious, it's here waiting for you.
Hotel Borg is absolutely one of the crowd favorites due to being so spacious, consistently reliable, beautiful, and smartly located right in downtown Reykjavik. Their art deco design is also perfect for some photo ops!
The Konsulat Hotel Curio Collection is another great choice, also located in the heart of the capital city. Boutique rooms, top-notch dining, beautiful wellness spas, and an overall cozy vibe will always invite you back after a day of adventuring around. The Icelandair Hotel Reykjavik Marina overlooks a gorgeous harbor, and if you're looking for more refined accommodations you have it here.
If you don't mind being a bit further away from the city center but still want luxury, then the Radisson Blu Saga or the Hilton Reykjavik Nordica are excellent alternatives. If you're on a budget, then you may choose to stay in Keflavik, where the international airport is located. The Nupan Deluxe Guesthouse is a charming, clean place where you can get very affordable, cute rooms!
Restaurants and Eating Out
Now on to the real fun stuff: food! From traditional to modern cuisine, Iceland is sure to have some tasty treats you've never tried before.
Icelandic traditional food consists of quite a bit of fermented dishes, fresh fish, lamb, and heavy use of local-only products. The fermentation is used because hundreds of years ago, it was hard for residents of the island to keep their food long enough to last through the dark winter months. Instead, they had to resort to preservation methods like fermenting fish and smoking meats.
Fine Dining –
Apotek – As the name suggests, this restaurant is housed in the building where the oldest pharmacy in Iceland used to be! Here, you'll find many traditional Icelandic dishes, mouth-watering cocktails, and hearty desserts.
Lobsterhouse – This one is pretty straightforward, and yes, you can expect some delicious lobster here. However, the overall theme is French cuisine with a Nordic twist. Who knew that mixing these two worlds would combine so well?
Traditional –
Icelandic Street Food – From fresh Black Lamb with flatbread and hummus to Gemlingur and Piparmey, you're likely to try something you never have before, here. If you're on a budget, this is a great, delicious option.
Loki – Located in the heart of Reykjavik, this is where you can grab a warm, homemade Icelandic meal. Our favorites are the rye bread ice cream and the rye bread with mashed fish. From sheep head jelly to smoked salmon, you can enjoy it all with a beautiful view of Hallgrimskirkja.
One thing we would like to mention, is that if you're a vegetarian or vegan, it is relatively difficult to find a veg-friendly menu here in Reykjavik. While it's definitely become more popular in recent years, it's still quite limited. Glo is probably the most popular option, and there are several locations around the city.
Cafes – Trust us when we say that huddling up in a warm, cozy café in Iceland is one of the best experiences in the world. Luckily, you have plenty to choose from.
Stofan Café – This is like walking into a good friend's house, who happens to make delicious coffee and pastries! Sandholt Bakery is quite possibly the most popular in the city, and have endless treats to select from. Maybe just take them all!
Nightlife and Entertainment
Reykjavik is relatively small for being the capital of a country, but there is still some great nightlife to be had! In fact, as all the best spots are within walking distance from each other, it's even better! You generally don't have to deal with lines to get in, and dress codes are also nonexistent as no one wants to be walking in the cold with uncomfortable formalwear.
20 is the legal drinking age in Iceland, and if you look older than that, you're not likely to be carded. Just remember to dress for the cold, though you can still dress up if you'd like. Overall, you'll find nice, welcoming vibes anywhere you go. The streets are pretty safe, as well.
Clubs typically close around 5-6 am, and most Icelanders will start going out around 1-2 am which tends to be late if you're used to nightlife in America. There are clubs with all genres of music on Laugavegur street on the weekends, and Thursdays also have some nice live music nights!
There are tons of breweries, beer tours, and pub crawls so if you're a fan of beer you're in luck!
Weather
As we've mentioned a few times throughout our guide, Iceland is typically quite cold. Summers are short and cool, though there are months that are really sunny and maybe even warm. However, weather changes quickly here and we heavily suggest bringing warm clothes, no matter the season.
The "warm" season is from about mid-June to the first week of September, though never really goes over 60 degrees Fahrenheit. The cold season is about 5 months long, from the beginning of November to the beginning of April. The highs will be around 40 degrees, while the lows can be less than zero.
Attractions
Blue Lagoon – The Blue Lagoon is a stunning spectacle to see or dip, with its pastel blue waters. These geothermal spas are wonderful for the skin, and our overall health.
The Northern Lights – Also known as the Aurora Borealis, the Northern Lights are something you simply can't miss. There are many tours that will take you to see the Northern Lights, with trained guides that know exactly where and when to look!
Maelifell Volcano – The volcano looks just like what you'd imagine one to look like, with the traditional cone shape. During the warmer seasons, you'll find it covered in a lush green moss that makes it look almost like it's from another planet!
Skaftafell Ice Cave – These caves, if caught at the right time, are filled with unreal blue lights! Consisting of various glaciers and ice caves, it's certainly a unique place. There are many different visitor centers to ask any questions you may have. While you are there, you should take a hiking tour of the Glaciers.
Hallgrimskirkja – This modernist church will sure turn your head! The tallest, most iconic building in all of Iceland was inspired by The Black Falls. If you're willing to take on the 73 meters of stairs, you'll be able to take in some of the most stunning views of the city. Okay, you can also take the elevator but that doesn't make as good of a story!
ATV Treks – If you love adventure (and you do, otherwise you wouldn't be here reading this!), you'll love trekking around Iceland's lava fields on an ATV! It'll make you feel like you're riding around a Game of Thrones set!
Svartifoss – With black basalt hexagonal columns hanging over it, Svartifoss is one of the most special waterfalls in the world! The dark columns perfectly contrast the bright blue waters pummeling down over the side.
Reynisfjara Beach – The iconic black sand beaches of Reynisfjara are something you just can't find anywhere else. Just be careful of the rough waves that can appear on shore!
Tips
Spend at least a. bit outside of the city and head into the countryside. The vast majority of the country consists of just uninhabited, wild land. As you have probably picked up by now, Iceland is full of natural beauty and wonders!
If you feel confident enough, try renting a car! This is (in our opinion) the best way to see the country. While gas is a bit pricey, some rental agencies will offer you a discount card.
If you're planning on using your credit card, you're likely not to have to exchange currency. This is a handy, money-saving move that's also safer. Not that Iceland is particularly known for its pick-pocketers, but you just never know.
Are you going to visit in the summertime? If so, make sure you pack an eye mask as it's going to be light outside almost constantly. Many hotels will provide these, but it's better to just bring your own and not risk it.
Be prepared for literally any kind of weather. You'll almost certainly encounter rain and windiness, even in the summertime. Remember to layer, as this is going to keep you warm and dry better than anything else. Oh, and bring gloves and some kind of face covering.
As you'll be near the water, you want to bring some rain gear, too. This means a waterproof jacket and boots! Definitely don't skimp on the extra socks: it's even better if they're wool!
While the vast majority of people in Iceland speak great English, it's always smart to learn some basic words in Icelandic.
Whale Watching Tour by Speedboat From Reykjavik is our editor's choice for the best whale watching tour in Iceland.