Hawaii is no doubt one of the top tourist destinations in the world, due to its laidback vibe, beautiful beaches, lush green hills, and delicious food.
However, did you know Maui also one of the best places to whale watch? If you want to spend part of your vacation with these gentle giants, then look no further!
We've taken on the task of checking out all the most popular whale watching tours nd chosen the cream of the crop. If you're on the hunt for the top whale watching in Maui, check out the guide below!
Be sure to see our reviews of Maui sunset dinner cruises and Maui snorkel tours.
Top Whale Watching Tours In Maui
The 5 Best Rated Maui Whale Watching Tours For 2023
Now lets take a closer look at the Maui whale watching tours so you can find the right one for you!
---
Maui Whale Watching Tour Reviews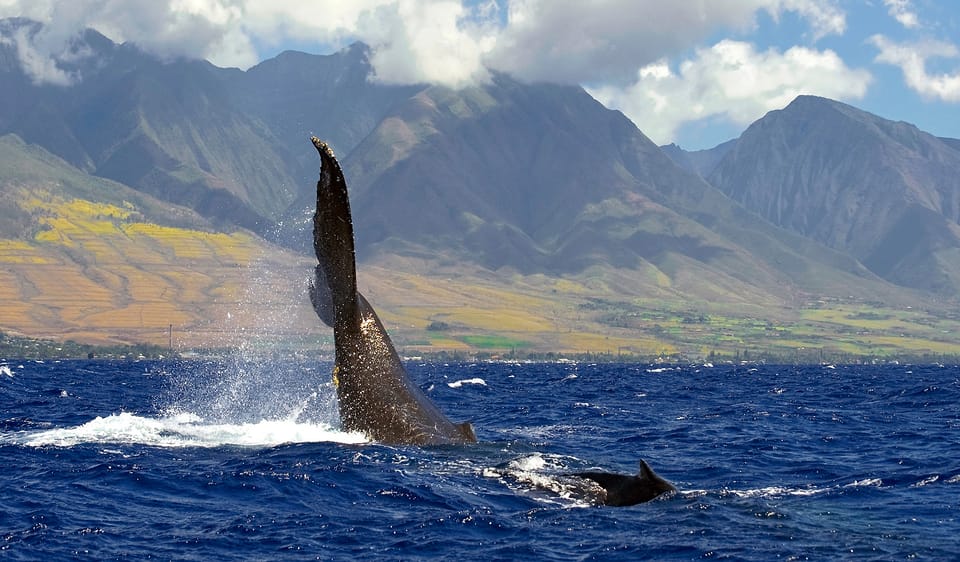 Tour Highlights
:
Departure: Main loading dock: 675 Wharf Street, Lahaina HI 96763
Duration: 3.5 hours
Includes: 

Lunch, e

xperienced captain and crew, s

norkel 101 tutorial,

snorkel gear and floatation devices, w

ater, soft drinks,

 restrooms,

 freshwater showers, i

nformative and Historical narration,

d

olphin watch, w

hale watch (seasonally)

Other: Comprehensive tour that has everything you need for fun, watching, and eating
Are you ready for a tour full of breathtaking scenery, friendly staff, adventure, sea critters, and more? If so, then get yourself signed up for the Lana'i or Turtle Town Snorkel & Whale Watch now!
You get to cruise over to Lana'i or Lahaina Turtle Town on the Quicksilver boat through rich blue waters and experience one of the most comprehensive tours out there.
Before heading into the water, the captain gives an equally entertaining and educational snorkeling "class" to make sure everyone feels comfortable.
The island of Lana'i features enormous coral reefs, and is known for being more "wild" and free of tourists. Due to its remote location and how little humans have a negative affect on the area, the waters that surround the island are home to a pod consisting of over 100 spinner dolphins!
It's not uncommon to catch them breaching as your catamaran sails by on the way to the snorkeling site.
You'll head either to Manele Bay or Shark Fin Rock (which is named as such due to how the rock is shaped – no need to worry!). Occasionally, weather or water conditions aren't idea. In these cases, the captain and crew will take your group over to Lahaina Turtle Town.
This area is also a ton of fun, where you'll see turtles in their natural habitat, along with plenty of brightly-colored tropical fish!
Regardless of the location, you'll be able to swim around the clear turquoise waters around Maui that's free of tourists and crowds. Starting December 1st, whale watching season is in full swing, and you'll get to see Humpback Whales, too! Seeing these beautiful giants is more than worth it all on its own!
---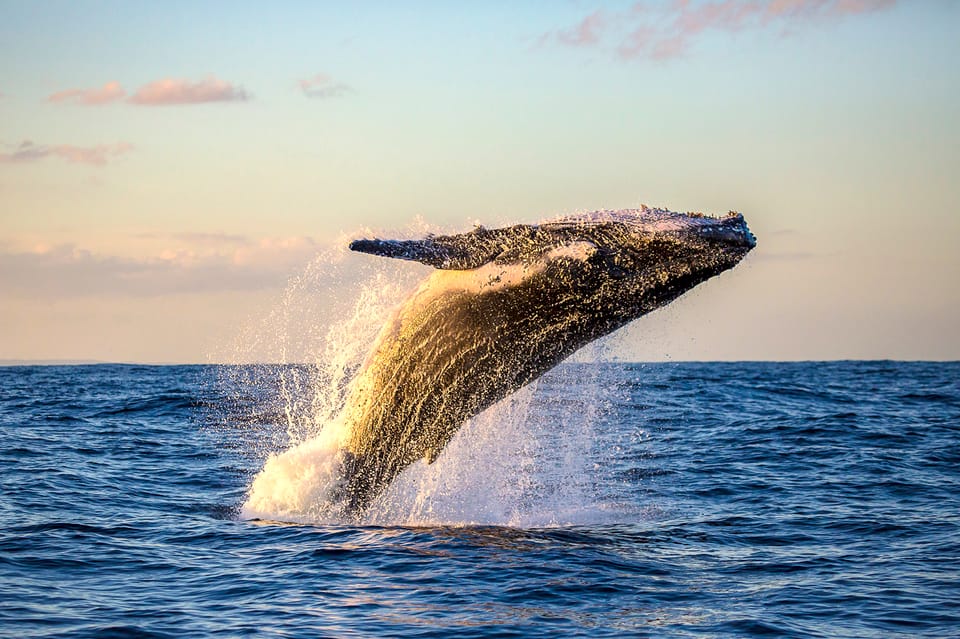 Tour Highlights
:
Departure: 101 Maalaea Rd, Wailuku, HI 96793, USA Slip 82, South Ferry Loading Dock
Duration: 2 hours
Includes: 

Professional captain and crew, 

taxes, fees and handling charges, t

able seating, i

ce-cold water, soda, and juices, 

Hydrophone, 

Pacific Ocean naturalist, 

3rd deck views over the water

Other: Relaxing glass-bottom boat ride with full view of whales
Hawaii is known for being packed full of tourists at times, but if you know the right tours to take, you can get a front row seat to Mother Nature and all of the fantastic creatures which inhabit the islands.
The Ma'alaea Harbor Whale Watching Cruise is a perfect example of that, with 2 hours filled of relaxing and seeing whales up close! It's fun, educational, and a can't-miss stop on any Hawaii visit!
From December to April, the whales come out and frolic around! Hop onboard the only triple-decker catamaran in all of Maui for the best possible views of these giants.
The top deck offers a kind of top-down view that makes it perfect for seeing them, even from far away. However, you can also choose to watch through the glass-bottomed seating area, which is pretty rare for a whale-watching vessel to have.
Once on board, you'll be greeted by the naturalist, captain, and crew, who are all very entertaining and friendly. Not only that, but they're very knowledgeable and experienced, and will fill you with all kinds of fun facts about the whales and the area.
The naturalist is a great "feature" of the tour, as they offer a kind of play-by-play narrative of what the whales are doing, as they do it.
While it's not a 100% guarantee, you're almost certainly going to see whales swimming around, tail slapping, engaging in the peduncle throw, spy hop, or even completely launch themselves out of the water for a full breach. Have your cameras ready, because you never know!
The catamaran itself is also quite comfy, with ample seating, different views from each level, including 360-degree ocean views. Even when the sun is shining bright, you'll be comfortable thanks to the cabin's tinted windows on the 1st and 2nd levels.
---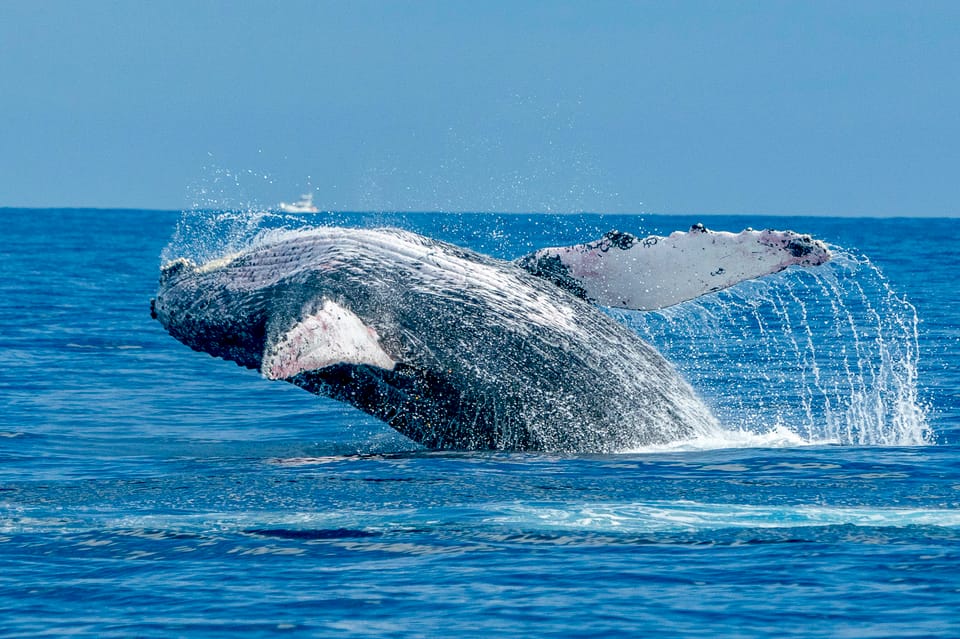 Tour Highlights
:
Departure: Lahaina Harbor, Main Loading Dock, 675 Wharf Street
Duration: 2 hours
Includes: C

atamaran trip from Lahaina to the Maui Channel, u

nderwater hydrophones to hear whales,

 captain and crew, 

chilled sodas and juice, s

hady cabin area, 

restrooms on board

Other: Comfortable catamaran with whale sightings
Next up, we bring you the Lahaina 2-Hour Morning Whale Watch Cruise. The morning is the perfect time to go searching for whales, thanks to the fact that tourists and boats aren't usually out at this time.
With a comfortable, high-speed catamaran to take you, this tour wastes no time cruising around and focuses on making sure you get one of the most incredible experiences one can have in nature.
It's important to take tours that focus on the animals' safety, as well as the guests on the boat.
We appreciated how obviously well-trained the staff was, and how willing they were to speak with guests and teach them everything they know. This makes it a tour that's great for literally all ages!
The catamaran is kept in great shape, and has everything you need to stay comfortable. 2 bathrooms are on board, along with a shaded cabin area, sunny deck, along with chilled sodas and juice.
If your stomach starts growling, you can also choose to purchase some snacks. It's pretty spacious too, so you don't have to squeeze around people to try and get a good photo spot.
Not only will you get the chance to see the whales; you'll get to hear them too, thanks to an onboard hydrophone!
These are essentially microphones that detect soundwaves underwater, which were at once point used to locate subs and icebergs but will be used to hear the Humpback whales in this case. As you can see, it's absolutely a unique experience that few get the chance to partake in!
---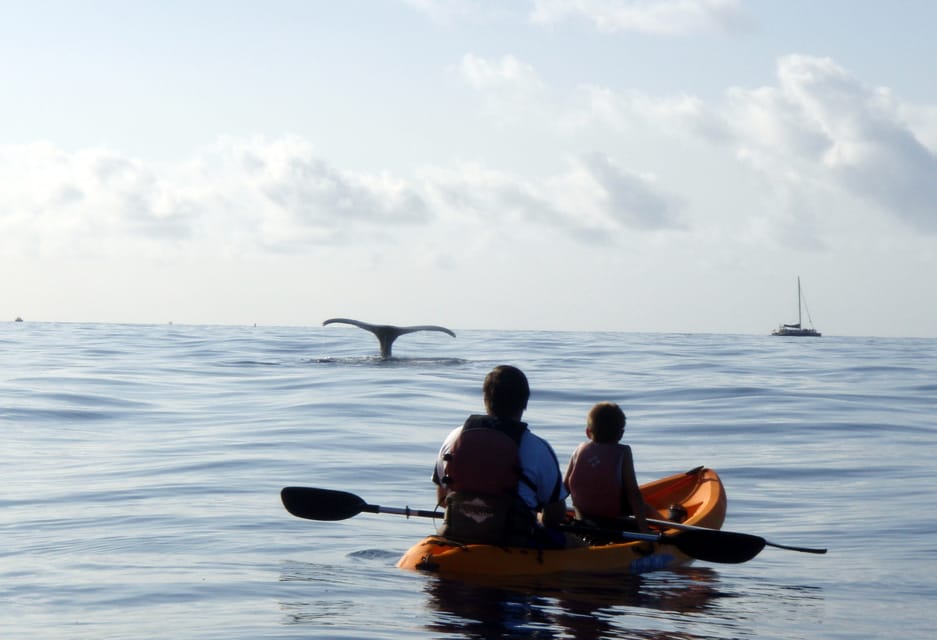 Tour Highlights
:
Departure: Makena Landing Park
Duration: 3 hours
Includes: 

Guided kayak tour, s

afety orientation, s

norkeling Equipment, s

nacks, water and juice

Other: Up close, personal kayak tour
If you're feeling really adventurous and want to get up close and personal with whales, you have to check out this next tour. The Whale Watch Kayaking and Snorkel Tour in Kihei is one-of-a-kind and if you love adrenaline, you have to put it at the top of your list!
Not only that, but it's also one of the most ecofriendly ways to enjoy seeing whales and you get in some exercise!
If you've never been kayaking or snorkeling before, that's no problem. The knowledgeable guides are there to help orient you on safety precautions and techniques so that you're cool and calm the entire time. The guide will launch every kayak, so you can set off on your adventure with the rest of the group.
As you paddle out to the best spot, your guide will fill you in about what the rest of the 3 hours has planned, stories about the area, and interesting bits of information.
When whales start to show up, you'll be able to paddle around, keeping a safe distance. The guides will also give a play-by-play of what the whales are doing and why. You may even get to see a baby or two!
After whale watching, the group will paddle back to shore to get in some quality snorkeling along the reef. Chances are, in this area, you'll come across some Hawaiian Green Sea Turtles that call this area home. Once you're finished up snorkeling, the guide will gather everyone back to shore.
---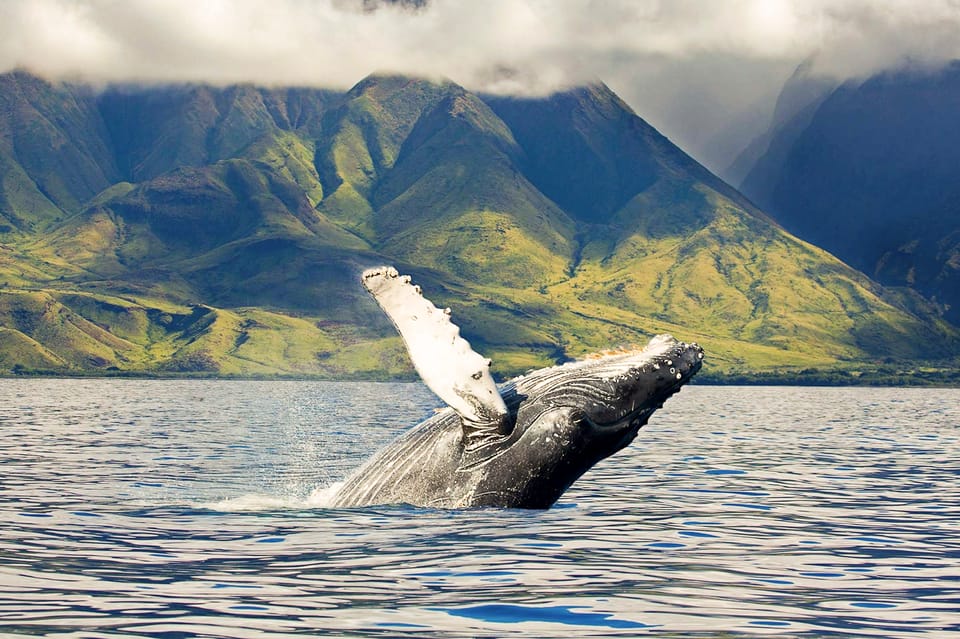 Tour Highlights
:
Departure: In front of Leilani's Restaurant at Whalers Village
Duration: 2 hours
Includes: 

Breakfast, snacks, f

resh Kona coffee and tropical juice, soft drinks

, p

ogmosas

Other: Open bar, snacks provided, fun excursion in comfortable boat
On this tour, you'll hop onto a pristine catamaran to head out and search for these magnificent giants. The Maui Whale Watching Tour lasts just 2 hours, which we found to be that sweet spot between getting to relax and enjoy the view of the whales while not being too long.
There are departures in the morning as well as around noon – we prefer the former due to the lack of crowds and boats on the water.
The tour starts off by you and the rest of your group hopping on to the luxurious Teralani Catamaran. Just sailing on the boat is an adventure on its own, thanks to their smooth feel, their cushioned seats, and the exquisite construction featured here.
Every December, the Great Pacific Humpbacks make the trek out from Alaska and head south to the algae-rich Maui area.
We love the morning tours for another reason: the delicious breakfast eats and fresh Kona coffee! Kona coffee is grown right on the island, and it as a very unique roast that you'll forever crave.
There are also cool, refreshing beverages offered, such as "POGmosas".
These consist of passion fruit juice, orange juice, guava juice, and champagne – an ultra-tropical alternative to your average mimosa! "Bloody Maui's", wine, beer, tropical juices, and other soft drinks and snacks are also available.
Sailing along the western coast of Maui from Ka'anapali, enjoy the warm sea breeze against your skin as you head to the perfect watching spot. Keep your eyes peeled or any gigantic visitors! The onboard marine naturalist is there to teach you about the whales, offering an educational and entertaining live commentary.
---
Maui Travel Guide
Getting There
In order to partake in any of these Maui dinner cruises you need to get to there first. Maui's main airport if Kahului Airport (OGG), however, there are also 2 smaller airports: Kapalua Airport (JHM) located in West Maui and Hana Airport (HNM) in East Maui. The vast majority of airlines feature direct Maui flights, so this is pretty easy. From Kahului Airport to Lahaina is about 45 minutes away by car.
Getting Around
Renting a car is highly recommended, just because you're free to go wherever, whenever you want. It's the best way to really experience Maui to its fullest, and you can do so by reserving a rental car ahead of time at either the Kahului or Kapalua airports. However, if you want to let someone else take the steering wheel, you can also get around by shuttle, taxi, or even public transportation.
Where to Stay
The vast majority of the aforementioned tours are located in West Maui and South Maui, so you'll probably want to choose your place based on that first.
West – This area remains one of the most popular areas to stay on Maui, since the 60's. Here, you'll likely choose from Lahaina or Kaanapali. Lahaina is an old whaling village, whereas Kaanapali offers more places to stay and more dining options. This is where the vast majority of resorts and condos are, making it easy to pick a place from low-key to high-end. If you're looking for souvenir shops, this is absolutely the place to go. Just remember that it can get pretty crowded and is very touristy.
The Sharaton, Hyatt, and Marriot resorts are just north of Lahaina and are all beachfront, making it easy to get to your snorkeling tour. However, we are a bit partial to the Westin Maui Resort and Spa, the Royal Lahaina Resort, and the Kaanapali Beach Hotel.
South Maui – The south includes Kihei and Wailea, which is not quite as crowded, though still offers its own charm. For example, the beaches have fewer people, leaving you to take in the view without disturbances. If you're looking to bask in a calm, relaxing vacation without the hustle and bustle, then head to the south.
Kihei offers a variety of condo rentals, and you're sure to find something to accommodate any budget. However, if you don't mind spending more, head to Wailea which boasts various beachfront resorts, newer condos, a beautiful outdoor mall, and tons of high-end restaurants. Some of our favorites are Hotel Wailea, Wailea Beach Resort, and if you're on a budget, Wailea Grand Champions Villas.
Restaurants and Eating Out
The areas also vary a bit in terms of dining quality and the types of restaurants you may be looking for.
West – When we're talking about Lahaina and Kaanapali, as we previously mentioned, the latter offers many more dining options. One thing you definitely need to try to do is book at least weeks ahead of your trip, as some of the more popular eats book up quickly. If you're dining in Kaanapali and are a fish taco fan, you have to try Monkey Pod Kitchen at least once during your stay. They're also famous for the traditional Hawaiian Mai Tai cocktails, but theirs are served with mouth-watering passionfruit on top! There's one in Wailea, too, so you have an excuse to go twice!
Another fun place to explore is the Hoopiilani Food Truck Park in Kaanapali, which is open nightly from 4 to 9. If you end up not making a reservation in time or feel like something spontaneous, this place has everything from poke bowls to Thai food to burgers. Depending on where you're staying, you can realistically walk or take advantage of the free parking if driving.
South – You have a ton of dining options in south Maui, though the experiences vary greatly. You may have to work a bit harder to find something specific you're looking for, or to find "tourist-approved" restaurants. One of the things we figured out is that south Maui has some of the best coffee on the entire island – just take a look at Akamai Coffee Company. Everything is locally-grown and locally-roasted, so you're really supporting their local economy.
Are you a Top Chef fan? Even if you're not, you have to stop by and try a bite at the Top Chef alumni, Sheldon Simeon's "Lineage". Paying homage to Hawaii's traditional culture, the décor is unbeatable. The menu features varied influences, from Portuguese, Japanese, and of course Native Hawaiian dishes.
For seafood, you can't forget Pa'ia Fish Market Southside. The original is in the Upcountry, though this open-air spot is just as good. Serving ono, mahi mahi burgers, incredible fish and chips, and more, we hope you're hungry. Servings are enormous, and are great for sharing.
Nightlife and Entertainment
Maui has a thriving, pulsing nightlife, however nowhere on the island compares to Lahaina. If you come alive at night, then this former whaling port is the place to be. Bars, clubs, live music, karaoke, DJs – you name it and they have it. The Old Lahaina Luau is a beachside restaurant where you'll get to watch cultural dances, demonstrations, and enjoy traditional dishes!
In the south, you'll find more laid-back vibes, though still great nightlife and experiences. The South Shore Tiki Lounge in Kihei features a lineup of great DJs every night, along with live music during happy hour. Plus, they have delicious cocktails and pizza! Afterwards, you can go just south of Kihei where there's a ton of different bars for karaoke, an Irish tavern, and even a few nightclubs.
Ultimately, if you're younger and want to have some more electrifying, high-energy fun, head to Lahaina. If you enjoy a good cocktail or glass of wine while enjoying the way the moonlight shines through the palm trees, then the more luxe Wailea or most areas in the south would be ideal for you.
Weather
West Maui offers some of the best weather all of Hawaii has to offer. As it's known for being dry and sunny almost daily, it's perfect for being on the water(like for sunset dinner cruises!), or simply exploring the hills and scenic beaches.
Let's face it, if you're in West Maui, there's no way you're going to want to stay inside anyway. With the beautifully lush, green mountains rising behind you, you won't be able to resist taking some snapshots. Not to mention, there's a supreme selection of beaches for you here.
The south also has incredible weather, and if you're planning on arriving in the winter, you'll experience less rain here than in the west. South Maui has the most white sand beaches that are as perfect as one can possibly be. Ultimately, the south is known for having the driest, sunniest weather on average.
Attractions
We've already talked about one of Hawaii's biggest attractions: being on the water. Surfing is another excellent outdoor activity that we encourage you to try, even if it's your first time. Maui has tons of experienced, talented surf teachers who will make it as easy as possible for you. To see the rain forest in an exciting way, take a zipline adventure tour.
Tips
The best time of year to go would be during spring or fall. The summer months are very dry and hot, and the beaches are going to be packed on the West side and pretty crowded in the south. South Maui can even get a bit chilly with greater cloud covering. You'll see more tropical showers and rainfall in the winter, too.
If you're into beer (or even if you aren't!), you have to experience Maui Brewing Co's tours! As Hawaii's largest craft brewery, we love their Ginger Beer, Pineapple Mana Wheat beer, and succulent wings.
Hawaii is very unique, in part, due to the fact that volcanoes helped create the islands themselves. The Haleakala Crater is an almost impossibly large crater which formed over thousands of years due to an entire volcanic mountain top eroding. It's visible from just about any point on the island, and sits at 10,023 feet above sea level.
We recommend getting up early to drive to the Haleakala Visitor Center, where you can watch an unforgettable sunrise. You may even question whether or not you're on planet earth.
Humpback whales, melon-headed, short-finned pilot, pygmy, and false killer whales all reside in the waters off of Maui. If you love these beautiful giants and want to catch a glimpse of them, there are tons of live whale and dolphin tours and sighting spots for you. For indoor marine life spectating, the Maui Ocean Center is also a great place to take the kids and learn about animal welfare.
It's a smart idea to reserve ahead of time, if possible. Remember, Maui is a very tourist-heavy island and these things can book up weeks or even months ahead of time. No matter what you decide on, whether indoors or outdoors, there will always be something fun to do.
The Maui Lana'i or Turtle Town Snorkel & Whale Watch From Lahaina is our Editor's Choice for the best Maui whale watching cruise.