Hawaii is no doubt one of the top tourist destinations in the world, due to its laidback vibe, beautiful beaches, lush green hills, and delicious food.
However, did you know Maui also one of the best places to whale watch? If you want to spend part of your vacation with these gentle giants, then look no further!
We've taken on the task of checking out all the most popular whale watching tours nd chosen the cream of the crop. If you're on the hunt for the top whale watching in Maui, check out the guide below!
Be sure to see our reviews of Maui sunset dinner cruises and Maui snorkel tours.
Top Whale Watching Tours In Maui
The 5 Best Rated Maui Whale Watching Tours For 2023
Now lets take a closer look at the Maui whale watching tours so you can find the right one for you!
---
Maui Whale Watching Tour Reviews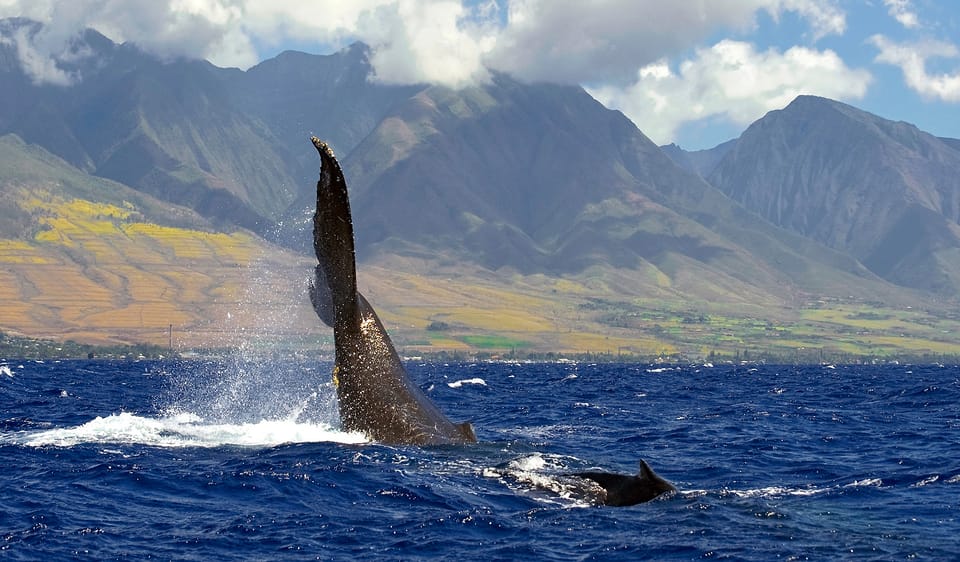 Tour Highlights
:
Departure: Main loading dock: 675 Wharf Street, Lahaina HI 96763
Duration: 3.5 hours
Includes: 

Lunch, e

xperienced captain and crew, s

norkel 101 tutorial,

snorkel gear and floatation devices, w

ater, soft drinks,

 restrooms,

 freshwater showers, i

nformative and Historical narration,

d

olphin watch, w

hale watch (seasonally)

Other: Comprehensive tour that has everything you need for fun, watching, and eating
Are you ready for a tour full of breathtaking scenery, friendly staff, adventure, sea critters, and more? If so, then get yourself signed up for the Lana'i or Turtle Town Snorkel & Whale Watch now!
You get to cruise over to Lana'i or Lahaina Turtle Town on the Quicksilver boat through rich blue waters and experience one of the most comprehensive tours out there.
Before heading into the water, the captain gives an equally entertaining and educational snorkeling "class" to make sure everyone feels comfortable.
The island of Lana'i features enormous coral reefs, and is known for being more "wild" and free of tourists. Due to its remote location and how little humans have a negative affect on the area, the waters that surround the island are home to a pod consisting of over 100 spinner dolphins!
It's not uncommon to catch them breaching as your catamaran sails by on the way to the snorkeling site.
You'll head either to Manele Bay or Shark Fin Rock (which is named as such due to how the rock is shaped – no need to worry!). Occasionally, weather or water conditions aren't idea. In these cases, the captain and crew will take your group over to Lahaina Turtle Town.
This area is also a ton of fun, where you'll see turtles in their natural habitat, along with plenty of brightly-colored tropical fish!
Regardless of the location, you'll be able to swim around the clear turquoise waters around Maui that's free of tourists and crowds. Starting December 1st, whale watching season is in full swing, and you'll get to see Humpback Whales, too! Seeing these beautiful giants is more than worth it all on its own!
---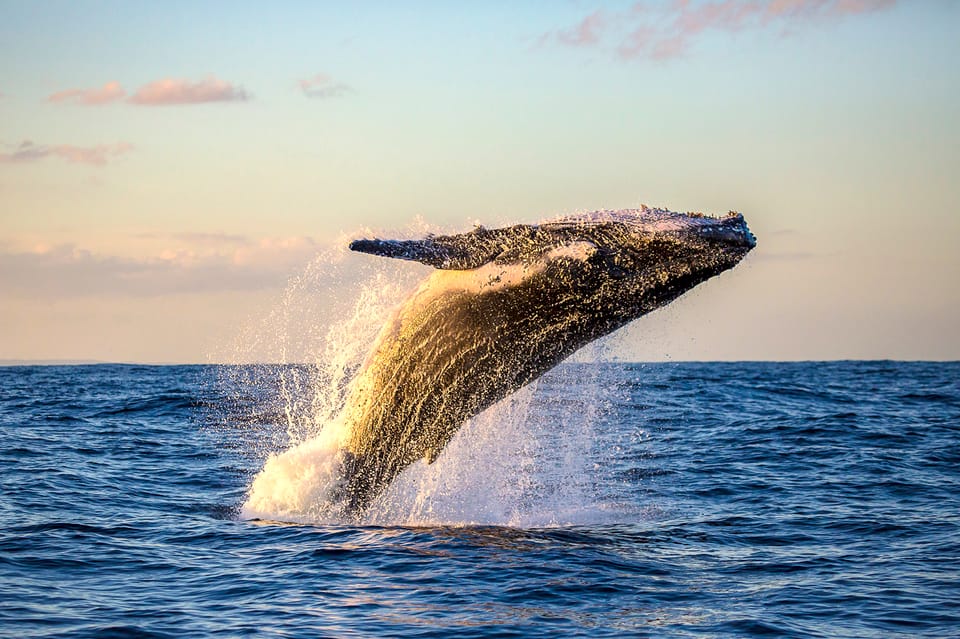 Tour Highlights
:
Departure: 101 Maalaea Rd, Wailuku, HI 96793, USA Slip 82, South Ferry Loading Dock
Duration: 2 hours
Includes: 

Professional captain and crew, 

taxes, fees and handling charges, t

able seating, i

ce-cold water, soda, and juices, 

Hydrophone, 

Pacific Ocean naturalist, 

3rd deck views over the water

Other: Relaxing glass-bottom boat ride with full view of whales
Hawaii is known for being packed full of tourists at times, but if you know the right tours to take, you can get a front row seat to Mother Nature and all of the fantastic creatures which inhabit the islands.
The Ma'alaea Harbor Whale Watching Cruise is a perfect example of that, with 2 hours filled of relaxing and seeing whales up close! It's fun, educational, and a can't-miss stop on any Hawaii visit!
From December to April, the whales come out and frolic around! Hop onboard the only triple-decker catamaran in all of Maui for the best possible views of these giants.
The top deck offers a kind of top-down view that makes it perfect for seeing them, even from far away. However, you can also choose to watch through the glass-bottomed seating area, which is pretty rare for a whale-watching vessel to have.
Once on board, you'll be greeted by the naturalist, captain, and crew, who are all very entertaining and friendly. Not only that, but they're very knowledgeable and experienced, and will fill you with all kinds of fun facts about the whales and the area.
The naturalist is a great "feature" of the tour, as they offer a kind of play-by-play narrative of what the whales are doing, as they do it.
While it's not a 100% guarantee, you're almost certainly going to see whales swimming around, tail slapping, engaging in the peduncle throw, spy hop, or even completely launch themselves out of the water for a full breach. Have your cameras ready, because you never know!
The catamaran itself is also quite comfy, with ample seating, different views from each level, including 360-degree ocean views. Even when the sun is shining bright, you'll be comfortable thanks to the cabin's tinted windows on the 1st and 2nd levels.
---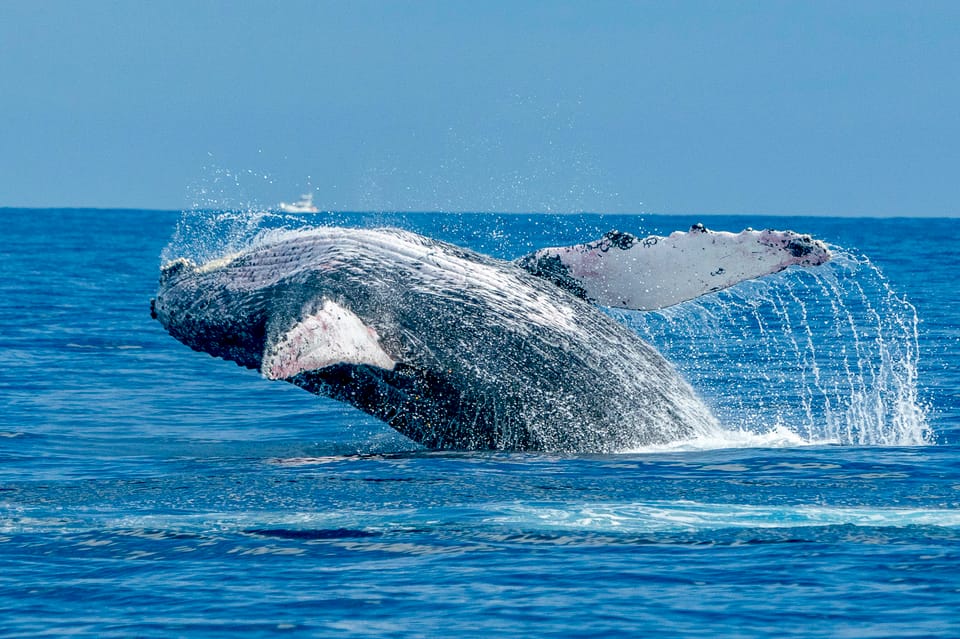 Tour Highlights
:
Departure: Lahaina Harbor, Main Loading Dock, 675 Wharf Street
Duration: 2 hours
Includes: C

atamaran trip from Lahaina to the Maui Channel, u

nderwater hydrophones to hear whales,

 captain and crew, 

chilled sodas and juice, s

hady cabin area, 

restrooms on board

Other: Comfortable catamaran with whale sightings
Next up, we bring you the Lahaina 2-Hour Morning Whale Watch Cruise. The morning is the perfect time to go searching for whales, thanks to the fact that tourists and boats aren't usually out at this time.
With a comfortable, high-speed catamaran to take you, this tour wastes no time cruising around and focuses on making sure you get one of the most incredible experiences one can have in nature.
It's important to take tours that focus on the animals' safety, as well as the guests on the boat.
We appreciated how obviously well-trained the staff was, and how willing they were to speak with guests and teach them everything they know. This makes it a tour that's great for literally all ages!
The catamaran is kept in great shape, and has everything you need to stay comfortable. 2 bathrooms are on board, along with a shaded cabin area, sunny deck, along with chilled sodas and juice.
If your stomach starts growling, you can also choose to purchase some snacks. It's pretty spacious too, so you don't have to squeeze around people to try and get a good photo spot.
Not only will you get the chance to see the whales; you'll get to hear them too, thanks to an onboard hydrophone!
These are essentially microphones that detect soundwaves underwater, which were at once point used to locate subs and icebergs but will be used to hear the Humpback whales in this case. As you can see, it's absolutely a unique experience that few get the chance to partake in!
---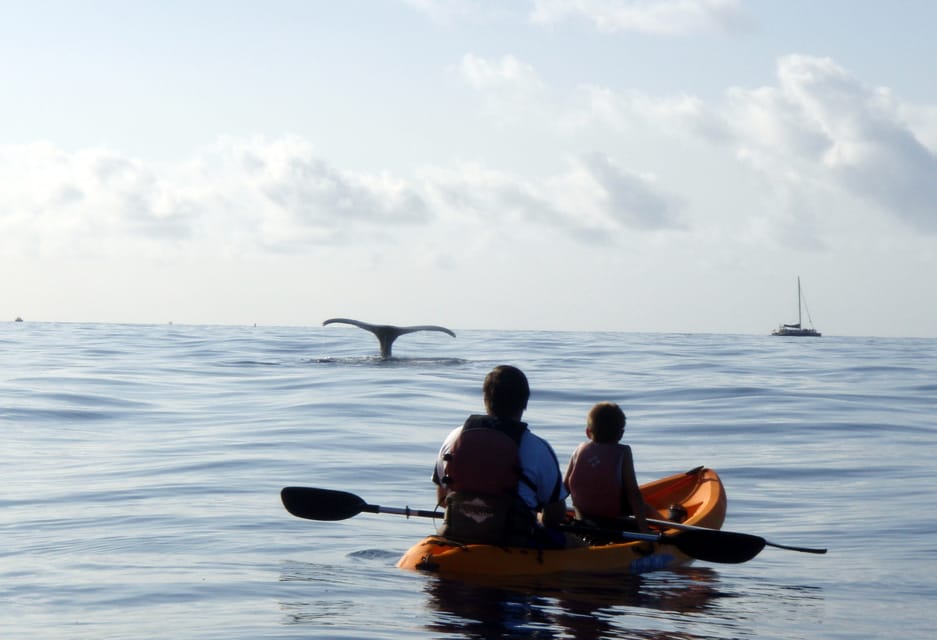 Tour Highlights
:
Departure: Makena Landing Park
Duration: 3 hours
Includes: 

Guided kayak tour, s

afety orientation, s

norkeling Equipment, s

nacks, water and juice

Other: Up close, personal kayak tour
If you're feeling really adventurous and want to get up close and personal with whales, you have to check out this next tour. The Whale Watch Kayaking and Snorkel Tour in Kihei is one-of-a-kind and if you love adrenaline, you have to put it at the top of your list!
Not only that, but it's also one of the most ecofriendly ways to enjoy seeing whales and you get in some exercise!
If you've never been kayaking or snorkeling before, that's no problem. The knowledgeable guides are there to help orient you on safety precautions and techniques so that you're cool and calm the entire time. The guide will launch every kayak, so you can set off on your adventure with the rest of the group.
As you paddle out to the best spot, your guide will fill you in about what the rest of the 3 hours has planned, stories about the area, and interesting bits of information.
When whales start to show up, you'll be able to paddle around, keeping a safe distance. The guides will also give a play-by-play of what the whales are doing and why. You may even get to see a baby or two!
After whale watching, the group will paddle back to shore to get in some quality snorkeling along the reef. Chances are, in this area, you'll come across some Hawaiian Green Sea Turtles that call this area home. Once you're finished up snorkeling, the guide will gather everyone back to shore.
---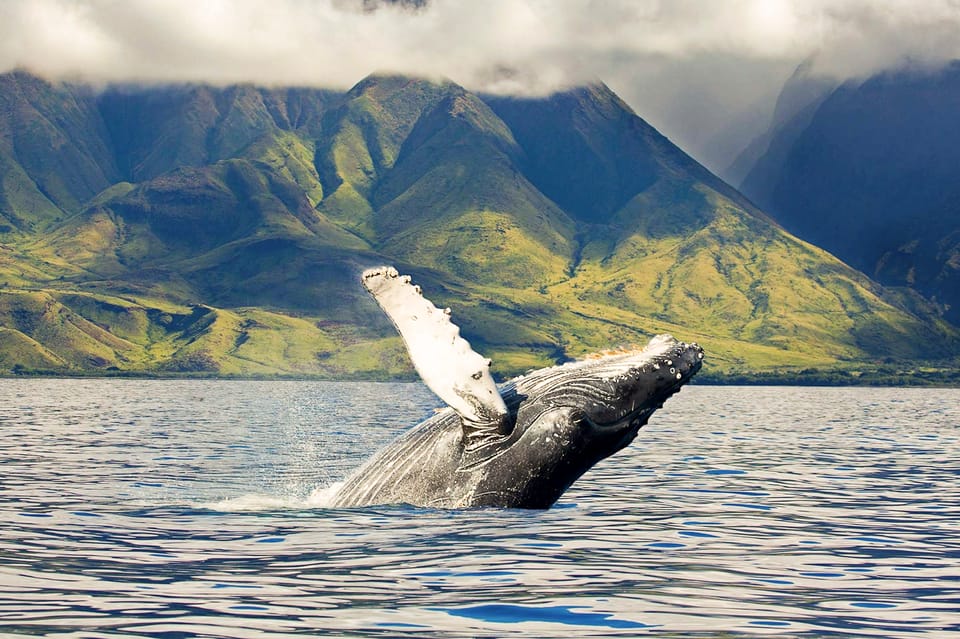 Tour Highlights
:
Departure: In front of Leilani's Restaurant at Whalers Village
Duration: 2 hours
Includes: 

Breakfast, snacks, f

resh Kona coffee and tropical juice, soft drinks

, p

ogmosas

Other: Open bar, snacks provided, fun excursion in comfortable boat
On this tour, you'll hop onto a pristine catamaran to head out and search for these magnificent giants. The Maui Whale Watching Tour lasts just 2 hours, which we found to be that sweet spot between getting to relax and enjoy the view of the whales while not being too long.
There are departures in the morning as well as around noon – we prefer the former due to the lack of crowds and boats on the water.
The tour starts off by you and the rest of your group hopping on to the luxurious Teralani Catamaran. Just sailing on the boat is an adventure on its own, thanks to their smooth feel, their cushioned seats, and the exquisite construction featured here.
Every December, the Great Pacific Humpbacks make the trek out from Alaska and head south to the algae-rich Maui area.
We love the morning tours for another reason: the delicious breakfast eats and fresh Kona coffee! Kona coffee is grown right on the island, and it as a very unique roast that you'll forever crave.
There are also cool, refreshing beverages offered, such as "POGmosas".
These consist of passion fruit juice, orange juice, guava juice, and champagne – an ultra-tropical alternative to your average mimosa! "Bloody Maui's", wine, beer, tropical juices, and other soft drinks and snacks are also available.
Sailing along the western coast of Maui from Ka'anapali, enjoy the warm sea breeze against your skin as you head to the perfect watching spot. Keep your eyes peeled or any gigantic visitors! The onboard marine naturalist is there to teach you about the whales, offering an educational and entertaining live commentary.
---
Maui Whale Watching Guide
Choose the right tour company: It's essential to do your research and choose a reputable whale watching tour company that has knowledgeable and experienced naturalist guides. Read their reviews and look for a company that adheres to responsible whale watching guidelines that will ensure the safety of these amazing creatures.
Timing is everything: The best time of year to go whale watching in Maui is from mid-December to mid-April. This is the humpback whale migration season and Maui is one thier route. The peak is from January to March, so plan your vacation accordingly to give yourself the best chance of seeing them.
Dress comfortably: You will be spending a few hours on the whale watching boat. Dress comfortably in layers. Even in Hawaii it can get cold on the water so bring a jacket just in case.
Bring your camera: This goes without saying, but don't forget a camera or at least a smart phone with a good camera! You'll want to capture some great pictures of these magnificent creatures breaching.
Keep an eye out for other wildlife: While humpback whales are the main attraction, keep an eye out for dolphins, sea turtles and flying fish. You just never know what you might see!
Listen to your guide: Your nature guide is there to keep you safe and give you valuable information about the whales and their behavior. Listen carefully to their instructions and advice to see the whales.
Enjoy the moment: Remember to just relax and enjoy being on the water! Whale watching in Maui is a once in a lifetime experience so take in the moment!
Tips on Whale Watching Photography
You need a quality DSLR camera that you can make manual settings on. Bring a zoom lens with a focal length of at least 200mm. This will allow you to get up close and personal with the whales.
A polarizing filter will be helpful in reducing the glare from the water and give you better contrast in your photos.
Timing is everything! The best time to go whale watching in Maui is from mid-December to mid-April, when the humpback whales are in their mating and calving season.
The early morning hours or late afternoon hours give you the best lighting for photography so try and book your tour then.
Be patient and observant. Whales are unpredictable, so be ready to snap a photo at a moment's notice. Keep your camera on burst shooting mode. This will help you capture a sudden breach or tail slap.
Pay attention to the behavior of the whales, this is where your guide will help. If they're feeding, they may stay underwater for longer periods, so don't get discouraged if you don't see them right away.
Enjoy the experience! Whale watching in Maui is an amazing experience, so take time to appreciate these magnificent mammals in their natural habitat.
The Maui Lana'i or Turtle Town Snorkel & Whale Watch From Lahaina is our Editor's Choice for the best Maui whale watching cruise.