Whether you've heard of it or already been there before, Maui is one of the most beautiful places in the world. There's a lot to see, from lush forests to electric blue waters surrounding it.
However, one of the best ways to see its natural beauty is through ziplining. There are a ton of adrenaline-filled adventures to take out here, and many ziplining tours that are offered.
However, we've done our own research to make sure we bring you only the top Maui zipline adventure tours available!
Best Zipline in Maui
---
The 5 Best Rated Maui Zipline Tours For 2023
Now lets take a closer look at the Maui zipline tours so you can find the right one for you!
---
Maui Zipline Tour Reviews
Tour Highlights
:
Location: 500 Office Rd , 500 Office Rd, Lahaina, HI
Duration: 3.5 hours
Includes: All safety equipment
Other: ATV ride and trek over a suspension bridge
The 6 Dual-Zipline Mountain Adventure in Maui is a 3.5-hour tour that is considered one of the most popular ziplining tours on the entire island. It's more than just a ziplining tour, and is sure to make for an exhilarating excursion that the entire family will love. The guides are very fun, entertaining, and educational which only add to the excitement!
Once you arrive, you'll meet with the guides where they will give you a safety briefing and tell you exactly how to use all of the equipment. Start out with an ATV ride into the lush rainforest, which is such a blast! This is a quick and efficient way to cover a lot of ground.
You'll then cross over the longest suspension bridge in the entire state, which is a bit scary at first but certainly a rush!
Just remember that due to the equipment, there is a max guest weight limit of 250 pounds. Not only that, you will be outdoors in a rainforest climate, which can include quite a few mosquitos so we recommend spraying some bug spray on you beforehand!
Once you get up to the ziplining deck, you'll be able to look out over the stunning jungle and even see the amazing views of the coast!
Throughout the entire time, your guide will be there to help you on all 6 lines.
With the small group sizes, we found that everyone got enough attention and that no one was neglected. With their friendly, lighthearted personalities, it seemed like everyone's nerves just melted away and were able to focus on the beautiful scenery and experience.
---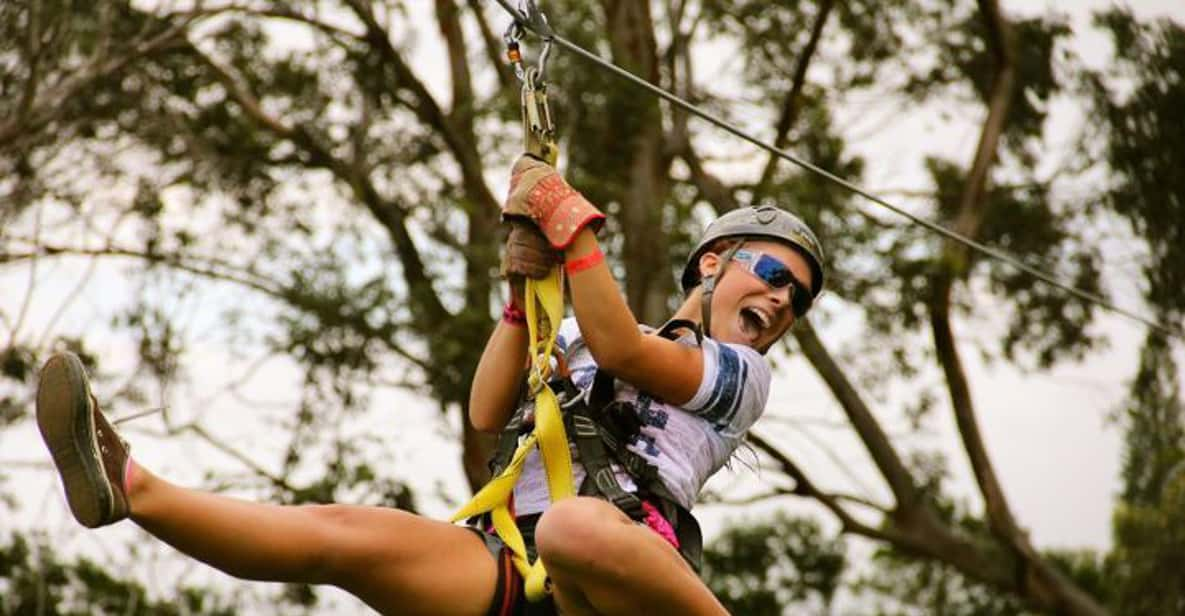 Tour Highlights
:
Location: NorthShore Zipline Co. 2065 Kauhikoa Road, Haiku
Duration: 2 hours
Includes: 

7 zipline tour, s

afety equipment, including harnesses, helmets, gloves, and raingear, cl

osed toe shoes, p

rofessional photographer

Other: Great history lesson on WWII, specifically on Hawaii and the Marine training base
Are you on the hunt for a lot of education and exhilaration packed into a compact tour? Maybe you have other plans during the day and are looking for something fun to do in a small amount of time? If either one of those sound like you, do yourself a favor and check out the Maui: 7 Zip Lines and WWII Museum tour!
This 2-hour tour may be shorter than our previous one, but it certainly packs a lot in! You'll start out by arriving at the historic Camp Maui, which was once used as a Marine base during WWII.
Once here, the guides will help get you acquainted with the area and all set up with your ziplining gear. As they place safety at the forefront of everything they do, they instantly make you feel comfortable.
Next up, you'll head to their "Boot Camp" (aptly-named for the environment) where you'll be able to do some practice runs and perfect your form! Once the trainers have made sure you're all ready, you'll "graduate" from Boot Camp and on to Active Duty!
It's now time to fly across giant eucalyptus trees on 7 different ziplines!
The suspension bridges and aerial transfer platforms make it even more fun – kind of like those McDonald's PlayPlaces for adults.
The guides are always hanging around, making things more lighthearted by cracking jokes and creating games while you enjoy coastal views and Maui panoramas. "Top Gun" is the favorite of many, where you'll speed up to 45 MPH while the special 3-point harness lets you try different ways of zipping: backwards, sideways, and even spinning!
---
Tour Highlights
:
Location: 18303 Haleakala Hwy Kula
Duration: 1.5 hours
Includes: 

5 zip lines over slopes of Haleakala, w

winging bridge through the fragrant eucalyptus trees, s

afety equipment is provided

Other: Indiana Jones-style environment
Kind of like our last tour, this is yet another quick-yet-entertaining tour that's perfect for filling in free space in your day of plans! The Maui: Haleakala 5-Line Zipline Adventure lasts just 1.5 hours. If you've never tried ziplining before and don't want to commit to a longer time at first, this is a great way to get a taste and see how you like it.
While it may be a shorter excursion, you're going to be able to fly over a whopping 40 miles per hour on these pendulum-style ziplines! Start out by heading to the famous Haleakala volcano.
Don't worry, it's all safe here! The guides will teach you all about the history of the area, including Hawaii's incredibly rich soil and extensive ranching history.
Next up, you'll receive a safety briefing and instructions on how to zipline. Their ziplines are different from most others, so even if you have done it before, it's good to pay attention. The 5 lines and an Indiana Jones-style swinging bridge through the thick forest is truly unforgettable!
Each line gets longer and more thrilling, which makes it ideal for beginners who are still warming up. As you zip through the air, you'll take in jaw-dropping vistas of the Hawaiian nature and be able to smell that fresh scent of the surrounding Eucalyptus trees!
We definitely recommend this tour more for beginners or those with smaller children as overall the ziplines are a bit shorter.
Another cool thing about this tour, is that a portion of your booking fees will go to the "1% For the Planet" campaign, where they donate 1% of their annual profits to go toward the local ecosystem.
---
Tour Highlights
:
Location: Jungle Zipline Maui-HI , 50 E Waipio Rd, Haiku, HI 96708
Duration: 2 hours
Includes: All taxes, fees, and handling charges, bottled water, snacks, professional guide, use of helmet
Other: Ziplines over streams, through lush scenery, and helmet
The 8 Lines Jungle Zipline Tour on Maui – Eco Tour is another short-but-sweet option, lasting 2 hours. For many, this seems to be the sweet spot: it's not too long and tiring, but long enough that everyone can have a great time, get some exercise, and learn how to properly zip through a jungle environment!
You get to choose various start times, ranging anywhere from 9 am to 3 pm, which makes it very easy to fit into a busy schedule. However, our favorite is always the morning slot, which offers the best weather and the least amount of people overall.
Once you arrive, you'll meet with your guides, where they'll give you instructions on how to use the ziplines, how to stay safe, and also fit you with the proper gear.
Make sure you are wearing closed-toe shoes with a heel strap and comfy clothing ideal for working out or going on a hike. Due to the nature of the ziplining, most find pants or longer shorts more comfortable.
You'll get 8 different ziplines and 4 different tree platforms to check out, too! Make sure to pay special attention to Line 7, with its stunning ocean views! One of our favorites was the 85-foot-long, tree-to-tree suspension bridge and the double swinging bridges!
It gives it a kind of "Tarzan", feeling to things, and constantly engages your senses to make the time just fly by.
There's also an optional Quick Jump Free Fall Ride, if you're brave enough!
Halfway through the adventure, they do provide water and granola bars to make sure everyone is feeling good. After the tour, they also provide chips and soft drinks while you choose to explore their tropical park if you'd like!
---
Tour Highlights
:
Location: Jungle Zipline Maui-HI , 50 E Waipio Rd
Duration: 1.5 hours
Includes: All taxes, fees, bottled water, snacks, professional guide, helmet
Other: High-tech, new zipline structures and braking
We couldn't do the best Maui zipline tours without including our next one! The 5 Line Jungle Zipline Eco Adventure is a 1.5-hour that'll have you booking it again and again! Set in the middle of a thick jungle, you'll get to cross streams, fly through the air, explore a working farm, and much more!
If you're on the hunt for a family-friendly excursion that will have everyone laughing and getting out of their comfort zone, this is it.
The guides are so friendly and well-experienced, it's no wonder why the tour is such a popular one.
Keep in mind that there is little-to-no cell service out here, which is also great if you're trying to stay away from those screens!
Once you arrive, you'll meet with the guides, where they'll make sure you're well-acquainted and outfitted with the ziplining equipment. Even if you've never ziplined, they will make sure you feel comfortable!
The 5-line course is optimized for the highest safety standards, with state-of-the-art braking and easy takeoff ramps. This makes it as easy as possible for people of any skill level, and also incredibly reliable.
Soar between banyan, mango trees, tropical flowers, and so much more! The fresh air and fruity-floral scents will really take the experience to a whole 'nother level!
Crossing the bubbling stream on a hanging bridge is quite the experience, too!
The family-owned-and-operated farm where the zipline tour is on produces mango, banana, passionfruit, ginger, and much more. You'll have the opportunity to explore it, while the guides tell you all about their productions, history, and even local wildlife!
---
Maui Zipline Guide
What Will I See Ziplining in Maui?
As you zipline through the lush jungle foliage, you will be surrounded by a variety of vibrant plant species. You will see towering trees, ferns and variety of colorful flowers.
Keep an eye out for the 'ohi'a lehua, this tree has bright red flowers and is considered a symbol of Hawaiian strength and resilience. Don't miss the rainbow eucalyptus whose bark sheds to reveal a rainbow of colors underneath. Your tour guides will point them out to you.
Maui's forests are also home to a wide array of birds. Some of which you may be lucky enough to spot as you zip through the trees. The 'apapane, with its striking scarlet feathers and sweet song is Maui's most iconic bird. The 'i'iwi, has a curved beak and bright red feathers is another bird that you might catch a glimpse of as you zoom above the treetops.
Birds are not all you will see. Maui's forests are teeming with insect life. While harder to spot, keep an eye out for the Kamehameha butterfly. It has beautiful orange and black wings and the Hawaiian scarab beetle which has a metallic green sheen.
Perhaps the most impressive sight you'll see on your zipline is the amazing views of Maui's landscape. From the rugged coastline to the majestic mountains, the island's natural beauty is something to behold! Take some time at the end of each zipline to enjoy the stunning views!
Is Ziplining Dangerous?
No, ziplining is safe when proper safety measures are in place. Reputable zipline companies that we feature, will outfit you with safety equipment like a harness and a helmet. You will have trained guides on hand to ensure that you are properly secured and be briefed on safety procedures before starting.
Do I need any skills or fitness level to zipline?
Most zipline runs are accessible to people of almost any fitness level. You don't need any prior experience. You will need to be able to hike and climb stairs to reach the starting points of some zipline launch areas. Some zipline courses may have weight restrictions for safety reasons.
Can Kids go ziplining?
This depends on the zipline operator and their age and weight requirements they have. Almost all zipline companies will have minimum age and weight requirements. They most likely will require children to be accompanied by an adult. You should check with the zipline company before booking to verify that your child meets the requirements.
Can I bring a camera or phone on the zipline?
Again this depends on the zipline company. They may allow you to bring a camera or phone on the zipline. It depends a lot on how fast the zipline goes and if you need to hold on to the harness handles. Check with the company to check that it's safe to do so. Most of them have professional photography services or have photo packages you can buy.
How long does a Maui zipline usually last?
Zipline tours will vary widely in length. It all depends on the amount of runs and how long they are. Most tours last a couple of hours. Verify at booking time how long the tour is to make sure you have enough time to complete it.
The 6 Dual-Zipline Mountain Adventure in Maui is our Editors Choice for the best Maui Zipline adventure