While there's no doubt in anyone's mind that Paris is one of the most fascinating cities in the world, sometimes you want to break away from the hustle and bustle and explore something new.
What could be just as interesting as Paris, though? Well, if you're in the French capital, we highly recommend hopping on over to Mont-Saint-Michel.
This perfect blend of history, architecture, and natural beauty creates an enchanting atmosphere with breathtaking views and a rich cultural heritage that makes it a must-see destination.
We've hand-picked these 5 top Mont-Saint-Michel Tours from Paris to ensure you have the best experience possible!
Top Mont St Michel Day Trips From Paris
---
The 5 Best Rated Mont-Saint-Michel From Paris Tours For 2023
Now lets take a closer look at the Mont Saint-Michel from Paris tours so you can find the right one for you!
---
Mont-Saint-Michel Tours From Paris Reviews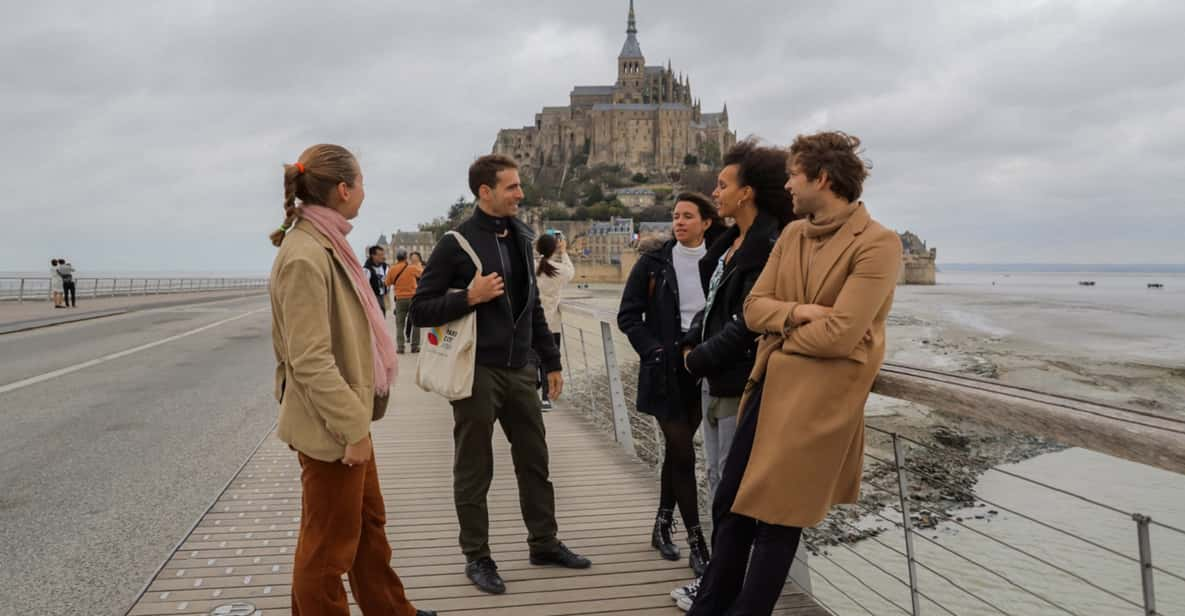 Tour at a Glance
:
---
Departure: 7:15 AM
Start: 22 Rue Jean Rey, 75015 Paris
Duration: 14 hours
Includes:

Transportation by luxury air-conditioned bus,

Entrance ticket to the abbey,

Audio guide (if option selected),

Live guide (if option selected)
While there are plenty of people who rent vehicles and drive themselves out to Mont-Saint-Michel from Paris, taking a tour will really allow you to experience the beauty and charm of this historic site to its fullest.
Instead of driving those 3 to 4 hours, you can relax in a comfortable coach and enjoy the natural beauty as you reach your destination. After your scenic drive, you'll get to really immerse yourself in the UNESCO site at the Day Trip to Mont-Saint-Michel from Paris experience.
This 14-hour tour will take you in a comfortable and convenient mode of transportation along the Normandy countryside, featuring scenic, rolling hills, lush fields, and charming, rural villages.
Your guide is an absolute professional who will make sure to answer any questions you may have and provide an educational commentary about the cultural and historical significance of this place. If you'd like to be a bit more independent, you can also opt to do an audio guide or a completely self-guided tour once you're there.
Before arriving to Mont-Saint-Michel, you'll take a break at a village along the way, which dates back to Norman times. Charming, winding streets, hills, and little alleyways all take you to incredible bay views. Then, head on to Mont-Saint-Michel itself, which sits on an islet away from the mainland.
Your afternoon will be spent exactly the way you want it. Climb up to the medieval abbey, explore the shops and restaurants, learn about the Benedictine history and culture here, and so much more. No matter what you decide to do, you can be guaranteed scenic walks and beautiful panoramic vistas of the surrounding landscape and sea!
Check Availability & Book Tour
---
Tour at a Glance
:
---
Departure: Hotel pickup and drop-off available
Start: 7:00 am
Duration: 13 hours
Includes: Air-conditioned vehicle, Private transportation, WiFi on board, Skip-the -line tickets of the Abbey Mont-Saint-Michel, VIP Services
While several tour companies offer day trips to Mont-Saint-Michel, many of them pack large numbers of people into one minibus or coach. While this is just fine for some people, if you'd like a more "VIP" experience with optimal comfort and convenience, we have just the tour for you.
The Private Mont-Saint-Michel Tour from Paris by Luxury Vehicle makes the most of your time at this stunning UNESCO World Heritage Site, skipping the lines and crowds!
Kickstart your tour at 7:00 in the morning, with your guide picking you up right from your hotel lobby! No need to book separate transportation to a common meet-up spot or run around stressing out, hoping you make it on time.
Your transport for the day is an air-conditioned private vehicle with plenty of leg room, comfortable seats, and large windows for you to enjoy the rural wonders of the Norman countryside.
You know when you arrive somewhere fun and you just want to get right in the center of everything without having to wait? You'll benefit from that here, skipping the lines and heading right into the impressive Gothic Abbey.
Your expert guide will take you through the abbey, sharing its fascinating history, tales of the conflicted monastic life, as well as show you its intricate architecture and opulent halls.
The Abbey isn't the only impressive part of Mont-Saint-Michel, however. To get that fully-enriched experience, you need to explore the medieval village which surrounds it! The narrow streets are lined with lovely houses, boutique shops, cafes, restaurants, and more to create a charming atmosphere you're sure to fall in love with.
Check Availability & Book Tour
---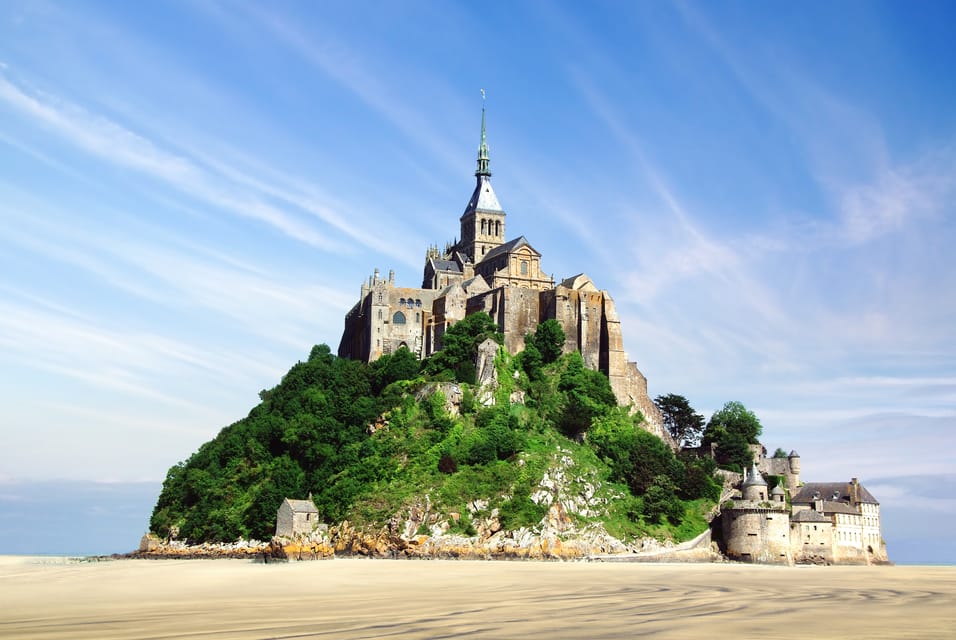 Tour at a Glance
:
---
Departure: Hotel pickup and drop-off available
Start: 7:15 AM
Duration: 2 days
Includes:

Round trip via luxury air conditioned bus from Paris,

Entrance ticket for all visited monuments,

Accommodation in a 4-star hotel,

1 breakfast,

Tour guide,

Porterage service on hotel arrival and departure
If you're curious about visiting one of the most picturesque regions in Europe, you have to take the Mont-St-Michel and Loire Velley 2 Day Tour from Paris!
Filled with breathtaking landscapes, famous historic castles, renowned vineyards, and a unique history, the Loire Valley is a must-see if you're already going to be in the area. With lush, rolling hills, scenic hiking, and more, it's no wonder why it's called the "Garden of France"!
This tour is one of the best for escaping the busy metropolis of Paris and immersing yourself in the serene French countryside for a couple of days. You'll be first picked up at your hotel in a luxury, air-conditioned coach and head first to Mont-Saint-Michel.
This abbey is a prime example of Gothic and Romanesque architecture combined in one phenomenal work of art. You'll have plenty of time here to explore the village and your leisure, as well as be lead on an educational tour by your guide.
After your explorations, you'll make your way over to Château d'Angers where you'll be staying for the night. Your 4-star hotel is nice and comfortable, so you can fully recuperate your energy for another day of exploration! In the morning, you'll start things off right with a delicious breakfast and fuel up for an exciting day in the Loire Valley.
Once you arrive, you'll make a stop at the Castle Langeais, passing Cunault and Saumur, too. Enjoy a guided tour of the Chenonceau Castle, which is one of the most famous in the area, renowned for its stunning architecture and unique location which crosses over the Cher River.
After, Then, head on over to the Chambord Castle known for its exquisite French Renaissance architecture, blend of medieval and classical elements, vast estate, and amazing rooftop views!
Check Availability & Book Tour
---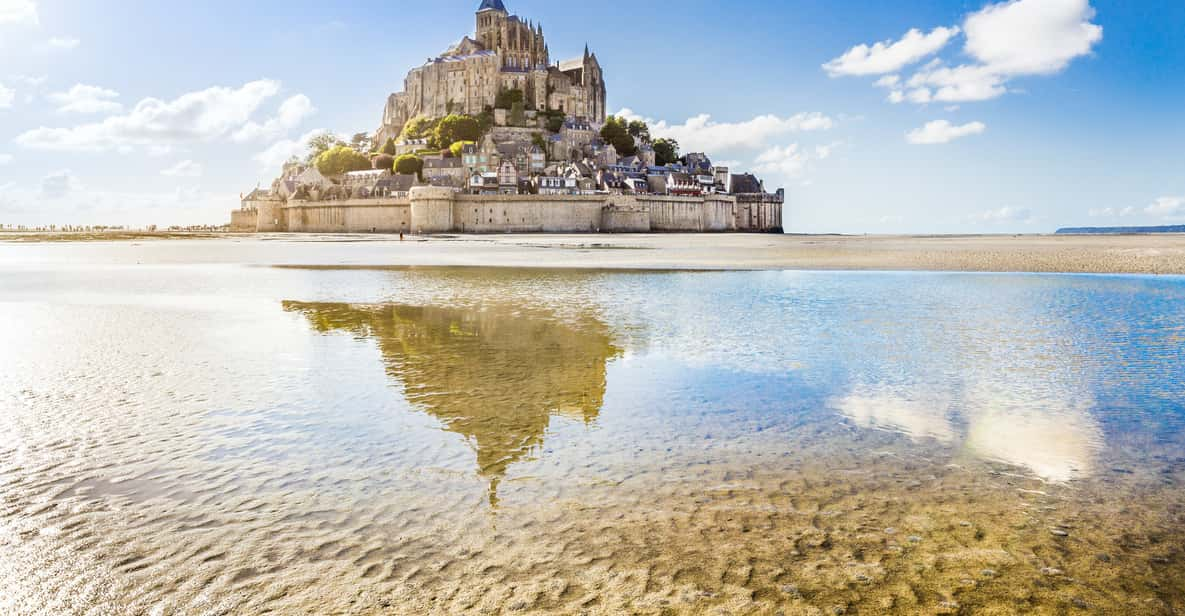 Tour at a Glance
:
---
Departure: 6 Avenue de Wagram in Paris
Start: 7:00 AM
Duration: 14 hours
Includes:

English-speaking guide,

Audio guide (when needed),

Transportation by minibus,

Cider tasting
Mont-Saint-Michel is one of the most captivating, beautiful places in all of Europe. With a history dating back to the 8th-century, this significant pilgrimage site and Norman stronghold has an indisputably important part in regional culture.
However, if you want to get to know the area even better, we recommend the Small-Group Mont St Michel Tour & Cider Tasting from Paris! Start off by meeting your guide and the rest of your small group at a central location in Paris, before boarding your air-conditioned minibus.
As you cruise through the countryside, your guide will tell you all about this top tourism location and why it's so significant throughout history. Of course, nothing can prepare you for the butterflies you're sure to feel once you see the spectacular abbey and surrounding landscape come into view!
After a proper tour throughout the UNESCO site's soaring spires and cobbestone streets, you'll have plenty of free time to enjoy a tasty lunch or sit on the beach and take it all in (depending on the tide).
The rocky island isn't the easiest to manage, but it is worth it, so long as you have the right walking shoes and clothing on! After immersing yourself in this magical atmosphere, you'll hop back on your minibus with the rest of your small group and head out to try the famous Cider Pommeau and Calvados.
Learn about each alcoholic beverage's similarities and differences, like how they're both made using apples and featuring unique flavor profiles and different production methods.
Cider Pommeau is a traditional French aperitif which essentially combines cider with apple brandy then aged in oak barrels to create a smooth and hearty beverage! Calvados is a kind of apple brandy that can only be produced in this region, also aged in oak barrels to create an aromatic, rich digestif.
Check Availability & Book Tour
---
Tour at a Glance
:
---
Departure: 10 Pl. de l'Opéra, 75009 Paris
Start: 7:30 am
Duration: 14 hours
Includes: Mercedes minivan, max. 7 Persons, air-conditioned with adjustable seats, Professional Guide – Driver Entrance ticket to the Abbey + Audioguide, Calvados tasting at Pere Magloire Experience, All Fees and Taxes, Bottled water
If you have a day where you can get away from Paris, our next tour is an excellent choice for you! Starting off early in the morning, you'll be able to visit and explore one of the country's most iconic and gorgeous landmarks.
The Mont Saint-Michel Small-Group by Minivan from Paris with Calvados Tasting Tour draws many similarities to our previous tour, taking you out into the fresh air and thorugh lush landscapes.
First off, we loved that this group tour was capped at just 8 people, making it so much easier to get around and have a more personalized experience. The tour guide was fantastic at answering any questions we had, and they were packed full of knowledge in a personable way. We met our guide at the Opera Garnier Steps (also worth checking out!) but you can opt to have them pick you right up from your hotel, for added convenience.
While we felt all of the tours' transportation was great, we really loved the more luxurious feel of the Mercedes air-conditioned minivan that took us out there. The journey takes around 4 hours, and just the fact that we could enjoy the amazing landscapes, relax, and not have to drive made it worth it.
Upon arrival, you'll be welcomed by the spires of the incredible abbey soaring high into the sky! Learn all about the daily lives of the monks who once lived here, then venture down the steep streets filled with shops selling local products, typical cuisine, cafes, taking advantage of the great vantage points for photography.
Then, you'll head on over to the Calvados distillery, where you'll get to participate in a tasting and learn their prdouction secrets! Overall, this was. very well-rounded tour which perfectly balanced sightseeing, learning, and fun.
Check Availability & Book Tour
---
FAQs About Mont-Saint-Michel Tours From Paris
What is Mont Saint-Michel?
Prepare to be transported to a realm of wonder and medieval charm! Mont Saint-Michel is a UNESCO World Heritage location that has an abbey built on top of a rocky island.
How do I get to Mont Saint-Michel?
Getting to Mont Saint-Michel is an adventure in itself! The island can only be reached by a causeway that connects it to the mainland. You can there by car, bus or walk. It just depends on the tides and weather conditions.
Can I explore the abbey?
Absolutely! The abbey of Mont Saint-Michel is the main feature of the island and an example medieval architecture. You can take a tour through its hallowed halls, ancient cloisters and imposing towers. You will be amazed at the intricate Gothic spires and the breathtaking views of the surrounding area.
Are guided tours of Mont-St-Michel available?
Yes, we recommend you take a guided tour of Mont Saint-Michel to learn about it's past. When you take a tour with a guide they will tell the inside story of the abbey and the monks who used to live there. You will also get insight into the island's strategic significance throughout history.
Can I explore the village?
Yes, after you tour the abbey, the charming medieval village awaits your exploration. There are winding streets, quaint shops and cozy cafés that welcome you to wander around and soak in the atmosphere. Walk through the narrow alleys and admire the half-timbered houses. Be sure to try some of the delicious regional specialties in one of the local restaurants.
When is the best time to visit Mont Saint-Michel?
While this captivating island is an amazing place to visit year-round, timing your visit will give you a better experience. If you want to to avoid the crowds and enjoy a more tranquil atmosphere, you should visit early in the morning or during the off seasons of spring and autumn.
Can I stay overnight on Mont Saint-Michel?
Yes! For a truly incredible experience, you should consider staying overnight on the island. There are several charming hotels and guesthouses that have accommodations that exude medieval charm and provide phenomenal views of the abbey and surrounding area.
Tips on Taking a Day Trip to Mont-St-Michel
Plan Your Trip:
Start by deciding on the best mode of transportation for your trip. Since you are coming from Paris, taking a train to one of the nearby towns, such as Rennes or Caen is one way. From there, you can opt for a bus or rent a car to reach Mont Saint-Michel.
Taking a guided tour is our recommended way because they handle all the transportation, logistics and a tour of the island. See our recommended tours above. You can also rent a car and drive to Mont-St-Michel. It's a pretty long drive and you will still need to arrange a tour of the island.
Timing and Duration:
Consider the time of year for your visit. Mont Saint-Michel can be crowded during peak tourist seasons, so if possible, plan your trip during the shoulder seasons of spring or autumn to enjoy a more tranquil experience. A day trip is feasible, but if you have the opportunity, staying overnight allows you to witness the island's captivating transformation with the changing tides.
Arriving at Mont Saint-Michel:
Once you get near the island, you'll see the parking lot. You can then take a shuttle service or a pleasant walk will take you to the entrance of Mont Saint-Michel. Keep an eye on the tides, as high tides because it may affect access.
Exploring the Island:
Once you enter Mont Saint-Michel the first thing you should do is go to the abbey. It's the main attraction of the island. Buy your tickets and consider joining a guided tour to learn about the abbey's history and architecture. As you walk up its winding staircases and wander its ancient halls you will get to enjoy breathtaking views from the top. Your time in the abbey should not be rushed!
Discovering the Village:
After exploring the abbey, walk down to the village at the base of Mont Saint-Michel. Walk the narrow cobblestone streets with its charming shops, cafés, and restaurants. Try some of the delectable regional cuisine, browse for unique souvenirs and immerse yourself in the medieval atmosphere.
Explore further:
If the tide permits, venture out onto the bay surrounding Mont Saint-Michel. Guided tours are available to explore the bay's ecosystem and see the impressive tide changes. Look out for the unique flora and fauna.
Departure:
Once your visit to Mont Saint-Michel draws to a close, take a final photograph while absorbing the beauty of the abbey and the surrounding landscape.
The Day Trip to Mont-Saint-Michel is our Editors Choice for the best Mont-Saint-Michel tour from Paris