Toronto is an incredible city bustling with people from all around the world, and plenty of unique activities to partake in.
However, if you're looking to get away from the crowds and experience a truly breathtaking experience, we have just the ticket for you. Niagara Falls is an easy trip from the Canadian city, seeing as they're one of the tallest falls in the world with an enormous amount of water flowing over them.
If you really want to enrich your visit to the legendary falls, we highly recommend signing up for one of these top Niagara Falls tours from Toronto. Your expert guide will provide all transportation and show you all those cool hidden gems you may otherwise miss!
Top Niagara Falls Day Trips From Toronto
---
The 5 Best Rated Niagara Falls Tours From Toronto For 2023
Now lets take a closer look at the Niagara Falls tours from Toronto so you can find the right one for you!
---
Niagara Falls Tours From Toronto Reviews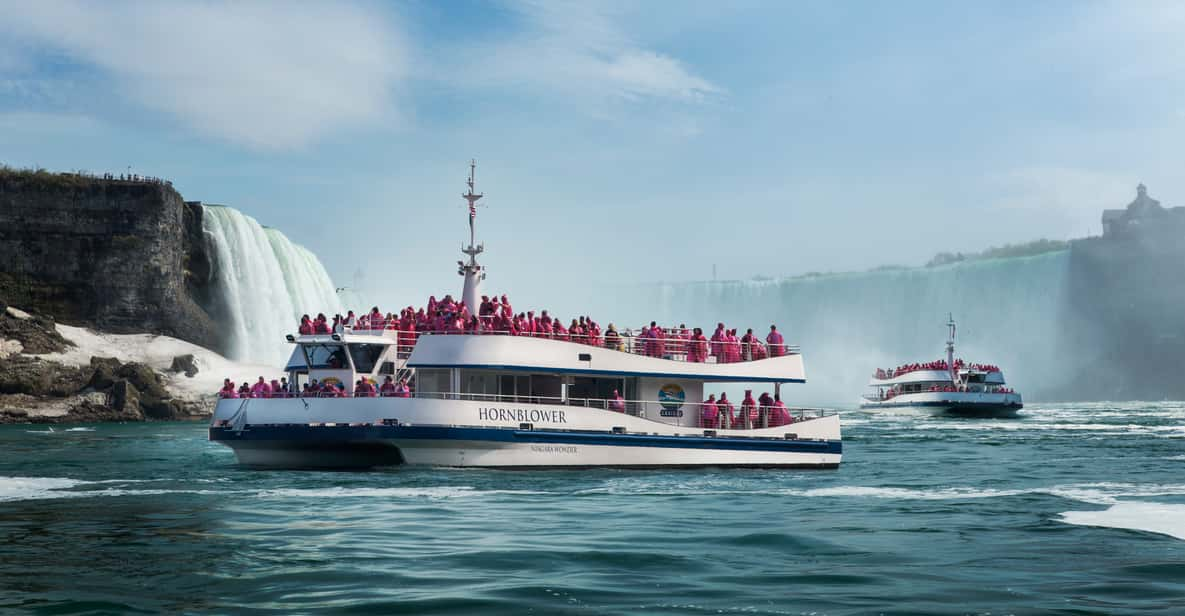 Tour Highlights
:
---
Departure: Downtown Toronto
Start: 7:00 AM
Duration: 8 hours
Includes: 

Transportation, 

Tour guide/driver, 

Admission ticket, 

Hornblower Niagara Cruise "Voyage to the Falls" (seasonal from April to November) or an alternative attraction in the winter months, 

Journey Behind the Falls, 

Skylon Tower Observation Deck
They say that the early bird always gets the worm, but in this case, you'll be getting prime views of these legendary falls while avoiding the lines and crowds!
The Early Bird Niagara Falls Small Group Day Trip is such a blast, and you get to benefit from personalized attention from your professional tour guide, too! If you have some time in your schedule throughout the day, we can't recommend this top-seller enough!
Meet up with your guide and the rest of your party in downtown Toronto at a central location that's convenient for everyone. Once you and your guide get acquainted, they'll set expectations for what everyone will see and then hop on a comfortable bus!
The bus has roomy seats with plenty of padding, big windows, climate control, and your guide will be there to narrate throughout the trip. Once you arrive to the falls, everyone will head up to the observation deck of Skylon Tower, which is over 500 feet up from the ground.
This deck offers some of the best views of the falls, along with the Niagara River, American Falls, Bridal Veil Falls, and Horseshoe Falls. Get back on the ground only to hop onto a boat that will take you behind the Niagara Falls!
Once behind them, you'll even get to venture into the cave-like tunnels to see an exclusive behind-the-scenes look that the vast majority of people don't. Make sure to take some photos or videos, as this is a seriously cool experience!
Then, head on over to the Hornblower Cruise/"Voyage to the Falls" where you'll head to the gorge and get so close you can practically touch the waterfalls!
There is plenty of time for shopping, checking out tasty street food, restaurants, and many other attractions, depending on the group interests!
---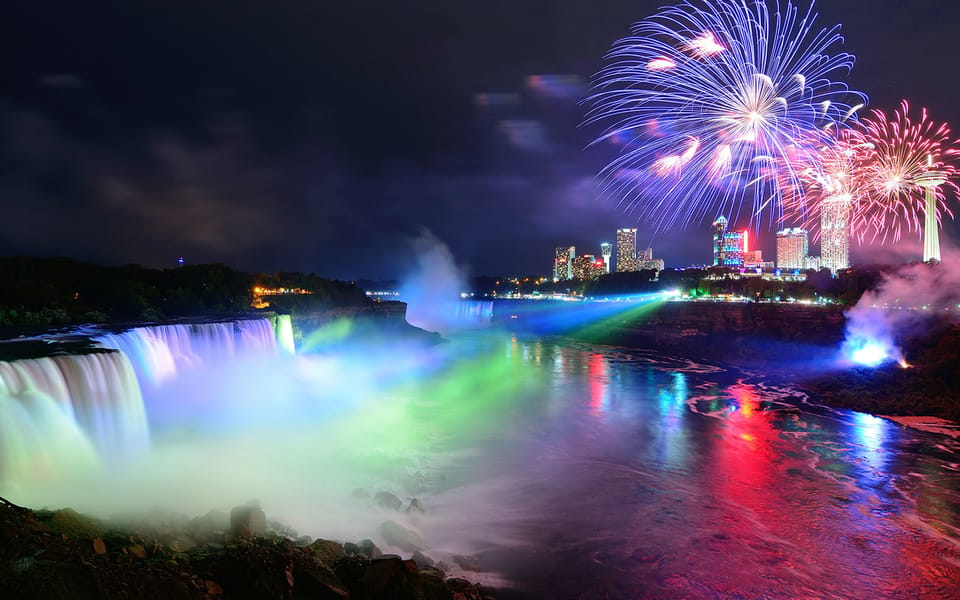 Tour Highlights
:
---
Departure: Hotel pickup and drop-off included
Start: 9:00 AM, 11:00 AM, 1:00PM
Duration: 8 hours
Includes:

Driver/guide,

Private Customized VIP Tour by luxury vehicle: Lincoln Town Car, Luxury Van or Mini-Bus, 

Hornblower Boat Cruise (substituted for Skylon Tower or Journey Behind the Falls when boat is not operating), 

Canadian Horseshoe & American Falls, 

Helicopter Tour (optional); discounted tickets available, 

Complimentary snacks or bottle of water

Other: VIP tour
Perhaps our first tour sounds enticing, but you're the kind of person who really appreciates a good VIP experience. If that sounds like you, we have a tour that exudes elegance and exclusivity every step of the way.
The Niagara Falls, Canada Private Tour from Toronto has everything covered to give you the most seamless, convenient excursion out there! Rather than heading out to a meeting point, all you have to do is head down to your hotel lobby and wait for your guide to come and pick you up right there.
Your transportation for the day will not be a your average coach, but rather a luxury Lincoln town car, luxury van, or luxury mini-bus (depending on group size). The drivers were very safe at navigating the vehicle, but were also very attentive to each participant and allowed us to customize our tour to exactly what we had in mind.
It seems like almost always, the tour was done with a Lincoln town car, which allows you to make stops in places that larger coaches wouldn't be able to. You get to make the stops you want, at your own pace, taking plenty of photo breaks along the way.
No matter which route you take, your guide will offer an intriguing and educational commentary about the sights as you pass them! You can of course ask for your guide to make a tour for you.
These will typically consist of some combination of the following activities: Hornblower Boat Cruise, Canadian Horseshoe Falls & American Falls, viewing the Whirlpool Rapids and Niagara Cable Car, seeing the Floral Clock, touring Niagara on-the-Lake, and wine tasting.
If you really want to ramp things up, you can even head up on a helicopter tour over the falls!
---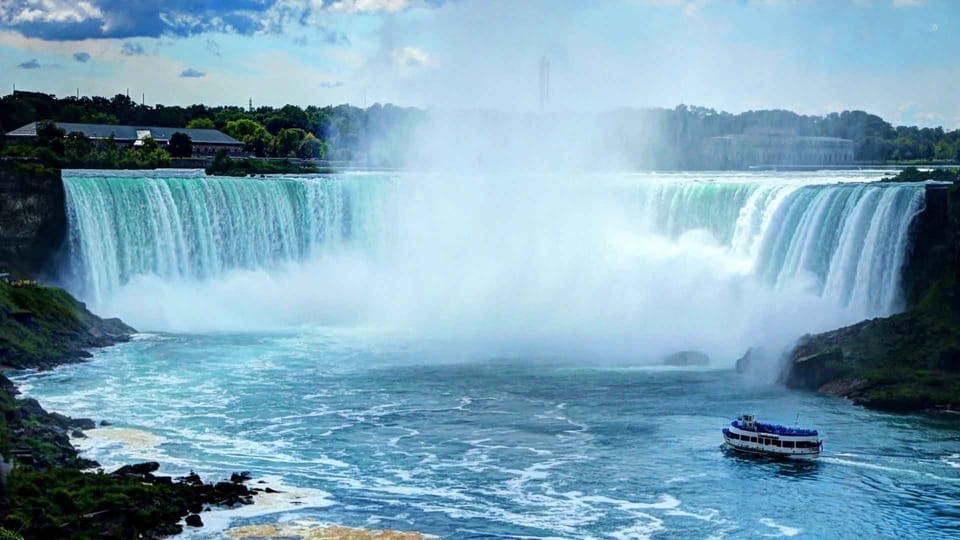 Tour Highlights
:
---
Departure: Hotel pickup and drop-off included
Start: 1:00 PM
Duration: 9.5 hours
Includes:

Entry tickets to "Voyage to the Falls" Hornblower boat cruise, 

Skip the lines entry, 

Free time at the Falls, 

Fallsview dinner (if option selected), 

Bottled water, 

Free souvenir of Niagara Falls, 

WiFi

Other: Unique evening experience
There's simply no arguing that Niagara Falls is one of the most breathtaking locations in North America. If you've seen them in the daytime, you'll probably find it hard to believe that they could possibly be even more beautiful.
However, with the Niagara Falls Evening Tour with Boat Cruise from Toronto, you'll see that with their colorful illuminations that they're even more spectacular! Just what exactly makes Niagara Falls so unique? It turns out that it's practically everything, from its native history, to its unique peninsular geography, and so much more.
After your guide picks you right up from your hotel, you'll board a comfortable coach and learn all about it from the cool commentary they provide along the trip.
Upon arrival, there's no wasting any time, so head straight over to the Niagara Whirlpool where you'll witness some of the most violent white water rapids in the world.
After taking it all in, hop on the Hornblower and get so close to the falls that you can feel the mist breezing by you! If you think that they're impressive from a distance, just wait until you're up close and personal with them!
Then, head along the Niagara Parkway and grab some dinner or go to Clifton Hill and check out some other attractions. Once the sun sets, you'll get to see the falls illuminated in a rainbow of beautiful colors and even get to see some fireworks over the water!
While we can't recommend this tour enough for any occasion, it's really perfect for taking your significant other on their birthday or for a romantic outing.
---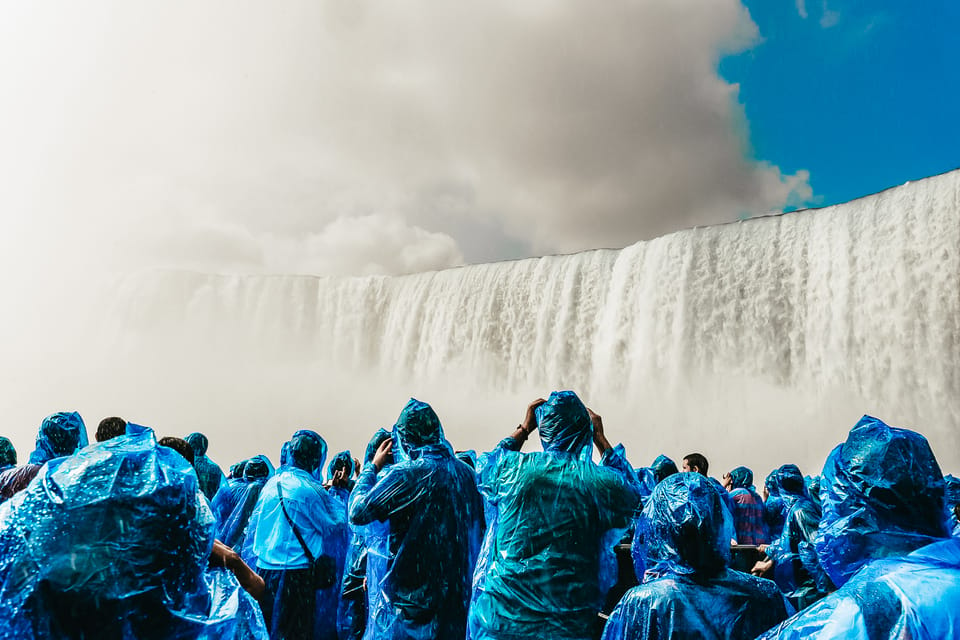 Tour Highlights
:
---
Departure: Downtown Toronto
Duration: 9 hours
Includes: 

Tour by air-conditioned bus, 

Guide and live commentary, 

Stopover in Niagara-on-the-Lake, 

Up to 3 hours of free time at Niagara Falls, 

Hornblower Niagara cruise (if option selected), 

Luggage storage

Other: Great balance of free time with scheduled tours
If you aren't interested in seeing the falls at night or simply don't have the schedule to accommodate for it, that's perfectly okay! We have a great alternative for you in the form of the Niagara Falls Day Tour with Niagara-on-the-Lake!
For those independent travelers who love exploring on their own, this tour is the perfect option for you! While there's immense value in a knowledgeable tour guide with impeccable organization, sometimes you just want to take that knowledge they've given you and explore a bit on your own.
With this tour, you'll have a few hours of free time after going on your scheduled tours so you can see things exactly the way you want to. There's no need to fall in line and just exist as another head in a big group tour – it's all about what you want!
Meet in downtown Toronto, where you'll board your air-conditioned tour bus with plenty of leg room and big windows to view the gorgeous scenery as you drive past.
Cruise along the Niagara Parkway and awe at the Queenston Heights and Brock's Monument before making a stop at the hydroelectric power station, Whirlpool Rapids, and Floral Clock! Once you actually get to Niagara Falls, you'll have the option of taking the Voyage to the Falls boat ride up to the thunderous falls (or even behind them!).
If it's too cold out, you can also opt for heading up to the amazing Skylon Tower during the winter months when the boat isn't available. After, head on over to one of the various restaurants or food stands nearby for a tasty lunch!
---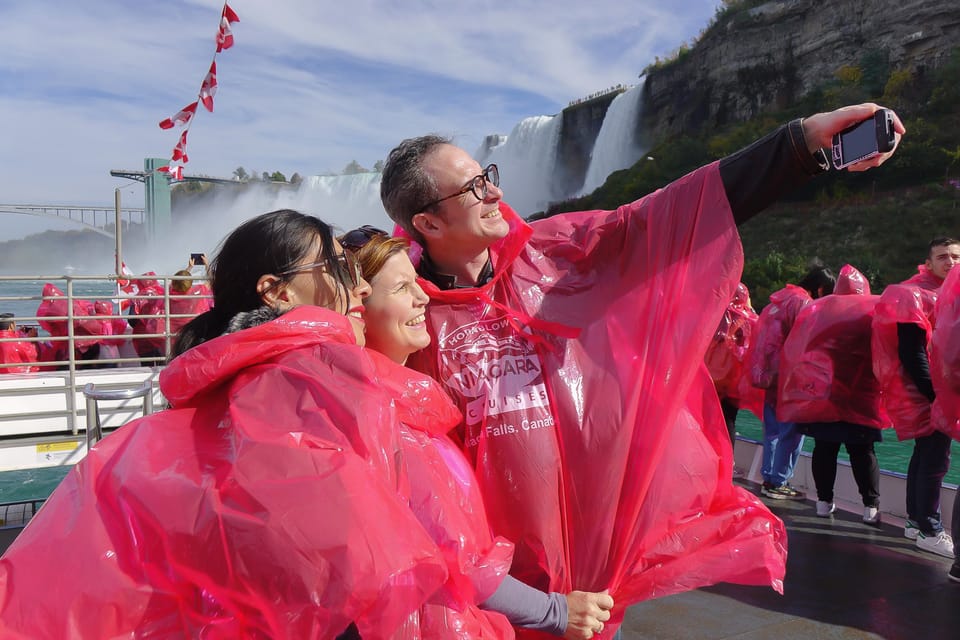 Tour Highlights
:
---
Departure: Hotel pickup and drop-off included
Duration: 9 hours
Includes: F

ull-day guided excursion with round-trip transportation from downtown Toronto, 

Admission to the Niagara Hornblower Cruises boat tour

Other: Personalized, full-day tour
One of the things that deters many people from taking tours is that they don't just want to be herded around in a big group of people. We recognize the value of connecting with a talented, friendly, and knowledgeable tour guide who really knows the area like the back of their hand.
That's why we had to include the Luxury Small-Group Niagara Falls Day Trip from Toronto on our guide! Start off with a convenient pickup right from your hotel lobby and board your air-conditioned coach which will take you everywhere you need to go.
While this tour maxes out at just 15 guests, the average group size is about half that so you get to ask questions and engage with your guide. Our guide always encouraged feedback, and made sure to be flexible tour account for our interests, and made all the photo stops we wanted.
Upon arrival to Niagara Falls is when the fun stuff really begins! You'll start things off with a bang, heading onto the Hornblower Niagara boat tour of "Voyage to the Falls". It's not available during the winter time, but if you do get the chance to take this excursion, you won't regret it!
You really get an exclusive view up close of these enormous falls, and even get the chance to view them from behind! After all that excitement, head back to shore where you'll have plenty of time to explore on your own or enjoy a delicious lunch at one of the many restaurants nearby.
We really enjoyed heading over to Table Rock to take those classic touristy photos that we all love so much. Afterward, head along the gorgeous Niagara Parkway where you'll make various stops at some pretty awesome sights. The Whirlpool Rapids, Hydro Station, and Floral Clock are just a few of the most notable.
Can You do a Niagara Falls Day Tour From Toronto?
There are several ways to get to Niagara Falls from downtown Toronto. You can of course drive yourself, take a train, or a bus. Its about a 90 minute drive depending on traffic. The drive there is worth the trip alone, it's a very scenic trip through the countryside.
Seeing the three waterfalls that make up Niagara Falls is an experience!  The best way to experience Niagara Falls is by taking a boat cruise that will bring you close to the thundering water and mist. You can also explore the scenic Niagara Parkway, where you can see attractions such as the floral clock, the whirlpool rapids, and the smallest chapel in the world.
Niagara Falls is an ideal day trip in any season. The summer lets you cool off in spray from the falls on the Hornblower. Going in the fall you get to see the colorful fall foliage. Even the winter is a great time to go to see the ice formations.
Don't miss the charming town of Niagara-on-the-Lake, where you can admire the 19th century architecture and taste some local wine.
What's the Best Way to do a Day Trip to Niagara Falls?
Start early: The drive to Niagara Falls is about an hour and a half. You'll want to leave as early as possible to avoid rush hour and have more time at the falls. There are three ways to do the falls:
You can rent a car and drive, take a bus, or our recommended option,take a guided tour that includes all transportation and admission fees. We like the Early Bird Niagara Falls Small Group Day Trip From Toronto or if you want a private tour, the Niagara Falls, Canada Private Tour From Toronto is a good option.
See the falls from different angles: There are several ways to admire the falls.  You can take a boat ride on the Hornblower Niagara Cruises, walk behind the falls at Journey Behind the Falls, or see them from above them with a Niagara Helicopters tour. You can also get a panoramic view from the Skylon Toweror the Niagara SkyWheel.
Check out Clifton Hill: This is the entertainment area of Niagara Falls. Be warned it's pretty touristy. You're going to find a variety of attractions. There are a few museums, arcades, haunted houses, and wax museums. If your feeling lucky, there are a few casinos or watch a live show at one of the theatres.
Visit Niagara-on-the-Lake: This is a cue town is known for its historic buildings, wineries, and festivals. Yes there are pretty good wineries in the Niagara Falls area. You can take a scenic drive along the Niagara Parkway, check out the local shops and restaurants.
Return to Toronto:  Unless you are too tired, head back to Toronto in the evening.  If you didn't see everything you want, stay overnight at one of the hotels near the falls.
The Early Bird Niagara Falls Small Group Day Trip is our Editors Choice for the best Niagara Falls tour from Toronto