When it comes to Rome, there is a virtually endless supply of captivating ancient sites to see. However, most of the top destinations for tourists are the Colosseum, Trevi Fountain, Pantheon, and the like.
While those are definitely must-sees, you can't go to Rome and not see the unique, albeit a bit dark, catacombs. In fact, if you're interested in learning more about Ancient Rome, it's an essential destination in understanding how the Romans dealt with death and the culture surrounding it.
We've done the hard part for you in order to bring you this meticulously-curated list of the top Rome Catacombs tours currently available!
Best Catacombs Tours in Rome
---
The 5 Best Rated Roman Catacombs Tours For 2023
Now lets take a closer look at the Rome catacombs tours so you can find the right one for you!
---
Rome Catacomb Tour Reviews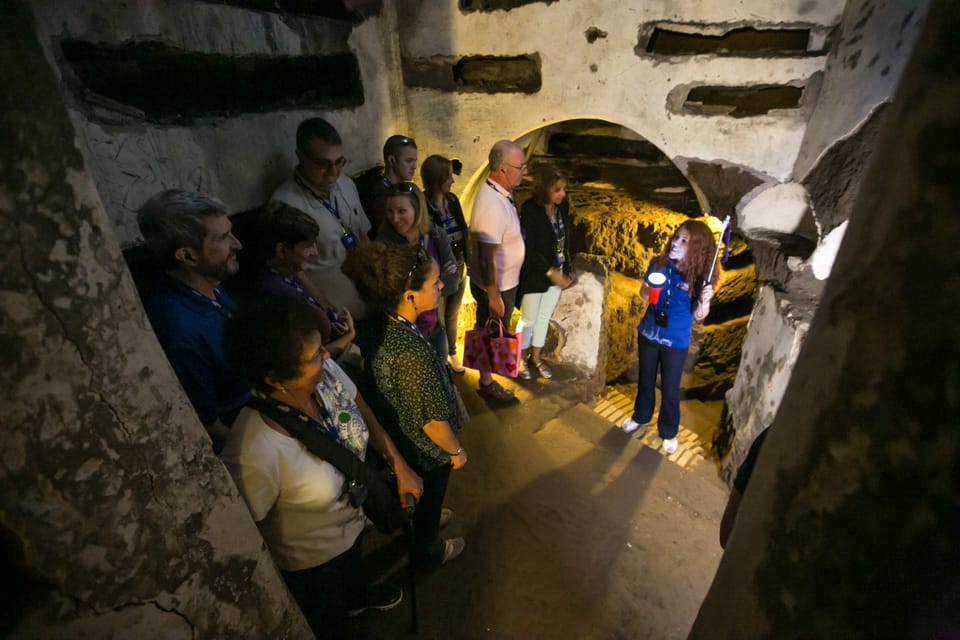 Tour at a Glance
:
---
Departure: Center of Piazza Barberini
Start: Varies
Duration: 3.5 hours
Includes:

English-speaking tour guide, s

mall groups of 16 people or less, a

dmission and audio guide to the Capuchin Crypt and Museum,

the Catacombs,

and Basilica San Martino ai Monti,

air-conditioned coach
While Rome undoubtedly has a lot of beauty and history to explore above-ground, head into the underground for a different perspective on its background and culture.
The Rome Crypts & Catacombs Tour with Bone Chapel & Transfers is consistently one of the highest-rated, taking you to the former burial grounds which date back from the second to fifth century! Spanning almost a whopping 90 acres big, this enormous labyrinth of tunnels and tombs hold many secrets and lessons.
Kickstart your 3.5-hour tour by meeting your guide in the center of Piazza Barberini, right next to the big Triton fountain – you can't miss it. As your group will always consist of 16 people or less, it's relatively easy to move around and ask the guides any questions you may have.
Thanks to your skip-the-line access, you don't have to worry about waiting in line before heading to each site – just head right in!
Upon arrival to the catacombs, you'll head underground and learn how this secret network of tunnels was created almost 2,000 years ago and used as both a place of worship and burial ground.
After exploring the depths of these hallowed hallways, you'll head back to the surface and hop onto your air-conditioned coach to the Basilica of San Martino ai Monti. Here, you'll find architecture and amazing, famous frescoes that date all the way back to the 4th century!
After exploring various chapels, head on over to the Capuchin Crypt for a comprehensive audio tour guide. This is where the Capuchin monks used the bones of almost 4,000 brothers to create detailed floor-to-ceiling art and adornments. It's no wonder why this place is known as "The Bone Chapel"!
Check Availability & Book Tour
---
Tour at a Glance
:
---
Departure: Via Vittorio Veneto, 27, 00187 Roma
Start: 5:00 pm
Duration: 2.5 hours
Includes: Tour in a Safe and Semi Private group, VIP access to Saint Agnes Catacombs, Access to the incredible Mausoleum of Costanza, Private chauffeur between sites, Entry and visit of the Crypt of the Cappucin Monks Private Tour Option available!
Next up, we have a slightly shorter tour, clocking in at 2.5 hours and covering a lot of dark history behind Ancient Rome that may have you viewing the city in a different way by the time you're done!
To make it a bit more creepy, your tour only starts after the sun goes down – so grab a flashlight and make sure not to fall too far behind your guide! The Rome Night Catacombs with Exclusive Access | Semi-Private and Private Tour offers you a VIP experience in a place the vast majority of people never get to see!
Start things off by meeting right in front of the Capuchin Crypt Museums at 5:00 pm, and look out for your guide holding a tour company sign.
We thought it was cool that our group could only involve a maximum of 6 people, making it a much more intimate and exclusive experience where we could ask anything we wanted. Follow your guide through the crypt which holds the remains of over 4,000 Capuchin monks.
While there are various catacombs around the world, this is one of the only ones that use the bones in a decorative, artistic way. Sure, you're bound to be impressed but it's also quite macabre to see!
After learning all about this special place, you'll head to the amazing Basilica of Saint Agnes which was built in honor and protection of Saint Agnes' remains.
Not only will you learn all about its history, but be able to see the stunning interior of the Basilica and head down into the catacombs from here.
Once you're back above ground, you'll then head over to the Mausoleo di Costanza which is a mausoleum dedicated to the powerful Emperor Constantine's daughter, Costanza. Here, both Costanza and her sister, Helena's remains were laid to rest and have been commemorated with impressive 4th-century religious mosaics.
We appreciated how much the guide knew about everything, with clear attention to detail and organization that made everything a smooth transition.
Check Availability & Book Tour
---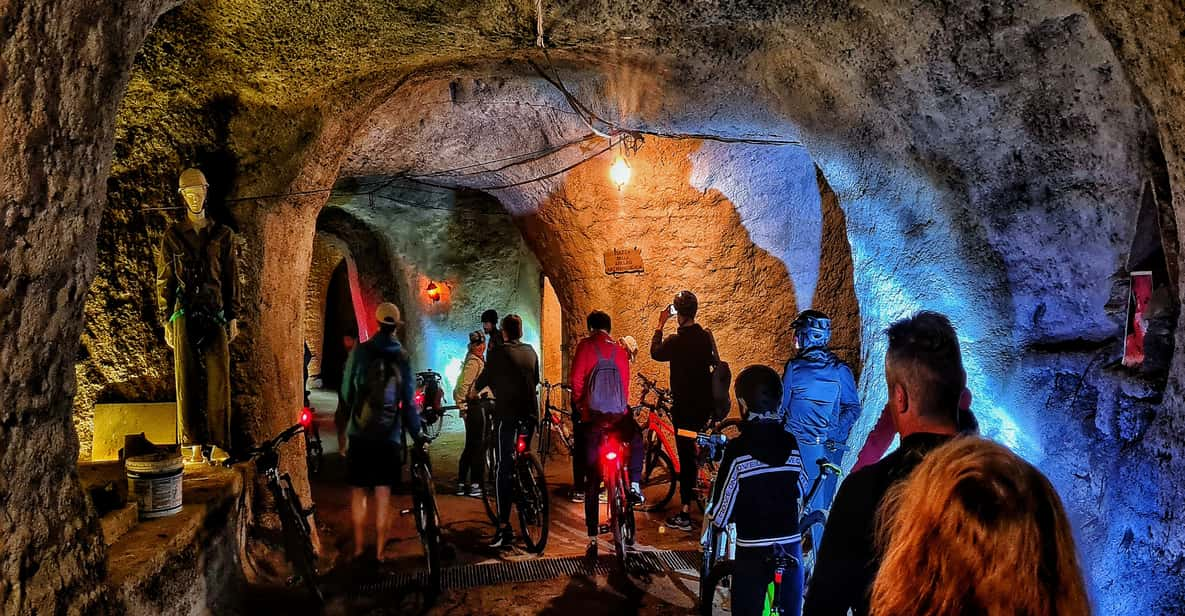 Tour at a Glance
:
---
Departure: Via Capo d'Africa, 29/D, 00184 Rome
Start: Varies
Duration: 4 hours
Includes:

Entrance to the Roman quarry and the Catacombs,

High-quality e-bike,

Helmet,

Mobile phone holder,

Handlebar holderand helmet,

Tour Guide in Italian and English (French/German upon request),

Child seats,

Trailer bike for children aged 6-10
We guarantee most of your friends and family members have never seen this part of Rome! In fact, many people don't even know about its existence! The Rome Appian Way Underground and Catacombs E-Bike Tour is one of the coolest experiences we had in the city, full of thrills, intrigue, and lots of history and stories to learn about!
Once used as a main route to move military supplies in 312 BC and improvements in communication, Appian Way was one of the most strategic, important roads in Ancient Rome.
After meeting up with your guide and the rest of your group, you'll set off through the Aurelian Walls by means of professional, electric bikes. Pedal through the green meadows and array of fascinating archaeological sites, then descending 40 feet through a Roman quarry.
Your guide will take you through the winding route, telling you interesting stories and anecdotes about their own experiences here. Check out amazing galleries that once housed Roman catacombs and later, WWII air raid shelters.
Then, head over tot he San Callisto catacombs, which came to be in the 2nd-century. Named from the deacon Calliso I, he was appointed by Pope Zephyrinus to run the cemetery.
We will say that if you're looking for a way to keep older kids engaged on your tours, these e-bike rides are perfect. The guide keeps things fun and captivating, telling you about the landscapes and history surrounding each location.
So much so, that this was one of our top highlights in Rome, and the quality of the tour was simply incomparable with a guide who knew just about everything you could think of!
Check Availability & Book Tour
---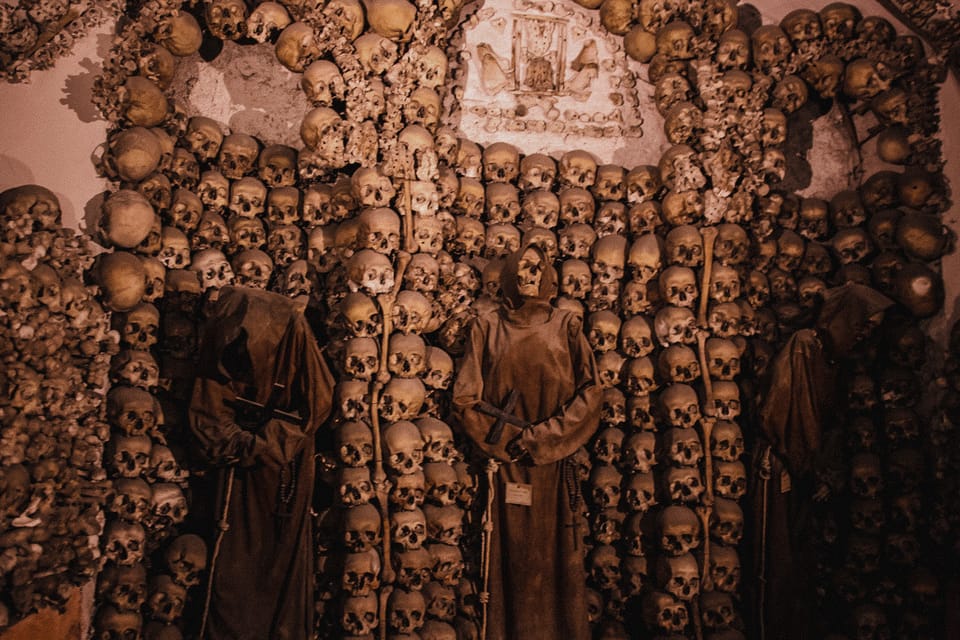 Tour at a Glance
:
---
Departure: By the Triton Fountain in the middle of the square
Start: Varies
Duration: 2.5 hours
Includes:

After-hours entrance to Rome Catacombs,

Tickets and audio guide for Capuchin Crypt,

Private, air-conditioned transport,

Small groups of max 18 people,

Expert English-speaking tour guide,

Catacombs guide
Ancient Rome is known around the world for being one of the most grandiose, well-planned cities in our history. From glorious temples to the exquisite Forum, the empire prided itself on its beauty and opulence.
However, with the Alone in Rome's Catacombs: After-Hours Tour with Bone Chapel, you'll experience a darker side to the city that most don't even know about!
Start things off by meeting your guide by the Triton Fountain in the middle of the square and become acquainted, before heading over to the Bone Chapel.
The Capuchin Crypt is made up of various little chapels underneath the church of Sanat Maria della Concezione dei Cappuccini and holds the skeletal remains of nearly 4,000 friars. It's definitely one of the most unique heritage sites we've come across, known for the bones that elaborately decorate the walls and ceilings.
Learn about the local monks' views on life and death, listening to an audio guide as you journey through with the rest of your group of 18 people or less. Afterward, you'll hop back on your group's air-conditioned coach and head to the Roman Catacombs after the doors close!
That means that it's just your group to take a VIP tour with an expert guide of the ancient burial grounds as you listen to the dark and mysterious stories of how Christianity was born.
Lasting just 2.5 hours, they really pack in a lot of adventure and learning, making it an excellent value for what you receive. Not to mention, the convenient coach transport really maximized what we were able to see in a comfortable way.
Check Availability & Book Tour
---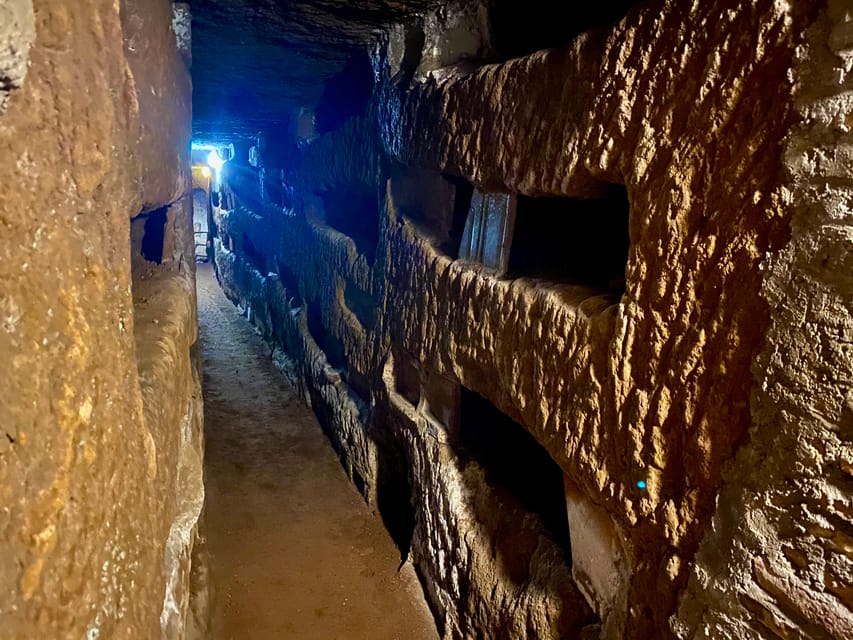 Tour at a Glance
:
---
Departure: TouriksPoint at Via di San Giovanni in Laterano 132
Start: Varies
Duration: 3 hours
Includes:

All entrance and private-transport fees,

Live professional guide,

Sterilised headsets to hear clearly your guide,

Full on-site assistance,

Luggage deposit in office for the duration of the tour
Do dark and macabre things catch your attention when learning about new cities? While Ancient Rome may be known for its glamor and grandiose way of living, they have quite the interesting stories which sit 14 meters underground.
Take a few hours to learn all about these 2 interesting sites, on the Rome Catacombs & St. Clement's Underground Semi-Private Tour!
Start out in the afternoon, heading over to St. Clement's Basilica to meet your guide and the rest of your small group right in front, before journeying into the underground!
Make your way over 14 meters down, learning about the different structures built on top of it as you do so. You're essentially traveling back in time, arriving to the deepest point and explore the Mithraic temple which is surprisingly well-preserved!
In order to hear your guide clearly, you'll be given clean headsets so you can listen even without being right next to them. We do recommend you bring some comfortable walking shoes and a jacket, as it can get a bit chilly down there even in the summertime!
After seeing the temple, you'll pass by an underground stream and then head back to higher ground into what's left of a 4th-century basilica.
Constructed right on top of the martyr's house and below the actual one, the basilica has plenty of stories to tell its visitors. The ancient frescoes are truly a highlight, offering a bit of adornment to the already-interesting stories about the lives of the martyrs that the artwork portrays.
Then, make your way to the crypts of Domitilla, which makes you feel like you've somehow entered another universe!
Check Availability & Book Tour
---
What Should I Know About The Roman Catacombs?
The Roman catacombs are underground burial tombs. They were built because the cemeteries were becoming overcrowded in Rome.
The Christians were often persecuted and preferred to bury their dead in secret and away from the pagan rituals. They dug tunnels and chambers in the soft volcanic rock called tuff and decorated them with frescoes, inscriptions, and symbols of their faith.
The Catacombs are spread over several miles and vary in depth beneath the streets. You can only visit a few of them however because they are still being excavated.
A word of warning: If you suffer from claustrophobia you may want to pass on a catacomb tour. You are going to descend into dark and narrow passages with a flashlight and a tour guide. You are going to see thousands of tombs, many of them still have bones and skulls in them.
Taking a tour of the catacombs is an interesting way to spend a few hours of your vacation in Rome and definitely worth it! Not to mention they are a great way to escape the heat and crowds of the city!
FAQ About the Roman Catacombs
What are the catacombs?
The catacombs are subterranean tunnels that were dug out by hand through the soft volcanic rock called tufa. They were mainly built because they ran out of room in the above ground cemeteries.
How many catacombs are in Rome?
There are over 40 catacombs in the city and surrounding area, however only a few are open to the general public.
What can I see in the catacombs?
The catacombs are not just dark and gloomy cambers filled with bones. You will also see early examples of Christian artwork and symbolism.
How can I visit the catacombs?
The catacombs are open every day except Mondays. They open at 9 am with a lunch break at 12 pm and reopen again at 2 pm to 5 pm (6 pm in summer). You can buy tickets at the catacomb site for about 10 dollars (or less for children or groups).
Your ticket includes a guided tour in English that is about 40 minutes. You can also book online with a tour company that will provide transportation from your hotel or a central location to the catacombs and back.
The Rome Crypts & Catacombs Tour with Bone Chapel & Transfers is our Editors Choice for the best Rome catacombs tour