England has a heavy supply of enchanting places to visit, but perhaps the most intriguing of them all is Stonehenge.
This prehistoric structure is the oldest and only remaining monument named one of the Seven Wonders of the World, it's anything but just a pile of rocks. If you're looking for a good reason to escape the busy capital of London, we have some carefully curated tours that we know you're going to love.
These top Stonehenge tours from London not only cover the monument itself, but include visits to other stunning cities dating back thousands of years! Let's jump right in!
Top Stonehenge Day Trips From London
---
The 7 Best Rated Stonehenge Tours From London For 2023
Now lets take a closer look at the Stonehenge day trips from London so you can find the right one for you!
---
Stonehenge Tours From London Reviews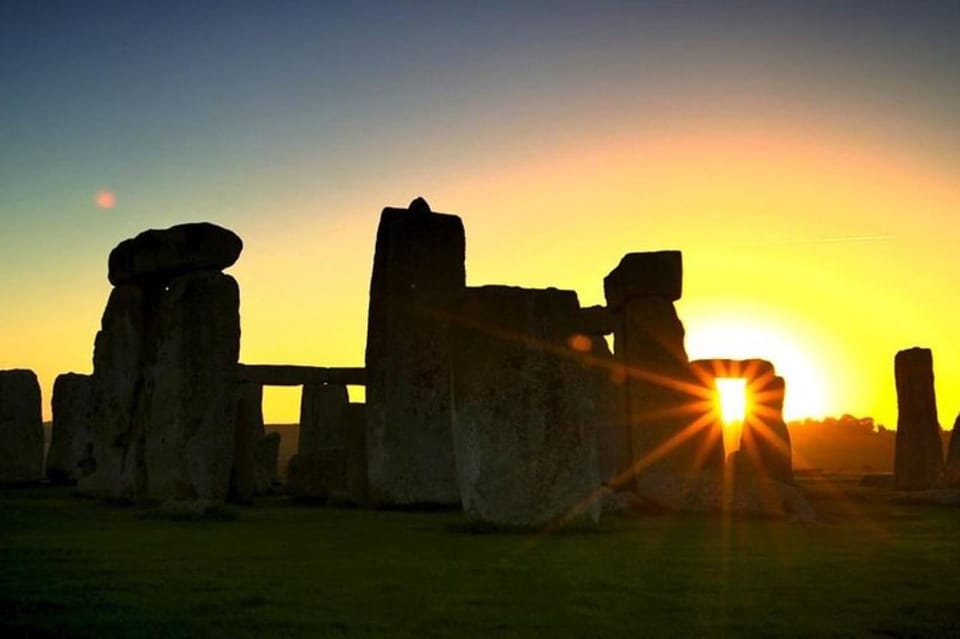 Tour Highlights
:
---
Departure: Opposite Earls Court Underground Station (Warwick Road Exit)
Start: 10:00 AM
Duration: 11 hours
Includes:

Transportation by luxury coach,

Entrance to inner circle of Stonehenge,

Guided tour and free time in Avebury,

Visit to West Kennet Long Barrow,

Services of a tour manager

Other: Exclusive Access – Evening Experience
Mystery and adventure await you with a special access tour of this prehistoric monument built in various stages beginning 5,000 years ago.
On the Stonehenge Special Access – Evening Tour from London, you'll not only see the legendary structure but fairytale-like villages, haunted pubs, and more! This is an exciting way to learn about the history of the area, from a professional guide who knows the area inside and out!
Meet up with your guide and the rest of your party in central London, where you'll hop on a luxury coach and head for Avebury. Once you arrive to Avebury, you'll have a guided walking tour where you'll learn all about the Neolithic and Bronze Age ceremonial sites here.
After your tour, you'll have a good amount of free time to explore the village at your leisure and have lunch at the notoriously haunted Red Lion Pub, if you dare!
After lunch, hop back on the coach for a brief jaunt down to Silbury Hill and take a stroll up to West Kennet Long Barrow, which is one of the biggest Neolithic burial tombs in the country.
Venture through the labyrinth of chambers as your guide manages to bring the place to life with stories of its past. It's then time to make your way to the main attraction: Stonehenge!
Upon arrival to Stonehenge, you'll get to participate in a special access tour when the site is typically already closed to the public for the day. Go on a fascinating guided tour around and access the stone circle to see this incredible monument without the crowds.
Check Availability & Book Tour
---
Tour Highlights
:
---
Departure: Hotel pickup and drop-off included
Start: 8:30 AM
Duration: 12 hours
Includes: Bottled water Driver/guide, Private tour, Transport by private vehicle with working air-conditioning and heating with passenger sliding doors

Other: Private, VIP tour
How would you like to go on a tour in a private vehicle with a good friend who knows all about British history to show you all the best sites?
That's essentially what you're going to get with the Private Windsor Castle, Stonehenge, and Bath from London Tour! There are plenty of tours that will take you here, but navigating them just got a lot easy with this private experience!
Starting off at 8:30 am, your guide will come pick you and the rest of your group up right from your hotel lobby. The private vehicle is very luxurious, but as it is smaller, you also gain access to many places you wouldn't be able to see with a coach.
Head off through the beautiful countryside, driving past the famed Eton College where the Royal Family of the UK (and many other ultra-wealthy families) has attended for hundreds of years.
Your first stop of the day is Windsor Castle, known as the main weekend residence of the King as well as its rich history for over the past thousand years.
After your guided tour, head back to the car and head on over to Woodhenge – a very similar monument made of wood and located very close to Stonehenge. Here, you'll be able to take pictures and learn of its significance and its relation to its stone counterpart.
At Stonehenge, you'll get another guided tour behind theories as to why it was constructed, and how it was even constructed in the first place!
After walking around and exploring, you'll head over to Crystal Palace for a delicious traditional pub lunch of fish and chips! Alternatively, you can enjoy an afternoon tea in the fantastic Sally Lunn's tea room, or head to another one of Bath's most popular restaurants.
While in Bath, you'll tour through this ancient city, past its magnificent bridges, canals, the abbey, and even a Roman bath house if you'd like!
Check Availability & Book Tour
---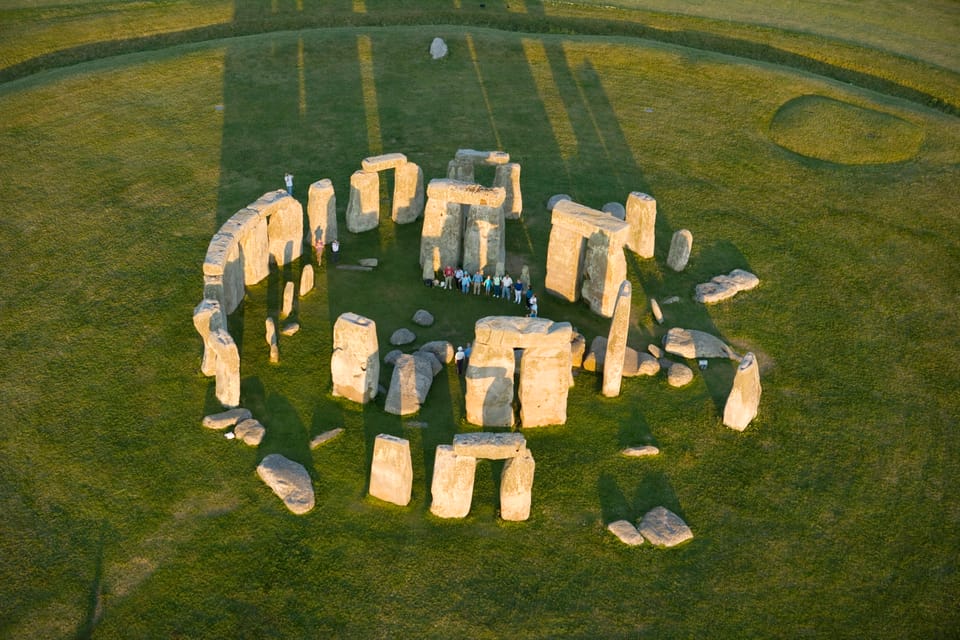 Tour Highlights
:
---
Departure: Victoria Park Plaza, 239 Vauxhall Bridge Rd, London
Start: 9:15 AM
Duration: 11 hours
Includes:

Guide,

Private viewing of the Inner Circle at Stonehenge,

Interactive map and audio content for Stonehenge,

Walking tour of the town of Windsor

,

Round-trip transportation by luxury bus with Wi-Fi and USB chargers

Other: Private viewings of Stonehenge
This is yet another highly-rated tour out to the mysterious world of Stonehenge, along with a side trip to the royal palace in Windsor!
The Stonehenge Inner Circle and Windsor Day Trip from London Tour allows you to visit Stonehenge either before or after the attraction opens/closes! That means you get a private viewing to really appreciate its wonder without the crowds and noise.
We felt that this tour was worth every penny, from the exclusive views, to the tour guide full of knowledge and entertainment as they tell you about the histories behind Stonehenge, Windsor Castle, and everything in between.
Being able to step inside Stonehenge is incredible – even more so when there is no one else there. If you're into photography, or simply want a more authentic way to visit this landmark, this is it.
Following the Stonehenge tour, you'll then head over to the historic market town or Windsor, more famously known for being home to one of the official residences of the British monarch: Windsor Castle.
You'll have plenty of time to tour the castle without crowds and stop for a tasty, traditional British lunch. Explore the Georgian and Victorian architecture, along with the shortest street in Britain while learning all about the history and culture of the area.
The luxury bus we took was super comfortable, with large windows for viewing the countryside, as well as wi-fi and even USB chargers so you always have enough battery for taking photos and can share them in real-time even if you don't have cell signal!
Check Availablility & Book Tour
---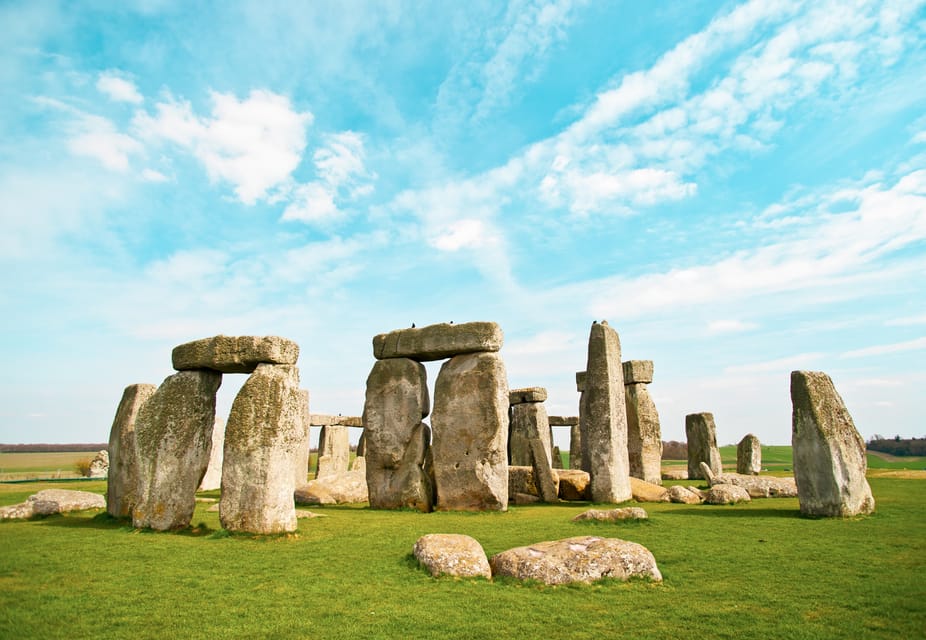 Tour Highlights
:
---
Departure: Victoria Coach Station
Start: 8:15 AM
Duration: 11 hours
Includes:

Stonehenge admission,

Roman Baths Museum admission,

Transportation by luxury air-conditioned coach,

Multi-lingual audio guide of Stonehenge,

Free time to explore Bath

Other: Historical tours of Bath and Stonehenge
We already know that Stonehenge is definitely worth checking out, but we highly recommend also adding another one of the finest historic sites in Europe to your itinerary.
The Roman Baths. With the Stonehenge & Roman Baths Full-Day Trip from London Tour will not only take you to the baths, themselves, but through this charming city that will transport you 2000 years back in time!
Whether you're a history buff or an architecture aficionado, there's something for everyone on this tour. Meet up with your guide early in the morning at the Victoria Coach Station, to hop on a luxury, climate-controlled coach as you head out to Stonehenge.
As you drive, your guide will tell you and your group historical facts about Stonehenge as well as places you pass on the way.
Once you arrive to the famous prehistoric monument and UNESCO World Heritage Site, you'll be able to enter in and learn all about this 5,000-year-old wonder from experts on the subject.
As you may have already known, there is much debate around what the monument was created and used for. Learn about some of the more valid theories, and why it continues to be such a hot topic of debate among the public.
Then, head over to Bath just in time for lunch, where you'll be able to take advantage of the top-notch selection of restaurants, teahouses, sandwich shops, cafes, and traditional British pubs.
After fueling up, explore this stunning city, into the heart of the city, past beautiful Georgian architecture and immaculate gardens. Se the Bath Abbey, as well as the popular Pulteney Bridge, modeled after the Ponte Vecchio in Florence.
The Jane Austen Centre and Assembly Rooms are also quite cool to see, and if you'd like, you can check out the old bath houses, too!
Check Availablility & Book Tour
---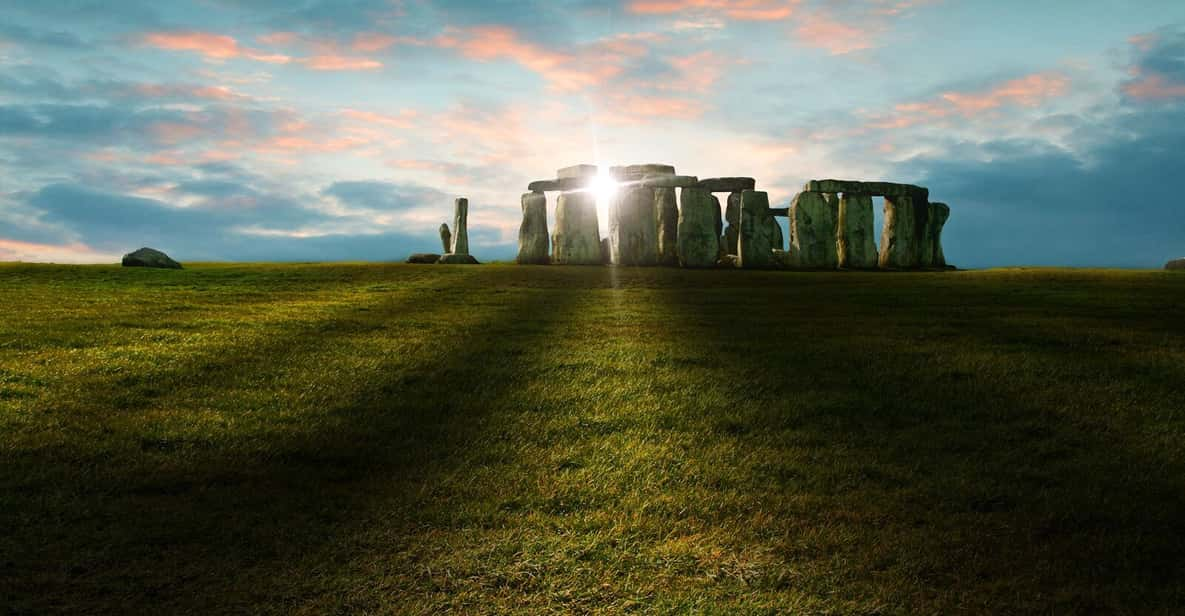 Tour Highlights
:
---
Departure: Casino entrance to the Millennium Gloucester Hotel, 4-18 Harrington Gardens
Start: 5:30 AM
Duration: 12 hours
Includes:

Exclusive entrance to the inner circle at Stonehenge,

Entrance to the Roman Baths Museum,

Transportation by luxury, air-conditioned coach

Other: Special sunrise viewing
This next tour is a fantastic way to experience Stonehenge at a time when almost no one is able to – sunrise! Walk between the enormous stones while listening to tales about the past millenia that we know the monument has been around for.
If you're big into history or really want to get one of those "biggest bang for your buck" experiences, the Stonehenge, Bath & Lacock Full-Day Sunrise Tour is perfect.
The professionalism and organization of the guide only enhanced the experience for us, making sure every trip was safe and on time. You'll depart London right at dawn, so you can arrive at Stonehenge before the dramatic, expansive citrus sunrise across the sky!
Photographers, you're going to absolutely eat this moment up with the heavy stones contrasting against the neon sky!
After learning about the tales as immense as the stones themselves, head over to the small village of Lacock, which was founded during Saxon times.
With most of the buildings consisting of a larger monastery complex, the picturesque location has served as the setting for Jane Austen's "Pride and Prejudice" as well as "Harry Potter and the Sorcerer's Stone". After walking around and exploring, you'll have time to grab a coffee and have breakfast in a classic English pub!
We can't leave out the ancient Roman city of Bath, known for its sophisticated Georgian architecture displayed in places like the Royal Crescent and Circus. Completed in 1774, the Pulteney Bridge which crosses the River Avon exhibits an interesting horseshoe-shaped weir and is one of the city's most famous images.
Follow it up by heading over to the Roman Baths, which are incredibly well-preserved considering they date back to AD 60!
Check Availablility & Book Tour
---
Tour Highlights
:
---
Departure: Hotel pickup and drop-off included
Start: 8:00 AM
Duration: 11.5 hours
Includes: Air-conditioned transport
Other: Private, customized tour
This tour will give you a whole new perspective on British history throughout thousands of years.
No matter what your background or age, you're sure to love this excursion as much as we did! The Private Tour to Stonehenge and Bath from London lets you completely customize the experience to suit your specific interests, so what are you waiting for?
From the very beginning, we hit it off with our friendly guide who picked us right up from our hotel lobby! The car was very comfortable, smooth, and we found the guide to be a very safe driver who knew exactly where to go.
Along the way, there was no shortage of fun anecdotes and plenty of historical accounts you won't get from your average classroom!
While the tours may change, depending on your own interests and requests, you'll typically arrive to Bath first. It's no secret that the British countryside is breathtaking, but Bath exemplifies it in all its glory.
With its picturesque scenery, elegant Georgian architecture, and a rich history, you'll soon come to find out why it's known as the "jewel of the southwest".
Step back into Roman times, complete with the famous baths, as well as the Royal Crescent and Circus. Take time for a relaxing stroll around and stop for lunch before getting back in the car to Stonehenge.
Quite possibly the most mysterious site in the entire country, this monument combines a temple, celestial calendar, and sacred burial ground in one go.
Learn about how it was likely moved from an original location in Wales by the Neolithic people, as well as how people lived thousands of years ago.
Check Availablility & Book Tour
---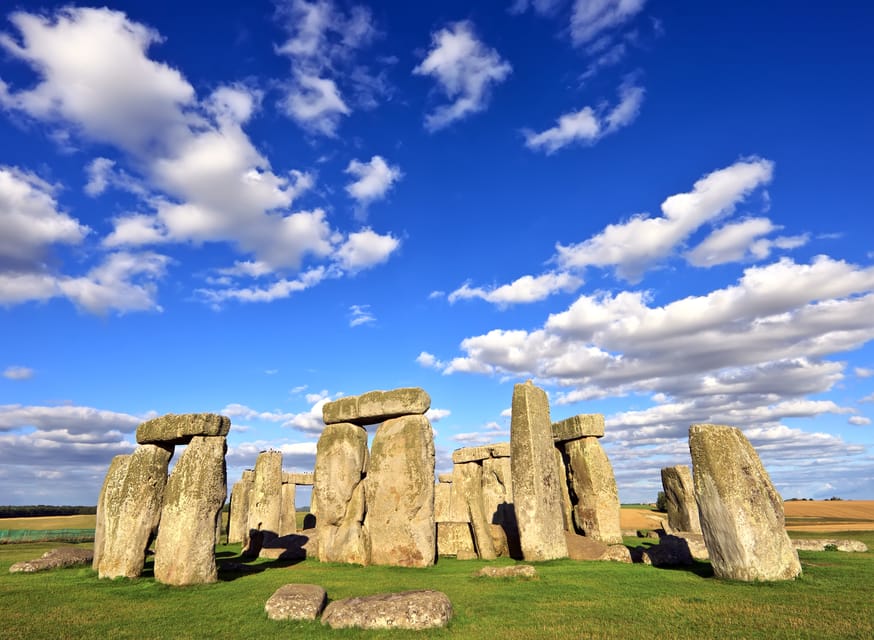 Tour Highlights
:
---
Departure: Bus Stop 1 Bulleid Way, London SW1W 9SL
Start: 8:00 AM
Duration: 10 hours
Includes:

Walking tour of Oxford,

Admissions to Windsor Castle and Stonehenge,

Transportation by luxury air-conditioned coach,

Guide

Other: Budget-friendly, comprehensive tour
Check out where some of the most famous, royal family members have gone to school and lived on our next tour.
The Windsor, Oxford & Stonehenge Full-Day Trip from London Tour combines 3 of the country's top sites, taking you away from the hustle and bustle of London. From famous monoliths and churches to endless gardens and towers, there's not a moment of boredom during these 10 hours!
Kick off your day in the morning by hopping on a comfortable, air-conditioned coach with plenty of leg room and big windows to gaze out at the lovely plains and rolling hills.
Your first stop of the day is the elegant Windsor Castle, known for being one of the official residences of the royal family. However, even if it wasn't, it'd still be worth visiting thanks to its sweeping, pristinely-manicured gardens and turreted "Round Tower".
Don't miss the State Apartments adorned with masterpieces from famed painters, Rembrandt and da Vinci, as well as Queen Mary's Dolls' House and St. George's Chapel. Then, head on over to the mystical Stonehenge, which will surely give you goosebumps when it comes into view!
Hear all about the theories and facts behind its origin, the practices and beliefs which surrounded it, and perhaps even form your own beliefs!
Then, follow it up with a leisurely stroll around the university town of Oxford. There are plenty of immense courtyards, cobblestoned streets, and detailed architecture to explore. If you're feeling hungry or a bit thirsty, there's no lack of charming cafes and restaurants to choose from.
Check Availablility & Book Tour
---
FAQs About Stonehenge
What is Stonehenge?
Stonehenge is a circle of large stones that was built on the Salisbury Plain in southern England. From what we know it was built in several stages starting from around 3000 BC to 1600 BC. The first stage was an earthwork enclosure with a ditch and a bank.
The second stage involved setting up wooden posts or stone pillars inside the enclosure. The third stage was the construction of the iconic stone circle, using massive stones that were moved from almost 150 miles away.
Who built Stonehenge and why?
This is another big mystery. Whoever built it left no written records that we can find. Archaeologists think they were Bronze Age warriors who created Stonehenge as a burial ground or a ceremonial site. There are several theories about the purpose of Stonehenge. Working theories are it was used a temple, a calendar, a healing center or a solar observatory.
How did the builders move the stones?
This is one of the biggest mysteries of Stonehenge! Many of the stones weigh than 45 tons and came from over 150 miles away. We think the builders used a combination of human and animal power, wooden sledges, rollers, levers, ropes, and rafts to move the stones. No know one knows for sure!
Can I go inside the circle?
If you want to go inside the circle and get closer look at the stones, you need to join a guided special tour that is outside the normal hours. The tours reviewed above have access to the inner circle.
When is the best time to visit Stonehenge?
The most popular time to visit Stonehenge is the summer or winter solstice. This is when the sun rises or sets in alignment with the main axis of the monument. Thousands of people come to celebrate these events and see the spectacular sight.
Whats the best way to do a day trip to Stonehenge from London?
There are several ways to visit Stonehenge from London. It just depends on your budget and how much time you have.
We would recommend that you take a coach tour that includes round-trip transportation and a guide who can tell you all the details of this mysterious monument.
You can also rent a car and drive there. If you decide to do this option, be sure you are comfortable driving in England. The roads can be narrow and tricky to navigate. Make sure you have a good GPS for navigation!
You can also combine your visit to Stonehenge with other attractions nearby, such as Windsor Castle, Bath, Oxford or the Cotswolds. Most tours from London combine some or all of these stops.
What else is there to see other than Stonehenge?
Salisbury Cathedral: This Gothic cathedral is only 9 miles from Stonehenge and has the tallest spire in England. It has the original copy of the Magna Carta. You probably learned about it in history class, it's the famous document that limited the power of the king and established the rights of the people.
Avebury: If you're interested in other ancient stone circles, you'll love Avebury, which is 17 miles from Stonehenge. It's actually larger and older than Stonehenge and you can walk through the stones and touch them. (you cant do this at Stonehenge) There's also a museum, a manor house and of course a pub in the village.
Old Sarum: This is the site of the original settlement of Salisbury, that dates back to the Iron Age. It's only 10 miles from Stonehenge and has a phenomenal view of the countryside. You can explore the ruins of the castle, a cathedral and there is a medieval town.
Windsor Castle: Windsor Castle was built by William the Conqueror in the 11th century as his fortress. Windsor Castle is not just a museum though but a working palace where the Queen spends most of her weekends and hosts official events. You will see the royal standard flying from the Round Tower when she is there.
Bath: Bath is a UNESCO World Heritage Site and one of the most popular tourist attractions in England. Here you will see the Roman Baths that are remains of an ancient complex of baths and temples that were built by the Romans around a natural hot spring. You will see how the Romans enjoyed bathing, relaxing and socializing here. You should also try the mineral-rich water that is said to have healing properties.
The Stonehenge Special Access - Evening Tour from London is our Editors Choice for the best Stonehenge tour from London