Whether you're a visitor or a resident of the San Francisco Bay Area, you have to make it a point to stop at Yosemite.
First protected in 1864, the national park Yosemite National Park boasts breathtaking waterfalls, centuries-old sequoias, legendary cliffs, and much more within its 1,200 square miles.
However, if you want to make the most of your trip to the park, we highly recommend signing up for a tour. We've taken it upon ourselves to try out all kinds of them to bring you the top Yosemite tours from San Francisco currently available!
We've got no time to waste, because adventure is waiting!
Top Yosemite Park Tours
The 7 Best Rated Yosemite Tours From San Francisco In 2023
Now lets take a closer look at the Yosemite tours from San Francisco so you can find the right one for you!
---
Yosemite Park Tour Reviews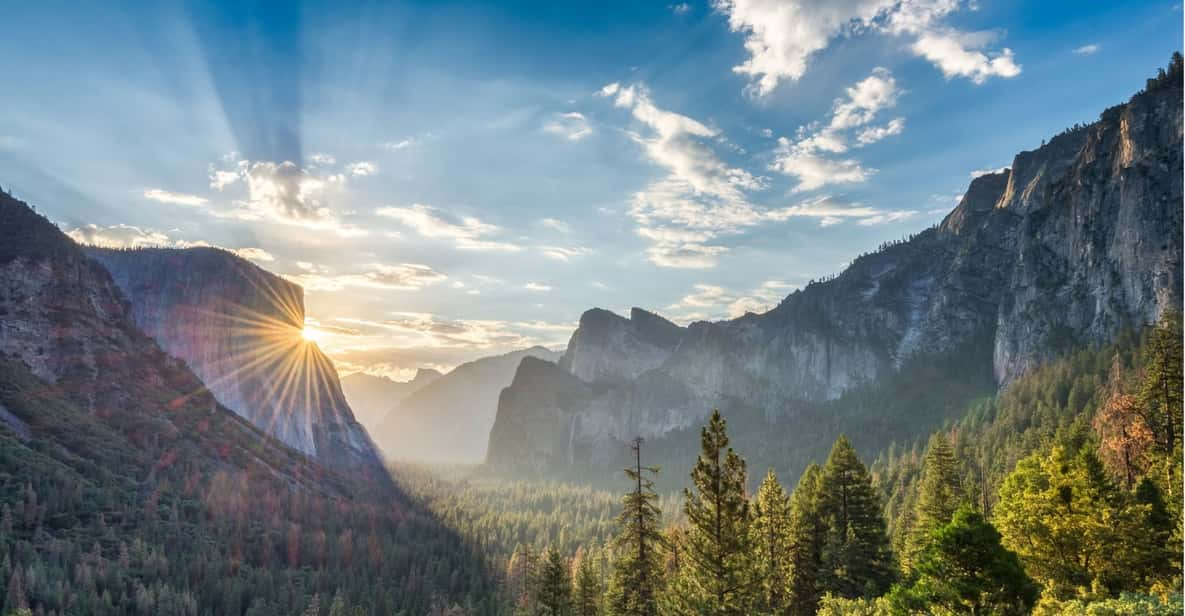 Tour Highlights
:
Departure:  Pickup From Select Locations
Duration: 15 hours
Includes: 

Yosemite entrance fee, p

rofessional guide, c

omfortable, responsible transportation in a biofueled mini-coach

Other: Comprehensive, all-day tour
This incredible day-long tour is educational, jaw-dropping, and a ton of fun! Taking you throughout world-famous rock formations and waterfalls throughout the Yosemite Valley, it's a wonderful way to spend a day right outside of San Francisco.
First off, there are various pickup zones (refer to tour details) to make sure that there is at least one pickup spot near you. These are located in more touristy areas, so you probably won't have any trouble getting to one – not to mention you have the BART to help you out with commuting if necessary.
Once you board your transportation, you'll start heading east over the Bay Bridge, which offers some pretty amazing views as well.
You'll see the Golden Gate, Alcatraz, Fisherman's Wharf, and more.
Crossing through the Central Valley, you may be getting a bit hungry. Luckily, they make a stop at a local fruit stand to fill you up with some pure energy, nutrients, and flavor!
The Central Valley is known for having rich volcanic soil, making it a prime location for crops and fruit trees. Specifically, berries and nuts, which make the perfect snack for road tripping! Next up, you'll head on into the foothills of the Sierra Nevadas. This mountain range provides a massive amount of water to the entire state of California, and is known for its snowy peaks in the winter months.
Going further into the mountains, you'll cross through where the legendary 49ers who came from all over the world to look for gold in the mid-1800's. You'll even go through the infamous gold rush town of Groveland, which is full of historic hotels, great eats, and the gorgeous Pine Mountain Lake. It's also one of the last stops before hitting our main attraction: Yosemite!
Once you arrive, you'll have a 1.5-hour narrated coach tour of the valley. You'll cover all kinds of notable natural wonders, such as the tallest waterfall in North America, El Capitan, Half Dome, Bridalveil Falls, Sentinel Dome, and more.
Bridalveil Falls is usually the first you'll encounter when you enter the park, and at 620 feet, it sure sets the tone for how incredible the rest of the tour will be. Don't forget to take photos at Inspiration Point, which offers one of the most mind-boggling views of the area.
Once your tour wraps up, you'll make a stop near the base of Yosemite Falls. You can choose to bring some picnic equipment or alternatively, stop by many of the other food options that exist in the park. With 3-4 hours of free time, you'll have more than enough to eat and check out the area.
The Mountain Room is one of our favorites, offering an upscale casual dining experience with perfect views of the falls while you enjoy a delicious steak or seafood! The Mountain Room Lounge is also a load of fun! Kick your feet up and roast a marshmallow or two here!
Aside from getting some good food and drinks in, you can also walk to the base of the falls, rent a cruiser bike, or hike some trails.
Aside from that, we recommend checking out the visitor's center, seeing the Ansel Adams Gallery (which is filled with the celebrated photographer's shots of the area), or stop at the distinguished Ahwahnee Hotel. The latter is over 100 years old, featuring a luxury lodge feel where many celebrities have stayed.
---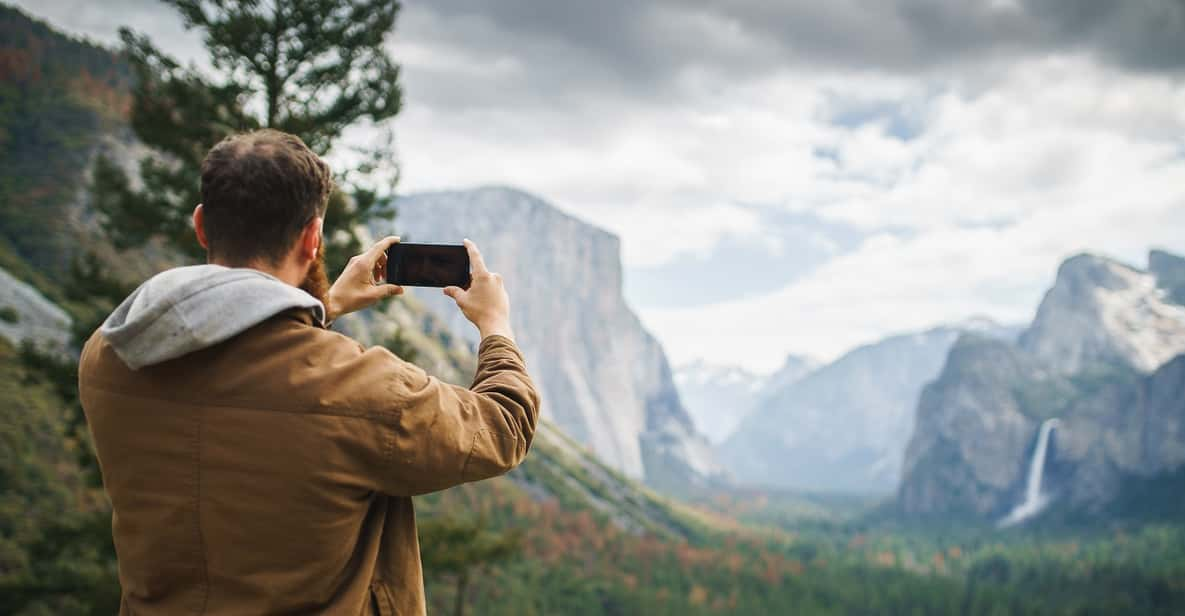 Tour Highlights
:
Departure: Pickups are available from most hotels in Downtown SF and Fisherman's Wharf. For other hotels, please provide hotel information and you will be provided with the closest pickup location. For Hilton Union Square: meet at the Mason Street entrance (eastern entrance) outside of the main doors.
Duration: 14 hours
Includes: 

Hotel pickup and drop-off from most San Francisco hotels, 

English-speaking tour guide, 

Yosemite entrance fee, 

Yosemite audio guide, p

ark map

Other: Either shared or private tour, all day
This one is just slightly shorter than the previous tour, but the Yosemite National Park & Giant Sequoias Hike can't be missed if you want to see the towering trees native to this area, too.
The live tour guide is in English but there are also optional audio guides in Spanish, Chinese, French, German, Italian, Japanese, Korean, and Portuguese!
It's time to put on that flannel shirt and hiking boots, because you're going to eat delicious foods and see amazing things!
The full-day tour starts off with a hotel pickup (make sure you check beforehand if yours is included) and you'll be on your way to the valley. You'll make your first stop in Oakdale, which is about 2 hours, depending on traffic.
Known as the "Cowboy Capital of the World", this historic town will transport you back in time to give you a glimpse of what the Old Western life was like.
To make sure you have enough energy for the day, you will also grab a hearty breakfast in Oakdale before setting off to either hike in Tuolumne Grove Trailhead or continue onto Tunnel View and Half Dome for some photo ops.
In total, you'll get about 5-6 hours to explore this more-than-a-century-old national park and natural wonders.
The entire time, you'll have audio commentary to guide and inform you about the interesting stories and history behind each place.
The Giant Sequoia Walk is a 1-mile paved trail with a 400-foot incline.
Coming here will remind you just how small we are, and is the perfect spot to take in some fresh air and appreciate these gentle giants.
In the winter time, things can get a little difficult with snow, so make sure you check ahead of time during these months.
---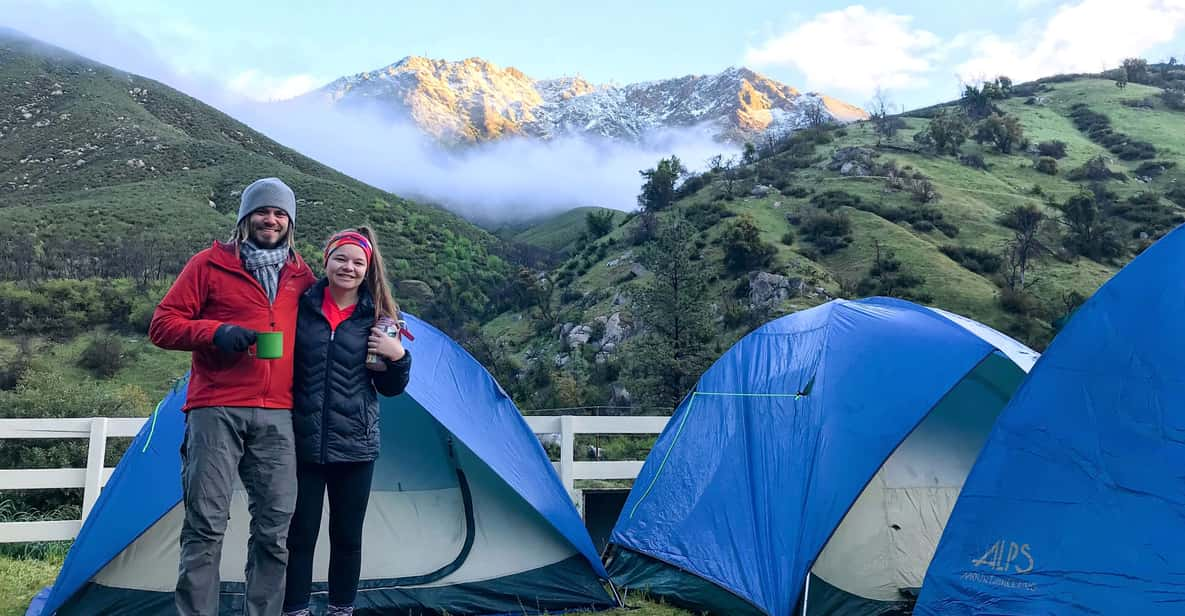 Tour Highlights
:
Departure: C

entral downtown San Francisco location

Duration: 3 days
Includes: 

Pick-up and drop off from a central downtown San Francisco location, n

arrated guided tour (all 3 days), 

5 fresh meals, 

Yosemite National Park entrance fee, t

ents, sleeping pads, and camping gear (sleeping bag required)

Other: Camping trip with mixed pre-planned/varying itinerary based on group's preferences
So, you say you're looking for a lengthier adventure than the previous two we've spoken about. Perhaps you are looking for a little weekend getaway or just want to get to know the Yosemite Valley even better. Whatever the case may be, you're sure to find what you're looking for in the Yosemite Valley 3-Day Camping Adventure!
The plan is to spend 2 nights camping in the great outdoors, along with some incredible swimming and hiking in the park.
You don't even have to worry about purchasing or lugging around camping gear as it's already provided with your tour!
You'll get out on the road in an eco-friendly, biofueled vehicle, carrying all equipment, passengers, and sleeping bags. Take note that the sleeping bags are not include, so make sure to bring yours.
Even if it's your first time camping, this is sure to be an amazing experience for you. In fact, it's probably the best way to go camping for your first time, as all camping, cooking, and tent gear is included.
Just remember that it's always good manners to help set up and take down the camp. Even if you don't know what you're doing at first, there will be an experienced guide to help ensure everyone has a positive experience. Each campsite features showers with hot water, high standards regarding cleanliness, and modern facilities. Swimming is accessible by a short walk, as well.
Food comes included, though you will have to help cook and/or clean up. What kind of food, you ask? Chicken, beef, and vegetarian options all available, fresh, and very tasty.
Day 1, you'll meet your guide at the corner of Mason and O'Farrell Streets in front of the Hilton at 8:15 am. Once you're outside of the city, you'll start heading through the gold country and stop for a yummy picnic with the sequoias to keep you company. It's crucial to mention that the first day's meals are not included in the price of the tour.
Afterward, you can choose to hike through these gigantic beings, offering a lot of oxygen and shade! Continue into the park on a 90-minute tour, and go down into the valley, which was popularized by Ansel Adams. Once there, your guide will offer some helpful advice and orient you to the park. At this time, you'll also cover the itinerary as well as some options you and the rest of your group can decide on for the following days.
After you've had some free time, you'll then head to the campsite and set up camp. After all that work and exploring, it's time to kick up your feet and enjoy some drinks around the campfire!
On Day 2, you'll wake up early and get breakfast and lunch ready, tidy up your campsite, and hop in the van for another fun day of adventuring! This day is made for lurking around Yosemite's High Country where you and your group will hike to May Lake and Mount Hoffman.
The hike to the lake is quite short with a pretty steady climb that is great for beginners. However, the optional climb to Mount Hoffman is a bit more challenging. Both offer a non-technical hike with fantastic, 360-degree picturesque backdrops.
You're definitely going to be wiped out by the end of this day! Afterward, head back to camp for a delicious dinner and relaxation.
Day 3 is a day for doing whatever the group decides on! This free day typically consists of heading back into the Yosemite Valley to take up some of the hikes, rent a bike, or simply relax by the deep green Merced River. Here, you'll also be able to take a dip in the water if you'd like to cool off. In May – early July, you'll also have the option of joining in on a whitewater rafting trip here!
When the day starts winding down, you'll head back to San Francisco and arrive at about 21:00.
---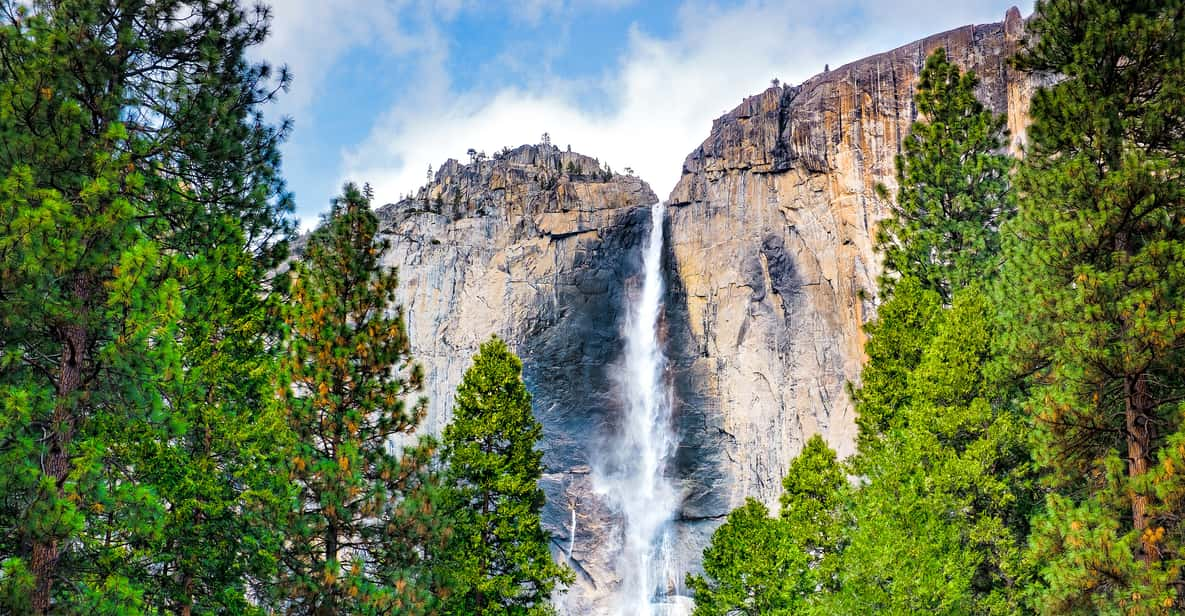 Tour Highlights
:
Departure: Gray Line Office at Union Square, 478 Post St. and select San Francisco hotels
Duration: 13 hours
Includes: H

otel pickup is for select San Francisco hotels, 

Chinese or English-speaking guide (depending on which you select), 

1-hour bus tour, d

river/guide, e

ntrance fees, t

ransportation by air-conditioned bus, 

Wi-Fi and restrooms on board

Other: Travel through original gold-mining spots, El Capitan, Half Dome, and more.
Next up, is the Yosemite National Park Tour from San Francisco: you'll jet off through the Bay Bridge and head through the Sierra Nevada foothills until you get to Yosemite National Park. You can choose whether to hear either English or Chinese on your tour, too.
Get ready for a majestic, unforgettable day that you're sure to repeat in the future!
Hotel pickup is available for select San Francisco hotels, meaning that you don't have to go out of your way to meet up with your tour guide. Just make sure that you check beforehand to ensure your accommodation is an option.
Once you get to the Central Valley, you'll take a bit of a rest from driving. Here, you'll get to sink into a comfy seat and enjoy some breakfast. After you've filled your stomach with some hometown bites, you'll continue on through gold country. Today, these towns are pretty modernized, though there are some cultural remnants from the 49'ers back in the day.
Your route takes you along the gorgeous Merced River, into the striking Sierra Nevada Mountains.
You'll mostly stay in the rolling foothills here. The erosion thanks to glaciers have now exposed massive granite monuments, accounting for the light color of these mountains today.
Once within Yosemite National Park, you'll spend 4 hours here – 1 of which consists of a guided tour to educate you on the area and its history.
The following 3 hours are time for you to explore on your own and take photos at widely-known spots such as: El Capitan, Bridalveil Falls, Vernal Falls, Cathedral Spires, Half Dome, Yosemite Falls, and more.
---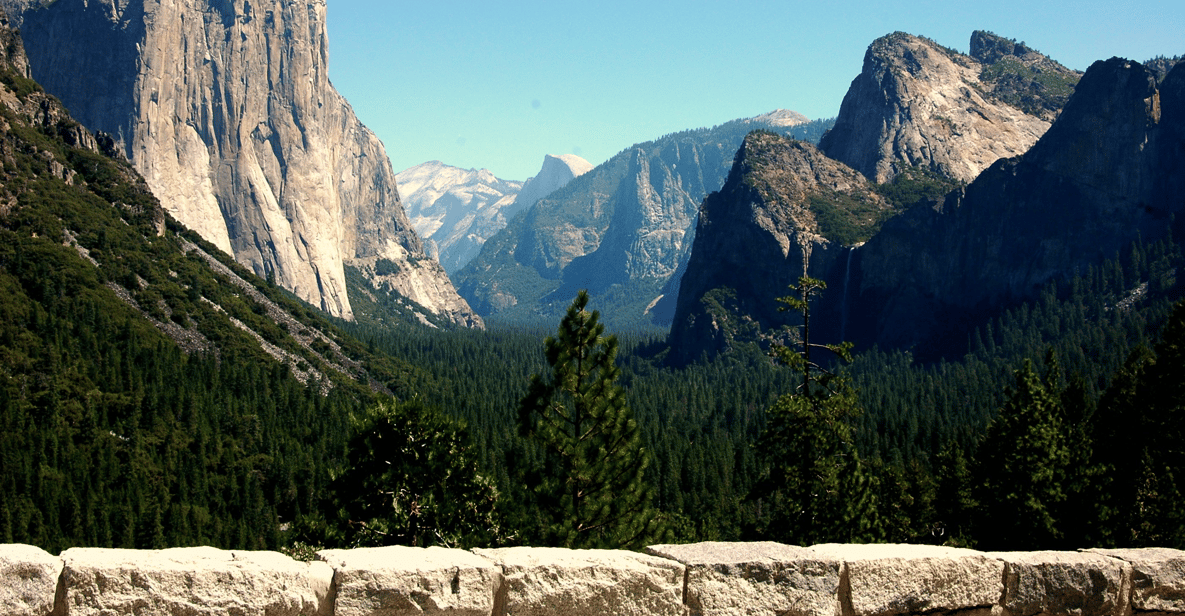 Tour Highlights
:
Departure: Complimentary pick-up from most San Francisco hotels
Duration: 2 days
Includes: 

San Francisco hotel pick-up and drop off, e

co-friendly transportation to and from Yosemite in biodiesel minibus, n

arrated Yosemite Valley tour, 

Yosemite Park entrance fee, o

vernight hotel accommodation at Yosemite Cedar Lodge

Other: Equally relaxing and exciting, as you get to explore the Yosemite park and relax in a fully-featured lodge at night
If one day is too short and 3 days is too long, the Cedar Lodge 2-Day Yosemite Park Tour is your Goldilocks option. As the name suggests, you'll be spending 2 days and 1 night in a homey cedar lodge along the bank of the Merced River.
Not everyone enjoys "roughing it" by camping, so this is a wonderful way to enjoy nature while still getting that deep relaxation in.
Just like most others on our guide, this tour also comes with a San Francisco hotel pick-up and drop off. Now you're on your way to breathe in that fresh mountain air and feel the sunshine on your skin!
From San Francisco, you'll drive all the way up to Cedar Lodge, located right in the Merced River Canyon. With outdoor swimming pools and spas, a private sandy beach, and trees everywhere, you'll be able to really let the stress melt away.
Once you arrive at the accommodation, you'll continue on to Mother Nature. You'll learn the history of the area as you get to check out Yosemite Valley in all its glory.
Yosemite Falls, Inspiration Point, Half Dome, Bridalveil Falls, and El Capitan are all monuments and attractions that you'll experience on the first day.
Your guide will give you a history lesson as you travel, too! After this, you'll go back to the lodge and explore all it has to offer.
The jacuzzi is one of our favorites, instantly relaxing the muscles and getting you ready for the next day's hike. The restaurant and bar are also crowd favorites and are sure to whet your appetite and quench your thirst!
For day 2, you'll venture out to Glacier Point where you'll hike around the Giant Sequoias should weather allow. As dusk approaches, you'll start your journey back to San Francisco and arrive around 21:00.
---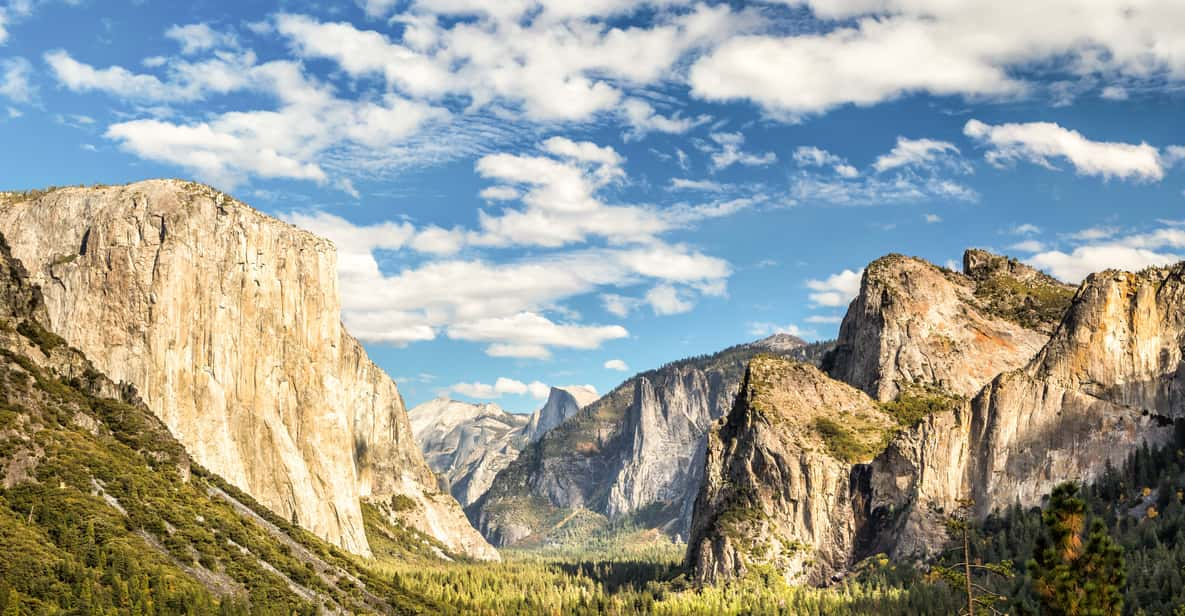 Tour Highlights
:
Departure: Pick-up from your accommodation in San Francisco
Duration: 12 hours
Includes:

Transportation, r

oad tolls, s

urcharges and taxes

Other: Travel is by private car, take the tour at your own pace
The Yosemite Private Full-Day Trip is great if you're just looking to go with a group of people close to you. It's definitely a more personal way to see this magnificent park, and you will get to ask your tour guide more questions, should you have any.
All transportation, tolls, and surcharges/taxes will already be taken care of, however, you will need to cover park admission fees.
Instead of driving in a van, you and a partner/small group will be traveling by private car. Keep in mind that if you have back problems, this may be aggravated by sitting in a car for such a long period of time. Otherwise, it's very convenient and lets you see things at your pace instead of worrying about a specific arrival time.
Your tour guide will let you know all about the infamous landmarks as you pass them, while ensuring everyone's safety and offering great hospitality. You'll have a personal pick-up from your SF accommodation, as well as some personalized recommendations of where to score some great photo ops! Based on this, you'll choose where you go.
The drive to Yosemite is a beautiful one – in fact, the drive alone is honestly worth it!
You'll also catch thick forests that really create a different atmosphere and air feel. Once you get to Glacier Point, you'll get the chance to see Half Dome, Yosemite Valley, and Yosemite Falls. El Capitan is right there, too, and is known as being one of the few almost-vertical rock formations of its kind in North America.
At the end of the day, you'll transfer back to SF right in time to catch the Bay Bridge Lights, which is a monumental light sculpture and art installation. Designed by Leo Villareal, it's made up of a whopping 25,000 individually-programmed white LED lights.
---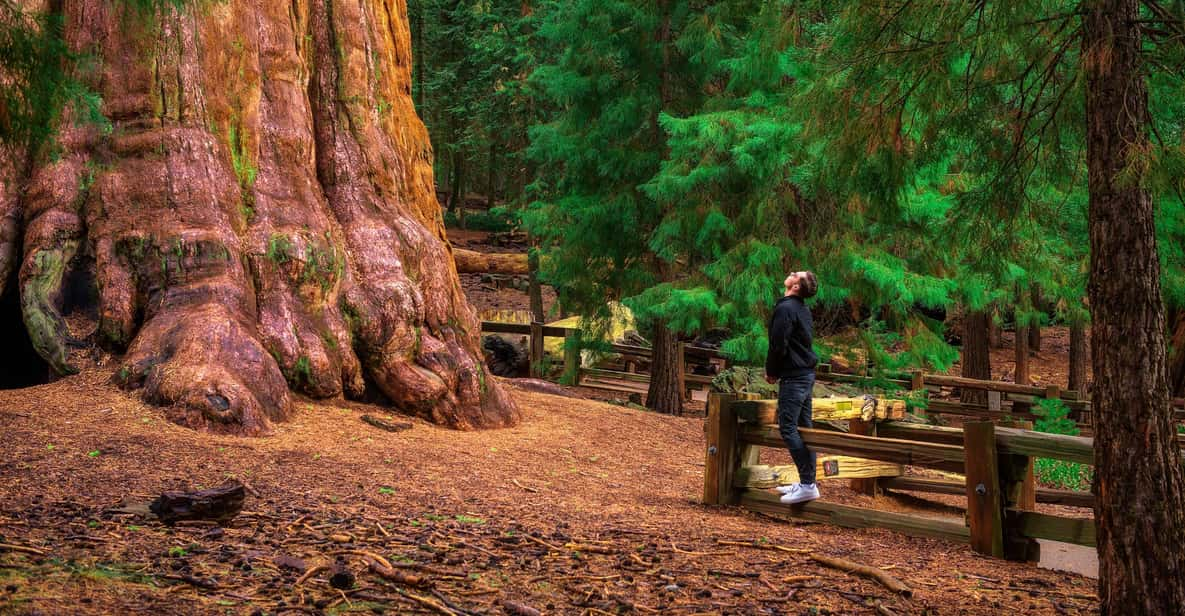 Tour Highlights
:
Departure: Pickup is available from 2 convenient locations: 6:20 AM at Hilton Union Square (Mason street side entrance) and 6:55 am at Dublin BART station (south side of the freeway, at the passenger loading zone)
Duration: 14 hours
Includes: 

Yosemite Park entrance fees, tr

ansportation in a biofuel vehicle

Other: Eco-friendly way of seeing Yosemite
We couldn't offer you the best Yosemite/San Francisco tours without including this one! The Yosemite National Park Full-Day Trip in Biofuel Vehicle is an eco-friendly way of seeing this iconic area that everyone should experience at least once!
Your guide will ensure you take advantage of the best views, capturing photos and making memories of this epic environment!
The 14-hour journey does include a pickup at many SF hotels – just make sure yours is included beforehand. Head out over the Bay Bridge and continue on until you get to the Central Valley, where you'll get out to take a break, stretch your legs, and get some breakfast!
After you feel ready to take on the day, you'll head back and onto the mountains. Here, you'll learn all about the gold rush in California and pass through some of the first settlements built during this time!
Once you get to Yosemite National Park, you'll get to fill those lungs full of clear, fresh air.
The first stop consists of a 2.5-mile hike to see the Tuolumne Grove of Giant Sequoias. Their beauty and sheer size will take your mind off of that burning in your quads a little bit, as you partake in this strenuous descent!
After, you'll go on to enjoy Bridalveil Falls, El Capitan, Half Dome, and much more. They make sure to take you to Tunnel View as well, where you'll take in captivating vistas of the eastern expanse.
Then, you'll get 1.5 hours to go out on your own and do what you want. Check out the visitor's center, visit the Ansel Adams Gallery, or grab a bite to eat.
In the late afternoon, it's time to head back to San Francisco. You'll arrive around 9 PM.
---
San Francisco Travel Guide

Getting There –
San Francisco International Airport (SFO) is one of the main hubs in North America, and almost every airline (national or international) has routes that serve it. This can make it very easy to get to SF, albeit the ticket prices do tend to fluctuate quite a bit. The best time to get your tickets will be anywhere from October to January, where it can get pretty chilly with wind and rain.
If you want a cheaper option, San Jose airport (SJO) is about an hour away from San Francisco. Many times, you'll be able to find a significantly more affordable flight to SJO, so we recommend looking at both options. So, how exactly are you going to get from San Jose from San Francisco?
The BART services the East Bay and South Bay (i.e. San Jose), offering quick, efficient, and relatively comfy transportation to SF. We'll go ahead and go more into detail later on in our guide regarding local transportation, however.
While it may not be as quick as a plane, trains are another way of getting to San Francisco from within the United States. In fact, SF is currently accessible by train from an impressive 358 other cities within the country.
Amtrak is the most popular company, with the most trains on just about any given day. These are comfortable, relaxing, and you'd be surprised at how affordable they are. We've actually found cross-country ticket prices for under 100 bucks before!
The Salesforce Plaza train station is the station located closest to the city center, so if you're staying downtown, this is the station you'll want to arrive to.
If you're coming from the east coast, you'll most likely use I-80, which connects New Jersey with San Francisco. However, that's going to be a long drive! Many Southern California residents like driving up to the bay for the weekend, which is a very easy, direct drive via the I-5. However, there's also the "scenic route" which tacks on 3 hours to the already 6-hour drive via Highway 1.
If you really have no other option, then you can take a Greyhound. Greyhounds are absolutely cheap, but in this case, you get what you pay for. They're uncomfortable, always seem to be either too hot or too cold, are noisy, and take a long time to get wherever you're going due to all the stops made along the way.
Getting Around –
Getting around San Francisco is actually pretty easy – that is, if you're not driving. Driving your own car is probably the most inconvenient way of moving around. First, traffic can get pretty crazy in the morning and around 5 o'clock. Not only that, but the city is filled with 1-way streets, Trolleys that you have to avoid – not to mention the absolutely insane hills that make up a large part of the streets in San Francisco.
We recommend you take advantage of the Muni and BART systems when you can. BART seems to be faster during rush hour and overall operates more smoothly and efficiently. There are 4 BART lines throughout the bay, along with 48 stations. If you have to choose between the two, we say go BART.
No matter where you're staying, you're going to feasibly be within walking distance of a Muni bus, light rail Metro train, streetcar, or cable car. All are budget-friendly, convenient, and eco-friendly. The cable cars are iconic and are one of the easiest ways to get up steep hills. Each ride is $7, though, which can get expensive quickly.
Alternatively, you can also bike or walk, which is a better choice in the daytime depending on where you are. Lyfts, taxis, and other rides are a possibility as well and are great for shorter distances, like at night. However, just remember that they may also get stuck in traffic.
Where to Stay –
You're probably wondering about the best area to stay in SF, and the truth is, there's something great in just about every area of the city.
SoMA – If you love food (and who doesn't?) you need to just make home base SoMA. Standing for "South of Market", it comes backed with both older and brand-new restaurants. You'll find everything from just about every price point here.
Fisherman's Wharf – While SoMa is definitely designated as the foodie area, if you want fresh seafood, Fisherman's Wharf can't be beat. In fact, if you don't eat here at least once, you're really doing yourself a disservice. From fish and chips, to calamari, to iconic clam chowder in sourdough bread bowls, it'll change your life.
While it is busy with tourists most days, you are right on the water. With these views, you'll get to see fishing fleets and walk along the pier to see cute (at a distance!) sea lions and breathe in that fresh sea breeze.
The Argonaut Hotel – Absolutely beautiful, stunning historic hotel located right on the water. The entire hotel is nautical-themed in a non-cheesy way. Views can't be beat, with the bay, Alcatraz, and Golden Gate Bridge located right outside your window. They even offer complimentary cruisers if you'd like to pedal around the area!
Hotel Zephyr – This is a fun, youthful hotel with around 8,000 sq. feet of outdoor play area to enjoy with friends, family, or a significant other. The Instagram-worthy hotel also features a large indoor game room, and beautiful outdoor views as well.
Noe Valley – If you're going with the entire family, then you'll love the homey, charming feel of Noe Valley. It's located right in the city center, featuring wide sidewalks, and is known to be very easy to walk around. The iconic SF townhomes are here as well, which make for beautiful snapshots.
Dolores Place – These studio apartments come in a Victorian row house built in the early 1900's. It's currently in one of the city's trendiest neighborhoods, with a gorgeous sunny deck.
Noe's Nest Bed and Breakfast – Once again, expect charm and comfort here with fantastically friendly staff. A hearty breakfast buffet comes included, along with spa tubs, green garden areas, and excellent views of the city.
Castro – For wonderful new restaurants and high-energy locals and guests, this is an excellent place to stay.
Chinatown – Chinatown is simply iconic and for the obvious: it's the best for Chinese food. With over 24 blocks filled with restaurants, food markets, street food vendors, and cool little shops. If Chinatown isn't an option for you, Richmond is a close second.  
Whiteswan Inn – With a Cotswolds, 60's influence, it has that old-school British feel to it. Complimentary breakfast baskets and wine will give you all the fuel you need to check out the area!
Union Square – If you're looking to shop, or simply want a pretty central location so you can explore all of the city with ease, Union Square is the best area. Offering all the major retail brands, you'll be able to find just about anything here.  Hotel Triton is one of our favorites: it's relatively budget-friendly, elegant, comfortable, and cozy. The rooms aren't super spacious, but if you love that feeling of being in the middle of a bustling city, then this is it.
Restaurants and Eating Out –
Even if you spend the rest of your life in San Francisco, it would be practically impossible to try everything the city has to offer. Many eateries have been around for decades, while many others are sprouting up constantly. Known as a foodie city, there's nothing you can't find here, regardless of budget.
ONE65 – Sitting just a block from Union Square, if you are looking for a French dining experience to take a date (or yourself), ONE65 is a great option. Consisting of 6 stories, each floor offers something different. The ground floor is an all-day café so if you're one of those people who needs a nice latte at 9PM, you're in luck. Not only that, but they offer breakfast, lunch, dinner, chocolates, ice cream, and fine pastries! The bistro boasts a chef's counter where you can watch as your dishes are prepared!
Lilolilo Yacht Club – Craving Hawaii but can't get to the island? Check out Lilolilo Yacht Club!Temporarily located at 18th and Mission, this place manages to brighten up an often-foggy city. We highly recommend their house-made spam with kimchi friend rice!
Phill's Phire Phoods – Started by Chef Phill Quinones from Miami, he brought his hometown's flavor over to San Francisco. Known for years now as one of the best food trucks in the city, they offer a Latin take on things and offer virtual cooking classes.
Curry Up Now – Since their success back with their original food truck in 2009, they've since expanded to 4 trucks and various restaurants and cocktail bars! However, we still recommend the trucks the most. Get traditional Indian flavors in a modern take, quickly!
Sowl Bowls – For delicious, healthy Thai street food, there's Sowl Bowls. Tamarind, garlic, and many other sauces garnish traditional bowls filled with tofu, dumplings, chicken, and more.
Buena Vista – Did you know San Francisco has world-famous Irish coffee? Well, the Buena Vista is, we should say. Their recipe has been around since the 60's and is definitely the most delicious we've had. Served in a crystalline, 6-ounce, heat-treated goblet, you'll be transported back in time with the mouth-watering mixture. The place has been featured on just about every food/travel show out there, for good reason!
Boudin Sourdough – We told you before that if you want the iconic SF clam chowder in sourdough bread bowls, to head to Fisherman's Wharf. There are various restaurants which offer it, but the best to do it is Boudin's.
Nightlife and Entertainment –
We'll be honest: nightlife and entertainment aren't quite what they were 10 years ago in San Francisco. However, there's still a lot to be explored with famous bars, lounges, and dance clubs. Not only that, but they have plenty of night tours, dinner cruises, late-night museums, and more.
One of the things SF does well is exotic cocktails and excellently-brewed beers. The Alchemist Bar & Loungeis certainly one-of-a-kind, with their steampunk theme and Victorian-esque décor. Their bar bites are tasty, but their unique cocktail flavor profiles and colors are what's worth coming for. Our personal favorite is the "Camping with Hipsters", consisting of mezcal, Benedictine, vetiver, pineapple, lemon, and yuzu soda.
The Alembic Bar is another awesome choice with classic, handcrafted cocktails and a rather interesting bar food menu. The dimly-lit space is most well-known for its famous Sazerac in a "glass rinsed with a green bitter liquid that shall remain nameless".
Temple will have all the top mainstream DJs and artists here in electronic music, and is aimed more towards very young crowds. 1015 Folsom is also all about electronic music, though tends to lean more towards the underground side with techno, tech house, and even some trance. Audio is very similar to 1015 regarding their lineups, with everything from light and airy melodic sets to banging 140 BPM hard techno.
If you're not much of a club person, there's still a lot to do at night. We recommend checking out the Alcatraz Night Tour, which includes roundtrip ferries, a guided tour, live boat narration, and much more. It's great for those history buffs or people who are attracted to the spooky side of things. The tour goes from the dock to the main prison building, though there are various other programs and presentations as well.
If night tours are your thing, there are 3 different bus companies that offer tours of the city. Gray Line Tours is the most affordable, but also the shortest at just 1.5 hours long. We really like the Big Bus Tours which are 2 hours long.
If you want somewhere to watch the sun set, you have to check out the Coit Tower. Open until 5 or 6, it's quite possibly the best place to catch the sun going down over the skyline. There are other great spots to catch it too, like at the top of Lombard Street by cable car or Mark Hopkins Hotel at the rooftop bar.
Weather –
While San Francisco gets about 259 days of sun per year, it also gets a lot of rain and wind! As it's literally right on the bay, there's not a lot blocking the wind and rain from getting to you. During winter, you may even see some hail or sleet! The city's coldest month is definitely January, and September is actually their warmest month, with an average daytime temperature of 71 degrees Fahrenheit.
We've seen the city even in the summertime, turn from a perfectly warm, sunny day, to windy and rainy in the matter of a couple hours. It's always a smart idea, no matter when you visit, to bring at least one pair of pants and a jacket. In the winter, bring some boots and something to cover your ears, too.
Attractions –
The main attractions in San Francisco are obviously the Golden Gate Bridge, Alcatraz Island, and Fisherman's Wharf. We do recommend seeing each one, and if you head to Fisherman's Wharf or Alcatraz, you're going to pass by Golden Gate, regardless. It's right there. The Bay Bridge also looks pretty cool, and will get you to Oakland, should you need to head that way.
Just North of San Francisco is Muir Woods. Here you will find the incomparable redwood trees. If you don't have a car, there are plenty of tours of Muir Woods from San Francisco.
Alcatraz is one of the most famous prisons throughout the world, and has been open as a tourist attraction since the early 70's. Al Capone and the Birdman are just some of the better-known criminals who were jailed here.
If you stop by Fisherman's Wharf, aside from the beautiful views, nautical experiences, and sea lions, you have to stop by Ghirardelli Square and try some chocolate! It's the perfect dessert after indulging in some fresh seafood!
Make sure to check out the USS Pampanito, if you're into WWII submarines. Oh, and to grab some cool souvenirs, head to Pier 39 which has over 50 stores and various eateries.
Chinatown is a must-see for us. It's the oldest Chinatown in North America, and is the biggest Chinese population outside of China. It has incredibly authentic food, and the fogginess of the bay always seems to make it look more ethereal and like something from a movie. It's fun to walk around whether day or night.
Introduced all the way in 1873, the cable cars are iconic to this area and even if you don't need to, just ride them at least once. The Powell-Mason and Powell-Hyde routes are the most beautiful, though they're also convenient for taking you to the Wharf, Nob Hill, and other spots.
Golden Gate Park is a place to relax and just breathe. After all, it's considered the "lungs" of the dense city. With over 5,000 types of plants and a ton of walking and cycling trails, you'll pass by the Japanese Tea Garden, SF Botanical Garden, de Young Museum, and more. The latter features art and period interiors from North America, along with various exhibits from Egypt, Greece, Rome, and more.
For a truly upscale experience, check out the Palace Hotel, which was built in 1875 near Market Street. Just the Garden Court reception area alone is stunning. Here, you have to have at least one cup of tea. Traditional afternoon tea is served here with fine china, sterling silver, and more.
The San Francisco to Yosemite Park Small Group Tour is our Editor's Choice for the best Yosemite tour