Whether you're a visitor or a resident of the San Francisco Bay Area, you have to make it a point to stop at Yosemite.
First protected in 1864, the national park Yosemite National Park boasts breathtaking waterfalls, centuries-old sequoias, legendary cliffs, and much more within its 1,200 square miles.
However, if you want to make the most of your trip to the park, we highly recommend signing up for a tour. We've taken it upon ourselves to try out all kinds of them to bring you the top Yosemite tours from San Francisco currently available!
We've got no time to waste, because adventure is waiting!
Top Yosemite Park Tours
The 7 Best Rated Yosemite Tours From San Francisco In 2023
Now lets take a closer look at the Yosemite tours from San Francisco so you can find the right one for you!
---
Yosemite Park Tour Reviews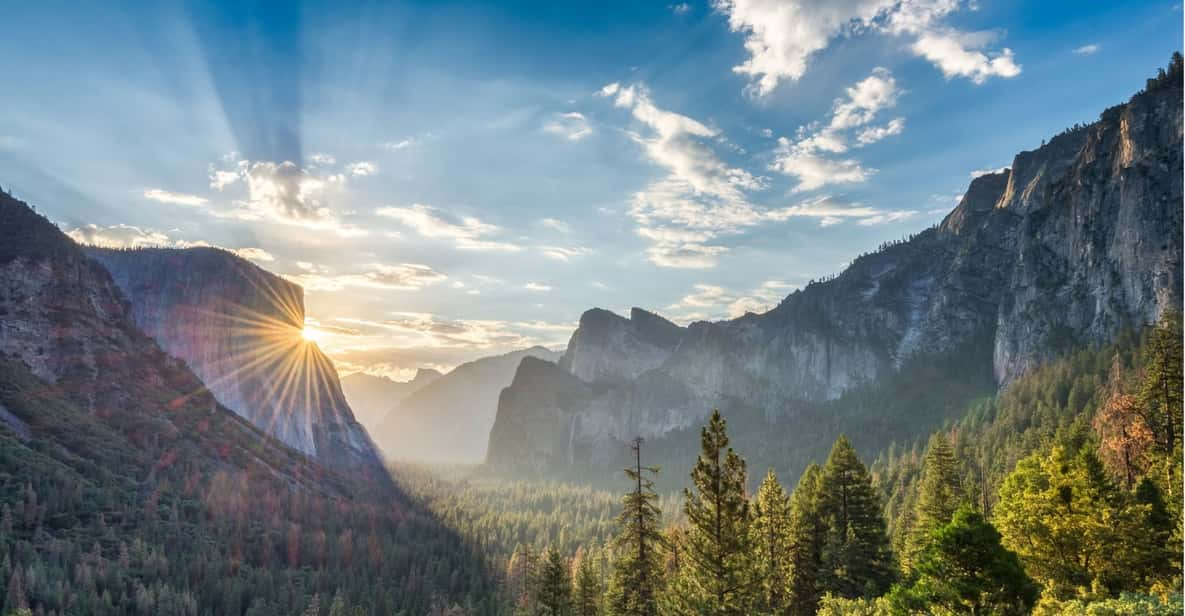 Tour Highlights
:
Departure:  Pickup From Select Locations
Duration: 15 hours
Includes: 

Yosemite entrance fee, p

rofessional guide, c

omfortable, responsible transportation in a biofueled mini-coach

Other: Comprehensive, all-day tour
This incredible day-long tour is educational, jaw-dropping, and a ton of fun! Taking you throughout world-famous rock formations and waterfalls throughout the Yosemite Valley, it's a wonderful way to spend a day right outside of San Francisco.
First off, there are various pickup zones (refer to tour details) to make sure that there is at least one pickup spot near you. These are located in more touristy areas, so you probably won't have any trouble getting to one – not to mention you have the BART to help you out with commuting if necessary.
Once you board your transportation, you'll start heading east over the Bay Bridge, which offers some pretty amazing views as well.
You'll see the Golden Gate, Alcatraz, Fisherman's Wharf, and more.
Crossing through the Central Valley, you may be getting a bit hungry. Luckily, they make a stop at a local fruit stand to fill you up with some pure energy, nutrients, and flavor!
The Central Valley is known for having rich volcanic soil, making it a prime location for crops and fruit trees. Specifically, berries and nuts, which make the perfect snack for road tripping! Next up, you'll head on into the foothills of the Sierra Nevadas. This mountain range provides a massive amount of water to the entire state of California, and is known for its snowy peaks in the winter months.
Going further into the mountains, you'll cross through where the legendary 49ers who came from all over the world to look for gold in the mid-1800's. You'll even go through the infamous gold rush town of Groveland, which is full of historic hotels, great eats, and the gorgeous Pine Mountain Lake. It's also one of the last stops before hitting our main attraction: Yosemite!
Once you arrive, you'll have a 1.5-hour narrated coach tour of the valley. You'll cover all kinds of notable natural wonders, such as the tallest waterfall in North America, El Capitan, Half Dome, Bridalveil Falls, Sentinel Dome, and more.
Bridalveil Falls is usually the first you'll encounter when you enter the park, and at 620 feet, it sure sets the tone for how incredible the rest of the tour will be. Don't forget to take photos at Inspiration Point, which offers one of the most mind-boggling views of the area.
Once your tour wraps up, you'll make a stop near the base of Yosemite Falls. You can choose to bring some picnic equipment or alternatively, stop by many of the other food options that exist in the park. With 3-4 hours of free time, you'll have more than enough to eat and check out the area.
The Mountain Room is one of our favorites, offering an upscale casual dining experience with perfect views of the falls while you enjoy a delicious steak or seafood! The Mountain Room Lounge is also a load of fun! Kick your feet up and roast a marshmallow or two here!
Aside from getting some good food and drinks in, you can also walk to the base of the falls, rent a cruiser bike, or hike some trails.
Aside from that, we recommend checking out the visitor's center, seeing the Ansel Adams Gallery (which is filled with the celebrated photographer's shots of the area), or stop at the distinguished Ahwahnee Hotel. The latter is over 100 years old, featuring a luxury lodge feel where many celebrities have stayed.
---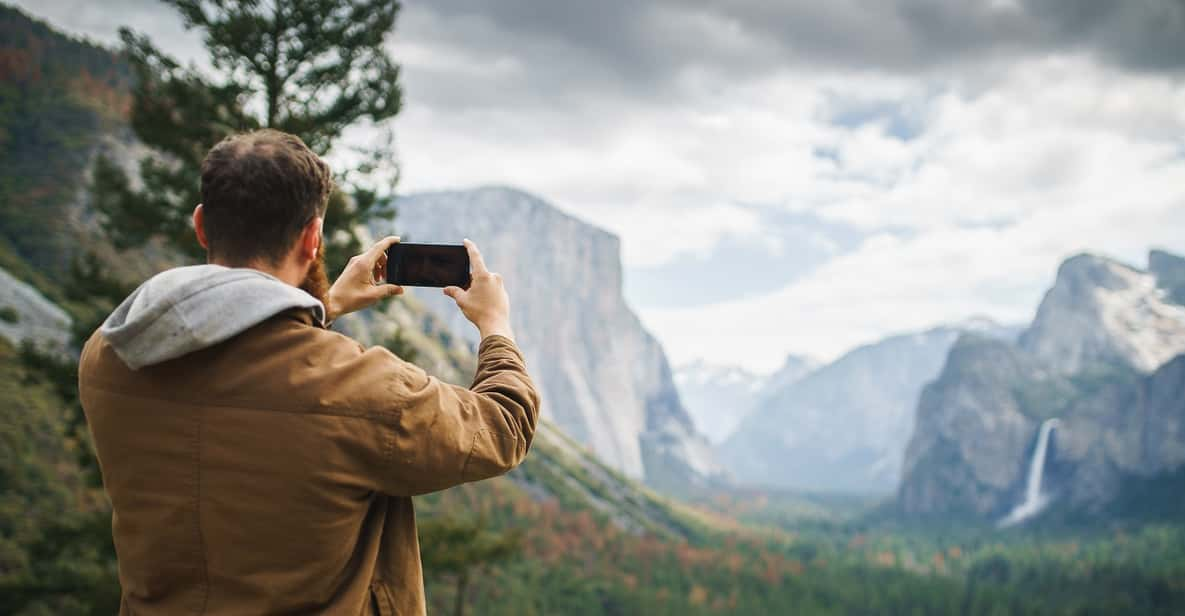 Tour Highlights
:
Departure: Pickups are available from most hotels in Downtown SF and Fisherman's Wharf. For other hotels, please provide hotel information and you will be provided with the closest pickup location. For Hilton Union Square: meet at the Mason Street entrance (eastern entrance) outside of the main doors.
Duration: 14 hours
Includes: 

Hotel pickup and drop-off from most San Francisco hotels, 

English-speaking tour guide, 

Yosemite entrance fee, 

Yosemite audio guide, p

ark map

Other: Either shared or private tour, all day
This one is just slightly shorter than the previous tour, but the Yosemite National Park & Giant Sequoias Hike can't be missed if you want to see the towering trees native to this area, too.
The live tour guide is in English but there are also optional audio guides in Spanish, Chinese, French, German, Italian, Japanese, Korean, and Portuguese!
It's time to put on that flannel shirt and hiking boots, because you're going to eat delicious foods and see amazing things!
The full-day tour starts off with a hotel pickup (make sure you check beforehand if yours is included) and you'll be on your way to the valley. You'll make your first stop in Oakdale, which is about 2 hours, depending on traffic.
Known as the "Cowboy Capital of the World", this historic town will transport you back in time to give you a glimpse of what the Old Western life was like.
To make sure you have enough energy for the day, you will also grab a hearty breakfast in Oakdale before setting off to either hike in Tuolumne Grove Trailhead or continue onto Tunnel View and Half Dome for some photo ops.
In total, you'll get about 5-6 hours to explore this more-than-a-century-old national park and natural wonders.
The entire time, you'll have audio commentary to guide and inform you about the interesting stories and history behind each place.
The Giant Sequoia Walk is a 1-mile paved trail with a 400-foot incline.
Coming here will remind you just how small we are, and is the perfect spot to take in some fresh air and appreciate these gentle giants.
In the winter time, things can get a little difficult with snow, so make sure you check ahead of time during these months.
---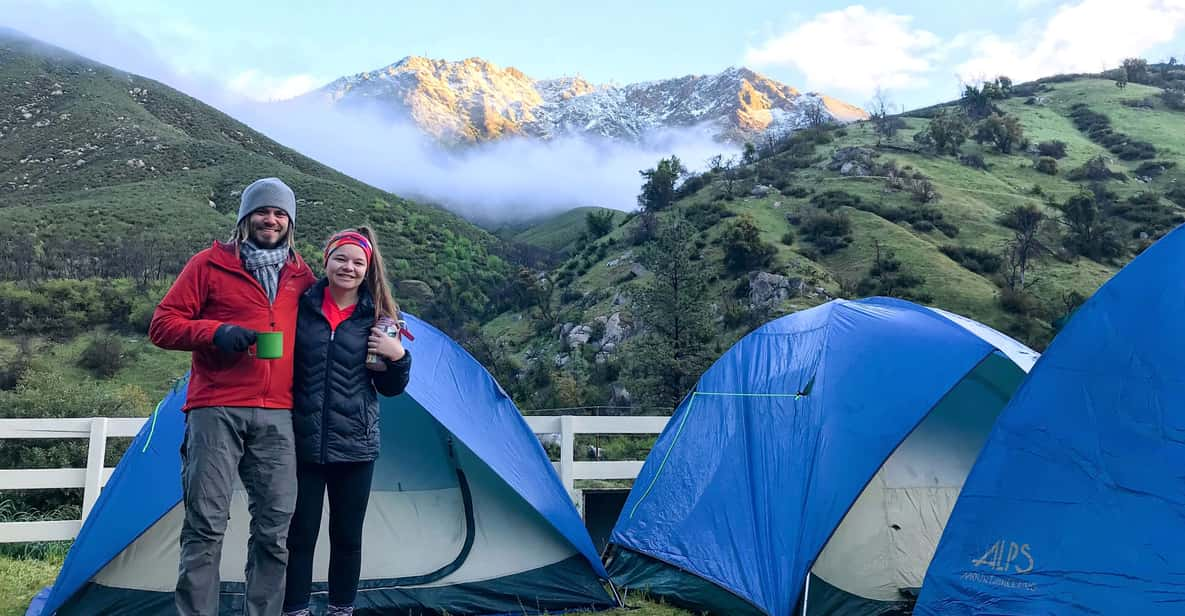 Tour Highlights
:
Departure: C

entral downtown San Francisco location

Duration: 3 days
Includes: 

Pick-up and drop off from a central downtown San Francisco location, n

arrated guided tour (all 3 days), 

5 fresh meals, 

Yosemite National Park entrance fee, t

ents, sleeping pads, and camping gear (sleeping bag required)

Other: Camping trip with mixed pre-planned/varying itinerary based on group's preferences
So, you say you're looking for a lengthier adventure than the previous two we've spoken about. Perhaps you are looking for a little weekend getaway or just want to get to know the Yosemite Valley even better. Whatever the case may be, you're sure to find what you're looking for in the Yosemite Valley 3-Day Camping Adventure!
The plan is to spend 2 nights camping in the great outdoors, along with some incredible swimming and hiking in the park.
You don't even have to worry about purchasing or lugging around camping gear as it's already provided with your tour!
You'll get out on the road in an eco-friendly, biofueled vehicle, carrying all equipment, passengers, and sleeping bags. Take note that the sleeping bags are not include, so make sure to bring yours.
Even if it's your first time camping, this is sure to be an amazing experience for you. In fact, it's probably the best way to go camping for your first time, as all camping, cooking, and tent gear is included.
Just remember that it's always good manners to help set up and take down the camp. Even if you don't know what you're doing at first, there will be an experienced guide to help ensure everyone has a positive experience. Each campsite features showers with hot water, high standards regarding cleanliness, and modern facilities. Swimming is accessible by a short walk, as well.
Food comes included, though you will have to help cook and/or clean up. What kind of food, you ask? Chicken, beef, and vegetarian options all available, fresh, and very tasty.
Day 1, you'll meet your guide at the corner of Mason and O'Farrell Streets in front of the Hilton at 8:15 am. Once you're outside of the city, you'll start heading through the gold country and stop for a yummy picnic with the sequoias to keep you company. It's crucial to mention that the first day's meals are not included in the price of the tour.
Afterward, you can choose to hike through these gigantic beings, offering a lot of oxygen and shade! Continue into the park on a 90-minute tour, and go down into the valley, which was popularized by Ansel Adams. Once there, your guide will offer some helpful advice and orient you to the park. At this time, you'll also cover the itinerary as well as some options you and the rest of your group can decide on for the following days.
After you've had some free time, you'll then head to the campsite and set up camp. After all that work and exploring, it's time to kick up your feet and enjoy some drinks around the campfire!
On Day 2, you'll wake up early and get breakfast and lunch ready, tidy up your campsite, and hop in the van for another fun day of adventuring! This day is made for lurking around Yosemite's High Country where you and your group will hike to May Lake and Mount Hoffman.
The hike to the lake is quite short with a pretty steady climb that is great for beginners. However, the optional climb to Mount Hoffman is a bit more challenging. Both offer a non-technical hike with fantastic, 360-degree picturesque backdrops.
You're definitely going to be wiped out by the end of this day! Afterward, head back to camp for a delicious dinner and relaxation.
Day 3 is a day for doing whatever the group decides on! This free day typically consists of heading back into the Yosemite Valley to take up some of the hikes, rent a bike, or simply relax by the deep green Merced River. Here, you'll also be able to take a dip in the water if you'd like to cool off. In May – early July, you'll also have the option of joining in on a whitewater rafting trip here!
When the day starts winding down, you'll head back to San Francisco and arrive at about 21:00.
---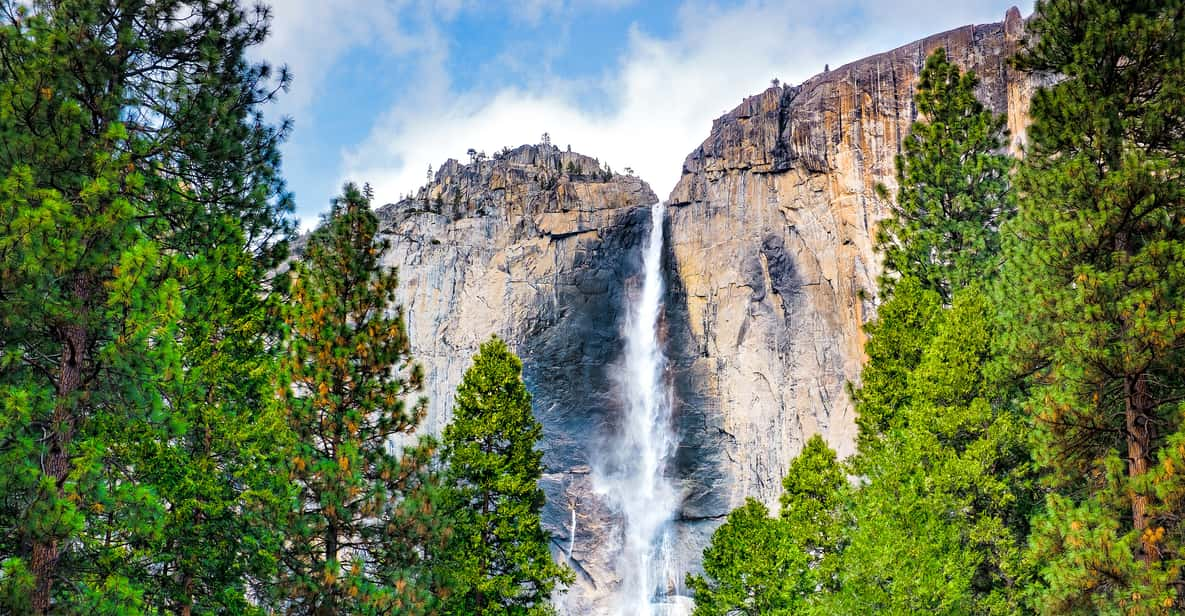 Tour Highlights
:
Departure: Gray Line Office at Union Square, 478 Post St. and select San Francisco hotels
Duration: 13 hours
Includes: H

otel pickup is for select San Francisco hotels, 

Chinese or English-speaking guide (depending on which you select), 

1-hour bus tour, d

river/guide, e

ntrance fees, t

ransportation by air-conditioned bus, 

Wi-Fi and restrooms on board

Other: Travel through original gold-mining spots, El Capitan, Half Dome, and more.
Next up, is the Yosemite National Park Tour from San Francisco: you'll jet off through the Bay Bridge and head through the Sierra Nevada foothills until you get to Yosemite National Park. You can choose whether to hear either English or Chinese on your tour, too.
Get ready for a majestic, unforgettable day that you're sure to repeat in the future!
Hotel pickup is available for select San Francisco hotels, meaning that you don't have to go out of your way to meet up with your tour guide. Just make sure that you check beforehand to ensure your accommodation is an option.
Once you get to the Central Valley, you'll take a bit of a rest from driving. Here, you'll get to sink into a comfy seat and enjoy some breakfast. After you've filled your stomach with some hometown bites, you'll continue on through gold country. Today, these towns are pretty modernized, though there are some cultural remnants from the 49'ers back in the day.
Your route takes you along the gorgeous Merced River, into the striking Sierra Nevada Mountains.
You'll mostly stay in the rolling foothills here. The erosion thanks to glaciers have now exposed massive granite monuments, accounting for the light color of these mountains today.
Once within Yosemite National Park, you'll spend 4 hours here – 1 of which consists of a guided tour to educate you on the area and its history.
The following 3 hours are time for you to explore on your own and take photos at widely-known spots such as: El Capitan, Bridalveil Falls, Vernal Falls, Cathedral Spires, Half Dome, Yosemite Falls, and more.
---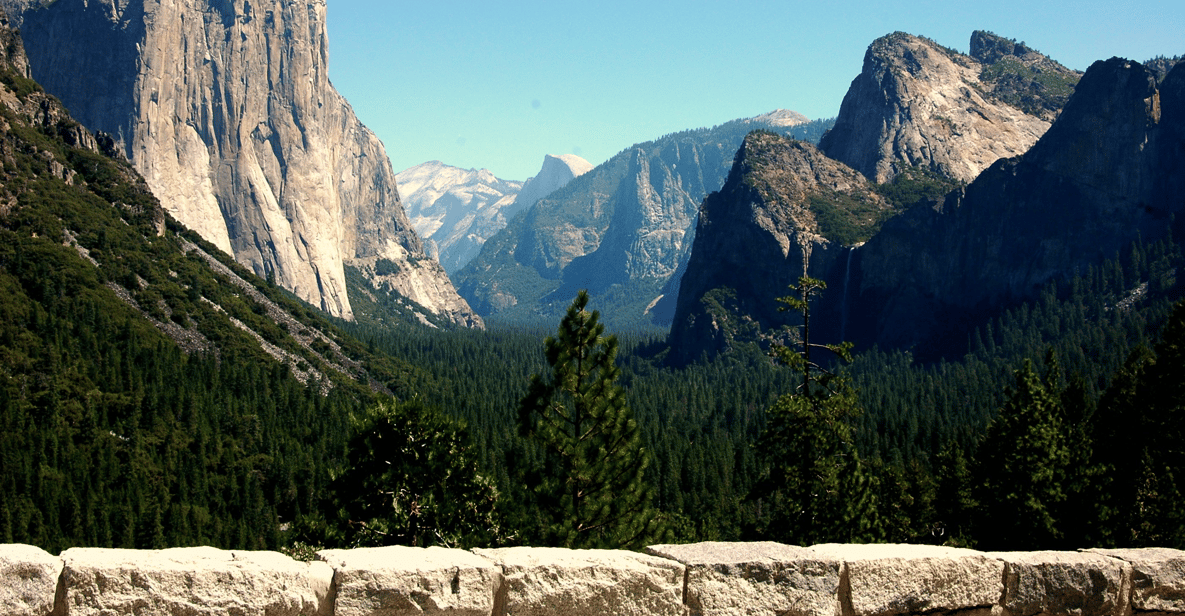 Tour Highlights
:
Departure: Complimentary pick-up from most San Francisco hotels
Duration: 2 days
Includes: 

San Francisco hotel pick-up and drop off, e

co-friendly transportation to and from Yosemite in biodiesel minibus, n

arrated Yosemite Valley tour, 

Yosemite Park entrance fee, o

vernight hotel accommodation at Yosemite Cedar Lodge

Other: Equally relaxing and exciting, as you get to explore the Yosemite park and relax in a fully-featured lodge at night
If one day is too short and 3 days is too long, the Cedar Lodge 2-Day Yosemite Park Tour is your Goldilocks option. As the name suggests, you'll be spending 2 days and 1 night in a homey cedar lodge along the bank of the Merced River.
Not everyone enjoys "roughing it" by camping, so this is a wonderful way to enjoy nature while still getting that deep relaxation in.
Just like most others on our guide, this tour also comes with a San Francisco hotel pick-up and drop off. Now you're on your way to breathe in that fresh mountain air and feel the sunshine on your skin!
From San Francisco, you'll drive all the way up to Cedar Lodge, located right in the Merced River Canyon. With outdoor swimming pools and spas, a private sandy beach, and trees everywhere, you'll be able to really let the stress melt away.
Once you arrive at the accommodation, you'll continue on to Mother Nature. You'll learn the history of the area as you get to check out Yosemite Valley in all its glory.
Yosemite Falls, Inspiration Point, Half Dome, Bridalveil Falls, and El Capitan are all monuments and attractions that you'll experience on the first day.
Your guide will give you a history lesson as you travel, too! After this, you'll go back to the lodge and explore all it has to offer.
The jacuzzi is one of our favorites, instantly relaxing the muscles and getting you ready for the next day's hike. The restaurant and bar are also crowd favorites and are sure to whet your appetite and quench your thirst!
For day 2, you'll venture out to Glacier Point where you'll hike around the Giant Sequoias should weather allow. As dusk approaches, you'll start your journey back to San Francisco and arrive around 21:00.
---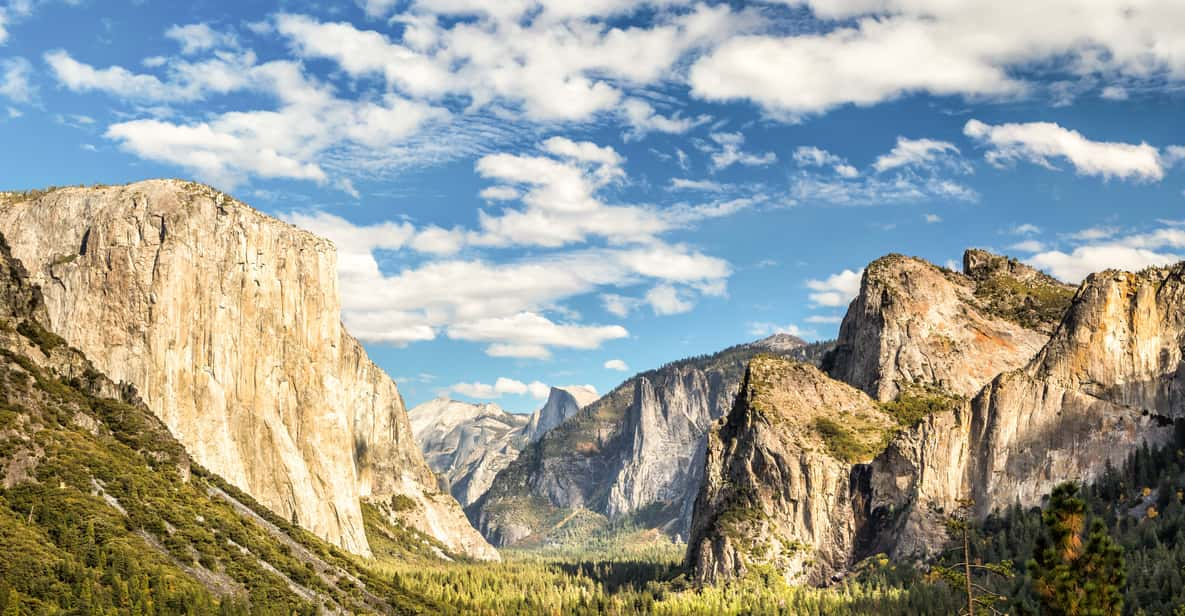 Tour Highlights
:
Departure: Pick-up from your accommodation in San Francisco
Duration: 12 hours
Includes:

Transportation, r

oad tolls, s

urcharges and taxes

Other: Travel is by private car, take the tour at your own pace
The Yosemite Private Full-Day Trip is great if you're just looking to go with a group of people close to you. It's definitely a more personal way to see this magnificent park, and you will get to ask your tour guide more questions, should you have any.
All transportation, tolls, and surcharges/taxes will already be taken care of, however, you will need to cover park admission fees.
Instead of driving in a van, you and a partner/small group will be traveling by private car. Keep in mind that if you have back problems, this may be aggravated by sitting in a car for such a long period of time. Otherwise, it's very convenient and lets you see things at your pace instead of worrying about a specific arrival time.
Your tour guide will let you know all about the infamous landmarks as you pass them, while ensuring everyone's safety and offering great hospitality. You'll have a personal pick-up from your SF accommodation, as well as some personalized recommendations of where to score some great photo ops! Based on this, you'll choose where you go.
The drive to Yosemite is a beautiful one – in fact, the drive alone is honestly worth it!
You'll also catch thick forests that really create a different atmosphere and air feel. Once you get to Glacier Point, you'll get the chance to see Half Dome, Yosemite Valley, and Yosemite Falls. El Capitan is right there, too, and is known as being one of the few almost-vertical rock formations of its kind in North America.
At the end of the day, you'll transfer back to SF right in time to catch the Bay Bridge Lights, which is a monumental light sculpture and art installation. Designed by Leo Villareal, it's made up of a whopping 25,000 individually-programmed white LED lights.
---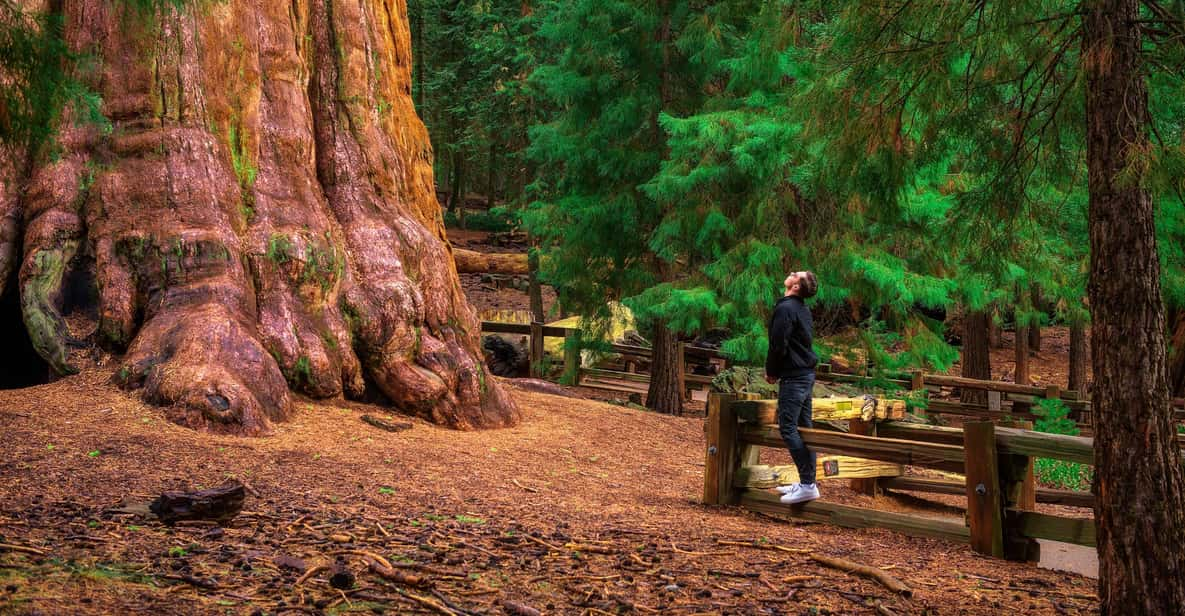 Tour Highlights
:
Departure: Pickup is available from 2 convenient locations: 6:20 AM at Hilton Union Square (Mason street side entrance) and 6:55 am at Dublin BART station (south side of the freeway, at the passenger loading zone)
Duration: 14 hours
Includes: 

Yosemite Park entrance fees, tr

ansportation in a biofuel vehicle

Other: Eco-friendly way of seeing Yosemite
We couldn't offer you the best Yosemite/San Francisco tours without including this one! The Yosemite National Park Full-Day Trip in Biofuel Vehicle is an eco-friendly way of seeing this iconic area that everyone should experience at least once!
Your guide will ensure you take advantage of the best views, capturing photos and making memories of this epic environment!
The 14-hour journey does include a pickup at many SF hotels – just make sure yours is included beforehand. Head out over the Bay Bridge and continue on until you get to the Central Valley, where you'll get out to take a break, stretch your legs, and get some breakfast!
After you feel ready to take on the day, you'll head back and onto the mountains. Here, you'll learn all about the gold rush in California and pass through some of the first settlements built during this time!
Once you get to Yosemite National Park, you'll get to fill those lungs full of clear, fresh air.
The first stop consists of a 2.5-mile hike to see the Tuolumne Grove of Giant Sequoias. Their beauty and sheer size will take your mind off of that burning in your quads a little bit, as you partake in this strenuous descent!
After, you'll go on to enjoy Bridalveil Falls, El Capitan, Half Dome, and much more. They make sure to take you to Tunnel View as well, where you'll take in captivating vistas of the eastern expanse.
Then, you'll get 1.5 hours to go out on your own and do what you want. Check out the visitor's center, visit the Ansel Adams Gallery, or grab a bite to eat.
In the late afternoon, it's time to head back to San Francisco. You'll arrive around 9 PM.
---
Yosemite Park Travel Guide
What should I see at Yosemite?
Yosemite Valley: This is where you will see the famous attractions like Half Dome, El Capitan, Yosemite Falls and Bridalveil Falls. You can also go hiking, biking, rafting, climbing or just stroll in the meadows or along the river.
Mariposa Grove: This is the largest and easiest to get to grove of giant sequoias in Yosemite. The trees here are the oldest and largest living things on the planet. There is a trail that wanders through the grove.
Glacier Point: This is probably the best viewing area in Yosemite. You have a panoramic view of Yosemite Valley, Half Dome and the High Sierra. You can drive or take a shuttle bus to Glacier Point or even hike there.
Tuolumne Meadows: This is a serene and scenic area in the high country of Yosemite. Here you will enjoy seeing alpine meadows, lakes and rivers. From here you can access many trails that go to other parts of the park.
Hetch Hetchy: One of the lesser-known but equally beautiful valleys in Yosemite. You can hike along the reservoir or Wapama Falls and Rancheria Falls.
What is the Best Way to do a Yosemite Day Trip From San Francisco?
Start Early: Its a bit of a drive, at least 3 hours depending on traffic. To help avoid traffic and the crowds you should leave San Francisco early! Your going to want to arrive in Yosemite before lunch time so you can see the park's main attractions before the crowds arrive.
Take a Guided Tour: Why not leave the driving to someone else? Take a guided tour! They will pick you up and take you there. Enjoy the scenery on the way without the stress of driving. Then they will take you on a guided tour of the best parts of Yosemite.
Plan Your Route: If you are going to do it yourself, plan your route through the park. Decide which sights you must see and what is a "would like to do". This will help you make the most of your time and avoid backtracking.
Dress Appropriately: Yosemite's weather can be unpredictable, so make sure you dress appropriately and dress in layers. It's a good idea to bring a raincoat, sunscreen and a hat. You should bring water, snacks and/or lunch so you don't have to find a restaurant for lunch.
Wear Comfortable Shoes: Your going to be doing a lot of walking/hiking. Wear comfortable shoes with good traction, preferably hiking shoes or boots. No flip-flops or other similar shoes!
Take Your Time: Don't rush around without enjoying the amazing scenery! Take your time and enjoy the mountains. Stop at lookout points and breathe in the fresh unpolluted air.
When is the Best Time to Visit Yosemite Park?
This really depends of what you like to do. If you enjoy hiking, camping and rock climbing the best time to goto Yosemite is in the spring and early summer (April to June). The weather is generally pretty mild, the crowds are not as large and the park is in peak season for wildflowers and waterfalls. Yosemite Valley is open year round so you can see famous sights like Half Dome and Yosemite Falls without worrying about the roads being closed.
If like winter sports like skiing and snowmobiling, Yosemite Park in the winter (December to March) is a great destination. The park's ski resort, Badger Pass is huge with over 90 miles of trails for skiing, snowboarding and snowshoeing. The snowmobiling here is amazing as well. There are plenty of guided snowmobile tours as well.
If the only time you can go is in the winter, Yosemite is still amazing. They snow covered trees and frozen waterfalls create an otherworldly landscape.
Of course the summer (July to September) is the most popular time to visit Yosemite. This popularity comes with large crowds and higher prices. If you do visit Yosemite in the summer, be prepared for long lines, crowded parking lots and expensive hotel rates! By booking your lodging and activities well in advance you can still have a great time while keeping your expenses to a reasonable level.
The San Francisco to Yosemite Park Small Group Tour is our Editor's Choice for the best Yosemite tour