Normandy is not only one of the most beautiful places in France (which is really saying something), but it's also infamous for its D-Day landing beaches and intriguing past.
If you're in Paris already, it's absolutely worth taking the day trip, soaking up the gorgeous countryside landscapes along the way. While you could take a train from the capital, your experience will be unmatched to that of an expertly-guided tour.
We've taken it upon ourselves to rate the top Normandy tours from Paris that will be sure to be one of the most memorable travel experiences of your life! Let's get started.
Be sure to see our reviews of Paris Catacomb Tours and Seine River Dinner Cruises.
Best Normandy Day Trips From Paris
The 7 Top Rated Normandy Day Trips From Paris For 2023
Now lets take a closer look at the Normandy D-Day Beach tours from Paris so you can find the right one for you!
---
Normandy Tours From Paris Reviews
Tour Highlights
:
---
Departure: 6 Avenue de Wagram
Duration: 12 hours
Includes: 

English-speaking guide, 

Transportation by minibus, 

Operation Overlord Museum entry

Other: Use military maps/plans/photos from D-Day campaign plans
Our first tour of the bunch consistently receives glowing ratings from guests, and we completely agree with what they have to say. The Normandy D-Day Landing Beaches Full-Day Tour from Paris will evoke plenty of emotion, as you learn about the events before and during the June 6th, 1944 invasion.
You won't miss out on anything, thanks to the seamless transfers included and impeccable organization from each staff member. Meet your tour guide early in the morning and hop on a comfortable minibus heading towards the Normandy countryside.
As you ride along, your knowledgeable tour guide will share interesting historical accounts, offering insight into why this 50-mile stretch of beaches became so important to WWII. Upon arrival, you'll be able to see the German encampments at Longue Ser La Mer, Omaha Beach of course, Pont du Hoc, the American Cemetery, and the Operation Overlord Museum.
Entry to the museum comes included with your tour, which was full of fascinating pieces of history and overall very well done. At the cemetery, you'll witness the over 10,000 white crosses dedicated to the fallen soldiers.
Our guide took us to various battlefields, transporting us back in time with the rich stories and incorporation of useful tools like military maps, plans, and photos from D-Day campaign plans.
You'll follow in the footsteps of the Allied liberators while also getting a glimpse into how the average French national dealt with the stressful (to say the least) occupation, with some aiding in the powerful French Resistance.
---
Tour Highlights
:
---
Departure: Hotel pickup and drop-off included
Duration: 13 hours
Includes: Private driver/guide, Transport by private vehicle
Other: Learn about D-Day but also overall Normandy region
While it's worth visiting Normandy in any capacity, participating in a completely customized tour of the legendary region simply takes things to another level. That's exactly what you'll get with the Normandy D-Day Private Tour with Omaha Beach from Paris!
Tell your guide your interests, and they'll design a tour based on your specifications, taking you through memorials and museums along the way. Wake up bright and early and get ready, because your guide and private driver will be there to pick you up from your hotel lobby (or at the airport) around 6:30 am!
As we mentioned just a moment ago, you will get to benefit from a customized tour but there are generally a good amount of the same stops you'll take as the others. Some of the key points that are included in just about every one, are Omaha Beach, the American Cemetery, and Pointe du Hoc.
When you get to Omaha Beach, you'll stop at various sections such as the "Dog Green/Charlie" areas which were shown in the Blockbuster film, Saving Private Ryan. At Pointe du Hoc, you're sure to be impressed with the actual site where bomb craters, German bunkers, and more reside.
After walking around and learning about these important sites, you'll take a break for a beautiful lunch in the charming fishing village of Port-en-Bessin-Huppain.
The guides really make the tour that much richer, with their kind demeanors, engaging way of telling stories, and vast knowledge. You'll come back knowing so much more about not only D-Day and World War II, but the entire Normandy region's expansive history.
---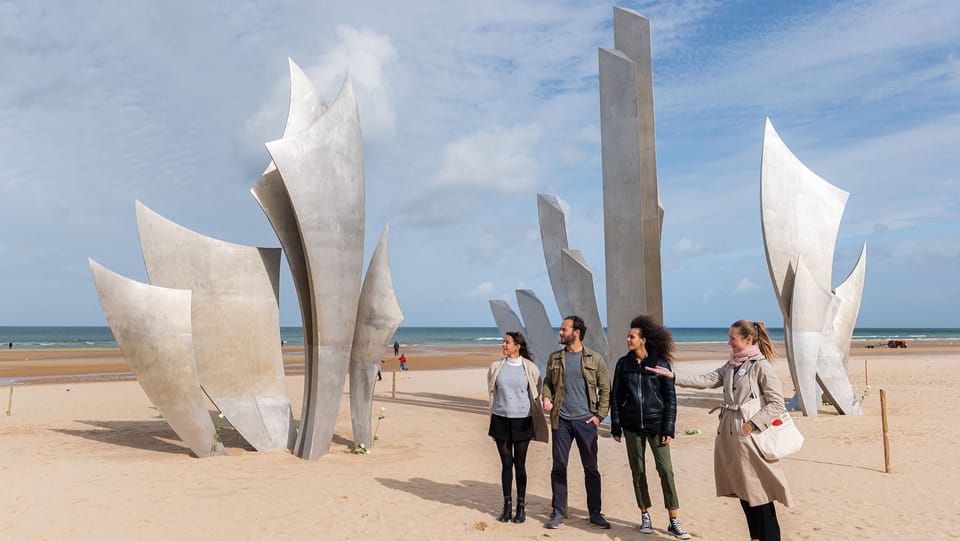 Tour Highlights
:
---
Departure: Hotel pickup and drop-off included
Duration: 2 days
Includes: 

Transportation in a luxury air-conditioned coach, 

Entrance tickets for the various monument and museum visits, 

Accommodation in a 4-star hotel (double room accommodation with bathroom), 

Porterage service on hotel arrival and departure, 

Buffet breakfast and evening meals, 

Services of a licensed multilingual guide

Other: Explore coastal regions of Normandy and Brittany, including Rouen, Saint-Malo, and Mont Saint-Michel
Perhaps you're interested in learning more about Normandy, but really want to dive into the deep end of things. If the other tours look interesting to you, but you'd like to see even more of the area, this next tour is the one for you.
The 2-Day Normandy & Brittany Tour is an immersive experience honestly unlike any other in terms of how much you're going to both see and learn.
This is a fantastic way of escaping the busy Parisian metropolis, exploring all throughout the breathtaking coastal regions of Normandy and Brittany. Head out in your luxury, air-conditioned coach and stop at Rouen first for a city tour over the cobblestoned paths through the various Gothic churches, medieval half-timbered houses, and their own Notre Dame.
Then head to Honfluer's new cable-stayed bridge and enjoy a tasty lunch before heading to Normandy's beaches and stay in Novotel Caen. Head out in the morning to Saint-Malo in Brittany, where you'll take another guided town tour among the ramparts and gorgeous cathedral.
Refuel with a traditional lunch before heading out to the incredible former Benedictine abbey of Mont-Saint-Michel, where you'll get to marvel at this medievel masterpiece. After touring around the abbey, you'll have plenty of free time to explore the town as you wish.
Throughout the entire time, you'll have a reliable and professional guide to answer any questions you may have. They're so accommodating and do their best to show you all of the gems that the region has to offer (which is quite a lot!), from the most sombering to the most exhilerating moments.
---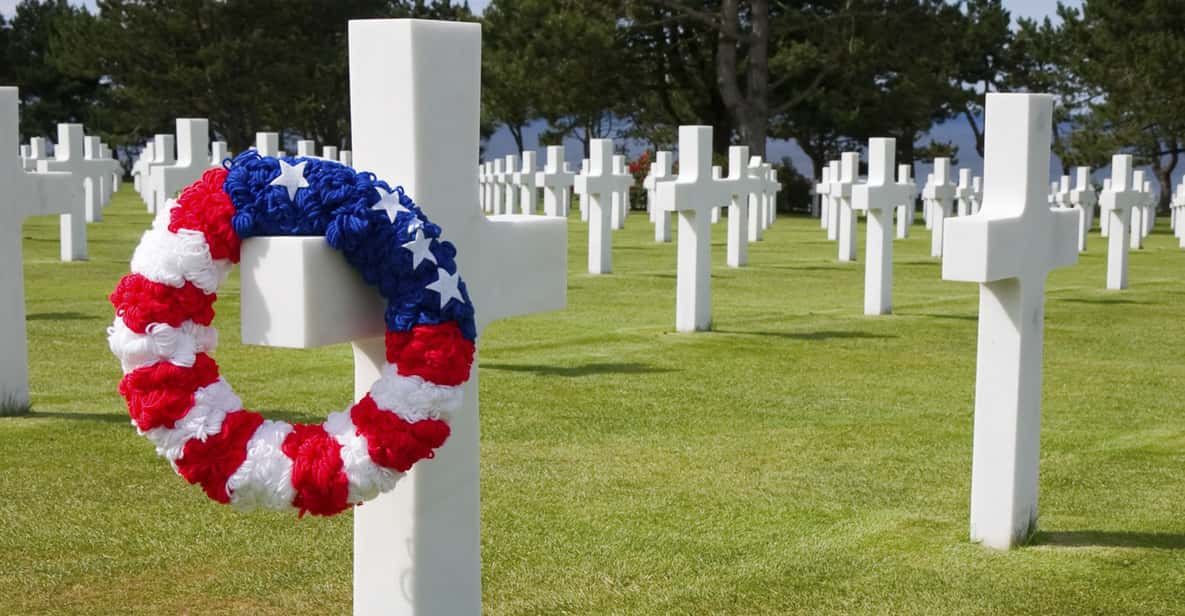 Tour Highlights
:
---
Departure: Frame Brasserie at Hotel Pullman
Duration: 14 hours
Includes: 

Live guide, 

Visit the American Cemetery in Colleville-sur-Mer, 

Photo stop at Omaha Beach, 

Stop at Arromanches Omaha Beach

Other: Visit various beaches
If you only have one day free outside of Paris, we highly recommend the Normandy D-Day Beaches Day Trip from Paris Tour. This 14-hour tour is a great opportunity to learn about the history of the area, so if you or someone else in your party is a history buff you can't miss this one.
Your guide is an expert on the subject, so you can count on seeing some seriously cool (but also some serious) monuments and locations! Meet up in the morning at the Frame Brasserie at Hotel Pullman located in the center of Paris and board a luxury, air-conditioned coach that will take you out to the relaxing French countryside.
Green, rolling hills and plenty of flora and fauna will make an appearance, offering the perfect picturesque views to sit back and enjoy the journey. Your first stop will be the American Cemetery of Saint Laurent which sits on a whopping 170 acres.
Next up is Arromanches on Omaha Beach, known as the location where an artificial port was created but also specifically the site of the D-Day landings. Learn about how the land, air, and sea forces of the Allies all worked together that day in 1944 to create the biggest invasion force that we know of, in all of history.
Some of our favorite parts were seeing the intact German bunkers and visiting the memorials, thorugh navigating the narrow streets were also kind of fun!
This is a great tour for getting to know the overall history of the area, and giving you a taste of each location so you can go back and tour more in-depth later on.
---
Tour Highlights
:
---
Departure: 14400 Bayeux
Duration: 13 hours
Includes: Rail to and from Paris to Bayeux, Normandy, Pick-up and drop-off in Bayeux
Other: Convenient train transport
If you're short on time and want to get the biggest bang for your buck, you're in the right place. The Normandy D-Day Tour from Paris is just the ticket for those who really want to pack as much in as possible in just one day, without compromising on quality.
Rather than head out in a luxury coach like most of the tours on this guide do, you'll instead take a rail from Paris to Bayeux, Normandy so you get there without wasting any time.
Once you arrive to Normandy, you'll take off with your guide and the rest of your small party for an intimate tour of the area. Feel free to ask them any questions you may have, and we're sure that they'll be able to answer them for you!
Your first stop is the D-Day Beaches, naturally, where you'll go on a rather extensive walk narrated with interesting historical talks at each spot.
Stop at Sainte-Mere-Eglise, which is the site where approximately 14,000 parachutists were dropped as the sun rose on the Cherbourg peninsula. There's a pretty wild story associated with this day, where one unit made the mistake of landing in the town square, with one airmon left dangling from the church steeple (don't worry, he survived!).
Next, is Utah Beach, which was the first beach the Allied troops landed on – up to 23,000 Americans! Omaha Beach is a must, and is the beach most of us associate with D-Day.
Learn all about the different campaigns, the successful and not-so-successful landings, and many of the stories of specific airmen. Continue on to Pointe Du Hoc Memorial, Arromanches, and Colleville-sur-Mer for even more learning experiences!
---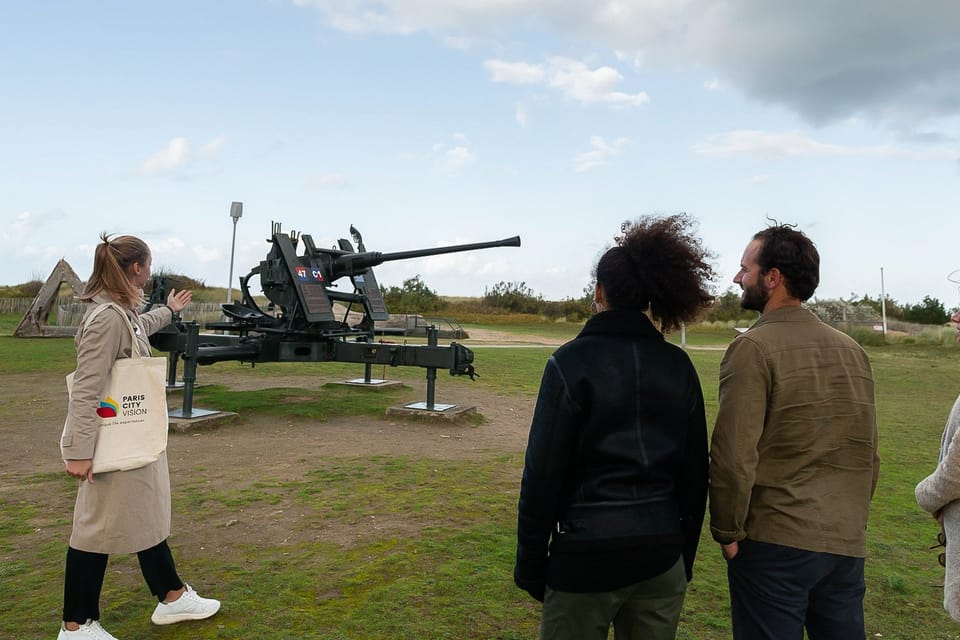 Tour Highlights
:
---
Departure:

18 Av. de Suffren, 75015 Paris

Duration: 12 hours
Includes: 

Guide tour, 

Round-trip transportation from the meeting point

Other: Budget-friendly tour
Whether you're American or you are simply curious about the history of the Normandy region, you'll appreciate our next tour. The Normandy Landing Beaches D-Day Tour by Minibus from Paris perfectly balances quality while still keeping it relatively low-budget in terms of price.
Throughout these 12 hours, you'll head by climate-controlled, comfortable minibus and into the French countryside and gain a much different perspective on the area.
We highly recommend bringing along some comfortable walking shoes and a jacket, as it can get quite wet and windy, no matter the time of year. First, stop at the Normandy American Cemetery and Memorial, which the US Army constructed shortly after D-Day.
Spanning over a whopping 172 acres, it contains almost 10,000 graves, looking out over Omaha Beach. It definitely invokes a certain kind of feeling, seamlessly connecting the two sites to one another.
Continue on to Omaha Beach, which is the site of unfortunately the most vulnerable and thus, most bloody landing zone. With a sea of bullets coming at them, paratroopers faced around a 1 in 4 chance of surviving D-Day!
Take some time to check out the ruins of the Arromanches' artificial harbor, constructed in around just 2 weeks by the Allies to help with their mission!
After, you'll head on along the coast through Gold Beach and Juno Beach – both of which (along with Sword beach) were used as landing sights for the British and Canadian soldiers. Once at Juno Beach, you'll receive a very insightful guided tour of what currently remains of the Atlantic Wall.
---
Tour Highlights
:
---
Departure: 28 Rue Jean Rey, 75015 Paris
Duration: 14 hours
Includes: Roundtrip transportation to Normandy from Paris, Service of a Normandy D-Day expert licensed guide., Photo-stop at Omaha Beach, Visit of the American Cemetery, Stop at Arromanches or at Juno Beach
Other: Expert licensed guide throughout tour
While you could definitely rent a car and explore the area yourself, you're better off leaving things to the professionals who know all the ins and outs of Normandy. On this next tour, you just have to worry about bringing a sense of wonder while your guides take care of the rest.
The Normandy D-Day Beaches Guided Day Trip Tour is one of the most well-planned, professional excursions we've had the joy of partaking in!
Meet your tour guide at 7:00 am at the Hotel Pullman in central Paris, where you'll get acquainted and make the trip out to the charming countryside. It's a wonderful contrast against the City of Lights, which is always hustling and bustling!
As you ride along, your guide will tell you some interesting stories about the region, and is more than happy to answer any questions any of you may have.
Your first stop is the Caen Memorial Museum, located around 10 miles from the English Channel and was a very important site during WWII. Here, you'll learn indepth about D-Day and the Battle of Normandy, covering everything from the Nazi occupation to the Jewish locals.
Then, head over to Omaha beach for a photo stop and learn more about the gravity of these battles at the American Cemetery in Colleville-sur-Mer.
You and your group can choose to stop at either the old artificial port of Arromanches, or at Juno Beach, where the Canadian soldiers landed. Both are very interesting, and you're sure to learn a lot about the campaigns involving both locations!
---
FAQs About Normandy D-Day Tours
Can You do a Normandy Trip in One Day?
So you are looking to explore the Normandy beaches and see the cemetery?Well the good news is,  you can do it as a day trip just be prepared for a long day! Normandy is 125 miles west of Paris and is about 2.5 hours by train.
You can take the train to either Bayeux or Caen. These are the two historic cities closest to the Normandy beaches. From there you can take local tour or hire a guide to take you to the main sites.
Can I Take a Train from Paris to Normandy?
There is no direct train to the Normandy Beaches from Paris. You can take a train from Paris Saint-Lazare station to Le Havre. This takes just over 2 hours. Once you are there you can rent a car or hire a tour guide to take you to the main sites like Omaha Beach, Pointe du Hoc and of course the American Cemetery.
The other option is to take a train from Paris Saint-Lazare to Bayeux. This is about two and a half hour train ride. Bayeux is a medieval town that is worth exploring on its own. It has a beautiful cathedral and a very famous tapestry depicting the Norman conquest of England in 1066. Just like Le Havre you can rent a car or take a local tour to the historic sites.
Can a do a Tour of Normandy from Paris on my own?
If you are an independent traveler and want to explore without the fixed schedule of a tour, you can do it on your own. You need to do some planning and be prepared for a long day of driving.
The main challenge of doing a tour of Normandy on your own is getting there and getting around to see the sights. You can take a train from Paris to Normandy, however you will need to transfer at least once and book your tickets well in advance, especially in the summer. We would recommend renting a car and driving yourself.
Where to visit and how much time to spend at each site is where the planning comes in. There is much more than just the D-Day beaches and the cemetery. There is a lot to see and do in Normandy and there is no way to see it all in one day.
Should I Take a Guided Tour of Normandy?
We would say yes, a guided tour is the best way to see and enjoy a day at Normandy. Here are a few reasons why:
You will learn more: An expert tour guide will give you the history and significance of the places you visit, especially true of the D-Day landing beaches. A tour guide will make the sights come alive with stories and insider information that is not common knowledge.
Save aggravation: Save time and hassle by leaving the transportation, tickets and entry fees to the professionals. No worrying about driving, parking, tolls, gas or getting lost. You can also avoid long lines and crowds with skip the line passes.
Convenience: Enjoy the ride in a comfortable luxury air-conditioned coach or van. You have the choice of a large group in a bus or a small group with more personal attention. You will have lunch and drinks at some local restaurants that the tourists don't know about.
The Normandy D-Day Landing Beaches Full-Day Tour is our Editors Choice for the best Normandy tour from Paris