Paris is undoubtedly one of the most beautiful places in the world, with its rich history, incredible architecture, tons of museums, and much more. It only makes sense then that it's also one of the top tourist destinations in the world.
Another one of the top attractions is the Seine river running right through the center of the city. With so much to offer, it can be hard to narrow it down to the activities that will be most worth your time and money.
Seine river dinner cruises are always a good idea, and we have all of the best ones right here for you to choose from!
Be sure to see our reviews of Day Trips to Normandy and Paris Catacomb Tours.
Top Dinner Cruises on the Seine River
---
The 5 Best Rated Seine River Dinner Cruises For 2023
Now lets take a closer look at the dinner cruises on the river Seine so you can find the right one for you!
---
Seine River Dinner Cruise Reviews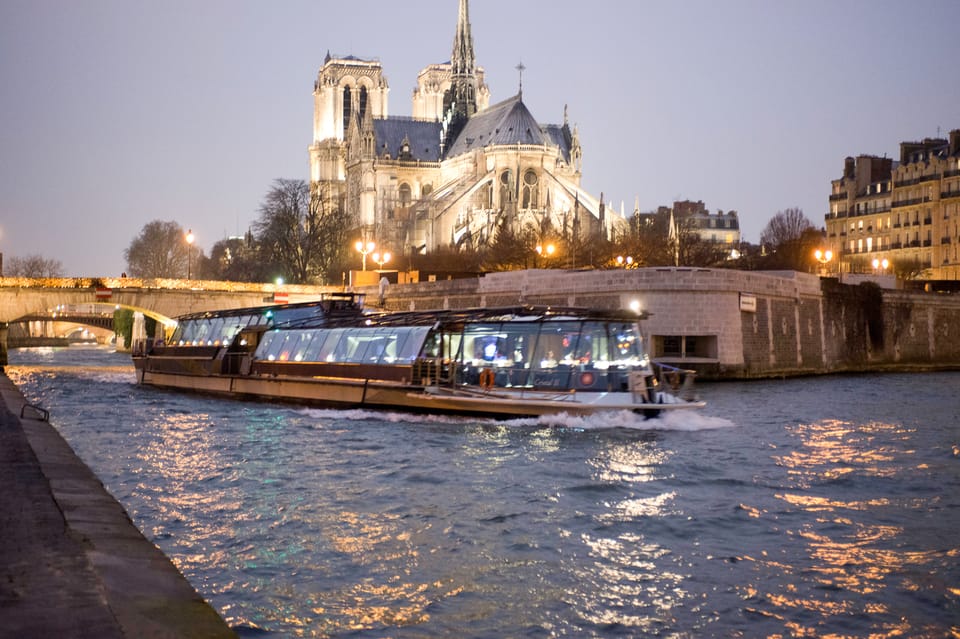 Tour Highlights
:
---
Departure: Varies depending on the option chosen
Duration: 2.5 hours
Includes: 

River Seine cruise, 

3-course meal, c

hampagne and appetizers (depending on the options selected)

Other: Vegetarian options available
Paris is simply magical, and it's definitely not hard to find beauty when you're walking around. However, if you really want to see Paris at its greatest, we highly recommend the Evening Cruise with Dinner on River Seine.
This 2.5-hour tour is one of the longer ones on our guide, and will have you enjoying delicious eats while watching the City of Lights in all its glory.
You have 4 different meeting points available, ensuring there's always somewhere closeby for your convenience. Make sure to follow the dress code that is "smart casual", as this is really a nice cruise.
The crew will escort you onto the sightseeing boat with sides and roof made of glass so nothing gets in the way of seeing important monuments. These include Les Invalides, the French Parliament, former Beaux-Arts railway station of Musée d'Orsay, Notre Dame Cathedral, Eiffel Tower, and more.
A 3-course meal with optional extras will be served soon after you begin sailing. You can choose to add on champagne, additional aperitifs, and priority seating with even better views.
To start, you'll be offered a glass of champagne while they bring out the starters and then main course. A bottle of red or white wine for 4 people is also included, making it perfect for bringing a couple of guests along.
The live music only adds to the romantic setting, along with the sun setting over the tops of the city buildings and reflecting off of the river.
For a night out with your significant other or a small family gathering, it's one of the best tours!
---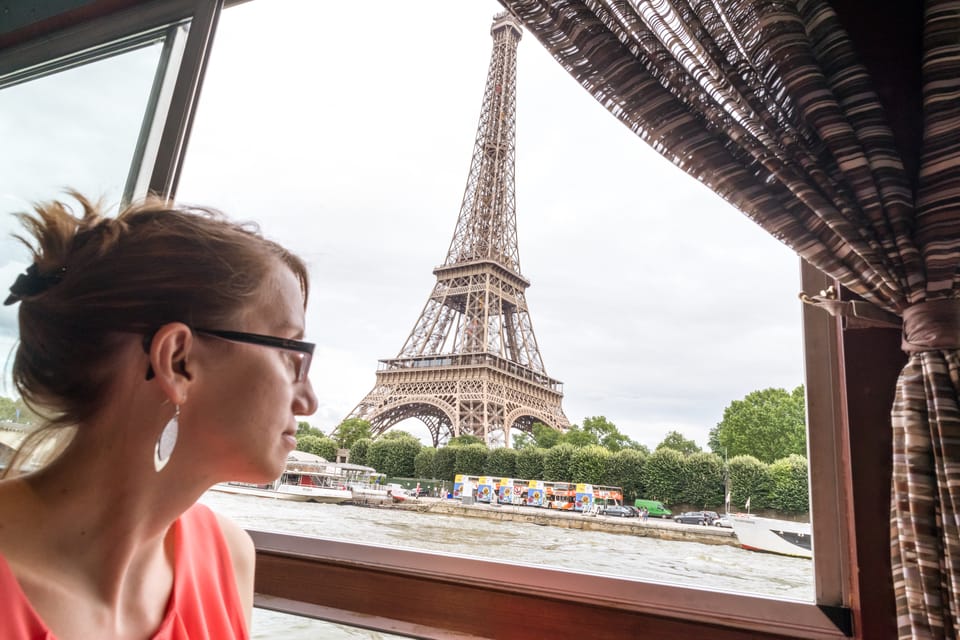 Tour Highlights
:
---
Departure: 1 rue de la Légion d'Honneur 75007
Duration: 70 – 75 minutes
Includes: 

Seine River cruise, 

3-course dinner, c

offee or tea

Other: Classic French menu
Does the idea of munching on delicious food as you float down the Seine catch your interest but you need something a bit shorter to fit into your schedule? If so, take a good look at the Paris: Early Evening Dinner Cruise on the River Seine. Clocking in at just a bit over an hour, this one starts earlier than our first cruise and is a ton of fun!
Meet your group at the Paris Seine La Marina, making sure you walk down the stairs down to where the river and boats are. You will love how elegant and clean the boat is, and will be immediately escorted to your table where you'll have incredible panoramic views of the river and stunning landmarks nearby.
The glass-enclosed boat will allow you to see ornate structures such as the Musée d'Orsay, Eiffel Tower, Notre Dame, Louvre Museum (which is enormous!), French National Assembly, and even pass under the gorgeous Pont Neuf.
As you do so, you'll be served a starter of duck foie gras, apple compote, and cinnamon madeleine. You'll sip on a freshly-brewed coffee or tea, though you can also choose to purchase a la carte cocktails, wine, beer, and soft drinks.
The main courses are absolutely delicious, and consist of some traditionally-French selections with varied meat and fish options. The desserts are incredible as well, and if you'd like, you can also choose to add on a cheese plate (highly recommended at such low prices and tasty quality).
As you float down the river, there's an app included that will tell you exactly what you're seeing and interesting descriptions. However, the staff is very friendly and will also answer any questions about any sights you may have.
---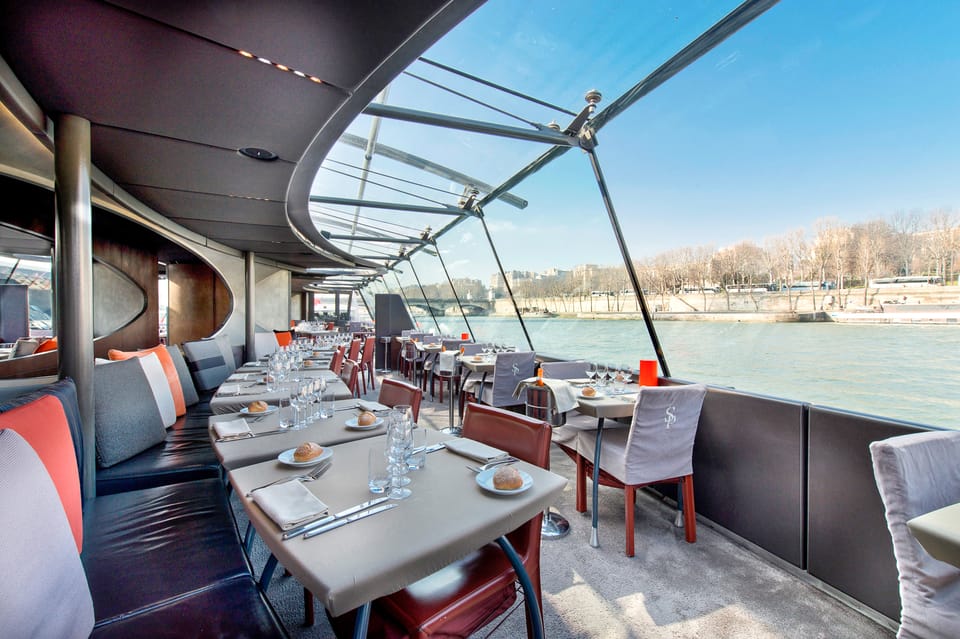 Tour Highlights
:
---
Departure: Meeting point may vary depending on the option booked
Duration: 2 hours
Includes:  

3-course lunch, with appetizer, white and red wine, mineral water, and coffee, c

heese course ("Service Privilège" and "Service Premier" options), c

ruise through the heart of Paris, t

oilets on board

Other: Great for learning about pairing cheeses and wine
This 2-hour cruise features various start times, which make it easy to fit into a packed schedule. The Paris: 2-Hour River Seine Lunch Cruise is elegant, and everything you imagine Paris to be. Enjoy a delicious 3-course lunch à-la-carte meal along with onboard entertainment to set the mood.
Meet up with your host at the Port de la Bourdonnais located in the center of the city. From the very beginning, you can tell that the staff takes their jobs very seriously and are there to ensure you have a fantastic time.
They'll guide you to your seat (you can choose to pay a bit more for premium window seats), where you'll be able to relax and enjoy the view.
Before you get started, you'll be served either a cup of coffee, tea, mineral water, or another beverage of your choice. The smell of cooking starts wafting through the cabin, and appetizers will begin being served to guests.
At this time, you can select either a white or red wine to accompany your cheese course if you select either "Service Privilège" or "Service Premier" options. Otherwise, head straight to the main course.
The panoramic vistas from the glass boat are superb, especially if it's your first time in Paris. You'll be able to quickly become acquainted with where some of the most popular landmarks are laid out throughout the city, as well as get ideas from where you want to go once back on land.
One of the great things about Paris is that the majority (not all) of the biggest attractions are located right on the river, so this tour will take you from everywhere from the French National Library and Les Invalides to the Eiffel Tower.
---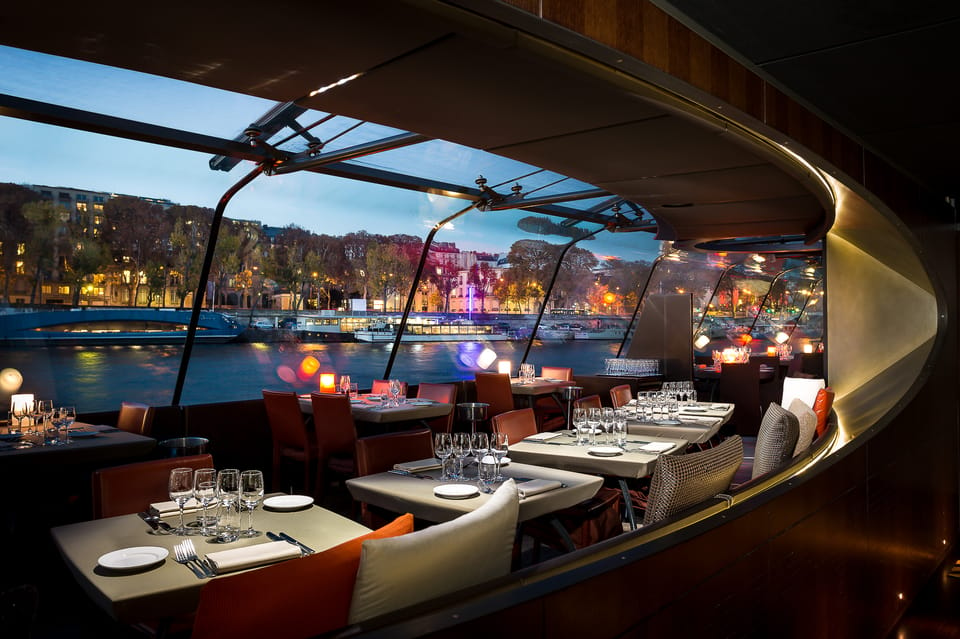 Tour Highlights
:
---
Departure: Varies
Duration: 75 minutes
Includes:

Cruise, t

able seating (varies depending on option selected), s

tarter, main course, and dessert, a

peritif, wine, mineral water, and coffee, c

hampagne (front boat table seating only)

Other: Many different seating and dining options
While there are plenty of Seine dinner cruises out there, this one sets itself apart due to its cut-above-the-rest dinner options. The chef is truly a star here, bringing traditional French dishes along with interesting twists on traditional food that will want you coming back for not only the views but the eats!
Make sure to wear your stretchy pants for the Paris: Early Dinner Cruise with Dessert on the Seine River! If you have plans later in the evening, this is also a nice selection as it's a bit shorter than most others on our guide.
At 75 minutes, it will take you down the river as you view some of the most iconic pieces of architecture throughout French history while enjoying a fabulous 3-course gourmet dinner.
This is a fine dining atmosphere, so dressing nicely is necessary. However, they are still very welcoming to entire families, and there are no age limits.
Once you meet up with your host, they'll guide your entire group to your table. You can choose between center boat, front boat, or window table seating depending on what you prefer.
Once you're all sitting down, you'll be served an aperitif or wine, coffee, or mineral water before the first course is served.
Typical starters include duck foie gras from southwestern France topped with a perfectly-complementary cherry-rhubarb sauce with Pondicherry, snails and French-style peas, parmesan shortbread, and smoked duck breast shavings.
There are delicious vegetarian menu options as well for all 3 courses, which we noticed were greatly appreciated.
---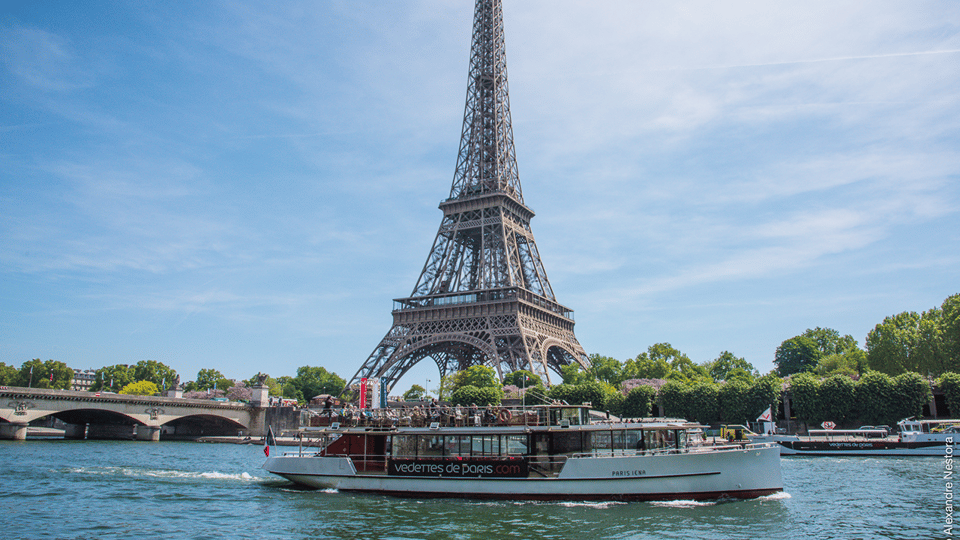 Tour Highlights
:
---
Departure: Les Vedettes de Paris, Port de Suffren
Duration: 1 hour
Includes: 

English-speaking sommelier, p

rivate salon and deck at the front of the boat, 

3 good Champagnes from boutique wineries, i

nformation about Paris monuments and Champagne

Other: Expert sommelier shares facts and champagne
If you'd like to learn more about champagne from an expert sommelier, you're in the right place. The Paris: 1-Hour Seine River Champagne Cruise with 3 Tastings offers all that and much more! Lasting just an hour, it packs in a whole lot of valuable knowledge, beautiful views, and incredible service into a short amount of time!
We should mention that if you want a more private, exclusive dinner cruise, this one is one of the best. It is perfect for small groups, and you don't have to worry about anyone potentially crowding your view.
Once you meet up with your host, you'll board and be escorted to the table of your selection. The private salon and deck at the front of the boat offer a couple different seating options, depending on what view you prefer.
You'll meet your expert sommelier, who will tell you all about where champagne comes from, what makes it champagne, and how to taste them.
You'll start sailing down the river, spotting different attractions along the way, such as the Ile de la Cité, Louvre, Notre Dame, Eiffel Tower, and more.
You'll typically be served a Brut, Demi-Sec, and Rosé so you can taste and see the differences clearly within the 3 types of champagne. If you have any question related to champagne or Paris, they seem to know everything!
This fun, interactive experience is perfect for a date night as you'll know more about what each of you likes with champagne tastes. Not only that, but it's the ideal precursor to dinner as it's just a champagne-based tour.
---
Paris Travel Guide
Getting There –
Paris is luckily a pretty easy city to get to from the United States, as it's the second most-visited European capital. It has three airports: Charles de Gaulle (CDG), Orly, and Beauvais. However, the two that you really have to deal with are either CDG and Orly. Beauvais typically is only used by budget airlines, and is much further from the city center than the other two.
Not only that, CDG and Orly are very easy to get to Paris to by the RER trains. Some of the most popular airlines to take to Paris from the US are: Norwegian, American, United, and Air France. However, most major airlines offer flights directly from the US to France. If you don't feel like taking the train/metro into the city from the airports, a taxi or Uber into the city will take around half an hour (depending on traffic).
Getting Around –
Getting around Paris is luckily incredibly easy to do, even if you've never been there before or don't speak a word of French. However, we recommend going on foot and by metro. These are the cheapest, most efficient ways (and oftentimes the fastest ways to get from point A to point B!).
Walking – It's no secret that Paris is an absolutely breathtaking city, from its architecture, meticulously-maintained trees, and even the streets. While every massive city has areas you probably don't want to be walking around late at night in, the touristy areas are generally quite safe at any hour. Not to mention, the main sidewalks and streets are wide and clearly designed for pedestrians. If you're staying around most tourist hotspots, you could realistically rely just on walking.
Metro – Realistically, though, you're going to want to mix in walking and taking the metro. There are metro stations everywhere around the city. It's affordable, easy to see the stations with their large signs and entrances, and operate a whopping 16 routes. Each route is pretty lengthy, too, and you can get from one far end of the city to the other in less than an hour, realistically.
You can purchase a single ticket for about 2 bucks, but it's probably a better idea to get a book of 10 tickets or a Mobilis day pass. If you get the book of tickets, you do get a discount, and once you ride the metro once you're going to realize what a cool experience it is and want to do it again. The windows are large, and oftentimes offer some of the best views of Paris! Not to mention, they're overall very clean, and people tend to read or keep to themselves on the metro. Running from about 6 am to 12:30 am every day, this is a great way to get around.
Train – The Reseau Express Regional (RER) trains have 5 routes (letters A through E) from the city center to the suburbs surrounding it. These are what you'll take to and from the airports if you don't want to take a taxi or Uber (or drive). They're also a great way to see some of the towns outside of the city, and tickets can be purchased at any RER or metro station. Keep in mind that ticket prices won't always be the same, as they're based off of which stations you're traveling to.
Bus – RATP has an impressive 59 bus lines which go through Paris' city center and suburbs. The T+ tickets and metro passes can also be used for bus trips as they do cost the same as a metro ride. Running from 7am to 8:30pm Monday to Saturday (some like the Noctilien bus operate at night to cover the gap until 4 am) they can be scenic. However, if you do take the bus late at night, we noticed it's not quite as clean or calm as the metro sometimes.
Taxi or Rideshare – Paris has taxis just about everywhere, especially near tourist attractions and the city center. You'll see the taxis designated with a "Taxi Parisien" sign on the roof. When it's available, the sign is green, and when it's red it's occupied. You can hail one from the street, but it's more convenient to wait in line at a taxi rank. Uber does operate here as well. Just keep in mind that traffic can get very heavy at times in Paris.
Where to Stay –
n Paris, the easiest way to refer to the different areas are by "arrondissements". An arrondissement is an administrative area within Paris, which include various neighborhoods or certain historical places. In Paris, there are 20, and each have their own mayor! The 1st arrondissement is in the very city center. They go all the way to the 20th, in a spiral clockwise motion, going outward from the center. Let's talk about the best to stay in.
Paris 3 and 4/Le Marais – Located right next to the city center, half of Le Marais is in the 3rd and half is in the 4th. If it's your first time in Paris, it's perfect due to how close it is to massive attractions and being central. Notre Dame, Sainte Chapelle, Place des Vosges, Centre George Pompidou, and more are all here. It's definitely a fun-loving, free-spirited area full of beautiful gardens, bistros, cafes, and bars.
Paris 5/Latin Quarter – This area is also close to Notre Dame, breathtaking medieval churches, plazas, the Pantheon, Roman Arena, and Jardin des Plantes. The Luxembourg Gardens are nearby, and are perfect for taking a coffee and going for a morning stroll. Hotel Observatoire Luxembourg and Hotel des Grandes Ecoles are both located here, and are some of our favorites.
Paris 1 – Of course if you're looking to sightsee, really nothing compares to the 1st arrondissement. You'll find the Tuileries Gardens, the Louvre, the Royal Palace, and much more here. You can walk around easily, due to the large streets and walkways, however there are going to be quite a few tourists after 9am. Lots of tour companies operate out of this arrondissement so you will oftentimes see large groups of people walking through. However, you have tons of food, markets, and shopping to choose from. The Champs Elysees is right there!
Restaurants and Eating Out –
As you probably already know, Paris is a city very much renowned for its cuisine. There are plenty of local markets with fresh produce where you can grab something quick to eat or some ingredients to cook back at your apartment or hotel (if a kitchen is included). There are also plenty of food tours that perfectly combine sightseeing and eating! If you're a chocolate fan, we highly recommend one of these!
Breakfast – For breakfast, we opt for the classic pastry and coffee (or tartine). These are just about at any Parisian café. They are fresh, flavorful, and usually easy on the wallet. Bistro Vivienne, Café St Regis, and Le Pain Retrove are all great spots.
Brunch – Brunch always seems to be delicious in Paris. However, it can get pretty busy, so be prepared for a wait if reservations aren't available. Echo is often considered to be the best brunch in the city, but for Americans it may seem a bit too familiar. Les Marronniers in Le Marais has a legendary hot chocolate, fresh juices, delicious mini-pastries and a fantastic Eggs Benedict. Café Mirabelle is a charming little spot with Alsatian cuisine you're sure to fall in love with.
Lunch – L'Ami Jean is a bustling bistro with fantastic desserts. Girafe has some of the best Eiffel Tower views with fresh, Mediterranean eats that are great if you're trying to keep things light. If you're going to be near (or in) the Musee d'Art Moderne, check out "Forest" on the roof! Behind the Louvre, you'll find Le Luli, which has a great prix fixe meal.
Dinner – If you're looking for one of the hottest restaurants to dine at, check out La Poule Au Pot. The dollhouse-like building is certainly eye-catching, and has an excellent wine list and rich mains. Bistro Paul Bert is a very classically French dinner spot, with an incredible cheese plate! If you're going to be near the Champs-Elysee, check out Chez Andre, which has a very romantic, "old-school" Paris.
Nightlife and Entertainment –
If you're looking to go out to some clubs or in an area that has a rich nightlife, check out Le Marais. It's more of a high-energy neighborhood with all kinds of music, from electronic to rock. If you want a more relaxed evening with a glass of wine or a nice beer, try the Latin Quarter. Saint Germain is another nice option, but it does have higher prices.
Another excellent, high-energy nightclub spot is on Champs Elysees. This massive avenue is going to be where you want to be if you want to dance all night long. Bastille is a popular tourist spot for going out at night, too. Of course, if you want to go full Paris, you have to check out a cabaret! The Moulin Rouge is the most iconic, but Le Lido and Paradis Latin are other prime selections.
Cruise – If you are on the hunt for nighttime adventures other than bars or clubs, why not try a Seine River night cruise? These are lovely on summer nights, and you're sure to love the way the water lights up with the lights on the avenues.
Take a Walk – Walking around Paris at night is almost more delightful than in the daytime – particularly around the Eiffel Tower. The massive structure lights up at night, to where you can see it almost anywhere in the city. At every hour until 1 or 2 am it also glitters for 5 minutes, which adds a whole other level of charm. At this time, there will be street vendors out selling things like pastries and drinks, too.
Opera – If you're into opera or have ever expressed the tiniest interest in it, take an evening and head over to Opera Garnier. The architecture and decoration alone is impressive, and at the interlude you can grab a glass of champagne and admire the gallery. The Mysteries of The Opera Night Tour is also fascinating and covers The Phantom of The Opera, where you can actually visit his reserved balcony #5, which is only possible during the night tours!
Night Tour – Night sightseeing tours are fun! You can cruise through the lit streets in a classic Citroen 2CV, sip on a glass of champagne, and admire the illuminated attractions such as the Arc de Triomphe, the Louvre, the Eiffel Tower, and more.
Weather –
At the same altitude as London, Paris does tend to be pretty grey and rainy a good portion of the year. We highly recommend going between June and August or September to October for the best weather. During summer, you can expect it to be around 75 to 80 degrees Fahrenheit, though there are going to be much larger crowds! The wintertime is always charming and beautiful with a layer of snow on the ground, but it's definitely cold and not exactly ideal for sightseeing!
Attractions –
Well, you probably already know the must-sees: the Eiffel Tower, Arc du Triomphe, the Louvre, a tour of the Catacombs. However, there are many others that we highly recommend.
Museums – The Louvre is by far the largest and has iconic pieces of art, including the Mona Lisa. It definitely will take more than a day to adequately see everything but even going for a couple of hours is worth it. Musee d'Orsay is a must if you like Impressionist painters such as Monet, Renoir, van Gogh, and/or Toulouse-Lautrec. Musee de l'Orangerie is another incredible museum if you're into Monet, Cezanne, Renoir, Matisse, and Picasso.
Chateau de Versailles – Versailles lies about 30 minutes from the Paris city center, but is also worth seeing. The definition of opulence lies here, though it was once just a modest hunting lodge! Louix XIV changed things, commissioning most of the lavish refurbishments like the famous Hall of Mirrors. The gardens are absolutely incredible as well, with sculptures and fountains that "sing".
Galeries Lafayette – If you're into shopping, you can't pass Galeries Lafayette up! This is most likely the most majestic department store in the world, with wrought iron ceiling domes and latticed glasswork, along with the top brands and delicious food sold here.
Jardin des Tuileries – We recommend visiting this park, as you're likely going to be in the area anyway, but also because it's beautiful and so calming to take a stroll in. Perfectly manicured trees, beautiful flowers, and the fact that it's always quiet makes it easy to clear the mind here.
Sacre-Coeur – With a Romano-Byzantine edifice, it looks quite a bit different from many other pieces of Parisian architecture. While it's great to check out, there are quite a bit of people trying to sell things and they can get a bit pushy so be prepared.
Notre-Dame Cathedral – Unfortunately, Notre-Dame is currently closed due to the fire that occurred in 2019. It isn't supposed to reopen until April of 2024, but it's still worth going to see the exterior.
Tips –
Try to visit in the summer or early fall. Even though the crowds will be bigger due to the fact that most Europeans vacation around July, it's worth it. It's just not as fun walking around or hopping on and off metros in the slippery snow.
Beware of pickpockets here. As Paris is such a tourist-heavy city, there are also plenty of people looking to scam you. Always keep your belongings close to you and keep eyes on them at all times – especially if you're in the middle of a crowd or on the metro.
Use public transportation. The metro is so incredibly affordable and convenient, there's just no excuse not to unless you really want to take a taxi or Uber. Even then, a lot of the time there's going to be heavy traffic unless it's late at night or early in the morning.
Try to learn at least a few basic words of French. To be completely honest, the French will respect you a lot more and tend to be much friendlier if you at least make an attempt to communicate with them first in French.
The Evening Cruise with Dinner on River Seine is our Editors Choice for the top dinner cruise on the Seine River