Are you planning a trip to Oahu, Hawaii in the future? If so, then you probably already know that there's a ton to do on the island.
However, if you want to really complete your trip, you can't forget to add a snorkeling tour in there. We've taken it upon ourselves to check them out to bring you the top Oahu snorkeling tours currently offered.
These tours vary in length and all offer something a bit different, yet you can count on each one having friendly and knowledgeable staff to ensure you have a top-notch experience.
Be sure to see our reviews of Pearl Harbor Tours and Oahu Sunset Dinner Cruise Tours.
Top Oahu Snorkeling Tours
The 6 Best Rated Oahu Snorkeling Tours For 2023
Now lets take a closer look at the Oahu snorkeling tours so you can find the right one for you!
---
Oahu Snorkel Tour Reviews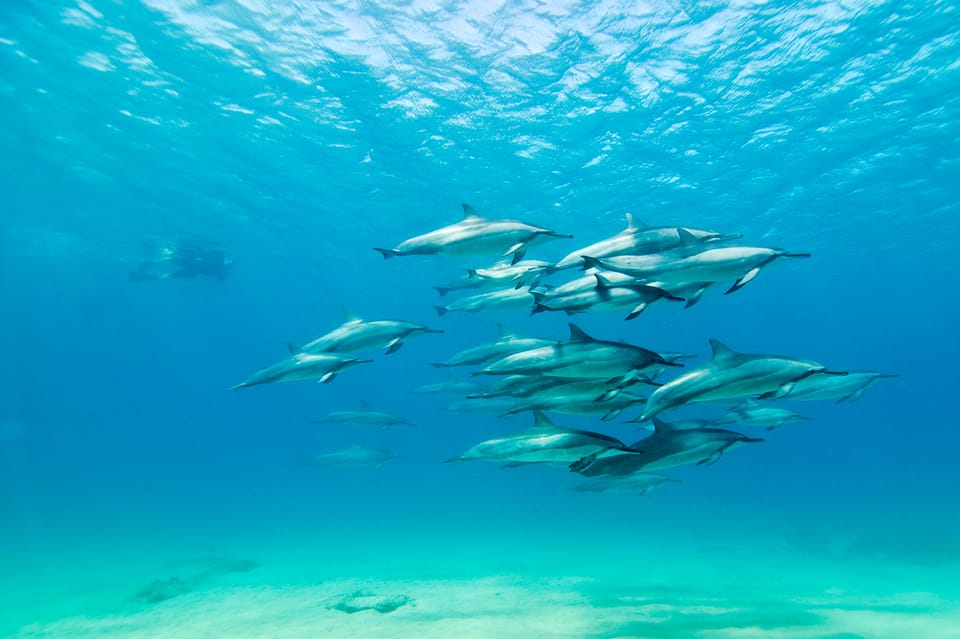 Tour Highlights
:
Departure: Dolphin Excursions Shop in Waianae Boat Harbor
Duration: 3 hours
Includes: 

Snorkel gear, sanitized daily, g

uaranteed dolphin sightings, 

2 snorkel sites daily, w

hale watching during season

Other: Great views on high-quality vessel with potential dolphin and whale sightings
Starting things off on the right foot, we bring you the 3-Hour Dolphin Watching & Snorkel Excursion in Waianae. Known for having beautiful, rich waters, it's full of all kinds of sea creatures: dolphins, whales, coral reefs, turtles, tropical fish, and more! You're sure to love catching sight of them on your boat and under the water!
The check-in process is smooth and straightforward, so you don't waste any time. Climb onto the luxe, 34-foot cruise vessel, "Nai'a I". If you've done dolphin/snorkel trips in the past but weren't huge fans, allow this one to change your mind.
You'll instantly notice the sheer passion the crew and guides have for the wildlife and are glad to spread that knowledge with those onboard.
The boat ride alone is honestly worth the ticket, thanks to the staff and the excellent comfort onboard. There are various, well-kept bathrooms and ample walking space so you're never squished together. As you sail, keep your eyes peeled for dolphins playing in the water! The captain will take you to the best snorkeling spot, depending on the current weather and water conditions.
You get your choice from 2 daily excursions: one departing at 7am, and the other at 10:30am. Both offer excellent chances of seeing dolphins, though we did notice that the earlier of the 2 had less people on the water.
Once you get to your snorkeling spot, you'll receive instruction on how to use your gear, and snorkel gear rentals come included.
Even children on board who'd never snorkeled before were made to feel confident and safe, thanks to the help of the crew.
From December to April, humpback whales are making their way down from Alaska, to the algae-rich waters around the Hawaiian islands. You'll also have a very good chance of seeing these beautiful giants with their babies!
---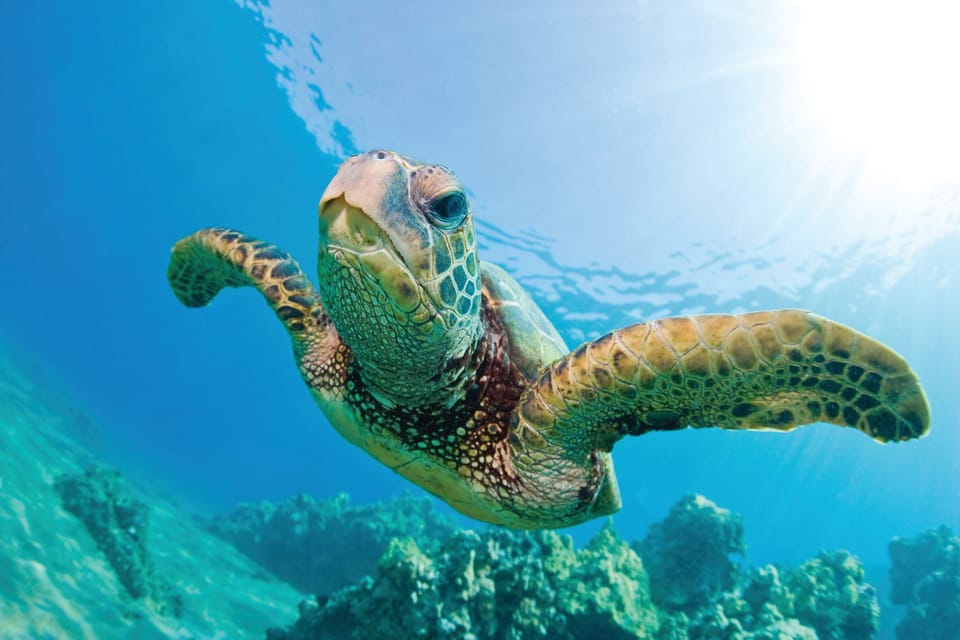 Tour Highlights
:
Departure: Kewalo Basin Harbor, Waikiki
Duration: 2 hours
Includes: 

Bar snacks, u

nlimited non-alcoholic drinks, f

ins and swim vest, s

norkeling gear

Other: If you don't see turtles, you'll be able to come back and take the tour again for free
Next up, we bring you the Morning Snorkel Sail Along Waikiki Beach. This 2-hour snorkel adventure is the perfect way to start off your day, filled with loads of fun and exercise! If you're interested in seeing Hawaiian Green Sea Turtles, this is an almost guaranteed chance at swimming with these interesting animals!
With a hotel pickup included, it's very convenient as you don't have to worry about meeting at the right location or arriving late. Once you get to the Kewalo Basin Harbor in Waikiki, you'll hop aboard a 53-foot sailing catamaran.
The sailboat is very impressive, especially if you've never been on one before. With a 49-passenger capacity, it's quite spacious and easy to move around on, too.
As you sail out to your snorkeling spot, the crew will help you with any questions you may have while also keeping on the lookout for any sea critters who may make an appearance.
Bar snacks and unlimited soft drinks are available to keep you nice and energized to properly prepare for your snorkel.
Once you arrive to the reef, the crew will help you get oriented with your gear and any snorkeling tips. No matter how experienced you are, this is a great opportunity, as you'll be with experienced instructors to help you out. Once in the water, you'll start looking for sea turtles.
If you don't see any, you'll be able to go to the snorkeling tour again for free. Oh, and if you end up going anywhere from December to April, you're also likely to catch some Humpback whales swimming around!
---
Tour Highlights
:
Departure: Kewalo Boat Harbor, slip F28
Duration: 3 hours
Includes: 

Breakfast, l

unch, u

nlimited soda and juices, 

2 free bar beverages, i

f you cannot buy or bring your own snorkel and mask, sanitized re-usable sets are available as a backup 

Other: Comprehensive tour offers ample meals and beverages on comfortable boat
If you're looking for the best bang for your buck, the 3-Hour Waikiki Snorkel & Sailing Adventure with Lunch is the way to go. Not only does it come with a snorkeling and sailing trip on a 48-passenger catamaran, they even include a full breakfast, lunch, and much more.
You'll have everything you need to have a great time and will be sure to want to come back! Once you meet up with the rest of your group, you'll board the Gold Coast Catamaran.
This large vessel offers some of the best views of the ocean, making it easy to spot all kinds of sea animals. Not only that, but there's ample room aboard so you'll always be able to catch great views and comfortable seating.
You can also choose to view from the bow of the boat, which offers up a more "adventurous" setting, with the water from the ocean misting over this area.
While the boat ride itself is very relaxing, but the crew and captain are entertaining and make it fun, too. While riding, you'll get to enjoy a delicious breakfast or lunch (depending on the time you select), along with unlimited soft drinks and 2 free bar beverages!
Feel free to hydrate, as there are 2 restrooms located on the catamaran (also handy for changing clothes if necessary).
Once you get to your snorkeling spot, you'll be provided with a snorkel and mask if you don't have your own. The crew will offer a bit of guidance, which is helpful if you're a beginner. Everyone will snorkel close together in order to not disturb the sea turtles, which always seem to be hanging out close by!
The crystal-clear waters make it easy to spot them from a distance, and offer a bit more confidence to beginners.
---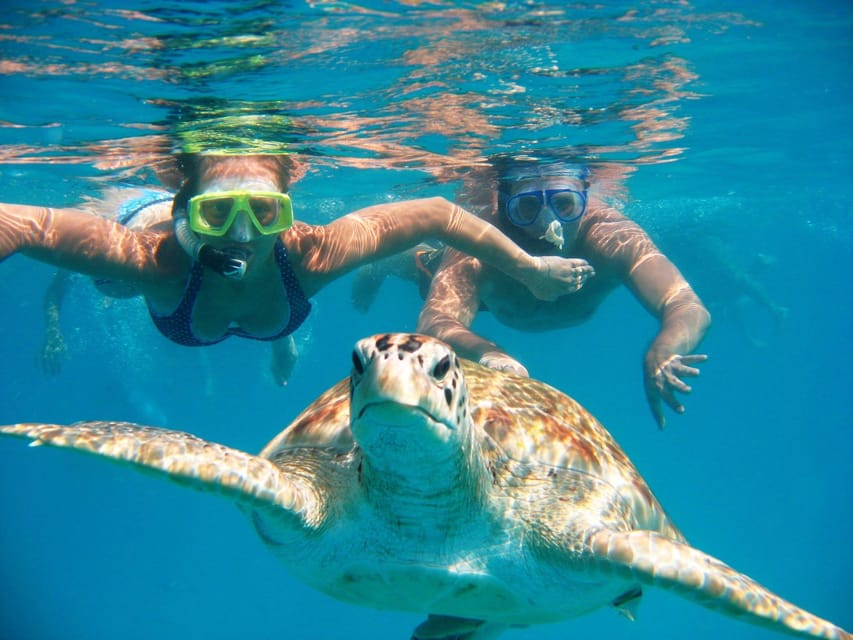 Tour Highlights
:
Departure: 1775 Ala Moana Blvd, Honolulu
Duration: 8 hours
Includes: 

Round-trip transportation to and from Waikiki, g

uided circle island tour of Oahu, s

norkel gear

Other: Comprehensive introduction to the island, full-day exploring
While the aforementioned tours are really great if you are looking for more brief options, we understand there are many who are looking for all-day tours. If that sounds like you, then check out the Hidden Gems of Oahu Tour with North Shore Turtle Snorkeling.
Oahu is known for offering world-class sightseeing and this tour really takes advantage of that, covering all the main sights.
Meet up with your local guide in the morning and head off on a semi-private shuttle to all the "hidden gems" Oahu has to offer. The guides are incredibly knowledgeable, engaging, and make sure to keep you entertained the entire time, sharing fun facts and anecdotes.
You'll first stop at Halona Blowhole Molten Lava Tubes, which were created from volcanic eruptions. When the tide cooperates, the water will shoot out from the narrow opening, which creates a geyser-like experience! Makapu'u Point lets you see Waimanalo's sea cliffs, serving up incredible vistas of the rich blue bay waters and the famous Manana or "Rabbit" Island.
If you're a coffee lover, you'll surely enjoy the next stop, where you'll participate in Hawaiian coffee and macadamia nut tastings after you cruise down the island's eastern coastline. This little shop sits under old Banyan trees, which really creates a nice vibe.
Pro tip? Don't pass up the Hawaiian chocolates when you're there!
After this, you will see legendary sights such as Chinaman's Hat, the famous surf of North Shore, Diamond Head, Sunset Beach, the Dole Pineapple Plantation, and you'll even get to go snorkeling with turtles! Along the way, you will also get to try some mouth-watering local eats and food trucks, so come hungry!
This is one of those cruises that will make anyone fall in love with Hawaii. Once your tour is done, they'll take you back to your hotel so you can get some well-deserved rest!
--- Tour Highlights
:
Departure: Dock C,

Waianae

Duration: 3 hours
Includes: 

Breakfast, l

unch, u

nlimited sodas and juices, 

2 free bar beverages, snorkel gear rental

Other: Relaxing sail with exciting dolphin sightings
Seeing dolphins is an absolute must-do if you're in Hawaii, which you can do on the Eco-Friendly West Oahu Snorkel Sail with Dolphins. This tour takes place along the gorgeous, picturesque Ko Olina coast, which is aptly known as the "Place of Joy".
Set sail on an eco-friendly sailboat, which is designed to do no harm, focusing on the preservation of dolphins and other sea creatures.
Not only that, but the vessel is also very comfortable. It comes with nice amenities, like 2 spacious restrooms and a fresh-water shower. This makes it easy to wash off and change your clothes, which is needed after a snorkel.
We found the tour very well-organized, even before you board the boat. Once you do board, you'll get time to find a seat or stand up. There's quite a bit of shade on the deck, along with ample tables and seating at the bar.
You will get unlimited non-alcoholic drinks during the entire tour, though there are all kinds of affordable beer and wine options!
The turquoise waters will undoubtedly call to you, and there are snorkel rentals included with the tour. The warm, clear waters are easy to see all kinds of brightly-colored fish, coral, and more.
Back on the boat, keep your eyes peeled for the chance to see dolphins breaching or playing around. While you're watching, indulge in a delicious lunch or breakfast – this is a comprehensive tour that is much more fun and memorable than simply heading to a restaurant!
---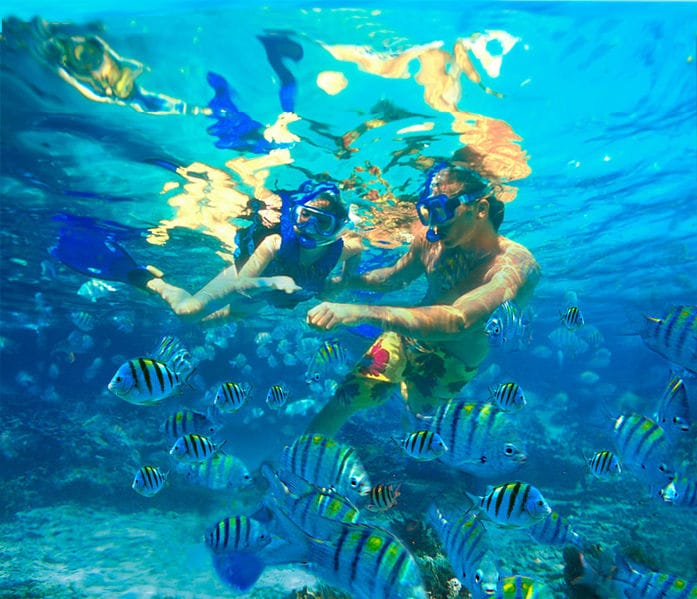 Tour Highlights
:
Departure: Kewalo Harbor slip F29
Duration: 2.5 hours
Includes: 

Lunch, u

nlimited non-alcoholic beverages, 

2 bar drinks, snorkel gear

Other: Luxurious boat complete with lunch and great views
With this cruise, you'll spend 2.5 hours exploring the azure coastline of Waikiki. The Hilton Hawaiian Village Morning Snorkel with Lunch is one of the best ways to start your day off! The warm blue waters are incredibly inviting, with the promise of seeing tropical fish, corals, and much more!
Setting sail on the legendary Spirit of Aloha, you can expect the duration of your trip to be "smooth sailing" from the very beginning.
The vessel rides smooth, so there isn't a whole lot of rocking during the journey. This is a relief for those who tend to get seasick easily, as well as those who are traveling with them!
Including an all-you-can-eat lunch, make sure to arrive hungry, because there's a lot of delicious food waiting for you! As you eat, you'll be able to take in amazing views of the waters around you.
There is ample seating located all over the vessel, and you can choose if you'd like to be in the sunshine or shade. Did we mention unlimited soft drinks and 2 alcoholic drinks come included?
After digesting a bit, you'll put on your snorkel and receive instruction from the crew.
Once you dip in, you'll be able to swim with sea turtles, and many other water-dwellers. The crew does a great job with beginners, so if this is your first time, there's no need to worry.
Once you head back on deck, you can get washed up and change with the 2 large restrooms and fresh water shower!
---
Guide to Oahu Snorkeling
What Will I See Snorkeling in Oahu?
• Colorful coral gardens: Oahu boasts some of the most stunning coral reefs in the world. They have a rainbow of hues from pink, yellow and blue they are amazing! Snorkel over these natural works of art and you will dazzled by their beauty.
• Diverse marine life: With schools of vibrant tropical fish to curious sea turtles, you'll encounter quite the variety of marine creatures while snorkeling in Oahu.
Pro tip: Keep your eyes peeled for the elusive manta rays!
• Underwater caves and canyons: The rocky coastline of Oahu creates a unique underwater landscape of caves, crevices and canyons that are just waiting to be explored. We would recommend a tour otherwise you will not know where they are!
• Shipwrecks: You will probably have to scuba dive to see these but there are a few shallow ones. The waters off the coast of Oahu are home to quite a few shipwrecks making for an unforgettable snorkeling adventure.
• Whale sightings: If you're lucky enough to be in Oahu during the winter months, you may just see the awe-inspiring sight of humpback whales breaching and playing in the waters just offshore.
• Playful dolphins: Oahu's resident spinner dolphins are a sight to behold, leaping and spinning through the waves, they just look they are having a great time! You have a good chance of catching a glimpse of these playful creatures and is the highlight of any Oahu snorkeling trip.
Snorkel Tips to Keep You Safe
• Quality gear: Snorkeling only requires some basic equipment. Your tour guide should provide a mask, snorkel, fins and a wetsuit (depending on the water temperature). I would also suggest some type of flotation vest. If you are bringing your own, be sure its good quality gear that fits well and is comfortable.
• Practice in shallow water: If you have your own gear, you can practice in a pool, start in shallow water to get used to breathing through the snorkel and kicking with your fins. Practice until you feel confident before going into deep water.
• Choose the right location: This is where going on a snorkel tour is invaluable. Not all snorkeling spots are good. Look for areas with clear water, no currents, plenty of marine life and away from speed boats. Some popular snorkel spots in Oahu are Hanauma Bay and Shark's Cove.
• Respect the marine life: While you are snorkeling, it's important to remember that you're a visitor in the marine creatures home. DON'T touch anything or disturb the animals and their habitats. Give them plenty of space.
• Protect your skin: Sunburn will be a painful reminder of a snorkel trip. Wear a high SPF waterproof sunscreen and wearing a rash guard or wetsuit to protect your skin is a good idea!
• Buddy up: Snorkeling with a buddy is not only safer but it's more fun! Two pairs of eyes have a better chance of seeing something special. Stick together and watch out for each other while your exploring.
The Oahu 3-Hour Dolphin Watching & Snorkel Excursion in Waianae is our Editor's Choice for the best snorkel tour.