Key West is one of the most beautiful places in the country, if not the entire world. One of the reasons why it's such a hot destination for tourism, is its rich blue waters and pristine beaches.
As you can imagine, these waters are inhabited by all kinds of interesting sea critters, which also make it a top snorkeling and sailing spot!
We've taken it upon ourselves to try out just about every snorkeling and sailing tour on the island, to bring you the best of the best. So, without further ado, let's jump into the top Key West Tours!
Top Key West Snorkeling Tours
The 7 Best Rated Key West Snorkel Tours For 2023
Be sure to see our reviews of Key West sunset dinner cruises and Key West sunset jet ski tours.
---
Key West Snorkel Tour Reviews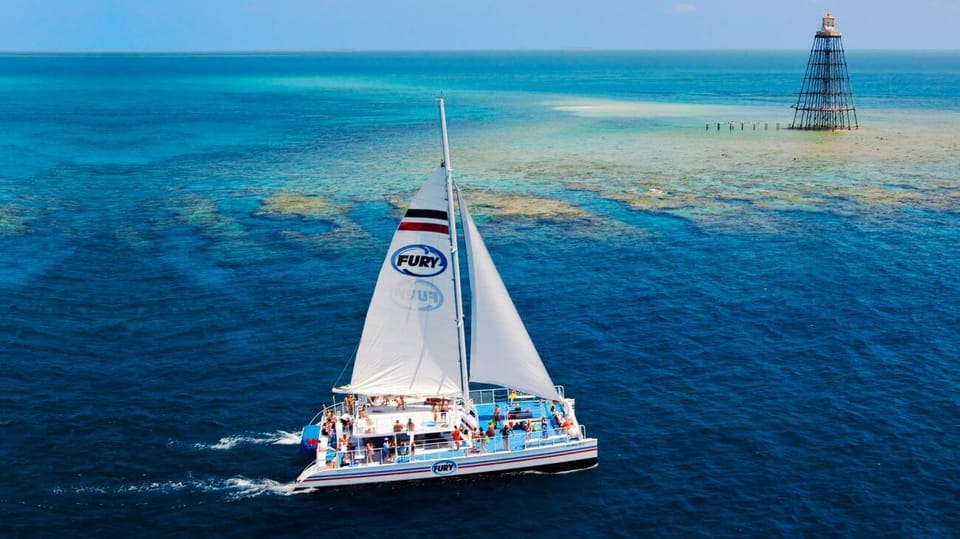 Tour Highlights
:
Departure: Depends on option booked
Duration: 3 hours
Includes:

Snorkeling gear and safety equipment,

d

rinks

Other: Relaxing sailing tour with lots of entertainment
Starting things off on the right foot, we bring you the 3-Hour snorkel adventure. If you're looking for a relaxing way to enjoy a day on the water, this is one of the most effective methods!
Perfect for sharing with a significant other, or a small group, this snorkel / sailing trip is packed full of entertainment. The catamaran itself is magnificent, and looks like something from a Mediterranean village.
You'll get an authentic sailing experience, with full 360-degree views of your beautiful surroundings.
From the moment you board, you'll notice that the crew pays special attention to making sure everyone has a positive experience.
They are very friendly, helpful, and make sure that everyone is safe onboard (they only sail when weather conditions are ideal).
Once at the snorkel site, you will get to see the pristine coral reef and see and the beautiful sea life. All gear is provided and the crew will show you how to safely snorkel the reef.
You'll sail by many interesting places and photo op spots like Mallory Square Sunset Celebration where you'll see all kinds of entertainers, the Historic Seaport, Fort Zachary Taylor, and much more.
These are also great places to check out beforehand or after your sailing tour, if you don't feel like going back to the hotel yet!
As you take in the views, you'll get to enjoy the unlimited drinks and appetizers. We found both to be tasty, so it was nice that they were unlimited!
On the way back the music will set the mood for some dancing or just a romantic viewing of the sunset painting citrusy colors across the sky. If you have a few hours to spare, don't miss this one!
---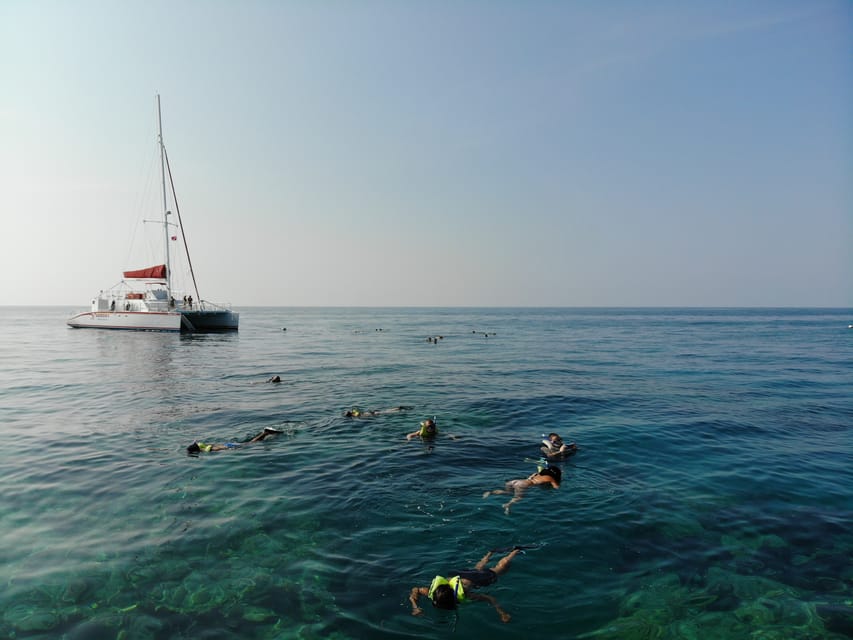 Tour Highlights
:
Departure: 201 William St, Key West
Duration: 3 hours
Includes: 

Snorkeling gear and safety equipment, a

ppetizers, d

rinks

Other: Combines snorkeling with smooth, relaxing sailing
If sailing catches your attention, but you're also one of those hands-on types of people, you'll love our next tour. The Sunset Snorkel Sail Trip with Open Bar is designed with fun and adventure in mind! You'll be able to snorkel over one of the biggest coral barrier reefs in the world for part of it, and the other part, enjoy some live entertainment and drinks.
The 3-hour tour is a comprehensive one, and if you don't want to spend all day out on the water, it's a great option.
The captain and crew are incredibly friendly and knowledgeable, and will tell you all about the sights and history of the area.
Not only that, but they know exactly where to go so you can make the most of your time out on or in the water.
To start off, you'll board "The Sandy Cat", which is the island's newest catamaran. As you can imagine, it's in great shape, smooth on the water, and comfortable. The captain will sail out to the perfect spot for snorkeling, moor, and let everyone gear up and jump into the water.
All snorkeling gear and safety equipment rentals come included, so you just have to bring yourself and a sense of adventure.
You'll have the opportunity to swim over North America's largest living barrier reef, which really is a sight to see. It's something that everyone should do at least once.
Once you've had fun hanging with sea life for an hour, you'll climb back on board, where you'll start heading back to the port.
During the relaxing journey, you'll get to have some fun listening to a live DJ while sipping from an open bar!
You'll sail past Mallory Square and wave at all of the people on shore having a blast, too! The energy is contagious, and definitely sets the tone for the rest of a great night – whether you want to head into the nightlife or have a relaxing rest of your evening afterward.
---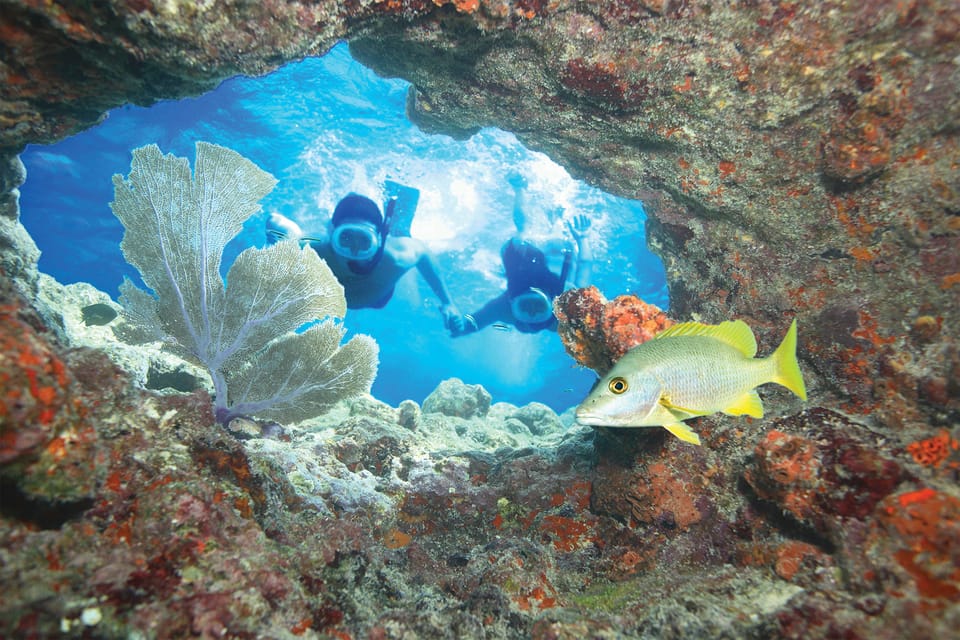 Tour Highlights
:
Departure: 631 Greene Street (corner of Greene and Elizabeth streets)
Duration: 3 hours
Includes: 

Top-of-the-line snorkeling gear, p

rofessional instruction, c

omplimentary soda and water, c

omplimentary beer, wine and champagne 

Other: Great for avid snorkelers, or those who want to be
If you're really into snorkeling, or want the chance to try it more in-depth, you have to check out our next tour. The Key West Double Dip: 2-Stop Reef Snorkeling Trip doesn't include just one, but two snorkeling stops so you can explore various underwater sights!
Lasting 3 hours, you'll be able to take time to get comfortable with the gear and being underwater, with guides to show you exactly what to do.
Start off the tour by heading onto the speedy "Fury" catamaran, jetting out to the first stop for your snorkeling adventure. The Reef Express measures 57 feet long, and is designed for equal parts speed and luxury. Not only that, but it's the fastest way of getting to the reef, as we're not wasting any precious snorkeling time here.
Once you get to the reef, you'll be given pro-quality snorkeling gear: a snorkel, mask, fins, and vest. At this time, the crew will also offer you with their professional knowledge on how to snorkel the "correct" way.
Safety is the top priority here, and they make sure you know how all equipment works and the proper precautions to take.
After you get up close with the brightly-hued marine dwellers and the reef itself, you'll get back on the catamaran to head to the second location. Both stops encompass 1.5 hours of snorkeling in total, in the 3-hour trip.
You can also choose the optional Double Dip Sunset Combo Trip, where your boat will head out to the perfect spot on the water to watch the breathtaking sunset. They'll offer a complimentary flute of champagne as you and the rest of your group toast to an amazing day out in the tropical waters of Key West.
---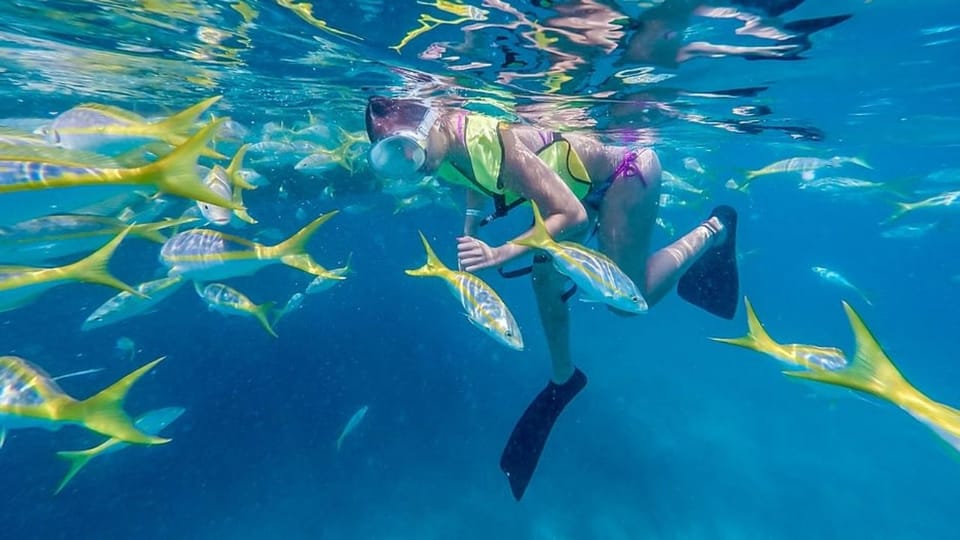 Tour Highlights
:
Departure: Office located on Lazy Way Lane
Duration: 3 hours
Includes: 

Snorkeling gear & instruction, r

ound-trip catamaran ride, l

ocal taxes and fees

Other: Nice balance of active snorkeling and relaxing on the deck with drinks
This is yet another tour that's excellent if you're already into snorkeling, or would like to try it out for the first time in a nice climate. The Key West Double Dip: 2-Stop Reef Snorkeling Trip lets you explore around the only living coral barrier reef in all of North America, and one of the largest in the world!
The knowledgeable crew will teach you all about the local species and history of the area, making for a great afternoon or morning!
We really like both the morning and afternoon sessions, though with the morning option, you can typically expect much fewer people and boats out on the water.
Regardless of the time you choose, you will have a friendly, professional captain who knows the best spots to explore. This is going off of both their experience, along with the day's water and wind conditions.
Once you're in the best location, you'll get ready to snorkel. Guides offer very clear and concise instructions and will offer all necessary gear, so you're set up for success.
We really appreciated their lighthearted, entertaining demeanors, while still making sure everyone is safe and comfortable in the water.
While they can't guarantee anything, there are solid chances that you'll be able to see some marine life other than the reef! Bright parrot fish, rays, lobsters, and more are hanging around!
Once you've had sufficient time snorkeling, you can head back to the vessel and enjoy a complimentary drink while you warm up on the sun deck, or hang out in the shade. As you head back, keep your eyes peeled for dolphins!
---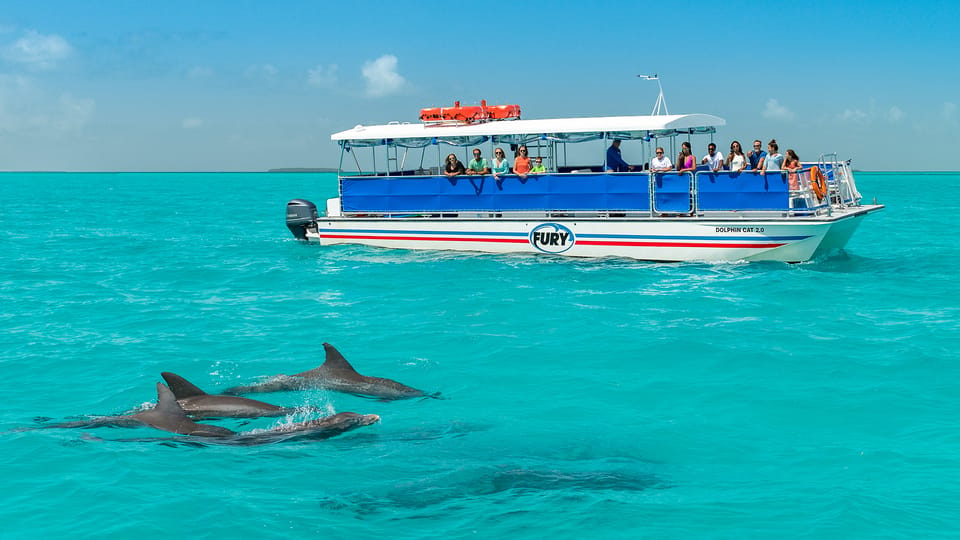 Tour Highlights
:
Departure: 631 Greene Street
Duration: 3 hours
Includes: 

Top of the line snorkeling equipment, p

rofessional instruction, c

omplimentary water and soda, c

omplimentary beer, wine or champagne

Other: Great for nature/animal lovers who want to see dolphins
Snorkeling is a load of fun as a sport. However, some people like snorkeling and sailing for the opportunity to get close to the sea life that exist below the surface.
With the Key West Dolphin Watch and Snorkel Eco Tour, you'll learn all about these beautiful creatures in their natural habitat, and even get to see them! Hop aboard a fast catamaran to get out quickly to see the Key West dolphins.
The tour includes a very knowledgeable, fun-spirited crew that knows exactly where to look for spotting all kinds of sea creatures!
Lobsters, rays, all kinds of fish, crabs, dolphins, and perhaps even some small sharks may make an appearance!
The bottlenose dolphins are naturally playful and you'll get to watch them as they swim and jump around. The crew will speak about how to best protect them, and keep the species well-preserved.
In fact, this tour is offered by the only company in the Keys with the respected "Dolphin SMART" certification. This is a country-wide program that works to educate others on how to keep the dolphins safe.
Afterward, you'll head to the Key West Wildlife Refuge and put on your gear to snorkel in the shallow waters.
This is a great opportunity if you've never snorkeled before, as you're surrounded by experienced guides in an area that's known to be calm.
Once you've splashed around and explored enough, you will ride back with your group and quench your thirst with a complimentary chilled beer and wine!
---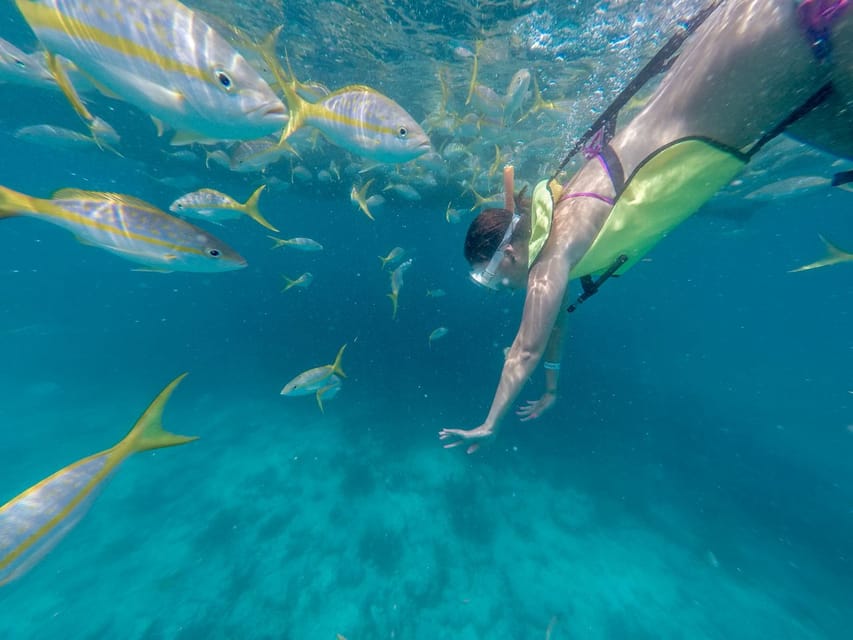 Tour Highlights
:
Departure: Located on Lazy Way Lane
Duration: 6 hours
Includes: 

Roundtrip catamaran ride, u

se of jet skis, paddle-boards, kayaks, parasails, and snorkeling gear, b

reakfast, lunch, and snacks, d

rinks, l

ocal taxes & fees

Other: Comprehensive tour full of all kinds of fun in the water, with meals included
Are you on the hunt for a tour that offers a full day or afternoon of fun? If so, then you have to sign up for the Key West Catamaran Tour with Snorkeling & Water Activities!
You'll get to explore the crystalline, turquoise waters of Key West through all kinds of fun activities alongside the rambunctious crew of the catamaran that will take you out to sea and back!
This 6-hour tour can be scheduled in the morning or afternoon, making it easy to plan around other activities.
You'll start out at Key West's Historic Seaport neighborhood, which is quite interesting in itself. Get on the catamaran and start your sailing while partaking in a mouthwatering continental breakfast to start the day off right.
Once you're comfortably full and have a steady energy supply, you'll stop at a coral reef located approximately 7 miles off shore. As it's both sheltered and shallow, it's great for snorkelers of all experience levels.
Keep in mind that all required gear and professional instruction is included. You'll spend about an hour here, checking out this watery world complete with brightly-colored fish and coral.
We feel confident that the crew can answer just about any question you may have about the water, the area in general, and the sea life.
After you get out of the water, you'll get to hang out on the deck and grab some rays, or in the shade under the covered area.
No time is wasted, where the captain will start guiding everyone over to the next destination, which is a floating water park! This park is a load of fun, as you can imagine. Kayaking, jet skiing, parasailing, paddle-boarding, or just catching a tan – you can do it all here. Use of all of the park is included, so try whatever you'd like!
Lunch includes all kinds of delicious plates, from peel-and-eat shrimp, fried chicken, meat and cheese plates, bread, salads, fresh fruit, fresh chocolate chip cookies, and more!
---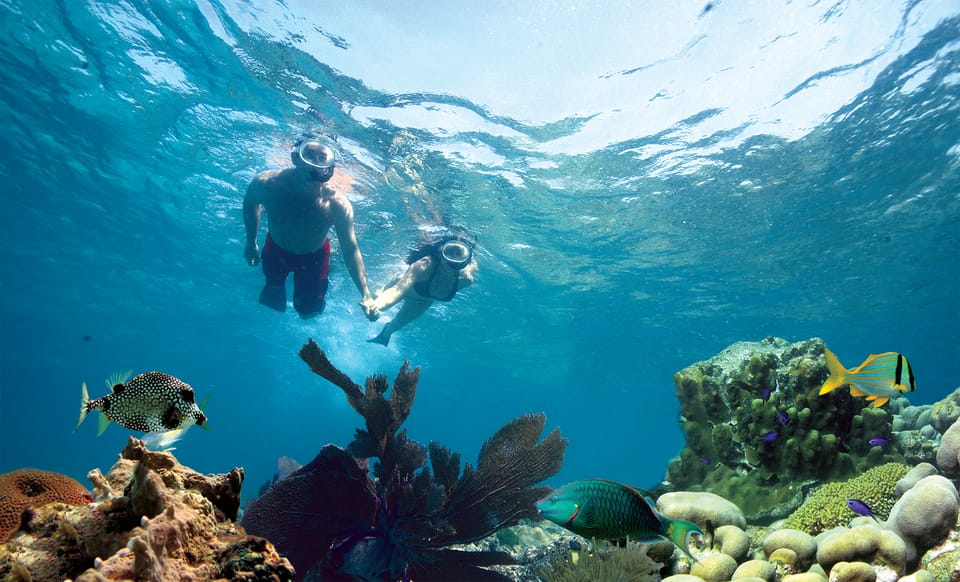 Tour Highlights
:
Departure: Local partner's booth on the pier at Opal Key Resort and Marina
Duration: 3 hours
Includes: 

Top-of-the-line snorkel gear, p

rofessional instruction, c

omplimentary beverages

Other: State-of-the-art luxury catamaran
Who doesn't want to have some rum and reggae while in the Florida Keys? Experience both with the Key West Rum and Reggae Afternoon Snorkel and Sunset. This Caribbean-themed snorkel tour is lively, lighthearted, and a load of fun!
Your tour will start off by climbing aboard a state-of-the-art catamaran that has plenty of space to move around with ease and stretch out. It's very luxe, and designed to keep you comfortable for the entire ride.
The crew makes sure to keep the reggae playing from the first moment you step on the boat, creating a laidback vibe and friendly environment.
Once you arrive at the reef, the crew will fill you in on proper precautions to take and any other tips before you head into the water! Top-notch snorkel gear will be provided, and the crew will give you a brief on how to use it.
Once you feel comfortable, you can check out the coral reefs, various species of fish, and other marine animals! The 3-hour tour makes sure that you have enough time for everything, but are never rushing.
Afterward, you'll get back on the catamaran and enjoy some complimentary rum punch, beer, wine, and champagne!
You'll start to feel all worry melt away, as you are sipping delicious rum in paradise, with the gentle ocean breeze on your skin.
With the sun setting, the golden hues will reflect off of the water, creating an incredible vibe that's also perfect for snapping some photos. This is a tour you absolutely have to repeat!
---
Key West Snorkel Tour Guide
What Will I See on a Key West Snorkel Tour?
The coral reefs around Key West are amazing! The reefs are home to an incredible diversity of marine life. You will see everything from tiny crustaceans to majestic sea turtles. There are corals of all shapes and sizes that form a kaleidoscope of colors in the crystal clear waters of Key West. Look for brain coral, staghorn coral, and elkhorn coral, these are the prettiest coral in my opinion.
You will likely encounter schools of colorful fish darting in and out of the coral formations. Look for the neon-bright yellowtail snapper and the blue parrotfish. The sergeant majors with their distinctive black and yellow stripes are easy to spot.
If you're lucky, you might even see a barracuda lurking in the crevices or a sleek reef shark patrolling.
Of course it's not just the fish that make snorkeling in Key West so special. Look for sea stars, sea urchins and spiny lobsters which are common on the reefs. The star of the show are the majestic eagle rays that glide gracefully through the water. Pods of dolphins playing in the water are also common!
Keep in mind the marine life around Key West is fragile and vulnerable. Be sure to follow responsible snorkeling practices. Don't touch or disturb the coral or any of the animals that call the reef home. This way you can help protect this incredible ecosystem for others to enjoy!
Snorkel Tips to Keep You Safe
• Quality gear: Snorkeling only requires some basic equipment. Your tour guide should provide a mask, snorkel, fins and a wetsuit (depending on the water temperature). I would also suggest some type of flotation vest. If you are bringing your own, be sure its good quality gear that fits well and is comfortable.
• Practice in shallow water: If you have your own gear, you can practice in a pool, start in shallow water to get used to breathing through the snorkel and kicking with your fins. Practice until you feel confident before going into deep water.
• Choose the right location: This is where going on a snorkel tour is invaluable. Not all snorkeling spots are good. Look for areas with clear water, no currents, plenty of marine life and away from speed boats. Some popular snorkel spots in Oahu are Hanauma Bay and Shark's Cove.
• Respect the marine life: While you are snorkeling, it's important to remember that you're a visitor in the marine creatures home. DON'T touch anything or disturb the animals and their habitats. Give them plenty of space.
• Protect your skin: Sunburn will be a painful reminder of a snorkel trip. Wear a high SPF waterproof sunscreen and wearing a rash guard or wetsuit to protect your skin is a good idea!
• Buddy up: Snorkeling with a buddy is not only safer but it's more fun! Two pairs of eyes have a better chance of seeing something special. Stick together and watch out for each other while your exploring.
The Key West 2-Hour Sunset Sail with Live Music is our Editor's Choice for the best Key West snorkel tour.