World-famous for its beautiful beaches, massive barrier coral reefs, rich blue waters, delicious cuisine, and much more, Key West is one of the top vacation spots in the United States.
As the southernmost point in the continental US, weather is warm and perfect for getting out and adventuring. While it may be somewhat compact, there's a lot to do on this island.
We've decided to take on the "challenge", and check out just about every tour offered. We compiled the best ones, to bring you the top Key West tours available!
Top Sunset Dinner Cruises in Key West
The 6 Best Rated Key West Sunset Dinner Cruises For 2023
Be sure to see our reviews of Key West snorkel tours and Key West sunset jet ski tours.
Key West Sunset Dinner Cruise Reviews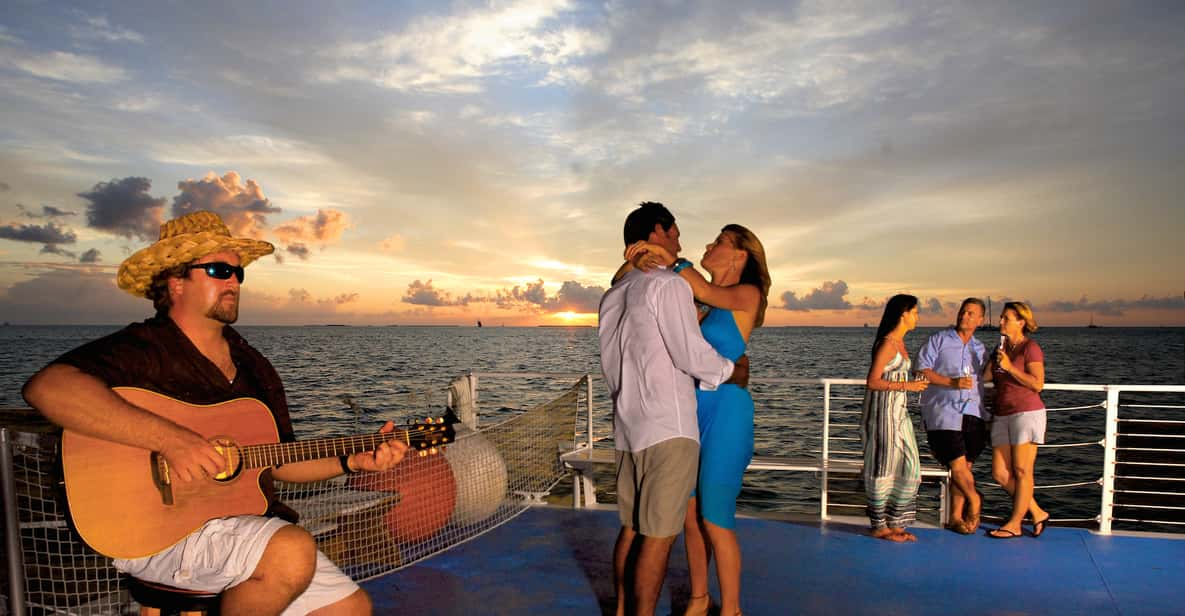 Tour Highlights
:
Departure: Meet at the local tour operator's office at 631 Greene Street
Duration: 2 hours
Includes: 

Catamaran cruise, l

ive music entertainment, b

eer, wine, champagne and margaritas, various types of snacks

Other: Luxurious, fun evening with live music and various types of drinks and eats
Safe, smooth, and durable, catamarans are excellent for sailing and gliding around the ocean. Our first tour takes place on one: the Key West Sunset Party Cruise by Catamaran. On this one, you'll have a wonderful time with the perfectly golden sunset forming the background of your evening.
This one doesn't include a pickup, as it's only 2 hours long, so you'll meet right at the tour office. From the moment you hop aboard the catamaran, you'll know that you're in for a good time. The staff is highly-trained, friendly, and there to facilitate an evening perfect for taking photos and spending time with your loved one(s).
The crew places special attention making sure everyone is safe and will also offer a briefing regarding such. The catamaran is operated with obvious skill, to also ensure the conditions are ideal for relaxing and having fun.
They'll provide you with all kinds of delicious snacks, from fresh veggie platters and hummus, to smoked fish dip, pita, conch fritters, and much more.
Drinks are also generous, with the option of wine, beer, champagne, or with the more festive option of margaritas.
As you sip on your beverages, you'll be able to kick back and take in the sunset, or get up on your feet and dance to the live music onboard. The state-of-the-art catamaran is quite comfortable and luxurious, and the 2 hours will pass by seamlessly.
---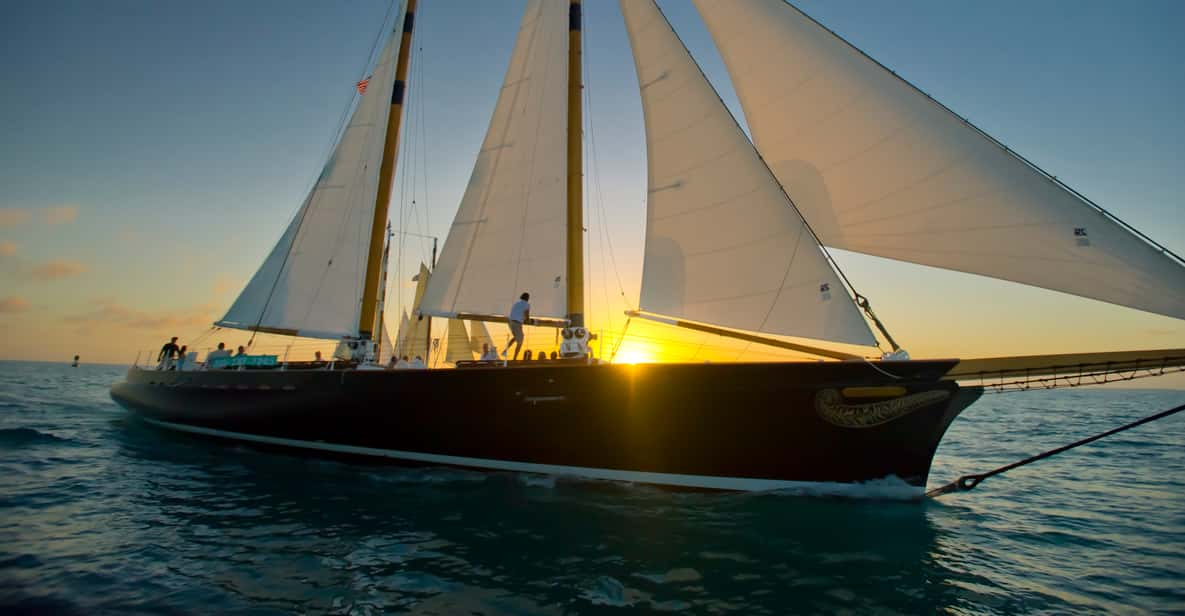 Tour Highlights
:
Departure: 202 William Street, Key West, FL 33040
Duration: 2 hours
Includes: 

Beverages, p

ersonal hors d'oeuvres plate

Other: Beautiful, luxe sailing experience with chance to see sealife
Have you ever wanted the chance to sail on a yacht? Well, you can on the Key West: 2-Hour Sunset Sail on Schooner America 2.0! The Schooner America 2.0 is incredibly elegant, fast, and comfortable so you will be able to sit back and enjoy the sights from a unique point of view.
This eco-friendly vessel modeled after the famous original which dates back to the 1800's, with teak decks, mahogany trimmings is a gorgeous sailboat.
You'll meet up with the rest of your tour group right on the bay, so the whole process is quite simple. Once you board, you'll realize just how professional and friendly the crew is. They ensure that the experience is smooth and relaxing for everyone. There's plenty of seating, so you can pick which area looks nice for you and your partner(s).
The crystal-clear Key West waters are already a sight to behold, but you'll also get to pass by Fort Zachary Taylor, (once served as headquarters for the Navy's East Gulf Coast blockade squadron), Sand Key Reef, Mallory Square, and Sunset Pier.
As the sun goes down, you may even see wildlife like dolphins, sea turtles, and marine birds!
Oh, and pay special attention to get a glimpse of the green flash! This isn't something you can see only in Key West, but this area does offer a nice vantage point. The green flash is when the top of the sun turns a green tone right as it's setting.
---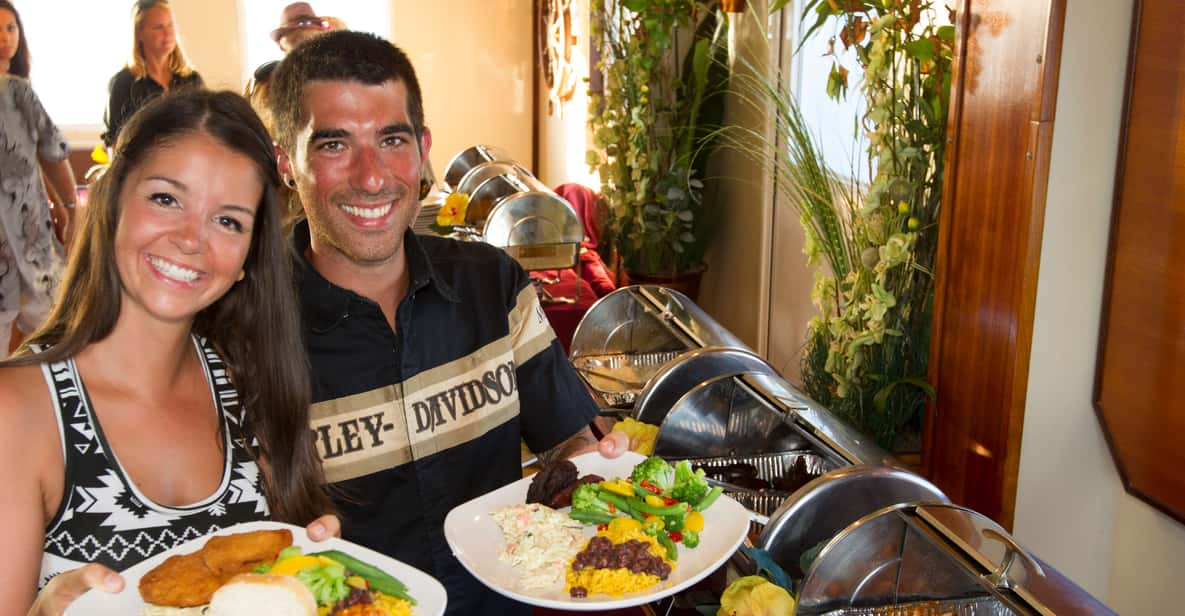 Tour Highlights
:
Departure: 201 William St, Key West, FL 33040, USA
Duration: 2 hours
Includes: 

Buffet dinner, o

pen Bar, l

ive music, s

unset cruise

Other: Great for grabbing a delicious dinner, drinks, and dancing to live music
Key West is a gorgeous place that is not only nice to look at, but generates a sense of freedom that makes anyone want to grab some drinks and dance! The Sunset Cruise with Buffet Dinner and Open Bar will facilitate that, with some incredible live music, and open bar, and a delicious buffet dinner.
This 2-hour cruise starts off by boarding 'The Party Cat', which really sets expectations of what's to come.
The crew is very well-organized, and they manage to really set this tour apart from so many others with their friendliness and willingness to get out there and hang out with the guests.
The boat is quite smooth and large, so that you never feel limited on space. Walking around is very easy, and there are fantastic views from every angle. Make sure to come hungry, because there's a lot of food!
A freshly-prepared tropical buffet is there for the taking, consisting of options like: roast pulled pork in mojo sauce, deep-friend sweet plantains, grilled chicken, black beans and rice, fried fish, pasta with mini shrimp, and much more!
To keep your thirst quenched, you also get a choice of margaritas, rum runners, champagne, beer, wine, or spirits. Grab a drink and head to the upper deck for some live music in the open air.
Feel the sea breeze on your skin as you watch the golden sunset reflect off the waters of the Gulf of Mexico. This is surely a tour you'll want to repeat in the future!
---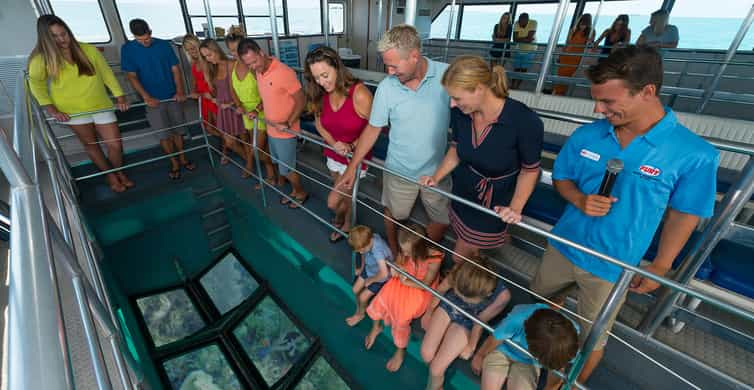 Tour Highlights
:
Departure: 0 Duval Street, Key West, FL 33040
Duration: 2 hours
Includes: 

Water, c

hampagne toast at sunset

Other: Incredible views of reefs and sunset
Once of the biggest draws of Key West is its reefs and other sea life. While diving is probably the most effective ways of seeing it, this is the next best option!
Thanks to a very unique glass bottom, this boat will let you see incredible underwater views that's impossible to see anywhere else unless you're actually in the water.
You'll start off by hopping onboard the boat, which is comfortable and features a highly-trained crew there to make sure you have a pleasant experience. They do offer restrooms and a snack bar, so you'll have everything you need during the 2-hour tour.
The catamaran's twin hull enables it to stay very stable, minimizing rocking motions. This is not only to keep you and the other passengers comfy, but also creates the best viewing experiences and keeps the delicate reefs free from harm.
Speaking of reefs, this one is the only living coral reef in all of North America.
Consisting of elkhorn coral and brain coral, they're very captivating to look at, with their unique colors and intricacies. Making up the home of over 300 species of fish, this is one of the most biologically-diverse marine ecosystems on the planet. The captain and crew will tell you all about it, offering a personalized, educational experience.
After all the excitement of seeing these interesting creatures, you'll get to kick your feet up and relax with the gentle sea breeze blowing in your hair.
As the sun sets, you'll be offered a complimentary soda and champagne, as you watch the magnificent blue waters contrast against the citrusy hues in the sky. The Glass-Bottom Boat Sunset Cruise and Reef Tour is not one to miss!
---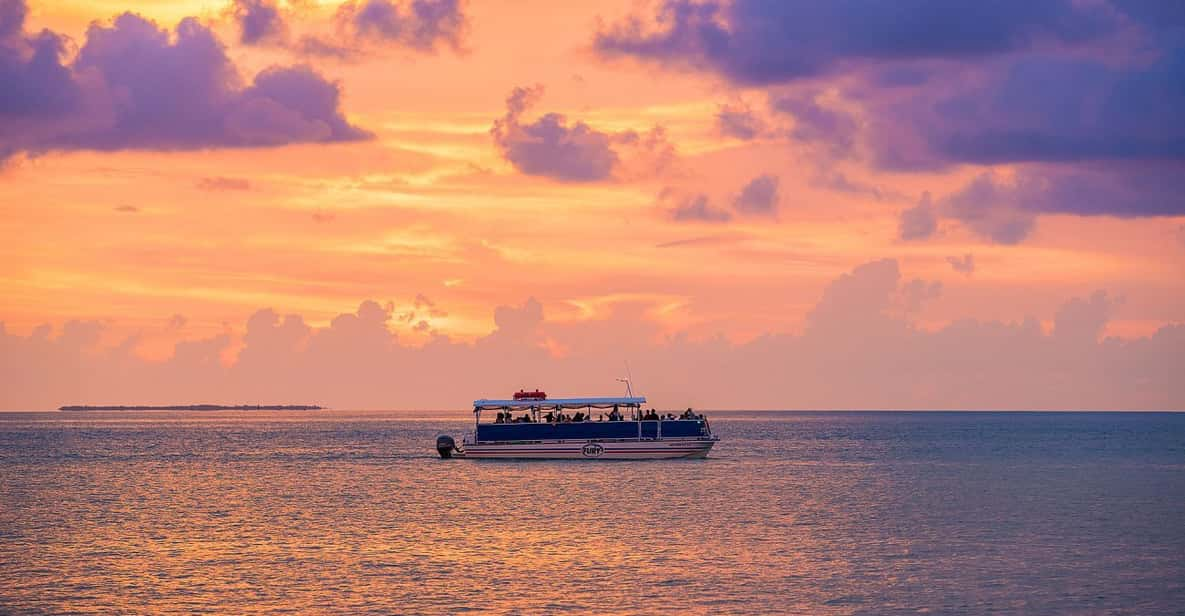 Tour Highlights
:
Departure: 631 Greene Street, in front of Conch Republic Seafood Company
Duration: 1.5 hours
Includes: 

Complimentary selection of beer, wine, champagne and sodas

Other: Romantic, cozy sunset cruise
Are you looking for a romantic way to spend the evening with your significant other? If so, then you've found the perfect tour! The Key West Champagne Cruise at Sunset lasts for 1.5 hours, which is a lovely precursor to a nice dinner, a night of dancing, or just lounging around the hotel.
Your cruise will start off by you and your partner boarding a state-of-the-art catamaran. The boat is a very nice one, and designed to stay stable, minimizing the rocking motion.
Comfort is at the forefront of the tour, so you can really sit back and relax. We found that there was more than enough room onboard, making it easy to walk around.
The crew is very friendly and attentive, offering high-quality service that simply can't be matched at this price. They know the best places to sail to take advantage of these views, and you may even catch sight of some dolphins or other sea animals!
You'll cruise around the warm, blue waters with a gentle breeze blowing by.
Take in the fresh air, as you sip on either a complimentary beer, wine, champagne, or soda next to that special someone.
Light snacks are also provided, which can tide you over until you get to your full dinner after the tour.
As you enjoy the wonderful beverages, snacks, and company, you'll get to watch as the sun goes down. The beautiful pinks, oranges, and yellows that light up the sky are magnificent to experience in person, but also make for amazing photos!
---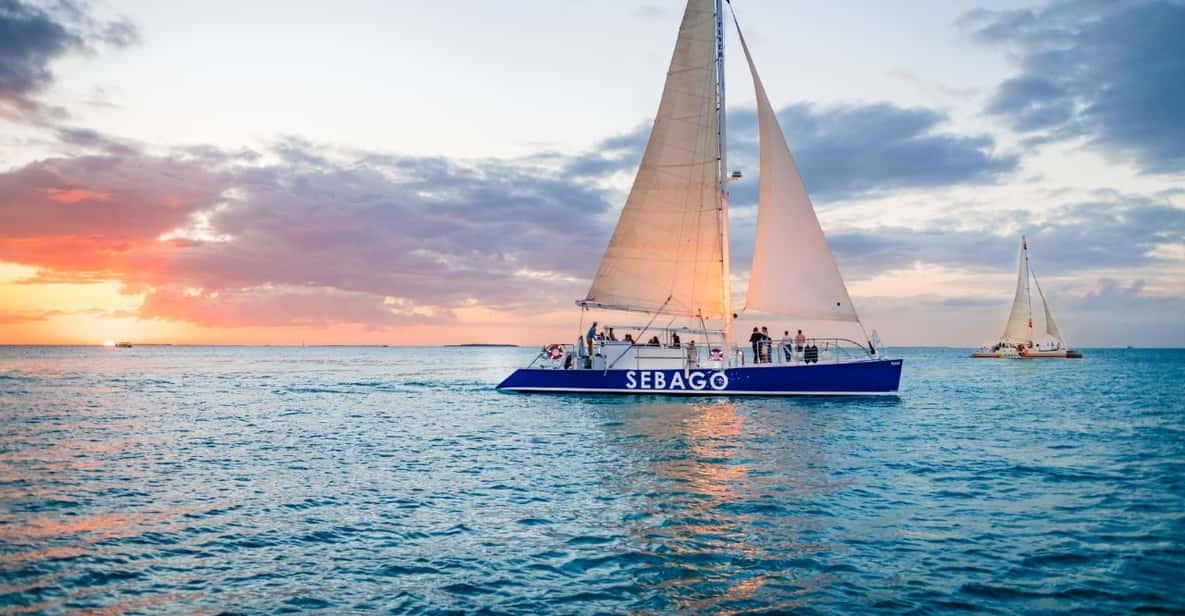 Tour Highlights
:
Departure: Local partner's office located on Lazy Way Lane
Duration: 2 hours
Includes: 

Sunset sailing trip, l

ive music, l

ocal taxes and fees

Other: Comprehensive tour with all kinds of entertainment
Live music instantly gives the mood a boost – not that anyone will need it on this cruise! The 2-Hour Sebago Sunset Sail with Live Music tour is an all-inclusive adventure that is a great way to spend an evening on the water.
Not only will you be able to take in stunning vistas, but you'll have some delicious refreshments, great music, and great vibes to partake in.
You'll meet up with the rest of your group on Lazy Way Lane, which runs along the water between the end of William and Elizabeth streets. Once your entire tour group and crew is ready, you'll hop onboard a 70-foot catamaran for an evening of fun and entertainment!
This spacious vessel offers enough space for you and your partner to stretch out and really lounge while enjoying the scenery. We like this cruise, because whether you're there to boogie or just enjoy a calm afternoon, it works well for either mood.
The captain and rest of the crew are highly experienced, and will make sure to sail to the best spot to catch the sunset.
While you are taking it all in, you'll get to enjoy some delicious appetizers, along with champagne, wine, a full liquor bar, chilled beer, and soft drinks. Not only do you get unlimited drinks, but unlimited appetizers, as well!
Cruise on by the historic seaport, all kinds of entertainers at the Mallory Square Sunset Celebration, and even Fort Zachary Taylor. The crew will answer any questions you may have, as they're very friendly and knowledgeable. To set the mood, you get some live musical entertainment, too!
---
Key West Tour Guide
FAQs About Key West Dinner Cruises
What should I wear? Most dinner cruises don't have a strict dress code. We would say that it can't hurt to dress up a bit for the occasion. Think cocktail attire or smart casual. Even though you are in the Keys, don't wear anything too casual like shorts or flip flops
What's included? Most Key West dinner cruises will include a multi course meal, live entertainment and the bonus of amazing views of the sun setting over the ocean. Alcoholic beverages are usually not included in the ticket price, so budget to pay extra for those.
How long are the dinner cruises? Dinner cruises will vary in length but most last around three hours. Some cruise operators offer shorter or longer options, so be sure to check the itinerary before booking your cruise.
Is there live music or entertainment? Most dinner cruises will have live music or at least a DJ. If this is important to you, check their website or just ask when booking to see what's included.
What kind of food should I expect? The food served on dinner cruises will vary from a simple buffet to a gourmet meal. Seafood of course will be a staple. If you are concerned, check the menu on the website before booking to make sure that there are options that suit your dietary needs or restrictions.
Can I make special requests? Some of the more expensive dinner cruises will make custom meals to meet your special dietary requirements. You should contact the cruise company in advance to see if they will accommodate your special requests.
Are there age restrictions? Generally no, most dinner cruises are open to all ages. It's possible they may have age restrictions or require adult supervision for children so you should verify ahead of time if you are bringing children.
What's the best time of year to go? You can go on a dinner cruise year round in Key West. The summers will be very warm and humid. My favorite time to go is the winter where it's cooler and less humid.
Getting To Key West
Air – Getting to Key West is pretty easy if you're within the United States. However, even if you're outside the country, it isn't complicated at all. Most major airlines serve Key West, including American Airlines, Delta, Allegiant, United, JetBlue, and more. There are also various charters which serve the island, if that's more your style.
Alternatively, you can arrive to Miami International Airport, and choose to drive there. This may be a cheaper way to go, depending on the time of year. If you're driving from MIA, you can simply take LeJeune Road heading south to 836 West. Take the Florida Turnpike South toward Key West. It will end at US 1 in Florida City, and you'll follow US 1 South until you get to Key West.
Train – The Amtrak has routes all over the country, and can take you as far south as Fort Lauderdale. Once there, you can get a transfer to the Keys Shuttle.
Shuttle – There are various shuttle services which make stops from the mainland and the Keys. The Keys Shuttle is the best in our opinion, offering door-to-door services to/from Miami and Ft. Lauderdale airports various times a day, every day. Not only that, but they offer charters to events like weddings, dinners, and more.
The Florida Keys Express Shuttle is also a great way to get to/from Fort Lauderdale-Hollywood International and MIA airports. You can choose a Mercedes Benz van or SUV limousine, so it's definitely a more luxurious option.
Water – You can also get to Key West by sea! The Key West Express has high-speed ferries from Ft. Myers Beach and Marco Island. These will pull into the Key West Bight Ferry Terminal located right in the center of the Historic Seaport Terminal which is very well-located. Many of the tours we just covered take off right around here.
Getting Around
Getting around Key West is a breeze, considering it's pretty small at just 2 miles wide by 4 miles long! If you're driving, then you'll have no problem moving around. Driving is very easy here if you're already used to driving in the US. However, if you aren't going to be driving, there are plenty of other options.
Walking – Thankfully, the island is very flat and very easy to walk around – even if you aren't in the best shape. Not only that, but the neighborhoods are very charming, genuinely beautiful, and full of character. Walking is probably the best way to really get to know the area, as you see everything up close and personal. Plus, the climate is wonderful and the air is fresh.
Taxis – Taxis serve the entire island, and they're easiest to get by calling ahead. While you can hail one from the street, this tends to be a bit less reliable as most are heading to calls. However, if you're at the airport, you'll see a line of them waiting for arrivals so they can take them to their hotel.
Ride Sharing – There are now Uber and LYFT operating on the island, which tends to be more convenient for many people as you can just call a ride from the app.
Cycling – Aside from walking, biking is another excellent way to get to know the city. You'll find a ton of locals using their own cruisers to get around and you can rent one for around just $50 for a full week! There are plenty of rental places around, though make sure you're following the local rules. For example, bike lights are a requirement for nighttime riding. You can ride on all sidewalks, except for the Duval Street sidewalk.
Mopeds – These are absolutely common among locals, however, they can be quite dangerous. There's no helmet law in Florida, and if you get into an accident, it can be serious. Not only that, but you have to follow the laws of the road, too.
Local Transportation – You have buses and trolleys to take advantage of, as well! Both offer day passes, which are very economic and convenient. You can check out schedules online.
Where to Stay
The island has modern to the more historic Old Town. Old Town is almost certainly where you're going to spend the majority of your time thanks to its unique charm. It's almost like going back in time, and is so great for walking and entire families. However, you can also opt for a more luxe experience in downtown, Casa Marina resort, or the Historic Seaport.
Truman Annex is named such due to the fact that former president, Harry Truman, had a residence here. The house includes a gift shop for history aficionados. If you head towards the Historic Seaport, you'll also see the original Pan Am airlines headquarters, which is now the First Flight Island Restaurant and Brewery, an aquarium, the Mel Fisher Maritime Museum, and much more. It's also home to some of the best food!
The Historic Seaport neighborhood is perfect if you're into watersports, watching for sea animals, or just love being on or around sea vessels. If you're into nightlife and bars, then you have to check out Downtown/Duval Street. This is where you'll find all the fun: all types of cocktails, parties of all kinds, and so much more.
Restaurants and Eating Out
As you can probably imagine, seafood is a massive part of the Key West cuisine. However, in this rapidly-rising restaurant scene, you'll be able to find just about anything you're craving here.
Glazed Donuts – Okay, so maybe doughnuts aren't the first thing that comes to mind when thinking of food, but it'll certainly change your life for the better! Glazed Donuts is the perfect grab-and-go option for when you're craving something delicious but don't have time to sit down. Pick up a fresh cup o' joe along with a key lime pie doughnut topped with torched meringue or other mouthwatering fruit-filled delights.
Blue Heaven – Located on the corner of Petronia and Thomas street, Blue Heaven truly has something for everybody. For entertainment, you have live music, ping pong, and an overall very laidback vibe that's so welcoming. It has this romantic feel to it, that makes it a must for any couple. As far as food goes, you'll see a lot of Caribbean/American food mashups. Don't forget to try their legendary "Mile-High" Key Lime Pie!
A&B Lobster House – Are you in the mood for fine dining? Then look no further than this charming restaurant that's been around since 1947. With a stunning wraparound balcony and beautiful marina views, it really calms and sets the mood for an amazing day or night. Caribbean lobster thermidor, strip steak au poivre, and an impressive classic cocktail selection and wine menu.
Smoked BBQ – For something more laidback, you have to check out the Smoked BBQ. It also has a nice view of the water, but has a more "fisherman" type of view that's fun for anyone. Pulled pork sandwiches with a sweet BBQ sauce were a winner for us, though it also has some delicious seafood.
Café Marquesa – This beautiful restaurant is located inside the Marquesa Hotel. It lies somewhere in-between upscale with homey eats. Fresh Key West seafood is found here, and everything is cooked to perfection. Their desserts are housemade, and sport a kind of Southern feel.
Nightlife and Entertainment
Key West has some booming nightlife, and you're about to experience it! If you thought the daytime was fun, just wait until the sun sets!
Duval Crawl – You can't say you've been to Key West if you haven't gone bar hopping on Duval Street. As we mentioned, this street is filled with all kinds of bars and nightclubs. Sloppy Joe's is a crowd favorite, while Upper Duval is a bit more "sophisticated" and sports all kinds of wine bars, craft cocktail spots, and more refined selections. In-between them, you'll find something that lies in the center of sophistication and unadulterated fun.
Key West Theater – If you aren't feeling like going drinking, then check out the Key West Theater. Located in the center of Old Town, it has world-class comedians, musicians, and bands. It also offers community theater productions, and exclusive film screenings. For more "underground" selections, check out the indie movie theater, the Tropic Cinema.
Hauntings Ghost Tour – Did you know that Key West is supposed to be very haunted? This tour is very interesting, and goes over the history of the Hemingway House, the lighthouse, and the famous "Typhoid Mary" ghost. The Ghosts & Gravestones tour is another interesting one if you like exploring the spooky side of things. This one involves hopping aboard a trolley with a narrated tour of the island's old wooden home history, a Civil War fort and barracks, the haunted East Martello Tower, and much more.
Weather
Weather isn't really ever an issue in Key West, considering it's one of the sunniest and warmest places all year long in the United States. In fact, even during its "coldest" season (January typically), it still stays over 65 degrees Fahrenheit! August is the hottest, and even then it doesn't usually get over 90 degrees.
Attractions
As we've mentioned a few times, if you stay in Key West, you have to stroll around Duval Street. No matter the time of day or night, there's something fun and interesting to do. Reaching from Mallory Square to the Southernmost Point marker, it is home to beautiful homes, gift shops, delicious restaurants, bars, clubs, and more.
The Ernest Hemingway Home and Museum was inhabited by the famous author from 1931 until 1940, approximately. With a beautiful tropical garden, saltwater pool, and historic furniture, it is where he wrote several legendary novels.
If you're a nature person, you have to stop by the Key West Butterfly and Nature Conservatory. If you have children, they'll definitely love this place that is home to over 50 species of butterflies and over 20 species of exotic birds.
Mallory Square is a great place to hang out with live musical performers, street performers, art, vendors, and more. As you'll probably be walking near there anyway, we recommend checking out some of the entertainment or the various gift shops.
Mel Fisher Maritime Museum holds all kinds of valuable artifacts, and stories from history. One of which, is the Henrietta Marie, which was once a slave ship that also held countless historic artifacts. The Spanish Santa Margarita is another, which dates back all the way to the 17th century.
The Martello Towers were built back in the mid-1800's, and were designed to protect Fort Zachary Taylor. Never fully completed, it consists of massive, 8-foot-thick granite walls! Take a leisurely stroll through the grounds, which are quite romantic and pretty.
Tips
While Key West has some great weather most of the time, there is hurricane season that goes from June 1st to November 30th. However, from August to October, you're likely to see the strongest storms. It may not be that serious, but it's definitely something to consider as some storms can be very intense.
If you're planning on driving, know that finding parking near Duval Street can be nearly impossible at times. You're better off grabbing a ride share or taxi in this case. You may also be able to ask your hotel if they have a shuttle that can take you to/from the area. If you're close enough, renting a bike or walking over there is a great option as well.
Driving to Key West is a wonderful experience in itself, as you get to drive over the Overseas Highway. It's exhilarating, yet somehow it'll completely clear your mind of any stress or worry – perfect for preparing you for a great time on the Island.
Key West is home to the only living barrier reef in the entire continental United States. Located about 6-7 miles offshore, the Florida Reef can be seen by a cruise or two on our guide!
The Key West Champagne Cruise at Sunset is our Editor's Choice for the best Key West sunset dinner cruise. It offers a relaxing atmosphere where you are free to just take in the view and be in the moment.